Baked Snacks Explored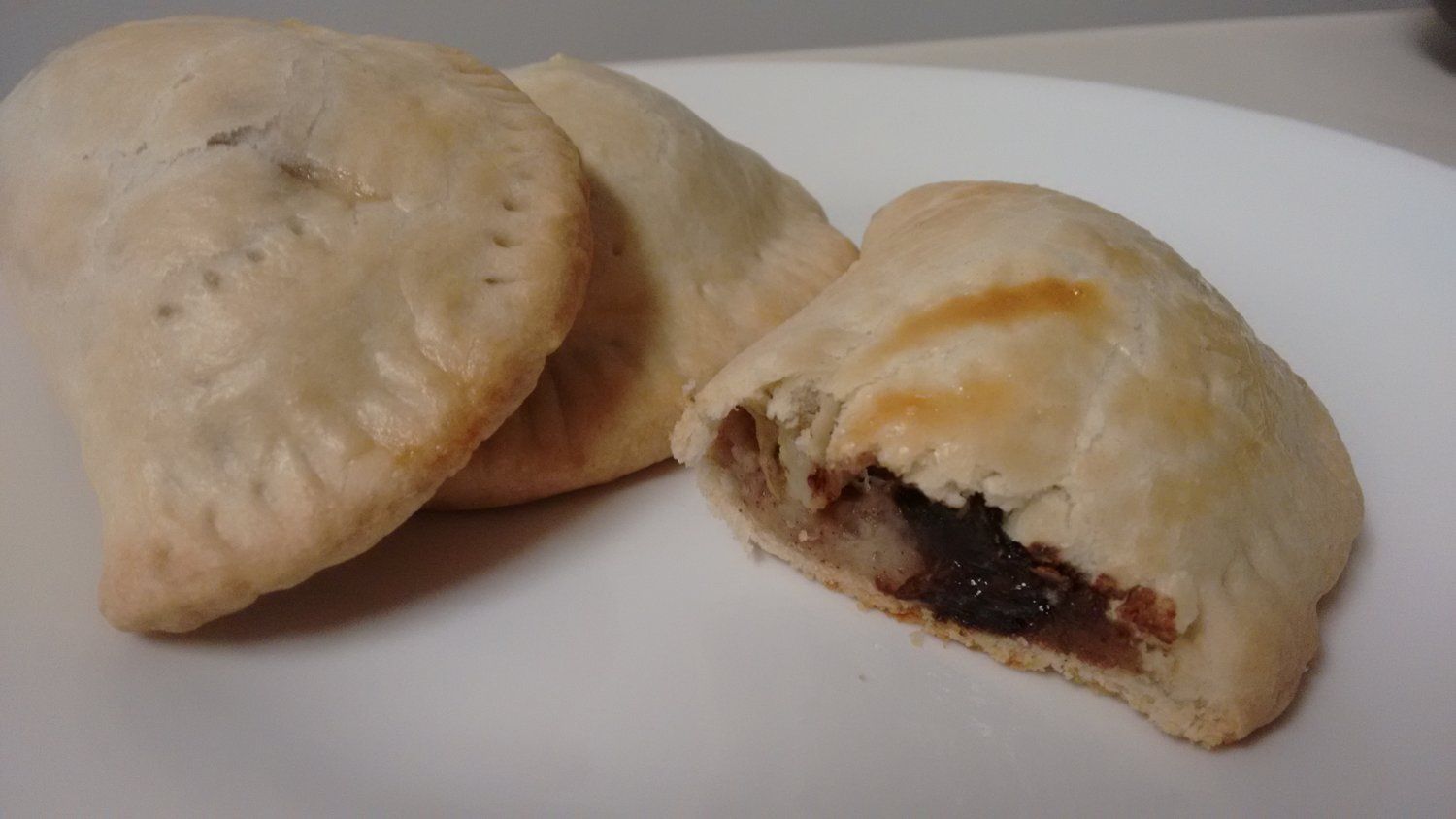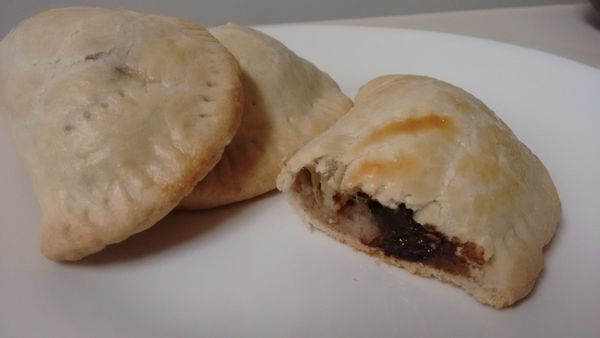 Abstract
(Future) Dr. Bulldog explored 3 easily-prepared baked snacks: chocolate banana empanadas, baked mozzarella cheese sticks, and spicy baked potato chips. All three options warrant further investigations, but they are all potential alternatives to more unhealthy vending machine snacks.
Background
It appears healthy snacks – sugarfree, less oil, what have you – have been explored multiple times on this blog by different Quantum Lion members. This makes me feel guilty about my 24/7 craving for the king of junk food - Lay's Sour Cream & Onion Potato Chips; I would shamefully consume one of these bad boys in one sitting.


In the Colonel's words, "it's finger lickin' good."
But my belly needs to stop growing, and I need to look for other means to quench my hunger at work or at home.
The following account describes my search for an alternative for my dearly beloved. Three baked snacks were explored, and each was evaluated on its potential to become THE replacement snack.
I. Chocolate Banana Empanadas
Experimental
The recipe is adapted from here.
Ingredients
2.5 cups all-purpose flour
0.5 tsp salt
0.75 cup butter
2 tbsp vanilla-flavored yogurt
0.5 cup cold water
4 large bananas, chopped
However much semi-sweet chocolate chips left in the fridge
0.5 tsp ground cinnamon
1 tbsp cold water
1 egg white
Procedure
Flour and salt were mixed placed in a stand mixer bowl. Butter was slowly incorporated into the mixture, which was mixed at low speed. Yogurt was stirred in, followed by the cold water until a dough texture was obtained.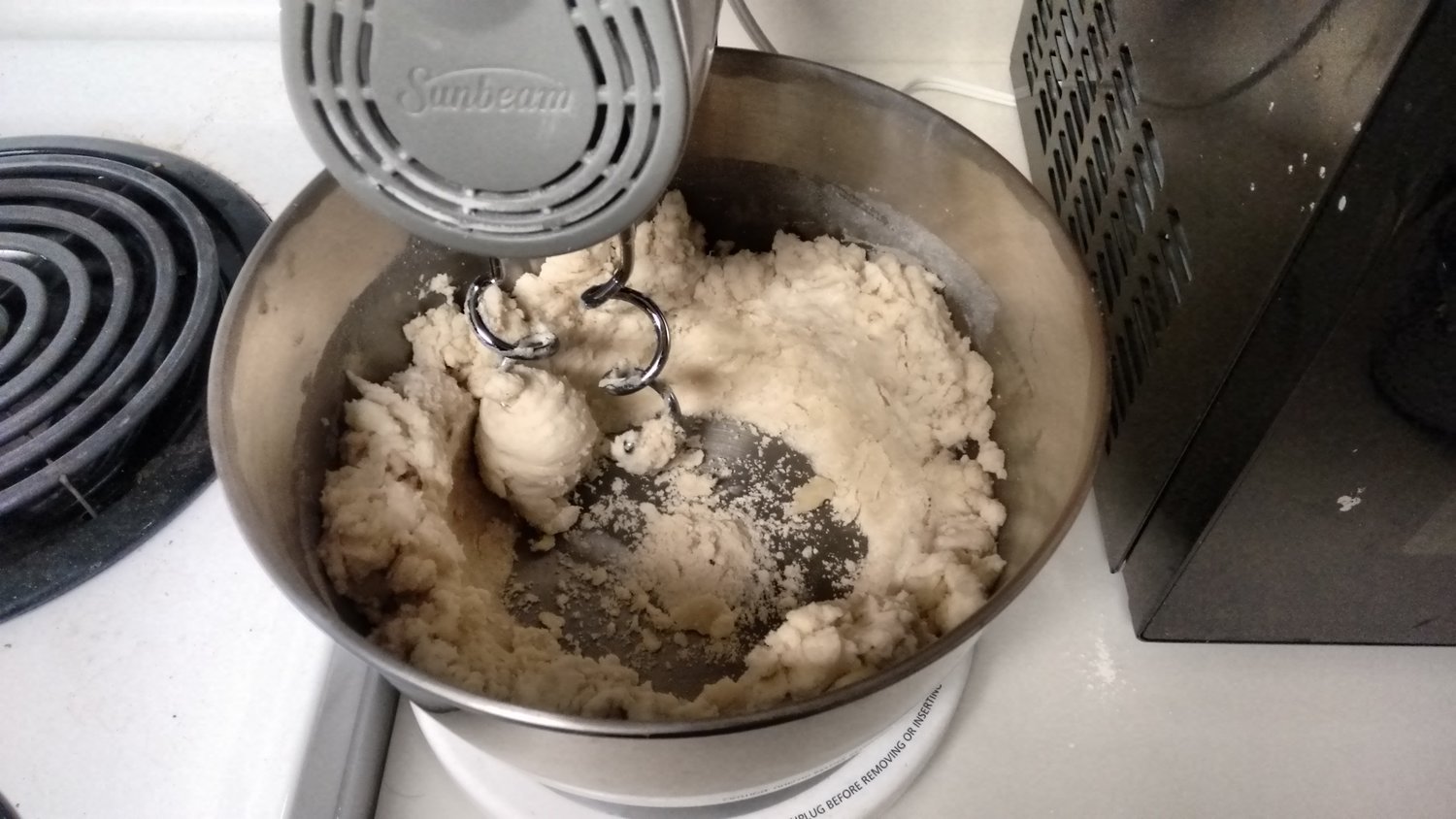 The dough was rolled out to about 1/8" thickness, and circles of various diameters (6 to 8 inches) were cut out.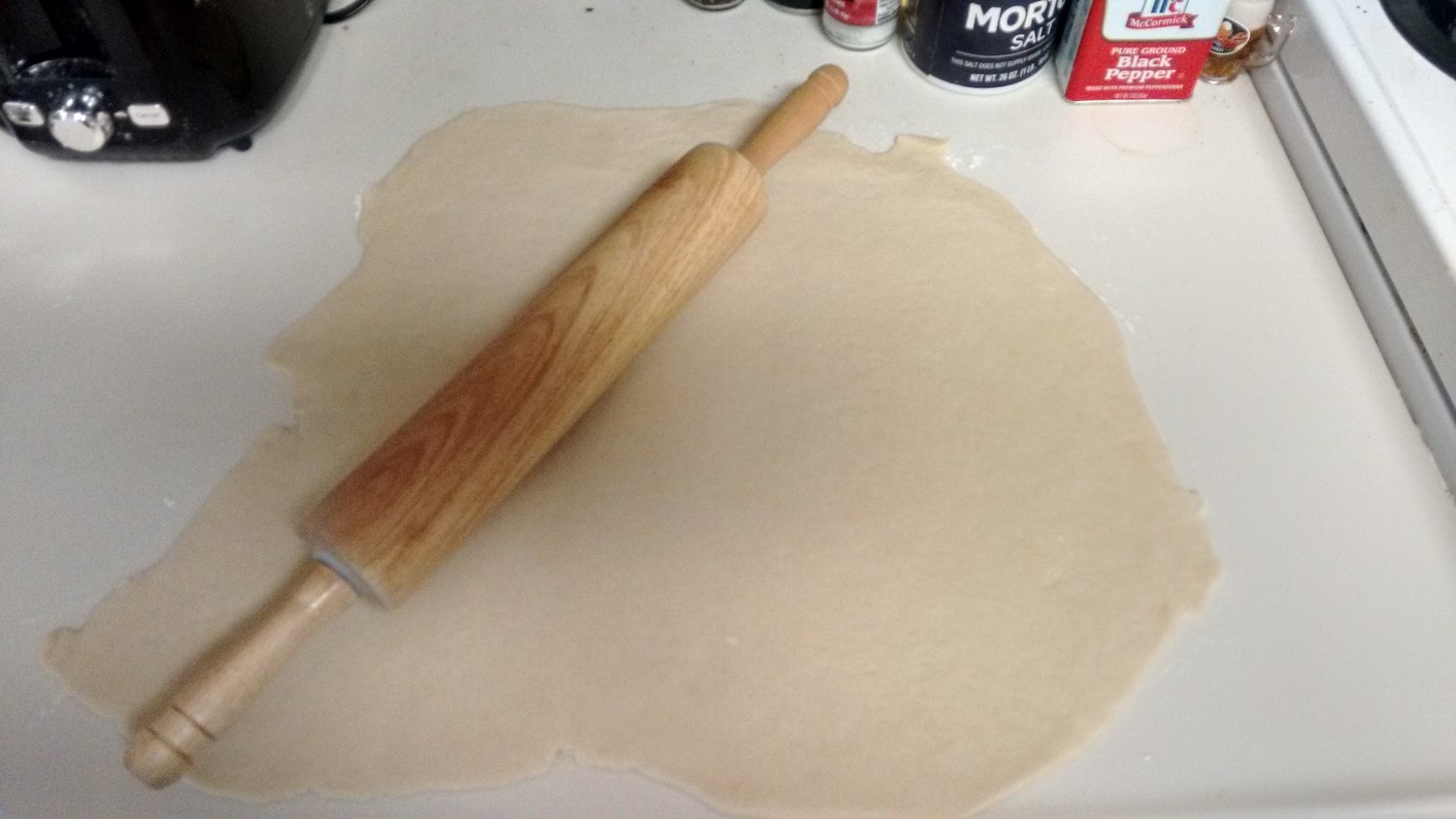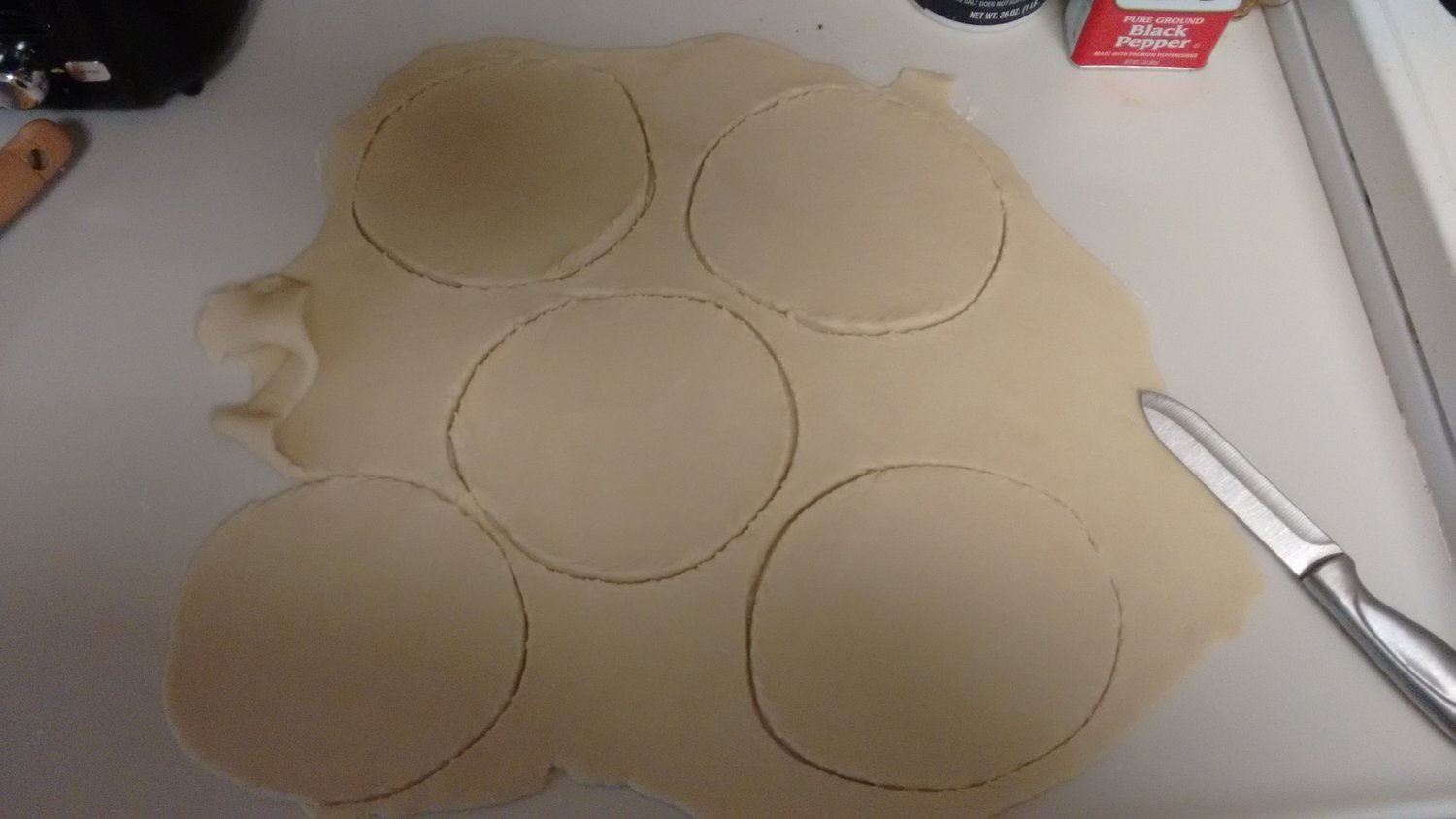 In the meantime, the bananas were crudely chopped.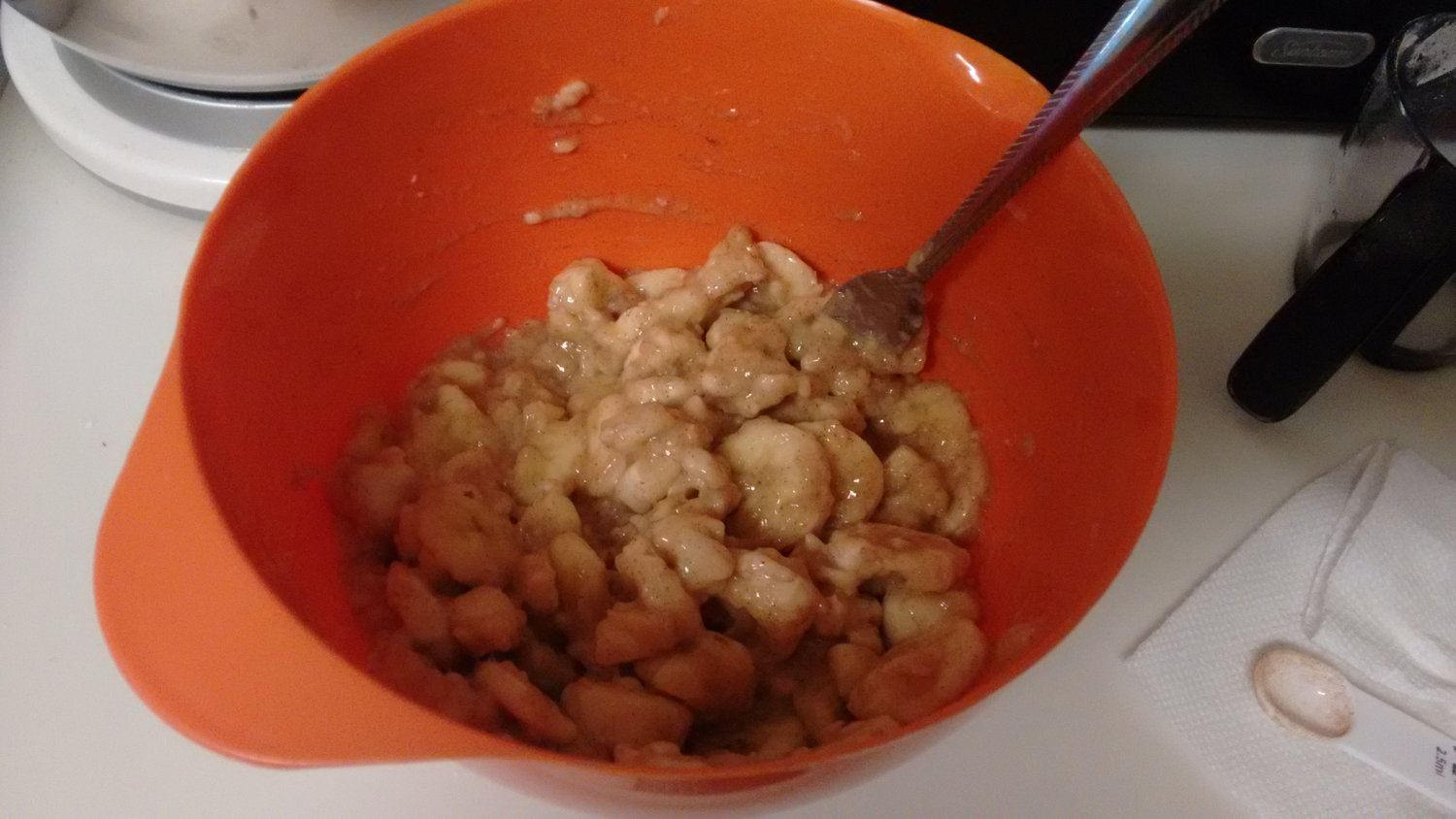 The banana mush was added to each dough circle, topped with semi-sweet chocolate chips.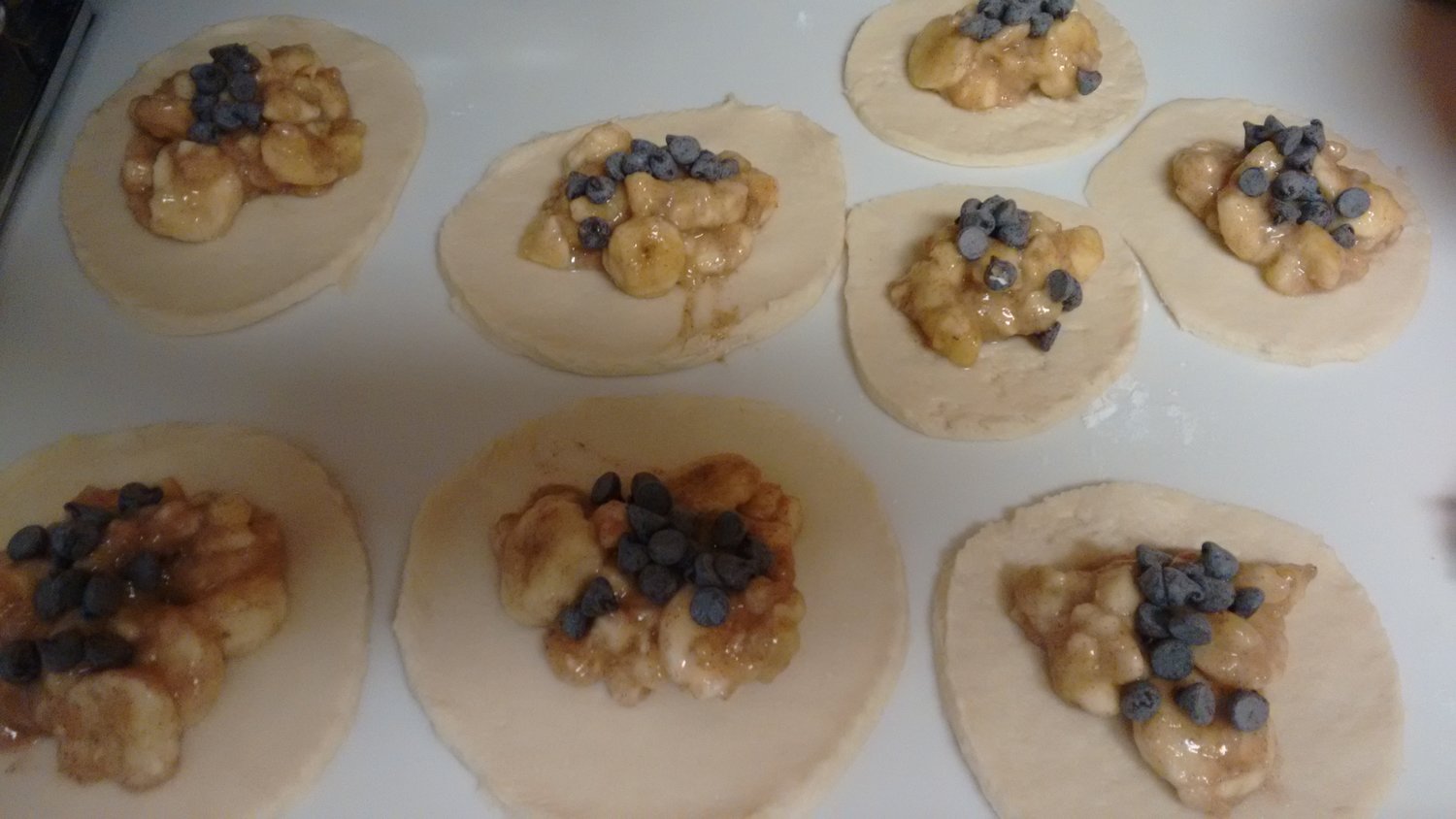 To make an empanada, the dough circle was first folded in half, and the circular edge was tightly pinched and sealed. The edge was then folded over, and pinched again.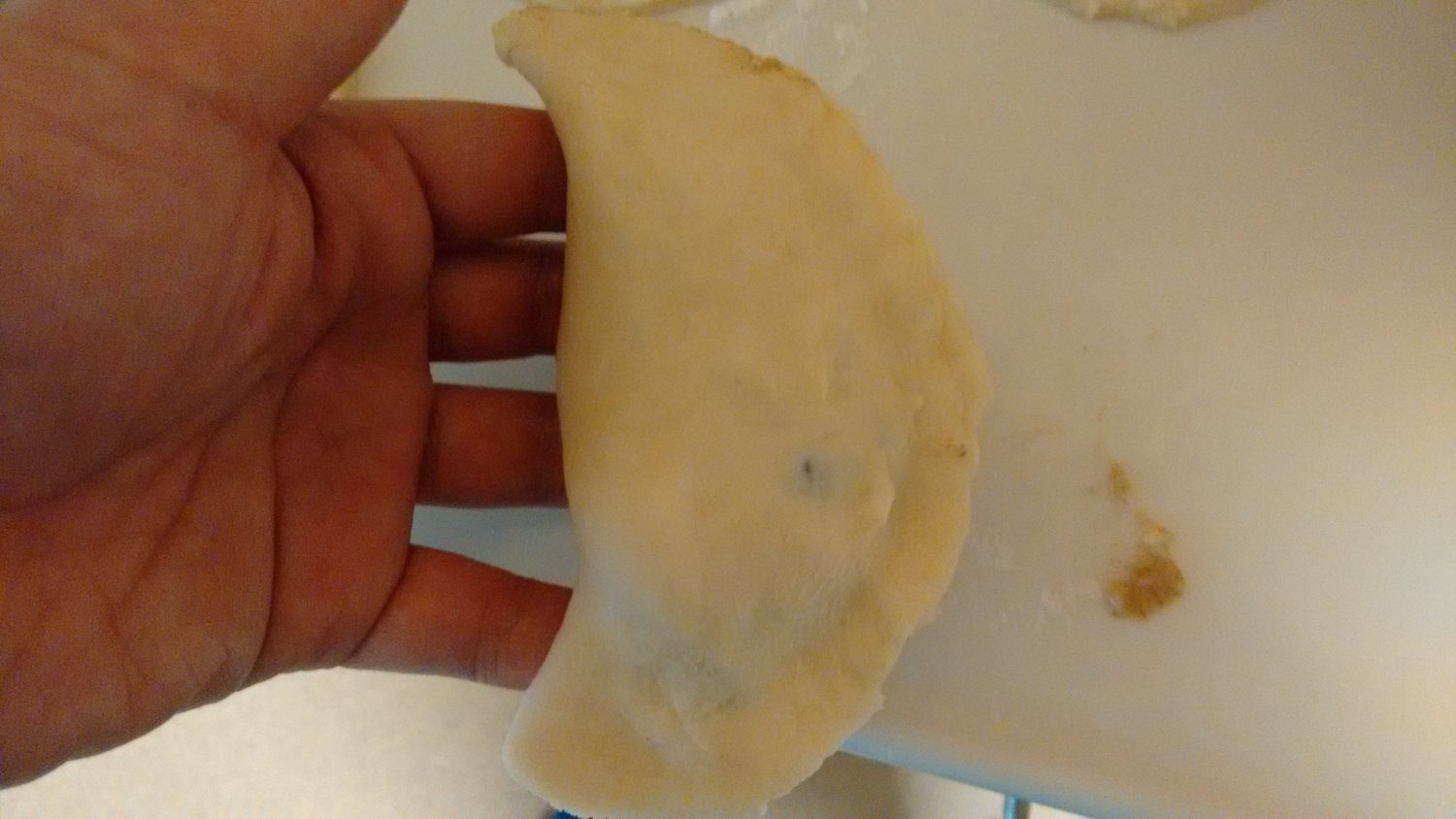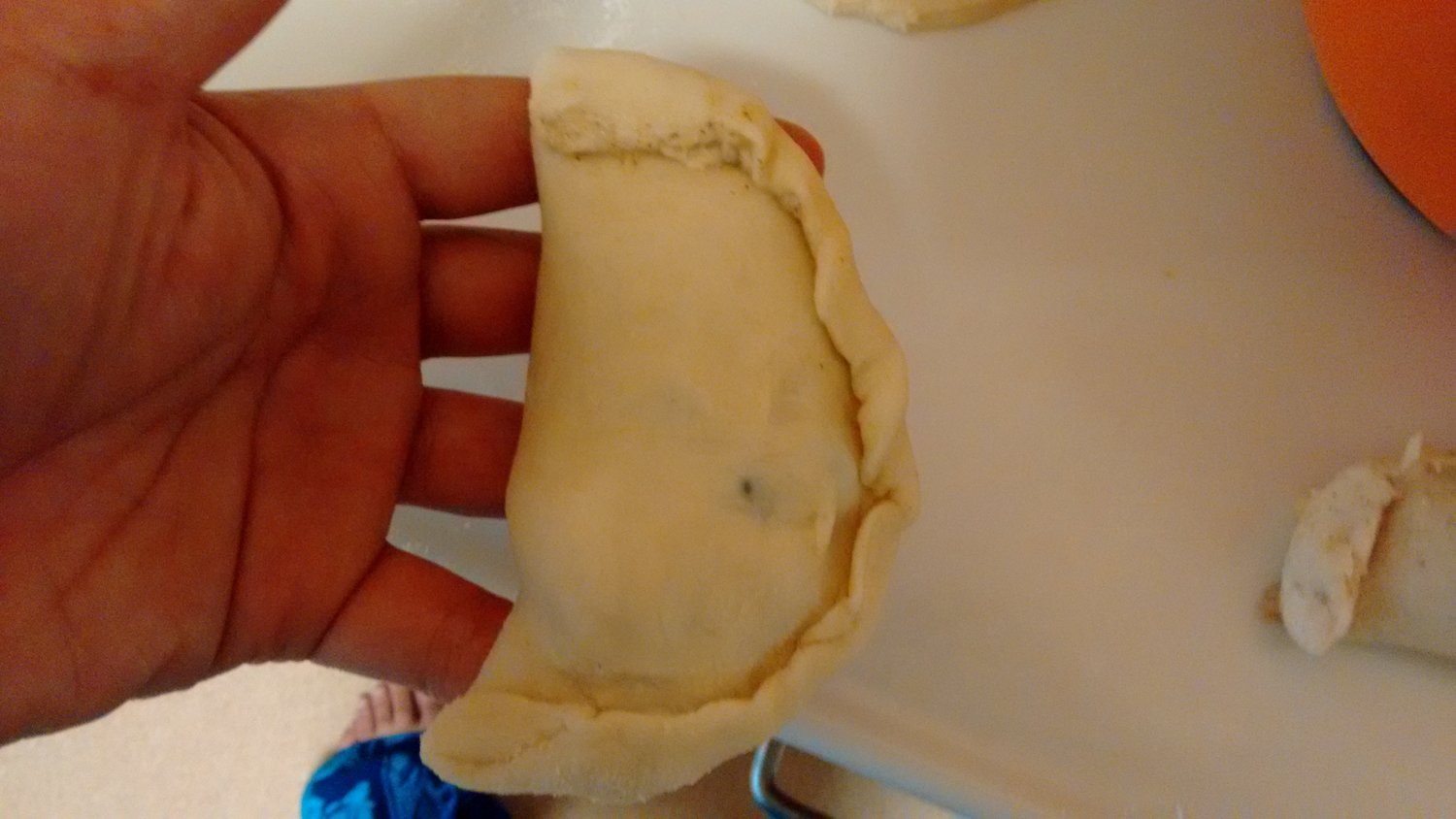 Patterns were cut using a fork to give these empanadas some aesthetic appeals, and an egg white/water mixture was brushed over the top using a napkin.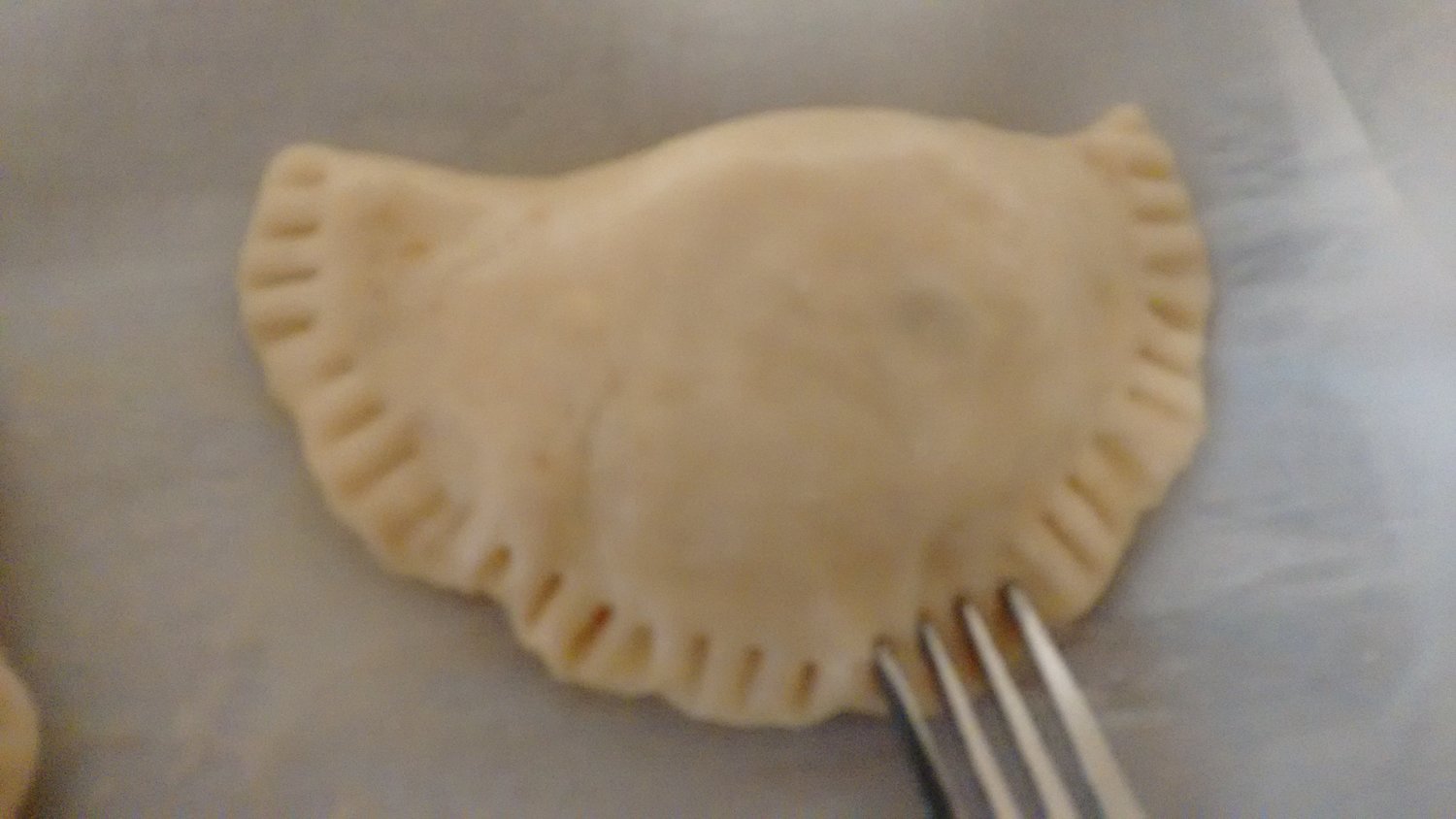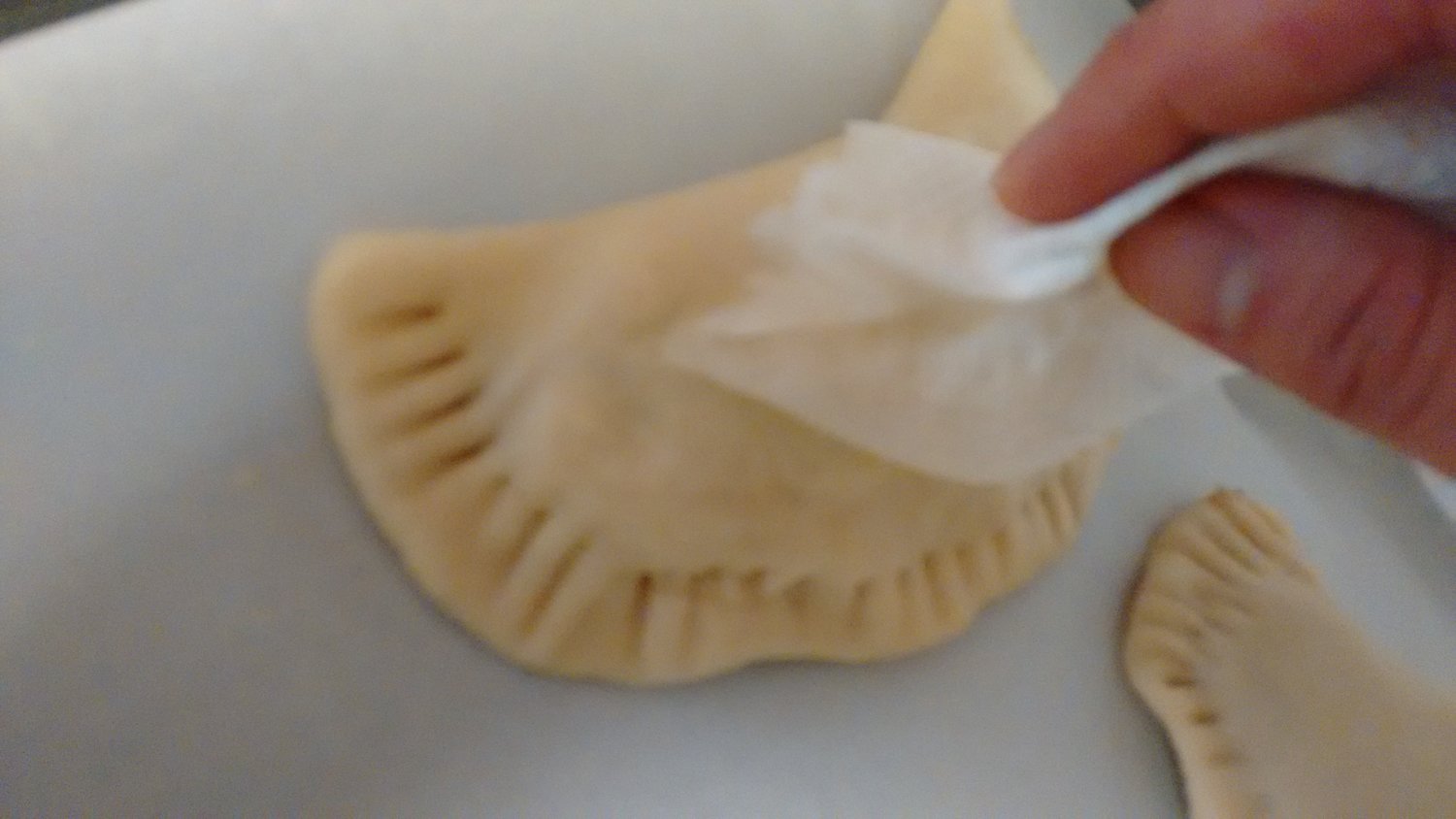 The empanadas were baked for 30 minutes in a preheated oven (425F).
Pre-baked: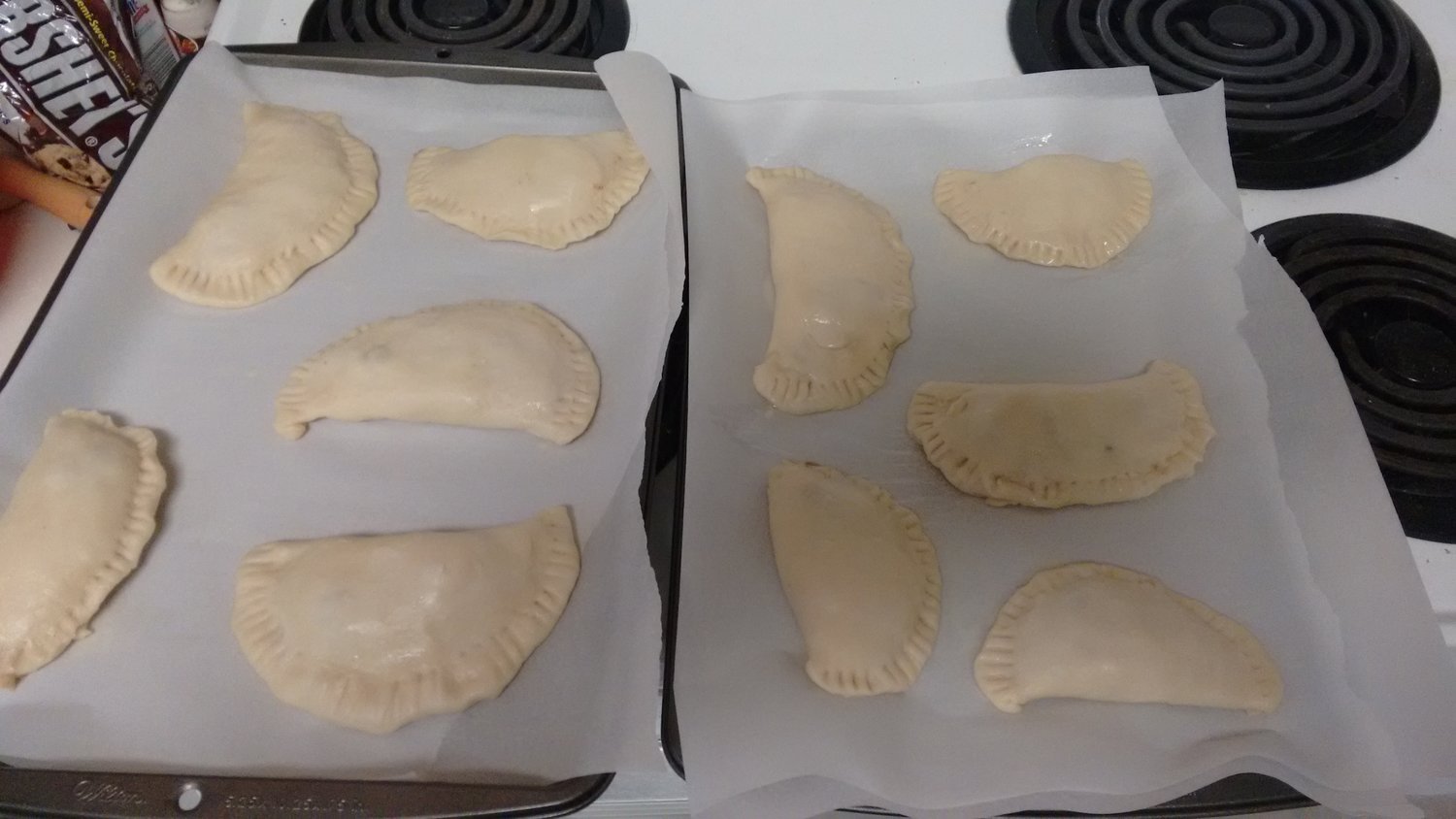 Post-baked: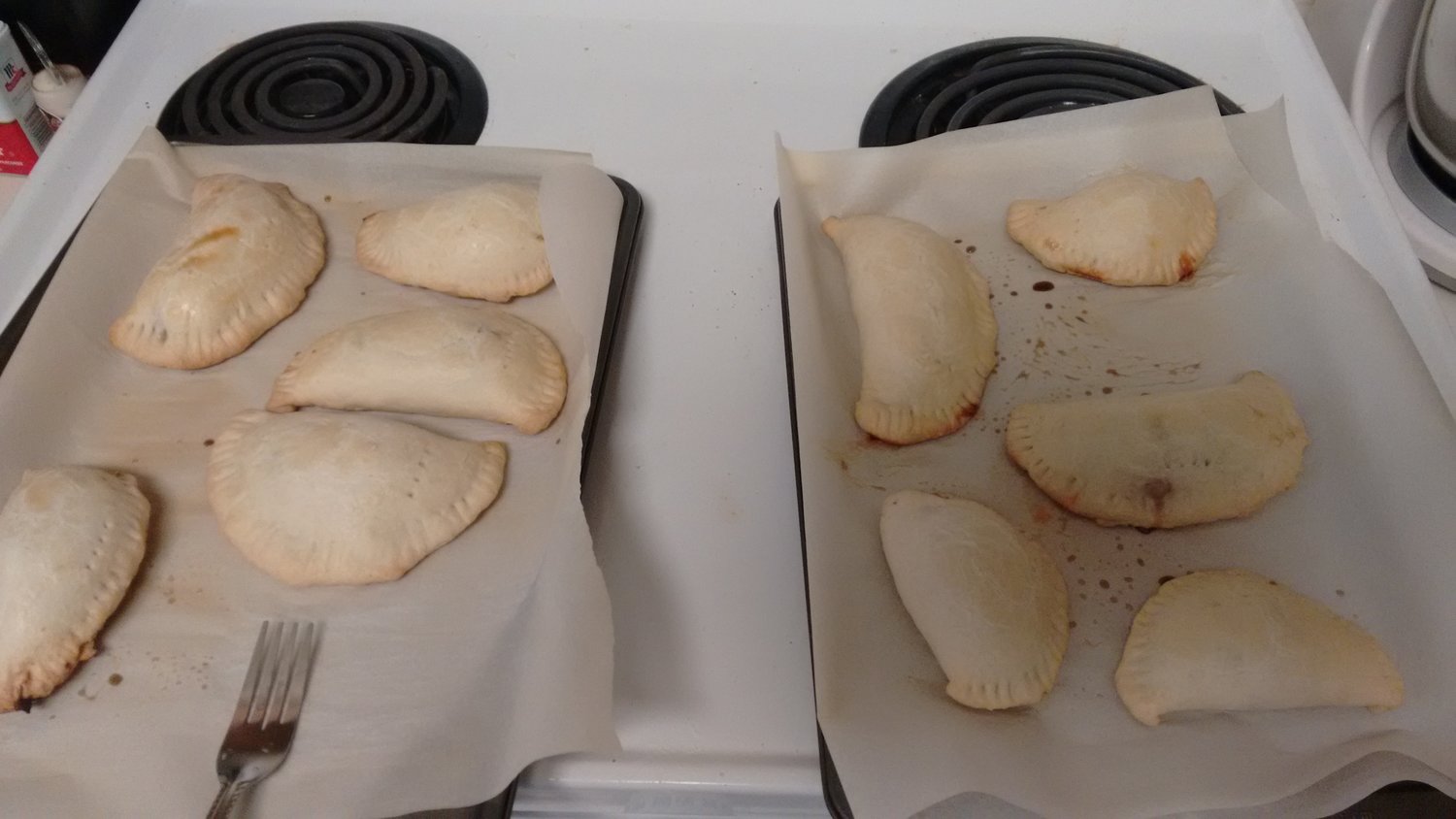 Discussion
These empanadas were quite delicious. Empanadas with any filling (even non-fruits) could be prepared using this method, although the filling should not be too wet in nature. I added the chocolate chips in the spur of the moment; I would highly recommend adding way more than shown in the picture above (it seems like I constantly underestimate the amount of chocolate chips added).
Dough circles of all sizes baked to nice crust after 30 minutes, but it was much easier to fold smaller dough circles. In addition, more than 3/4" space from the edge should be left clear when adding the crushed banana and chocolate chips. Excess dough on the edge could be trimmed.
I do not own a brush for cooking purposes, so I figured I could use a napkin (or multiple ones, as it turned out) to brush the empanadas' top. It worked well, but I wish I had more egg wash brushed on them.
After 30 minutes, the top was still not golden brown, but I feared the bottom would start burning. Next time I would use a whole egg or the egg yolk (instead of just the egg white) mixed with water to brush the top.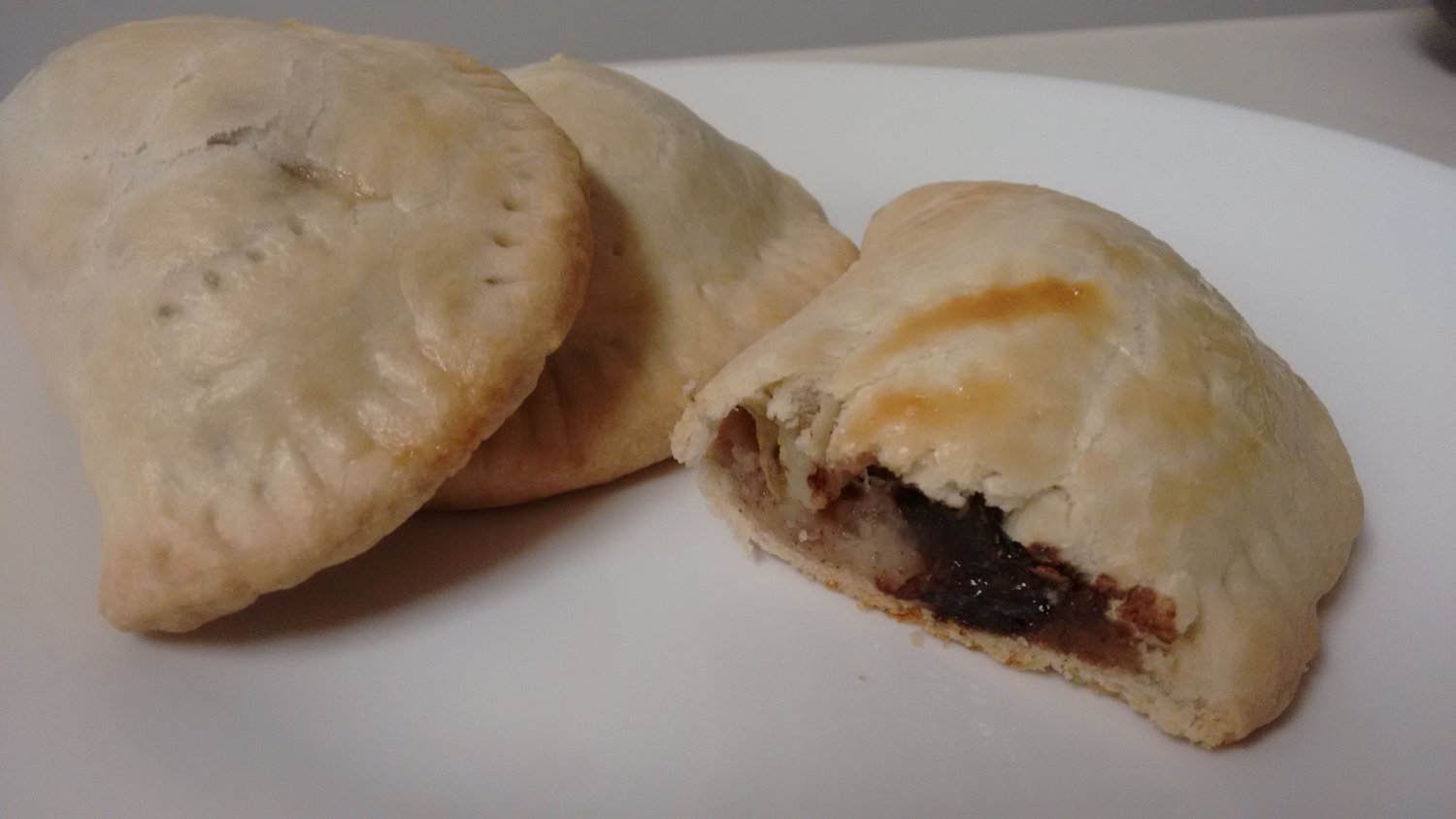 Verdict
Yes, banana empanadas were definitely a legitimate replacement for sour cream & onion chips, but it was a bit of an effort to make them.
II. Baked Mozzarella Sticks
Experimental
Ingredients
1 egg, beaten
2 tbsp all-purpose flour
5 tbsp dry bread crumbs
2 tbsp grated Parmesan Cheese
12 (1 ounce) mozzarella string cheese sticks, halved
Procedure
The "assembly line" was prepared: 1) flour; 2) beaten egg; 3) bread crumbs & Parmesan cheese.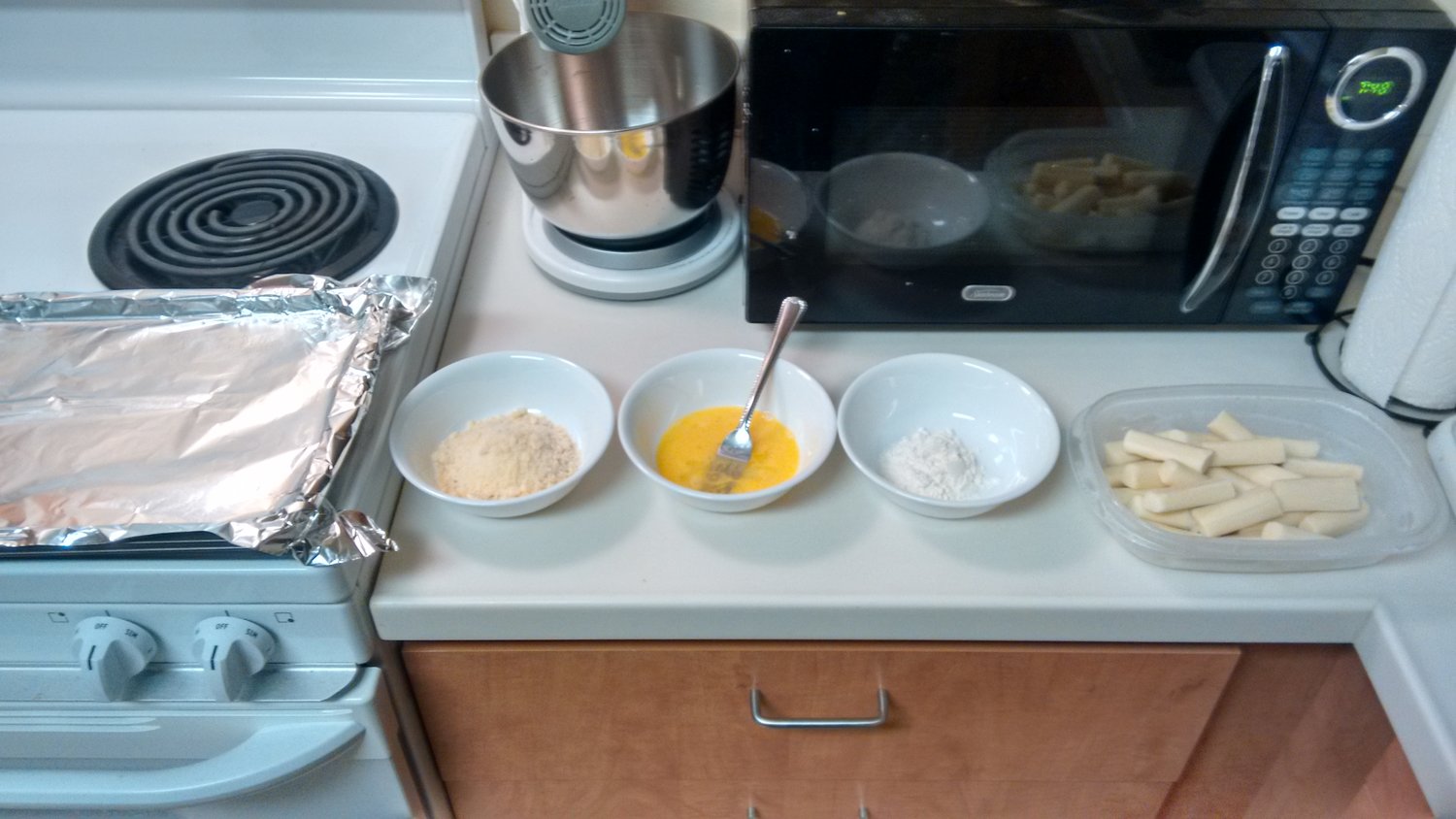 The frozen mozzarella cheese stick halves were coated with flour, then egg, and finally bread crumbs/Parmesan cheese.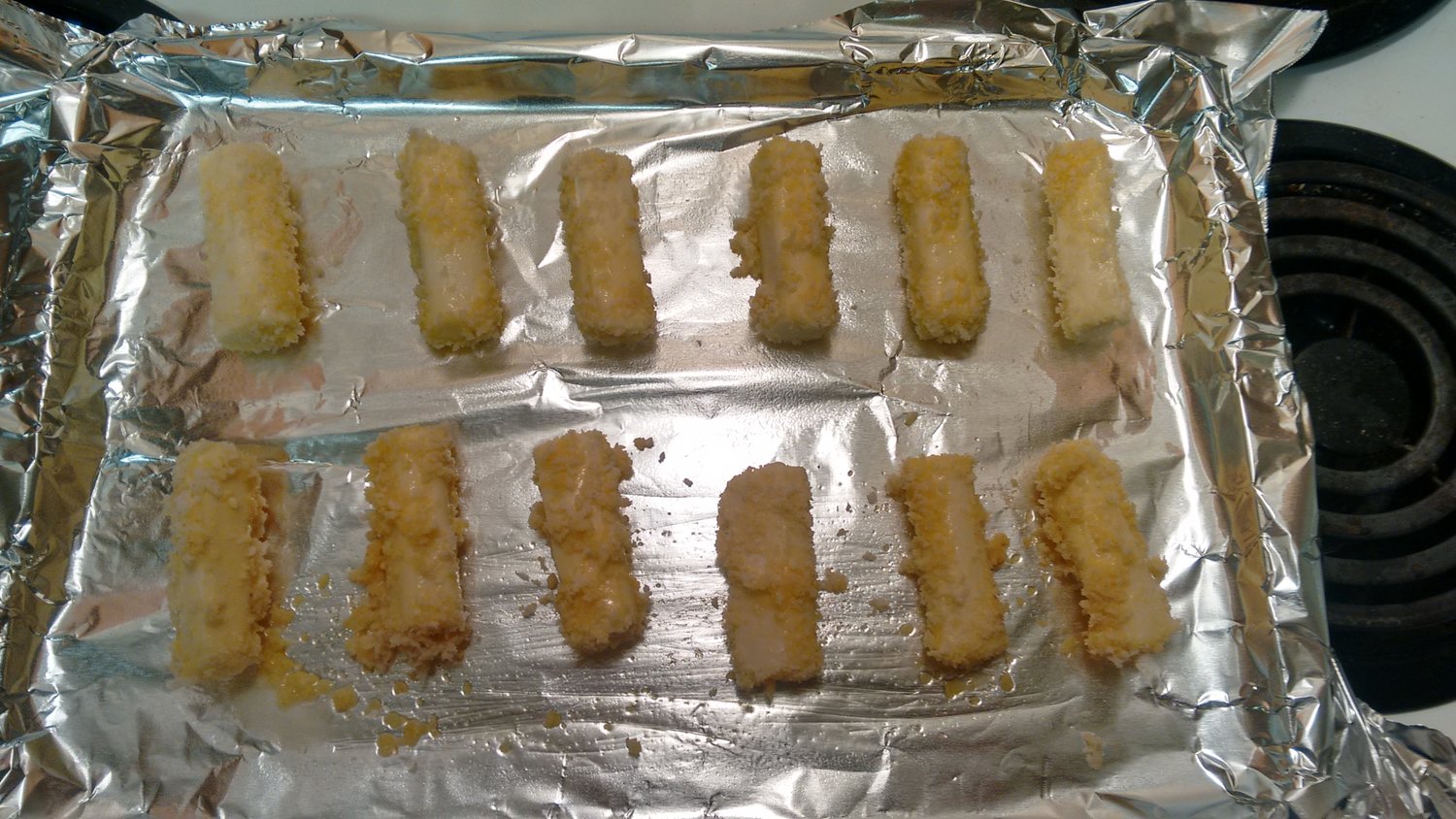 The cheese sticks were separated into 3 batches – A (12 sticks), B (6), C (6). Batches B and C were returned to the freezer.
Results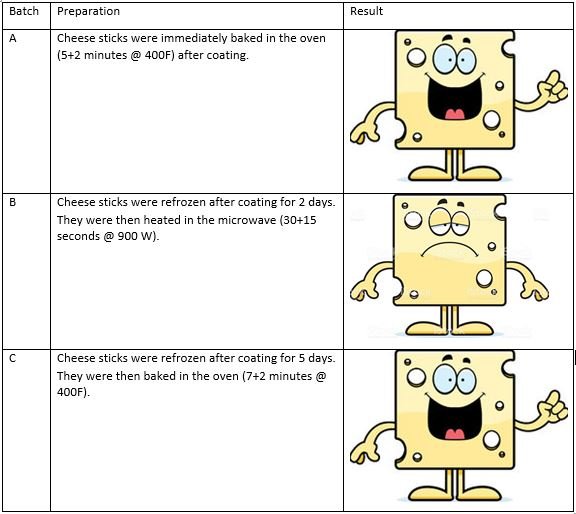 Discussion
I love mozzarella sticks. CHeF KUBiAc can attest to that: he made a small fortune off mozzarella cheese sticks from me in his business venture project for his class last year. Therefore, when I looked for an alternative to chips, mozzarella cheese sticks were the first to came into my mind.
To prepare the coatings, I would highly recommend tripling or quadrupling the amount of bread crumbs/Parmesan cheese. In fact, this should be the rule of thumb when one is preparing a Parmesan coating.
In Trial A, the cheese sticks were baked at 400F immediately after coating. They were initially baked for 5 minutes, at which point it was determined they were not melted enough. They were baked for an additional 2 minutes, at which point they tasted quite delicious.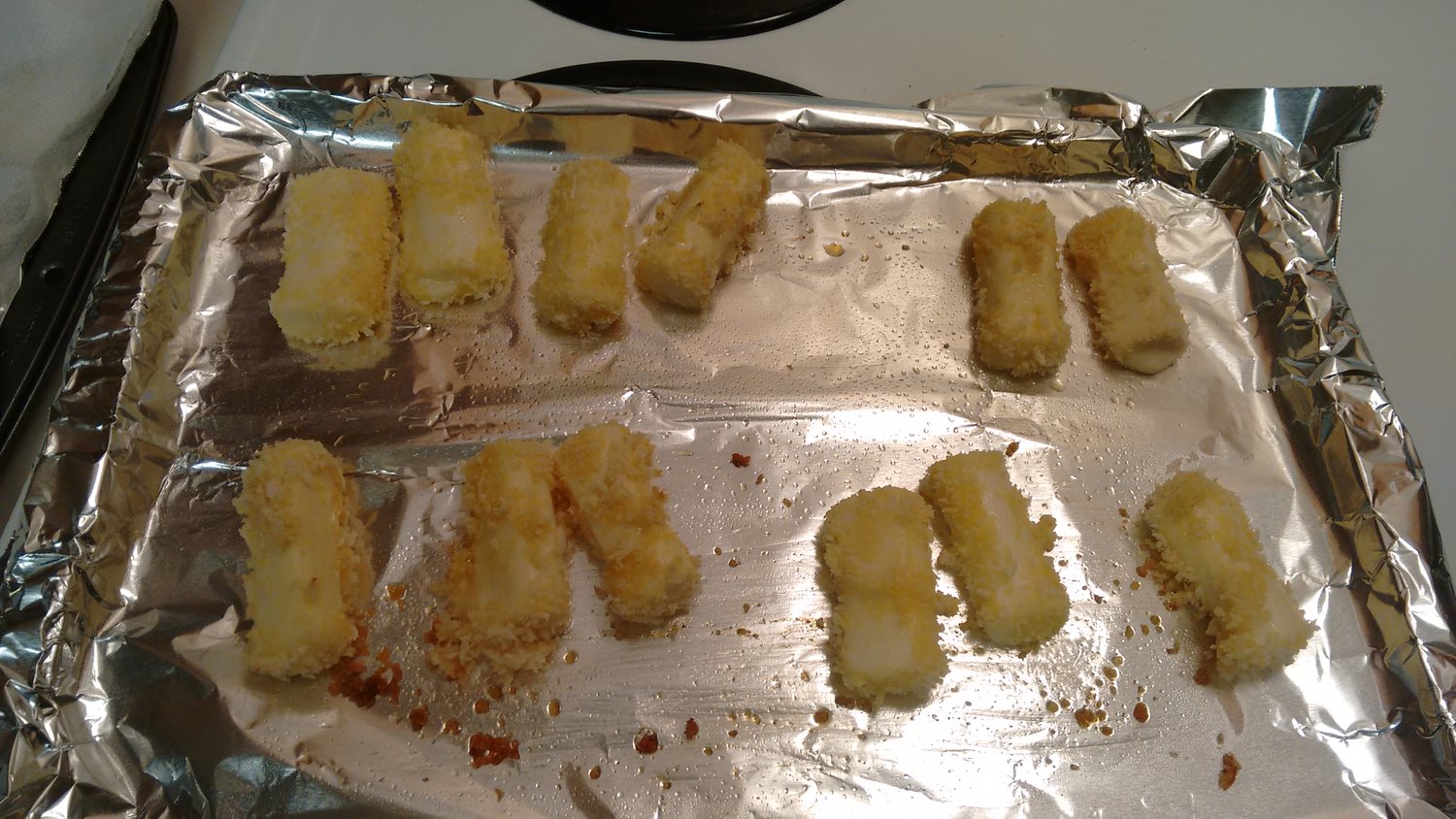 In Trial B, the cheese sticks were refrozen after coating. They were removed from the freezer 2 days later, and were immediately heated in the microwave (900W) for 30 seconds. The cheese sticks close to the middle of the microwavable plate partially melted, while the ones closer to the plate edge were still cold.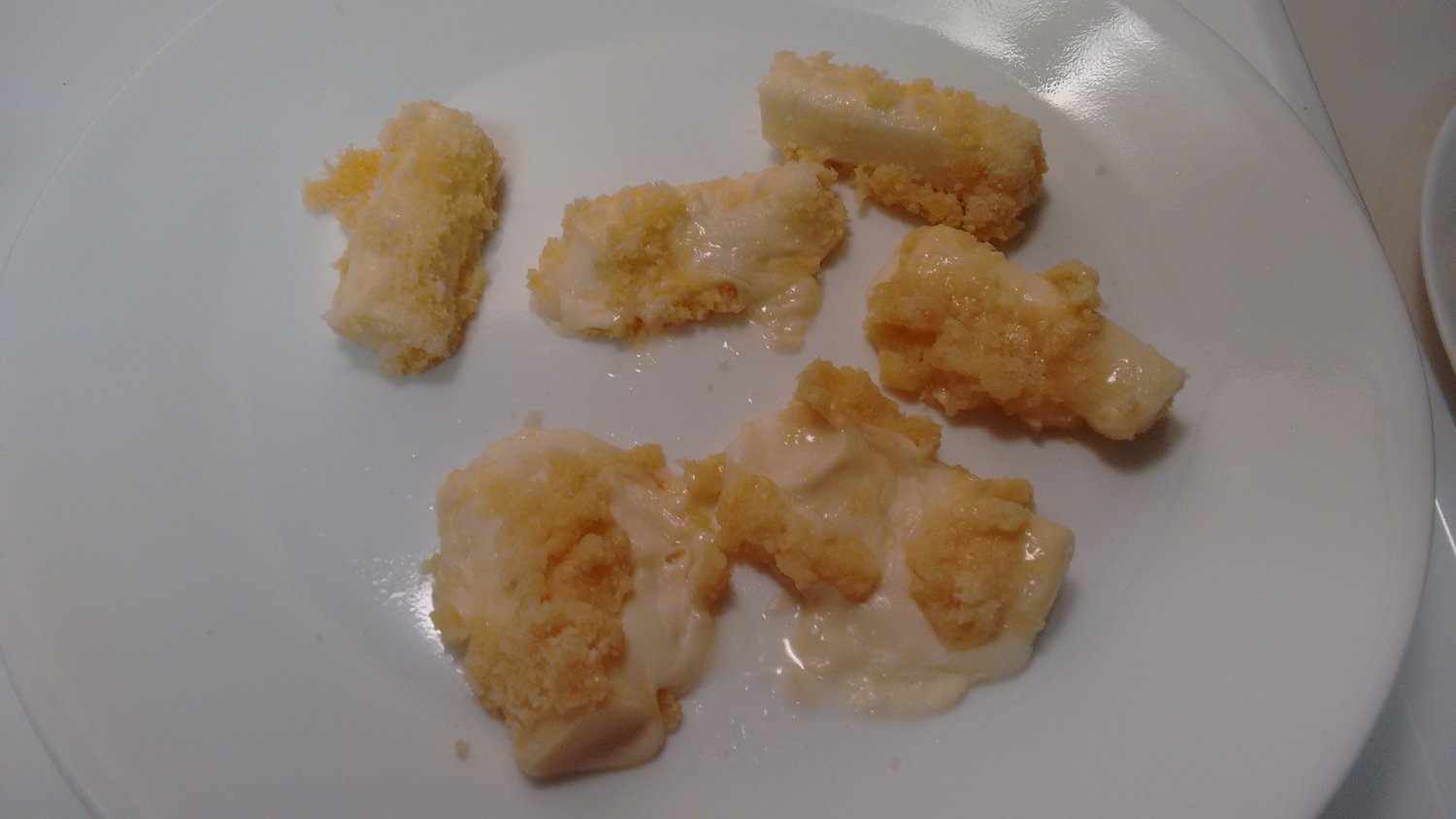 After another 15 seconds of microwaving, most of the cheese sticks unfortunately melted.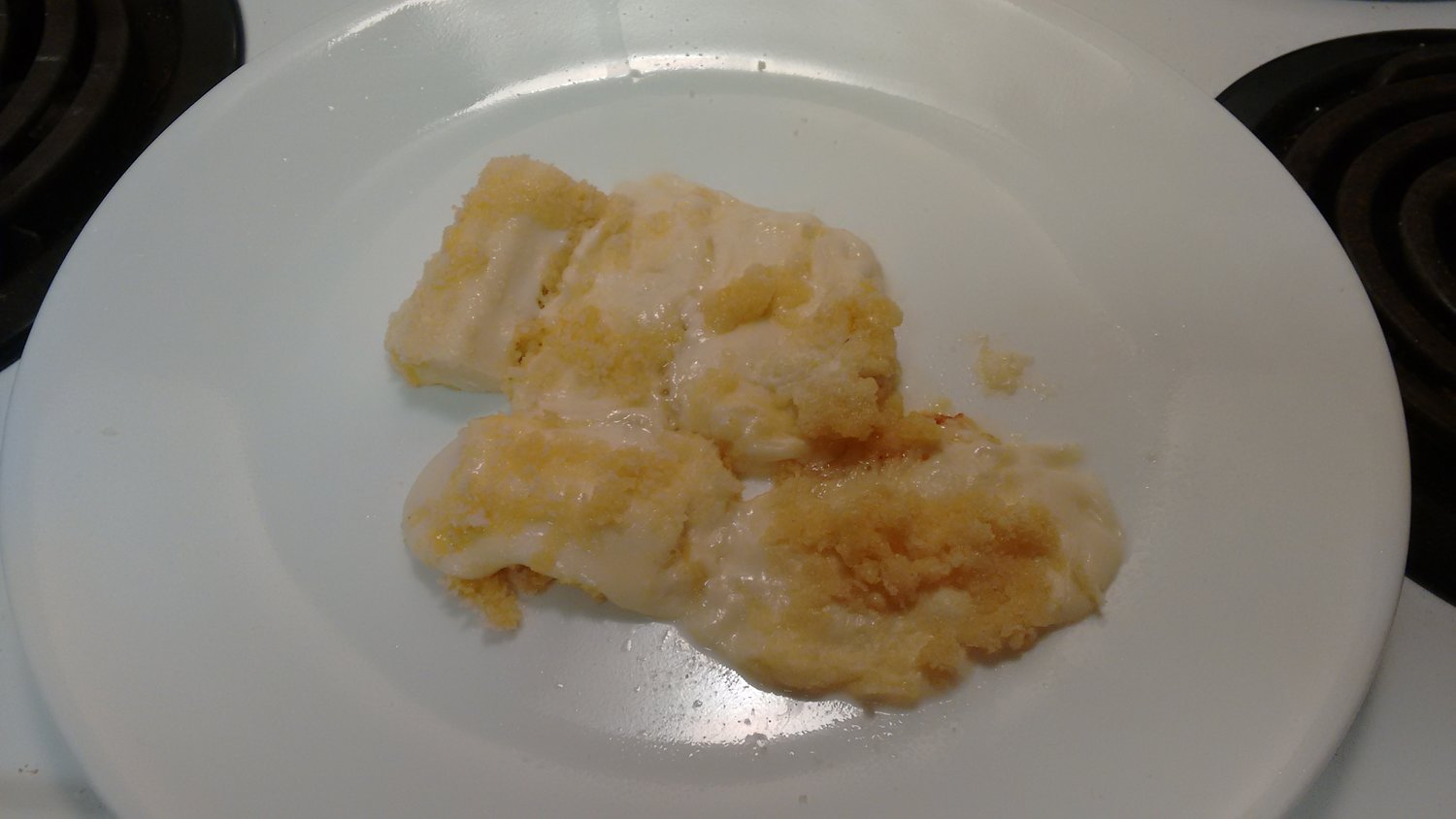 In Trial C, the cheese sticks were refrozen after coating. They were removed from the freezer 5 days later, and were immediately placed in an oven preheated at 400F. They were initially baked for 7 minutes (the time determined in Trial A), but the inside of the cheese stick was still just lukewarm and not melted. They were baked for an additional 2 minutes, at which point they tasted quite delicious: the coating was crisp, and the inside was melted.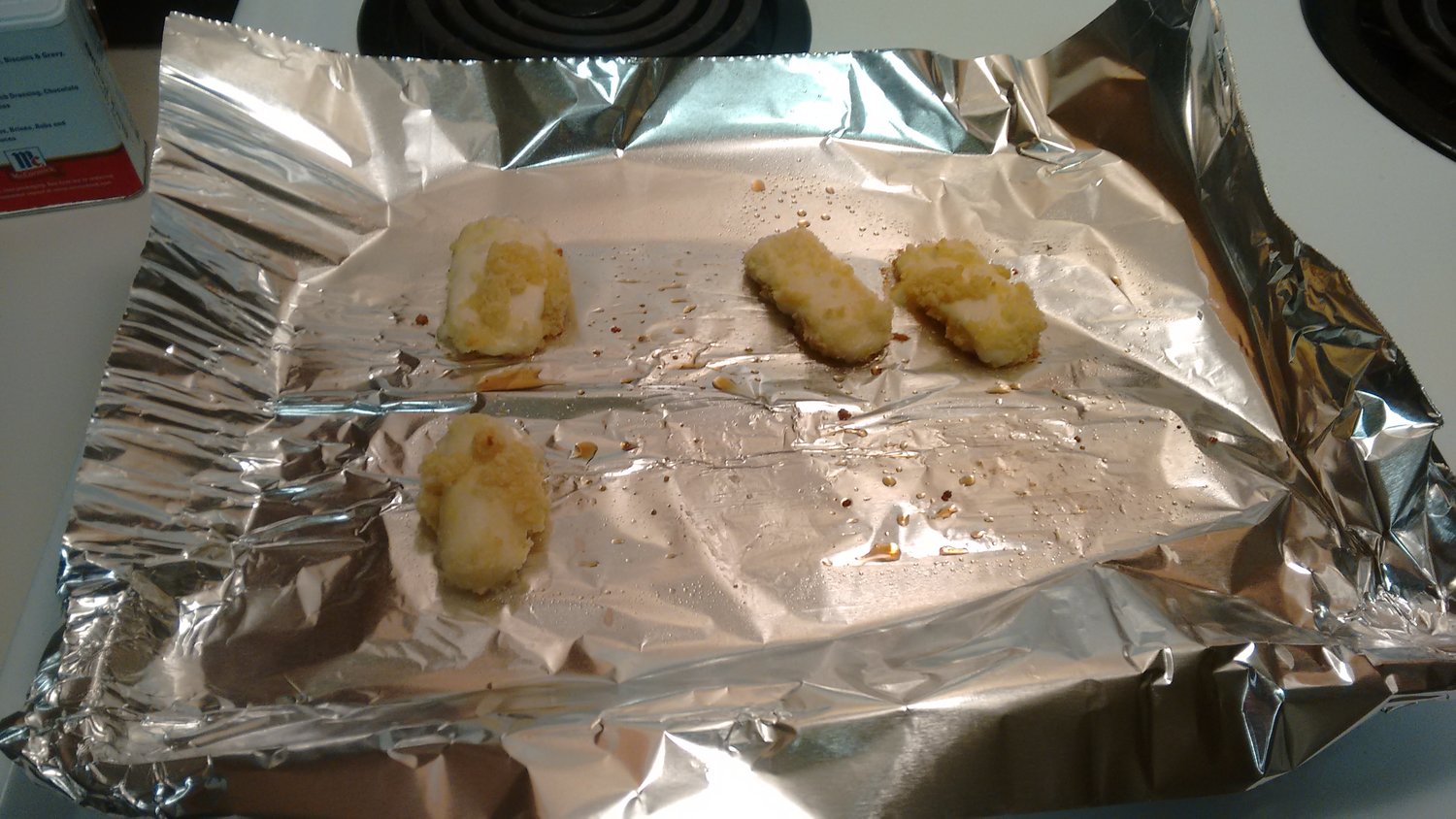 The extra time in Trial C makes sense, as the cheese sticks in Trial A had been at room temperature for 5+ minutes during the coating process, while the cheese sticks in Trial C were moved straight from the freezer to the 400F oven: it stands to reason it would take more time to heat up the cheese sticks in Trial C.
Two separate cheese sticks from Trial C are shown below. The top is shown on the left, and the bottom (touching the aluminum foil) is shown on the right. The bottom attained a more browned color and a crispier texture. I would recommend flipping the cheese sticks halfway through the baking time to obtain even coloring and texture on both sides.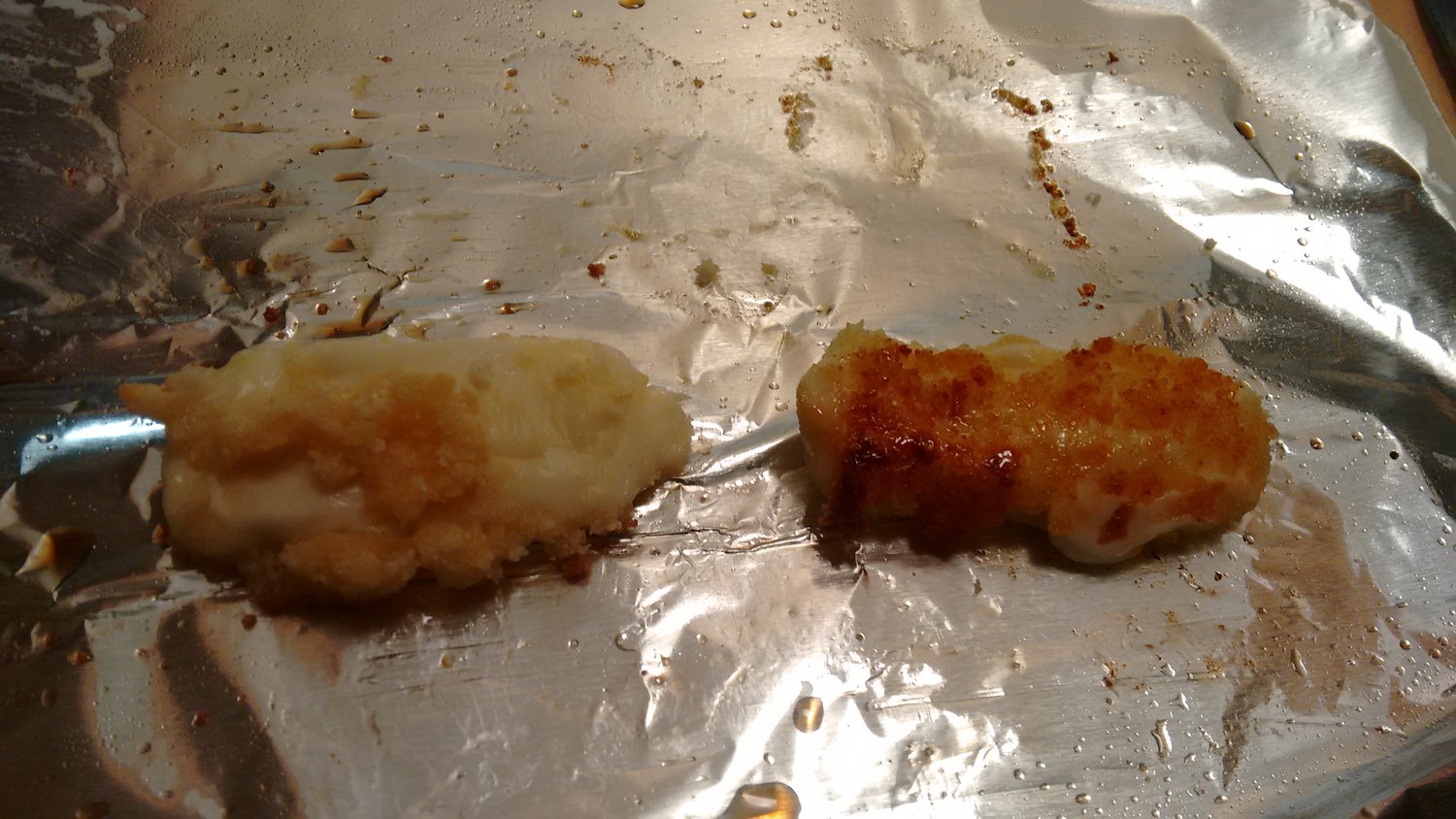 Verdict
Yes. While the calorie count is shockingly high (~60 cal per cheese stick), they are quite filling; I had 6 in one sitting and I got quite full. Therefore, it is difficult to eat too many of them. Additionally, the success of Trial C proves that a large patch could be prepared and stored in the freezer. The amount of coating mixture and improved coloring/texture are to be investigated.
III. Spicy Baked Potato Chips
Experimental
The recipe is adapted from here.
Ingredients
1 russet potato
2 tbsp olive oil
0.25 tsp cayenne pepper
Lots of salt
Procedure
A russet potato was sliced cross-wise; the thickness of the slices range between ~ 1/8" and 3/8". The slices were seasoned with salt on both sides, and were placed on a paper towel to dry off the moisture. Another piece of paper towel was placed on top of the potato slices. The drying process took 1 hour.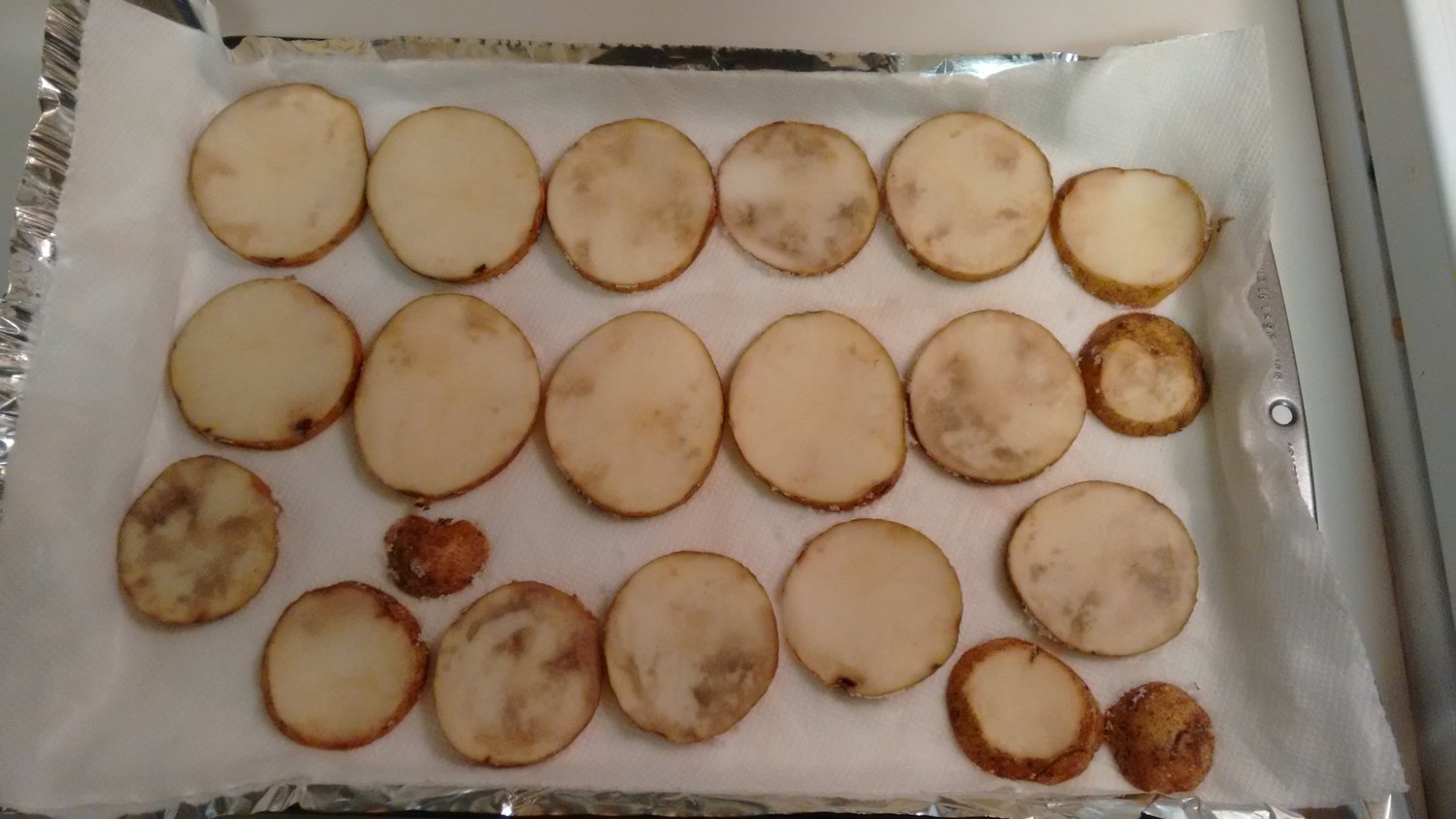 After the potato slices were thoroughly dried, they were placed in a large bowl with the olive and cayenne pepper. The slices were tossed and well covered with the spices.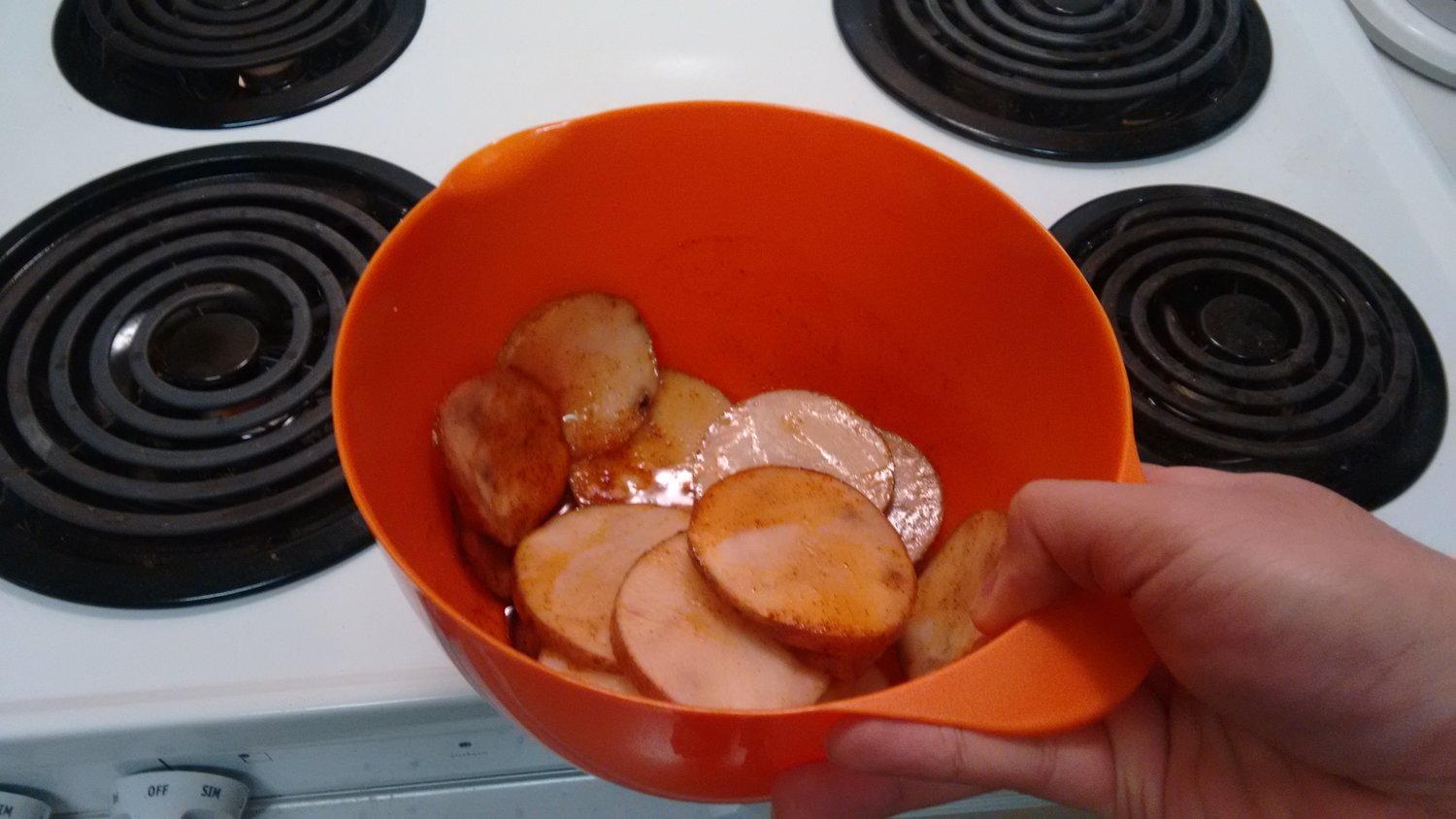 The slices were placed on a 13"x9" cookie tray, and were baked at 450F for 9 minutes. The slices were then flipped over and baked for an additional 9 minutes.
Pre-baked: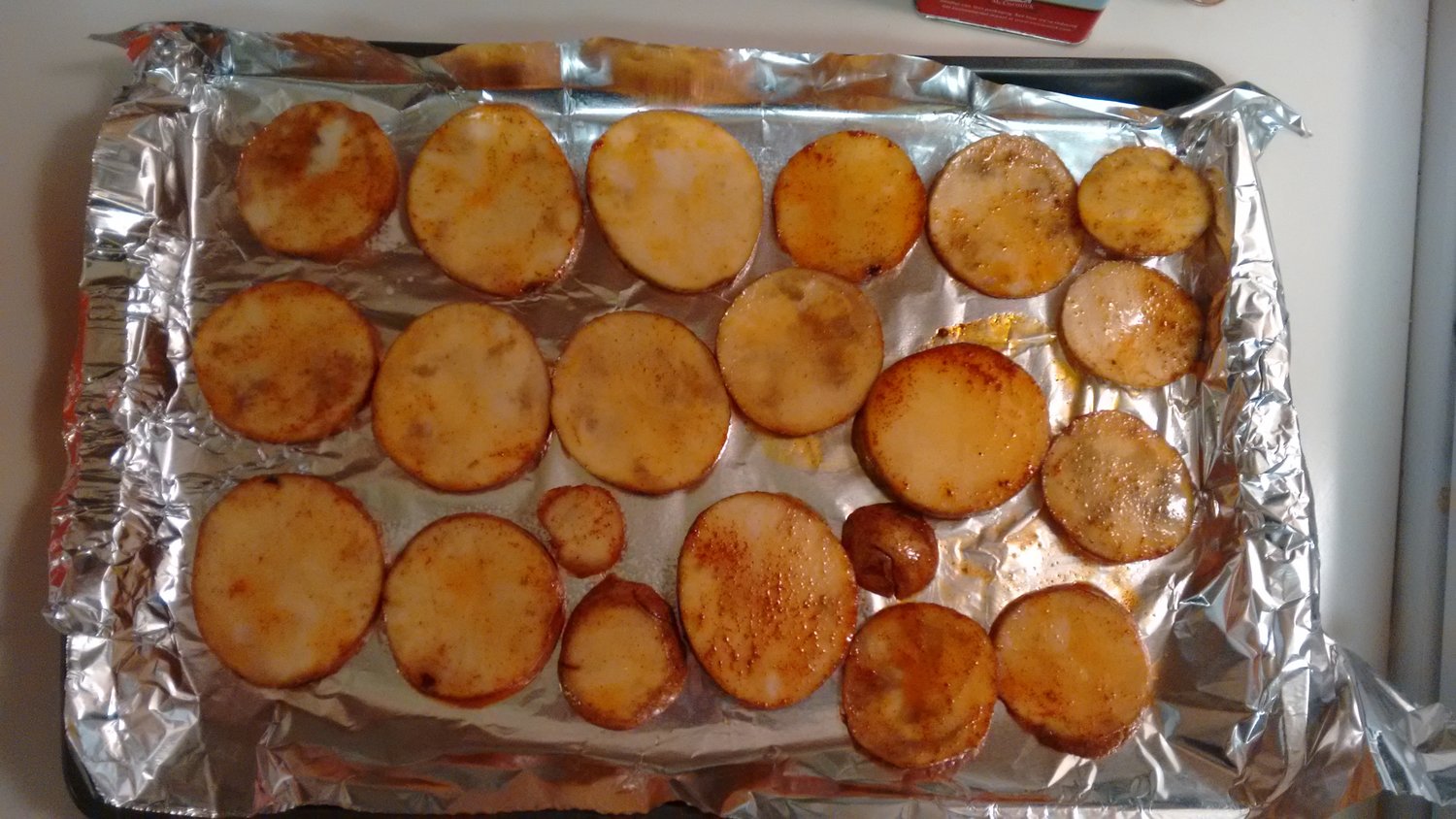 Post-baked: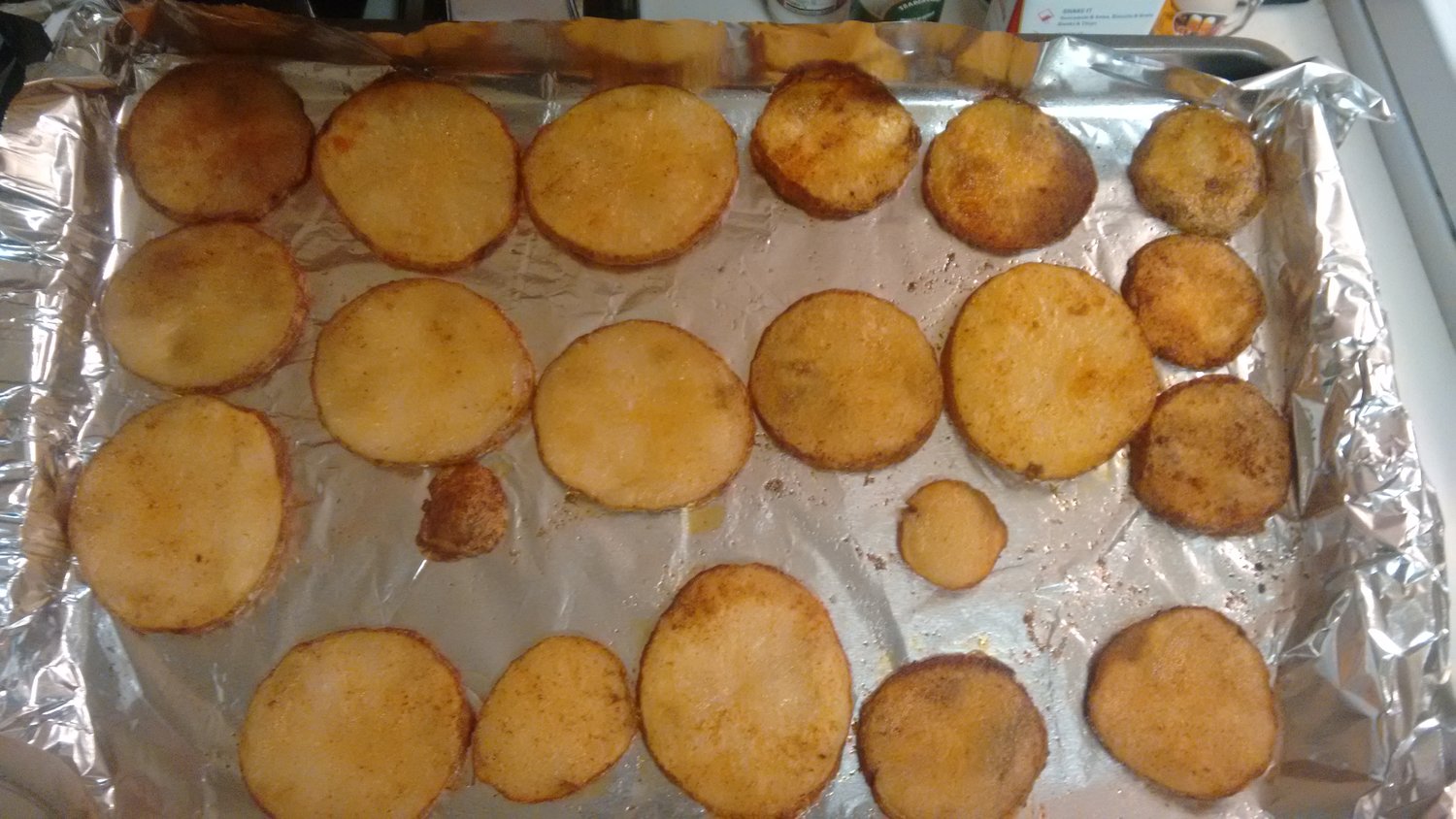 The chips were serve with the egg casserole I made a couple days ago.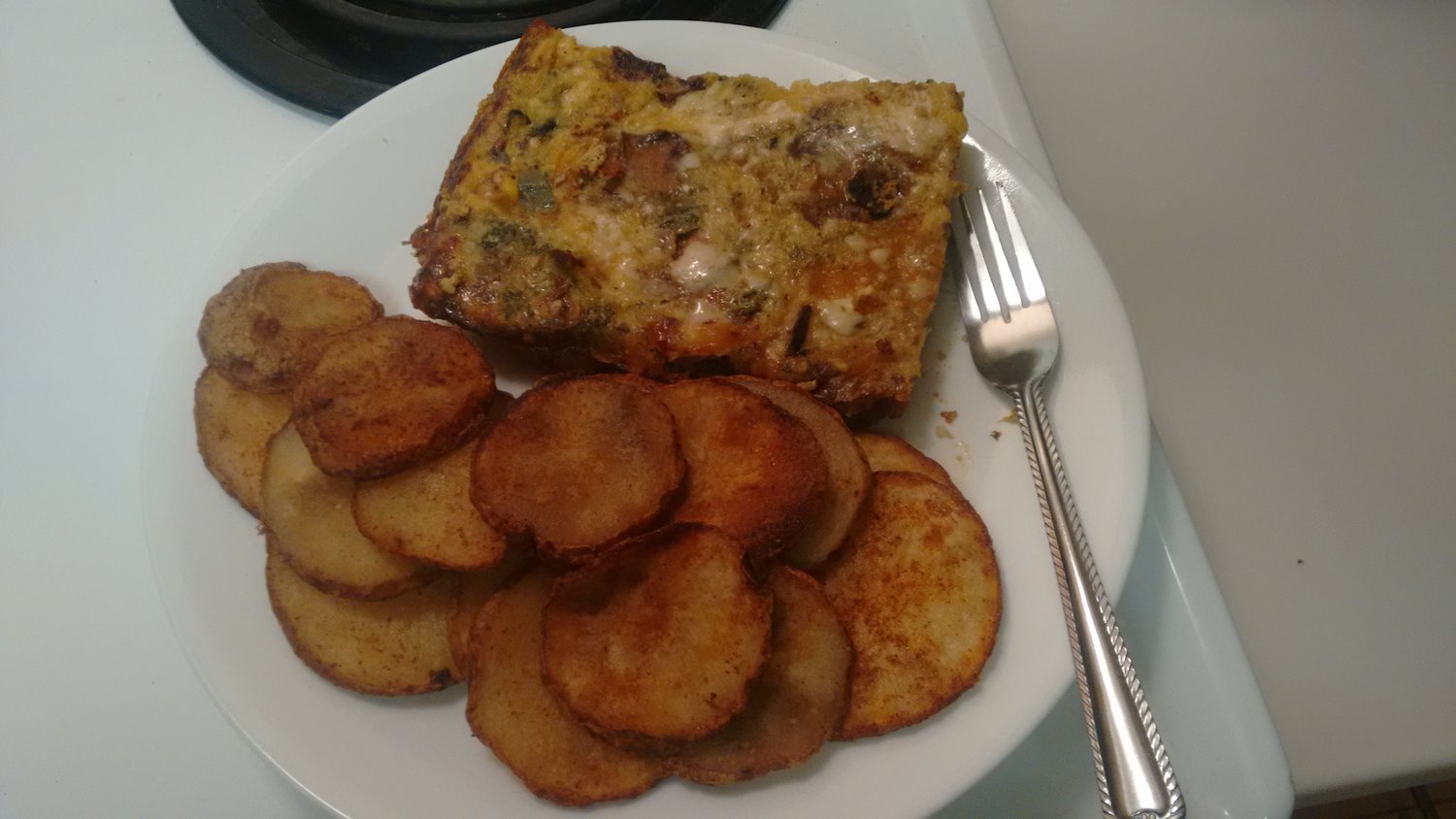 Discussion
These potato chips were quite excellent. However, I would recommend the following changes.
The recipe calls to cut the potato into 3/8"-thick slices. That was way too thick for chips. It was not difficult to obtain a thickness as low as ~ 1/8" even for an amateur with a knife. Chips of this thickness resemble more to commercial ones, and they were crispier than the thicker ones. The thickness is shown below for reference:


The chips were quite salty: it is possible to use less salt when drying, or less cayenne when seasoning. It may also be possible to season the chips after baking with the cayenne alone (no oil).

The sour cream & onion flavoring must be explored in the near future.
Verdict
Yes, baked potato chips are healthier than fried ones as long as a small amount of spices and salt was used. The sour cream & onion flavor is definitely worth pursuing.