Chicago deep-dish pizza: I did it! (finally)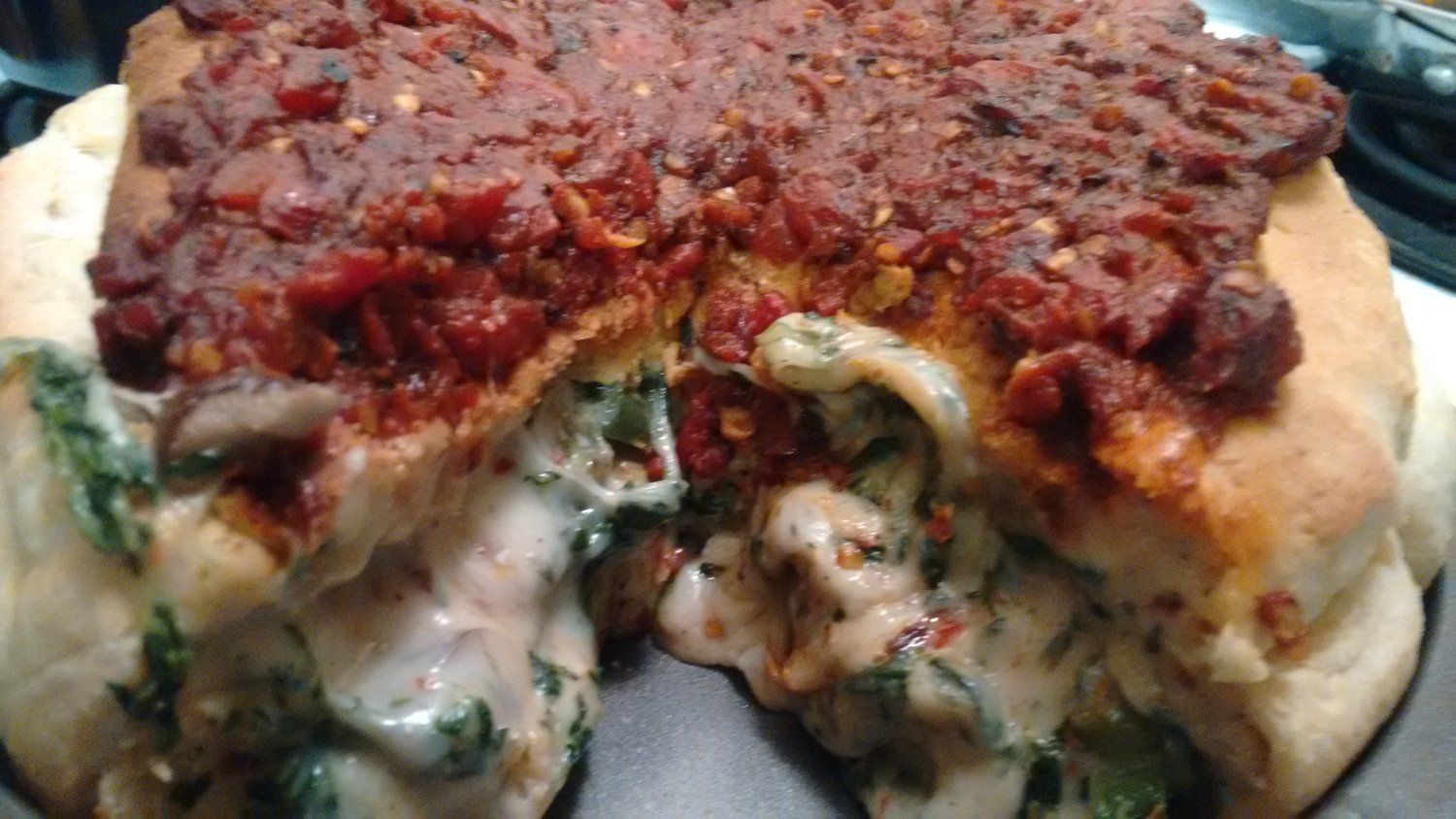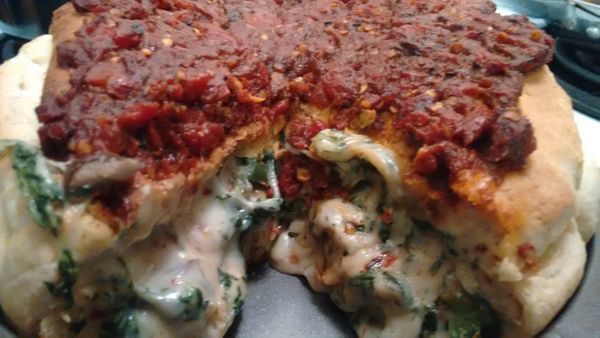 Abstract
After finals week, (future) Dr. Bulldog had a crack at the top of his bucket list: Chicago-style deep dish pizza. The cheese-infused product was a marvelous sight.
Background
It is no secret I like food in big portions. I don't do 5 small meals in one day; I like eating a pound of pasta in 1 sitting after work at midnight and passing out from a food coma. Maybe that's why I sport a tummy. That's okay – I get science done. Anyway, one can imagine my excitement when I discovered a more fabulous version of pizzas: the mysterious phenomenon up north known as the Chicago-style deep dish. The stuffing, the thick crust … now that's a real pie. Hmm.
Since that discovery, I had been pursuing this holy grail of a pizza. I came so close in the summer after my junior year, when my research group travelled to Argonne National Laboratory, Illinois, which is 30 miles outside Chicago.


Yet somehow I missed the opportunity to taste said heavenly food during out our 5-day beam-time (#nrvs #ironchemistry). Funny story here, the only pizzeria we got to go to considered deep dish pizzas "pointless" and hence did not have them on the menu. I mean, come on, a pizzeria outside of Chicago doesn't serve deep dish pizzas? Life does not make sense sometimes.
After several more near-misses, and more reminders from my current advisor that Cubs won the world series, that he is from Chicago and that we should get deep dish pizzas as a group, I have decided to make my own deep dish pizza. I have made pizzas before (guys I still think I made the best pizza at the 2016 Super Bowl party), but the challenges were multi-fold: not only was I making the crust from scratch, I had no idea how well the pie would hold together. Heck, I have never seen a deep-dish pizza in person before. I scoured through the web, and settled on this recipe from Amy's Cooking Adventures food blog with minor adjustments.
As a side note, as I have more free time now just doing research and teaching, I have decided to spend more time on preparing my meals and eat healthier. Therefore, I am going to adopt a more vegetarian diet, hence the spinach/mushroom pizza instead of good ol' Italian sausage/pepperoni. Sorry if this creation offends any meat lovers out there.
Experimental
Dough
Ingredients:
3.25 cups all-purpose flour
1.5 cups yellow corn meal
1.5 teaspoons salt
2 teaspoons sugar
2.25 teaspoons instant yeast
1.25 cups water, room temperature
3 tablespoons unsalted butter, melted
2 teaspoons olive oil
5 tablespoons unsalted butter, softened
Flour, cornmeal, salt, sugar, and instant yeast were mixed at low speed using a stand mixer for a minute.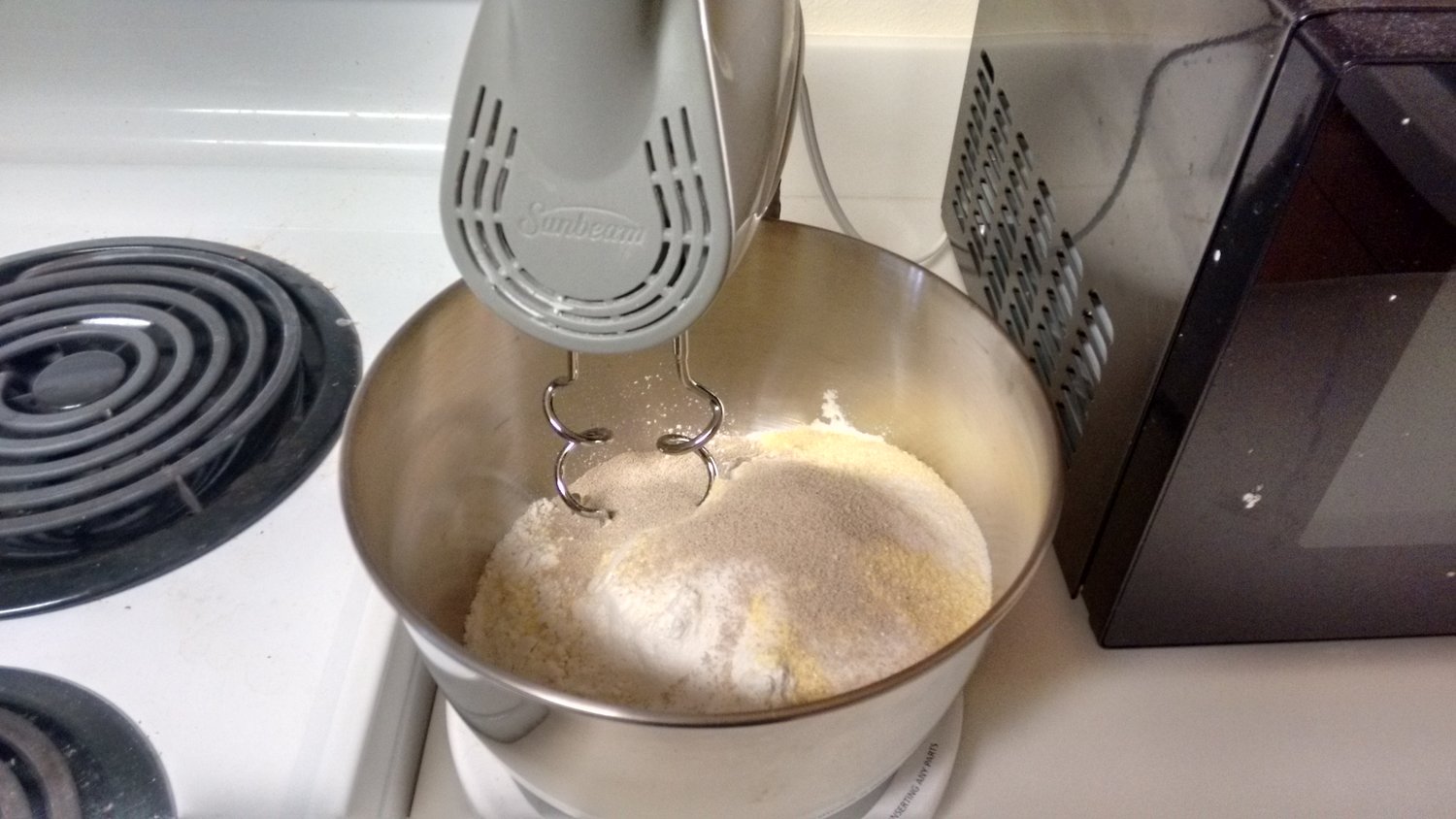 3 tablespoons of unsalted butter were melted, then let cooled to room temperature before addition to avoid killing the yeast. The melted butter and room-temperature water were added, and the mixture was mixed at a medium speed for 7 minutes until the dough surface was smooth.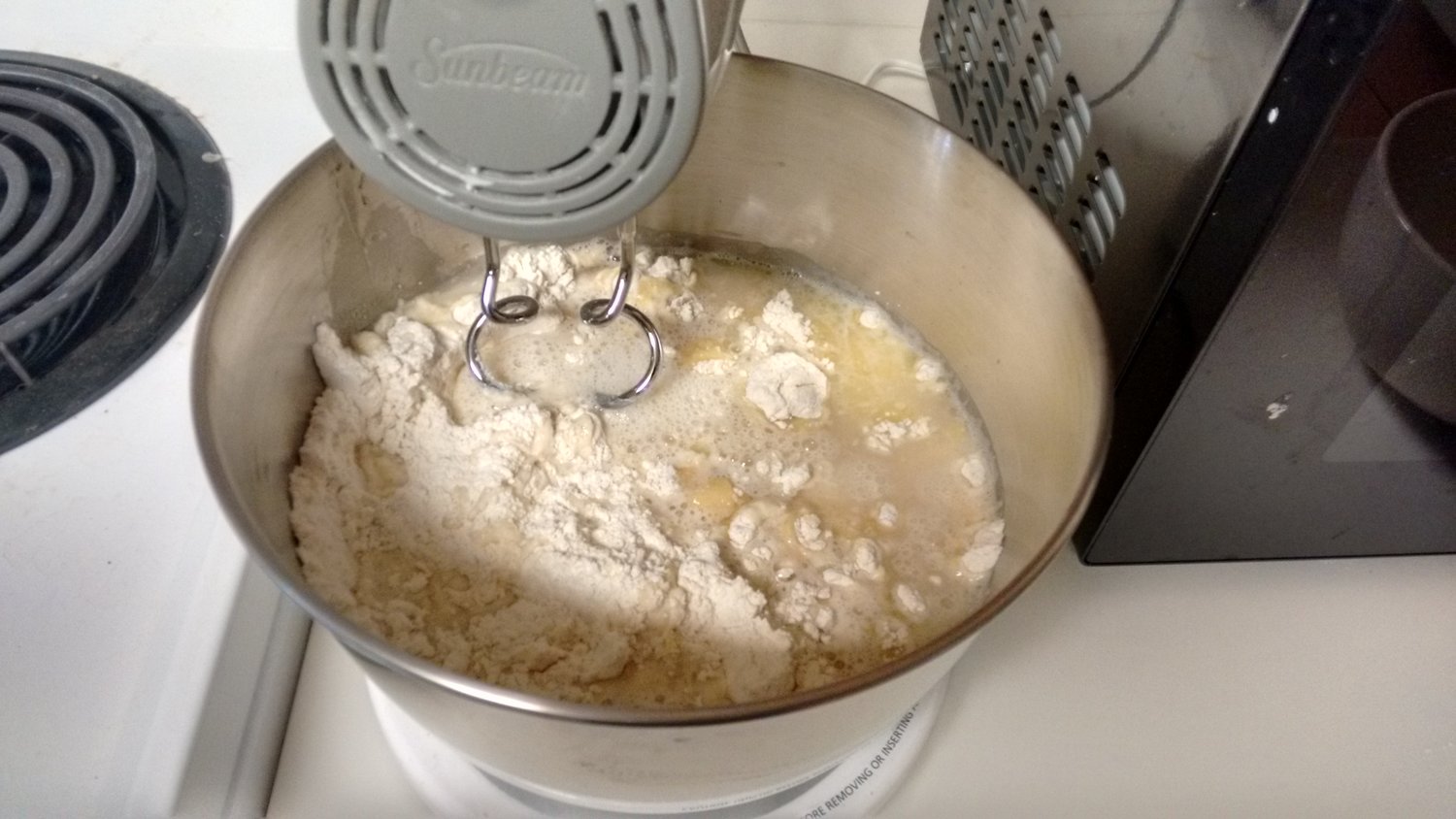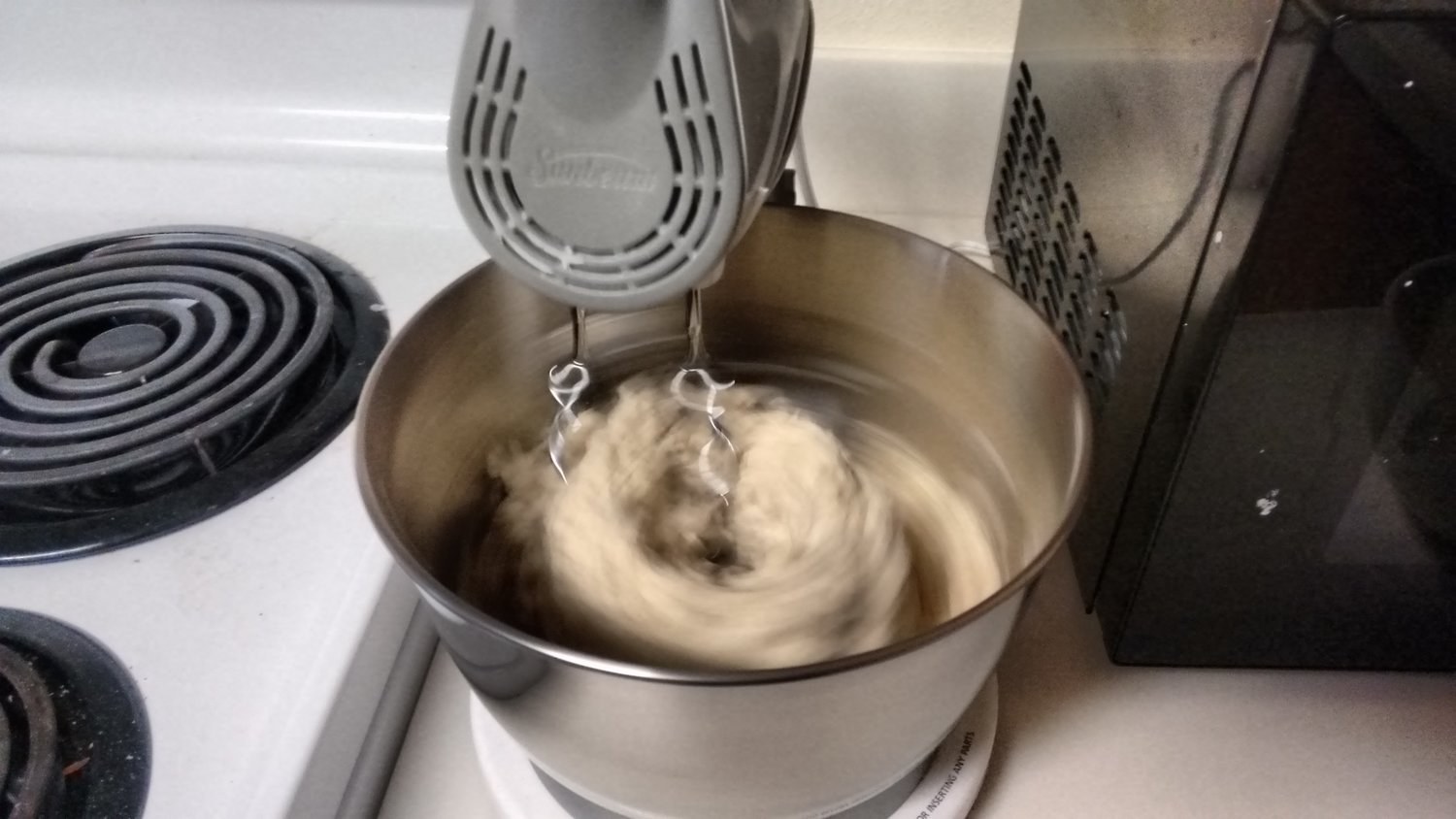 The dough was placed in a pre-greased bowl, and let rise at room temperature until it doubled in size (after ~ 1 hour).
Before: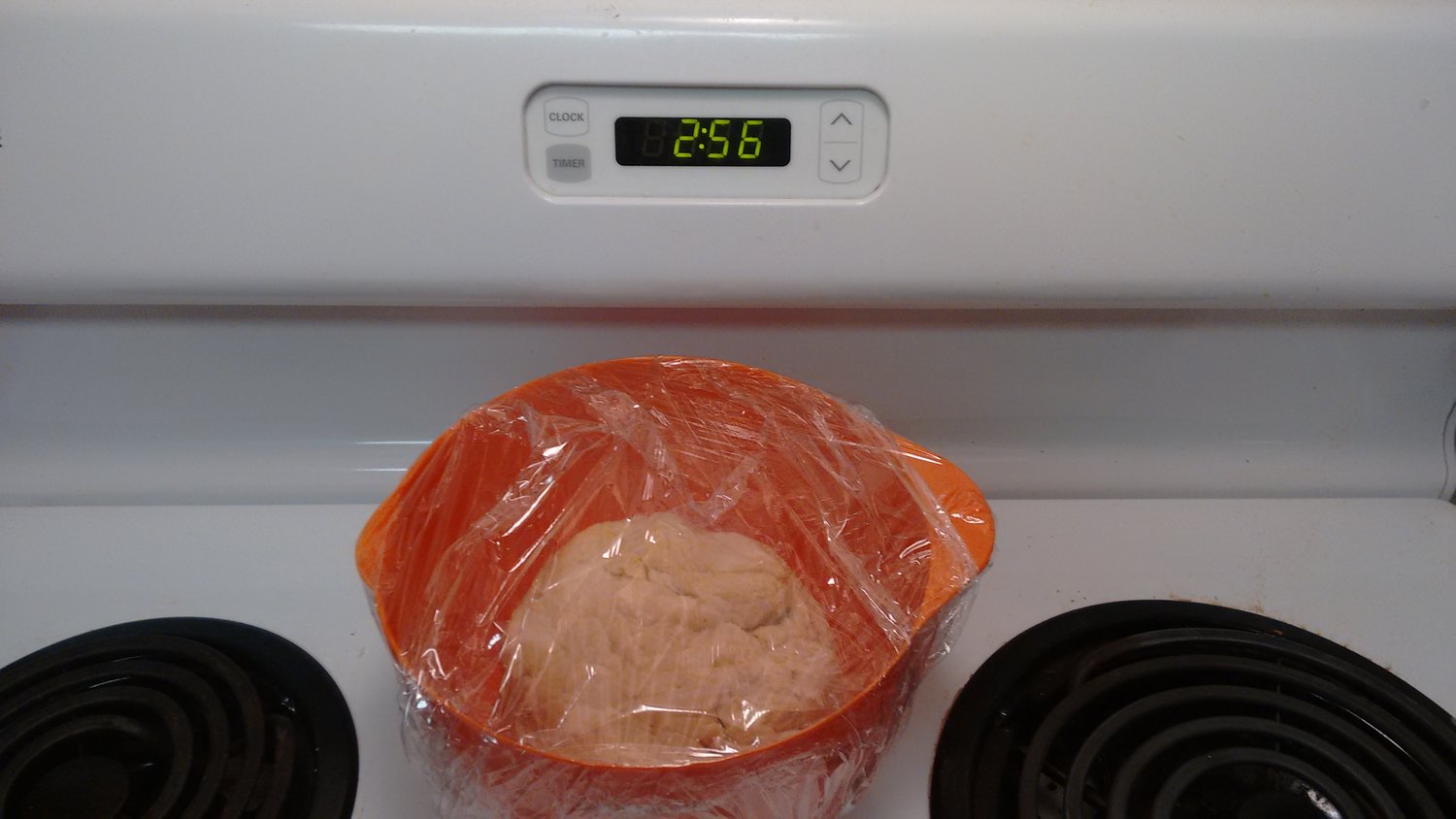 After: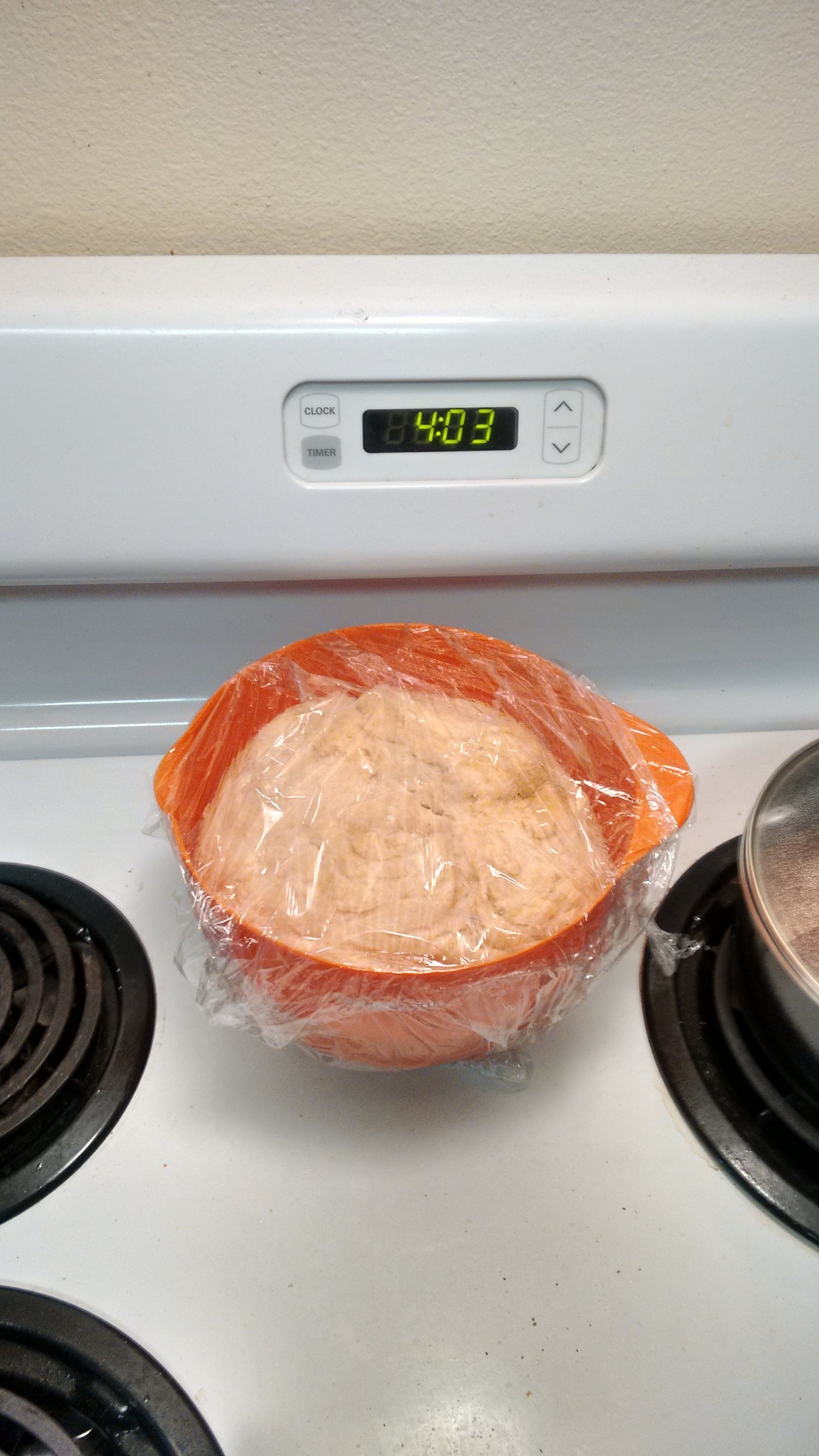 The dough was rolled out to a ~15" x 12" rectangle. Softened butter was spread on the rolled-out dough.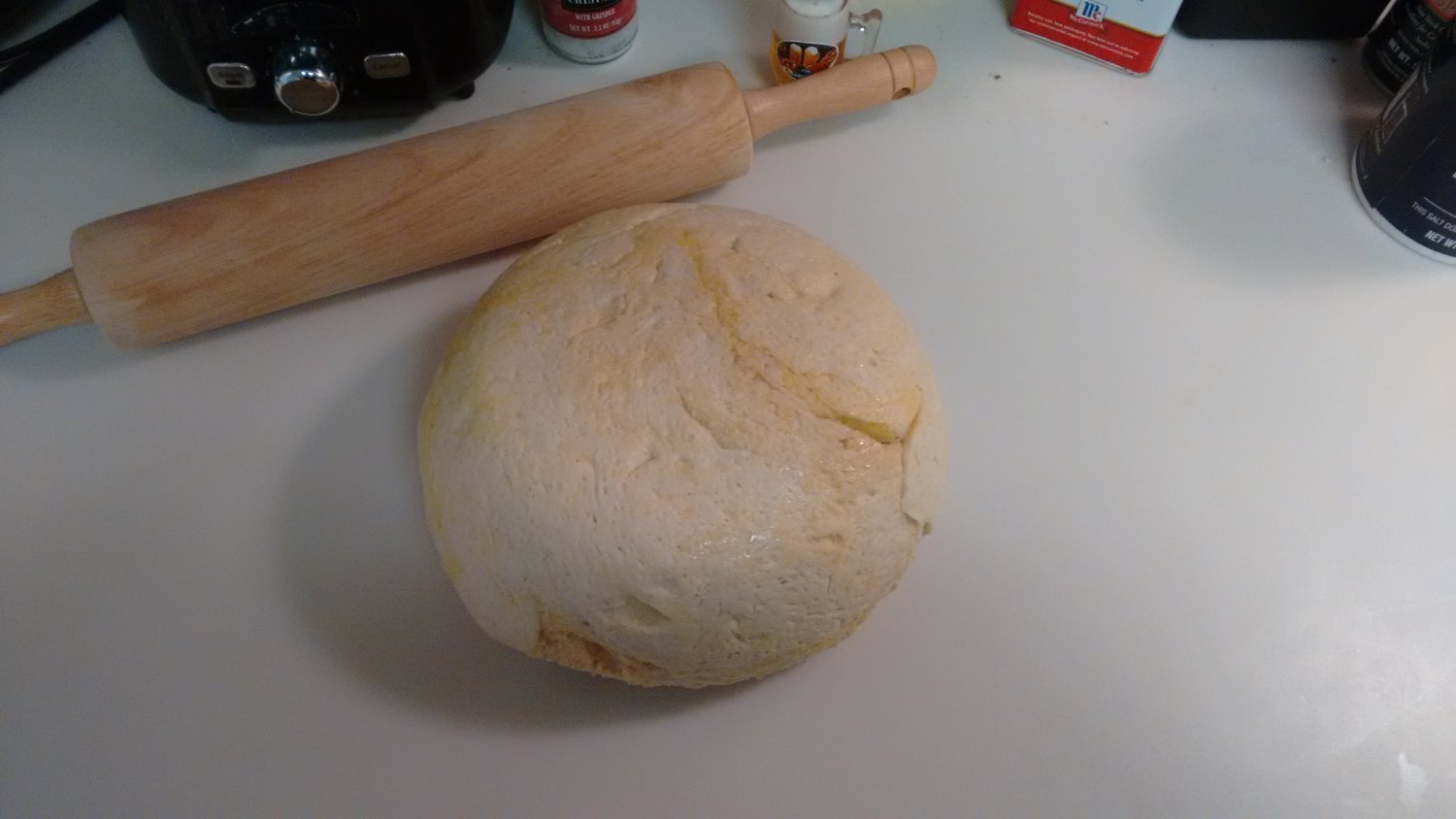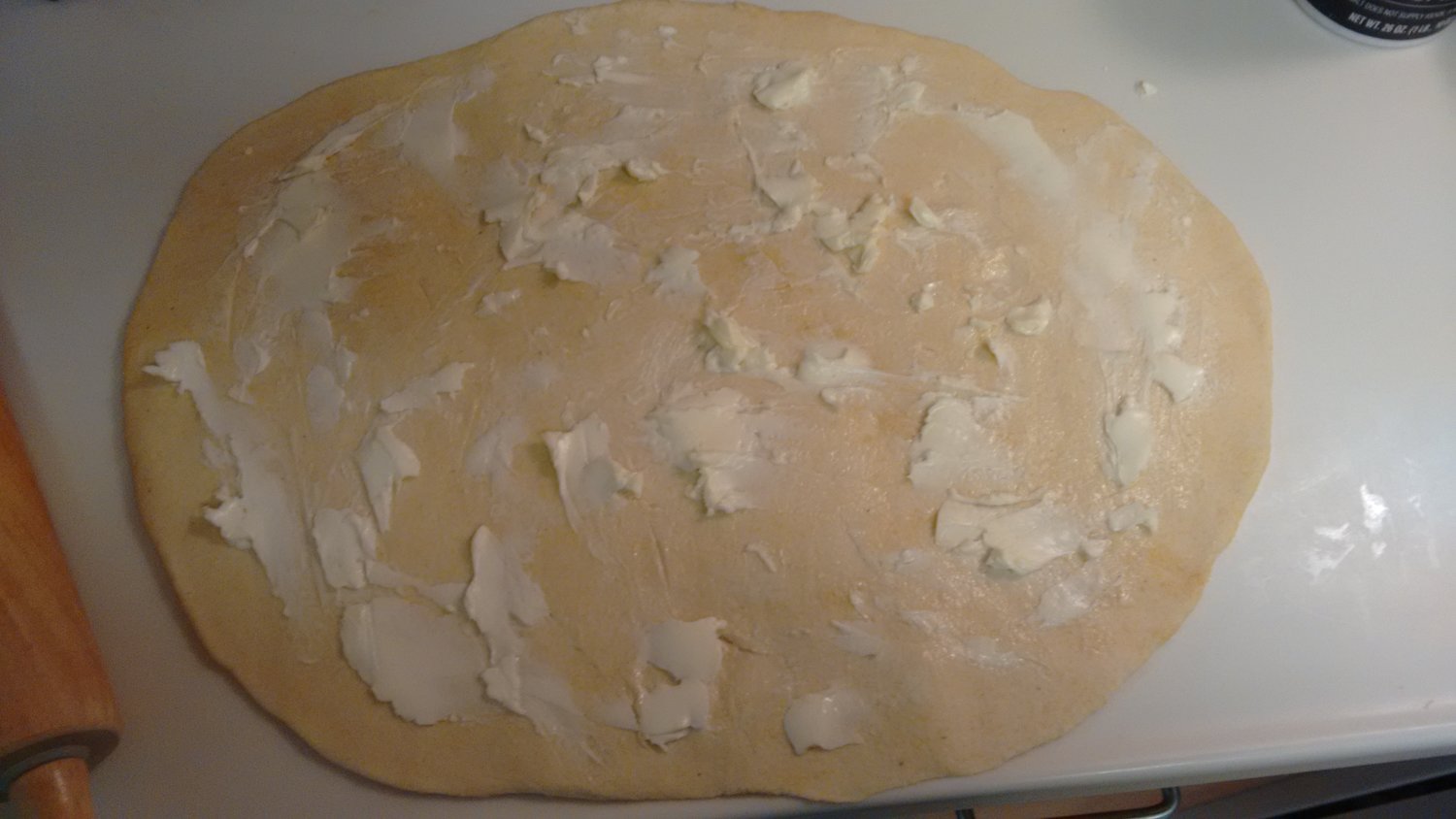 The dough was rolled into a cylinder from the short side, which is then rolled out again to a long flat sheet. Some butter was squeezed out of the dough.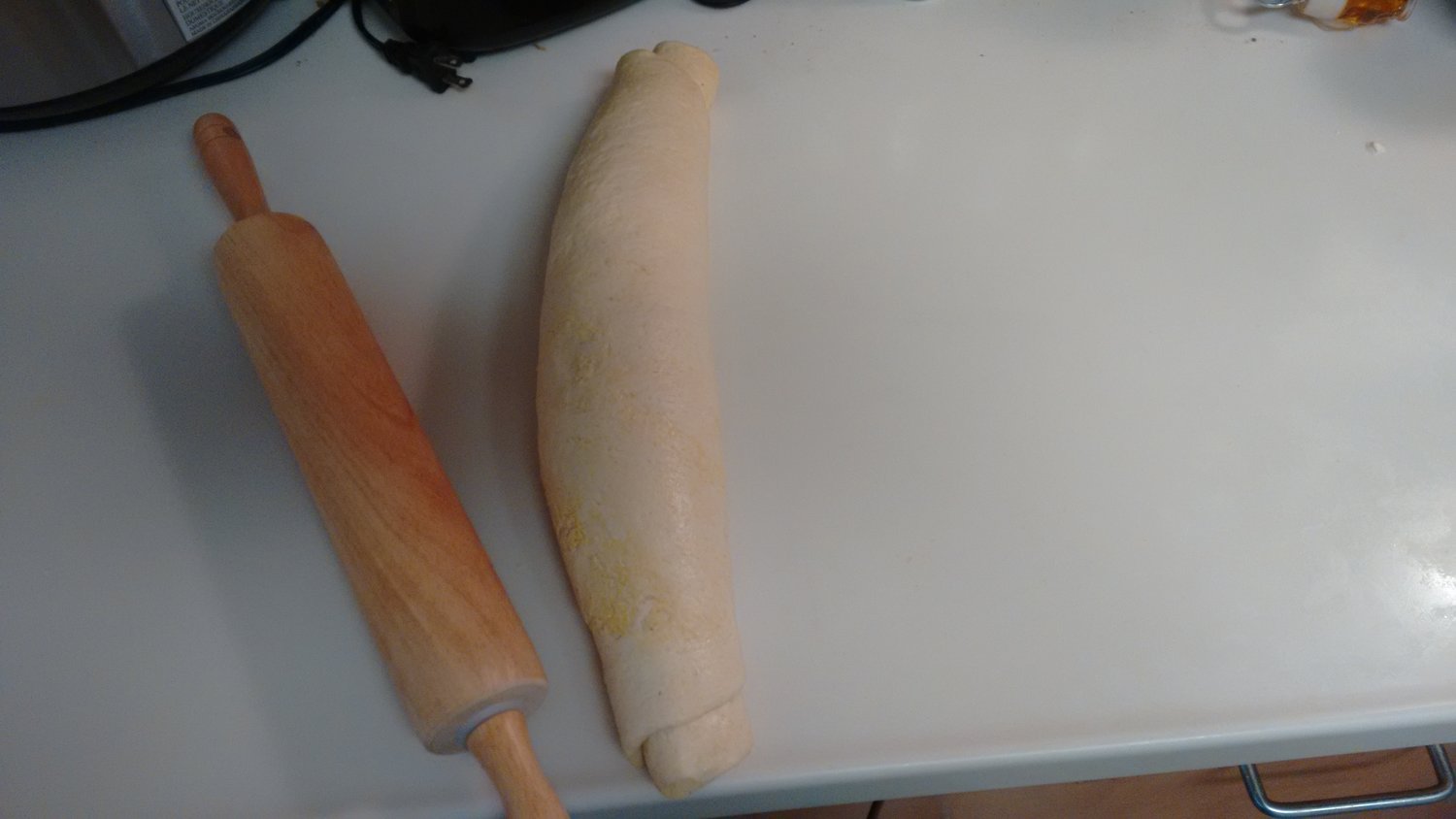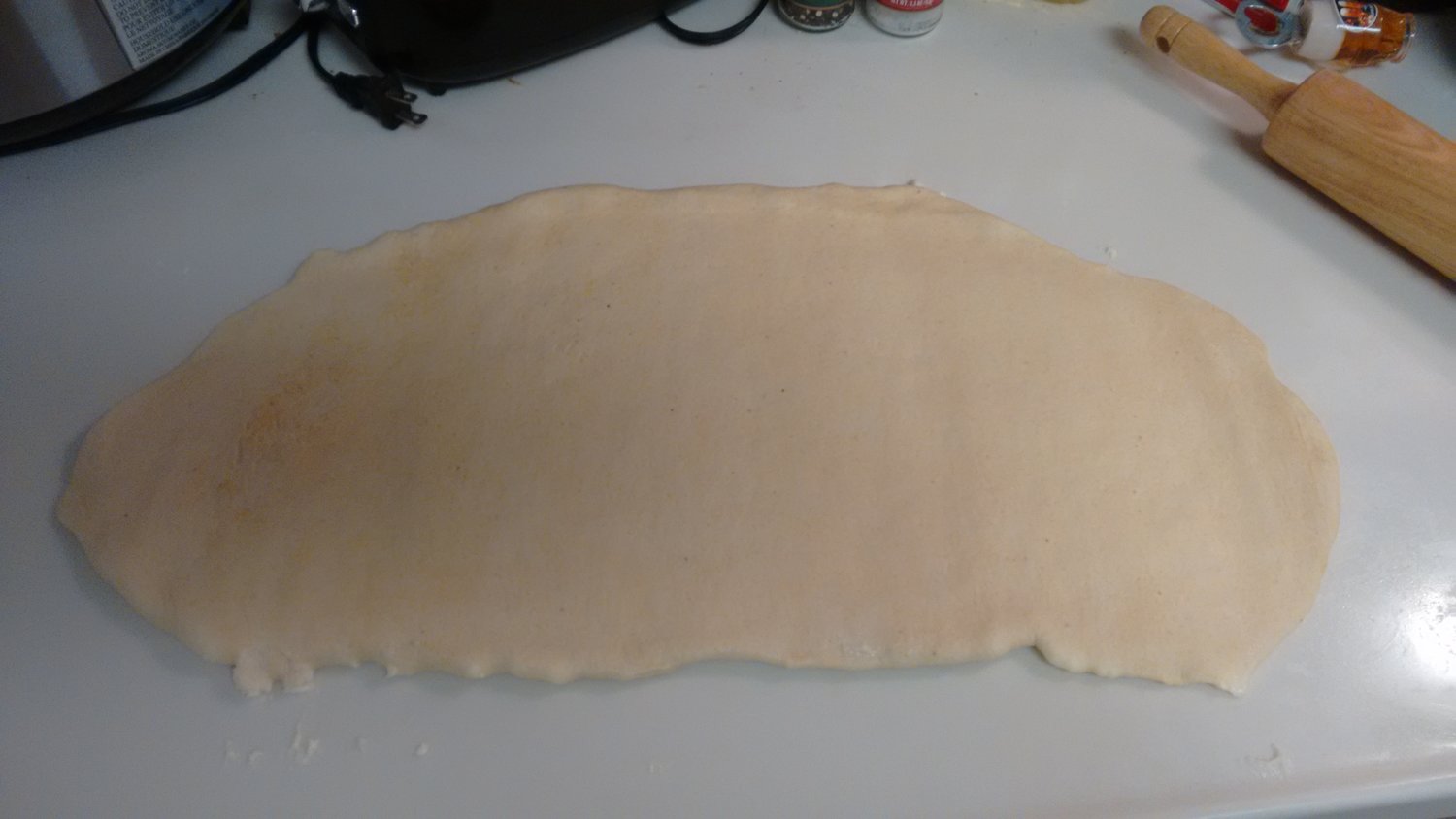 The sheet was folded until a burrito shape was obtained, and was let rise in the fridge for 1 hour.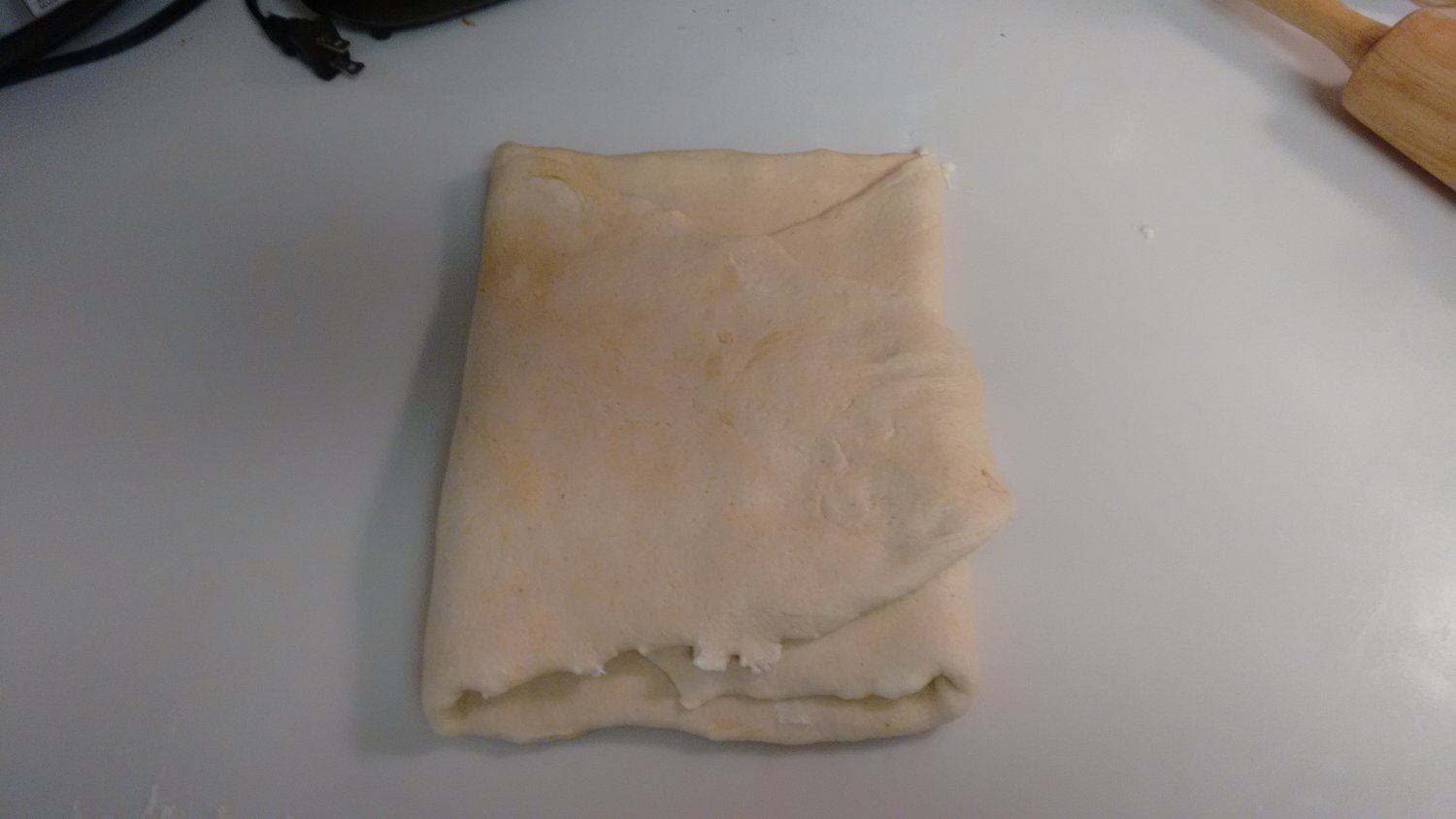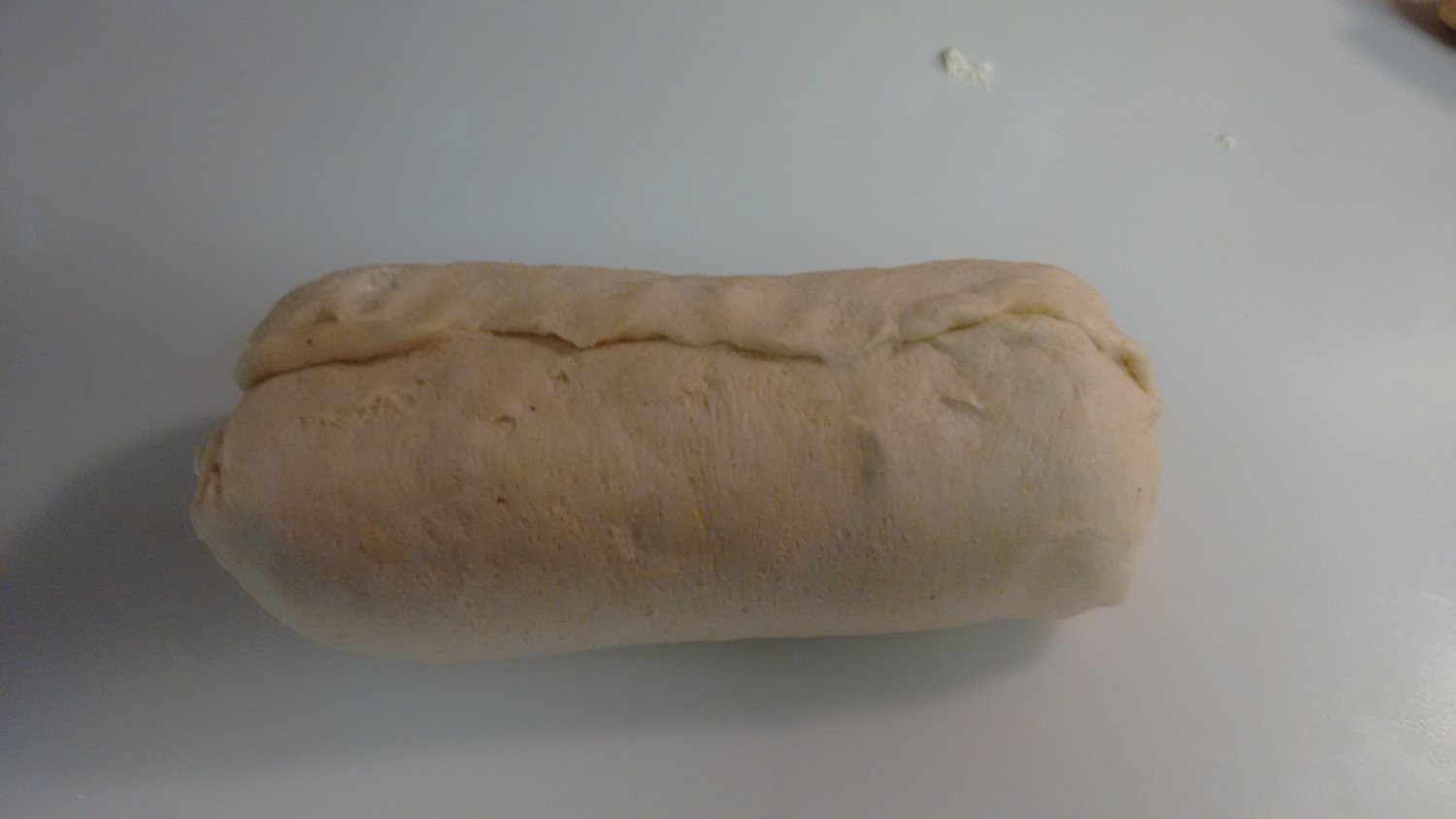 Before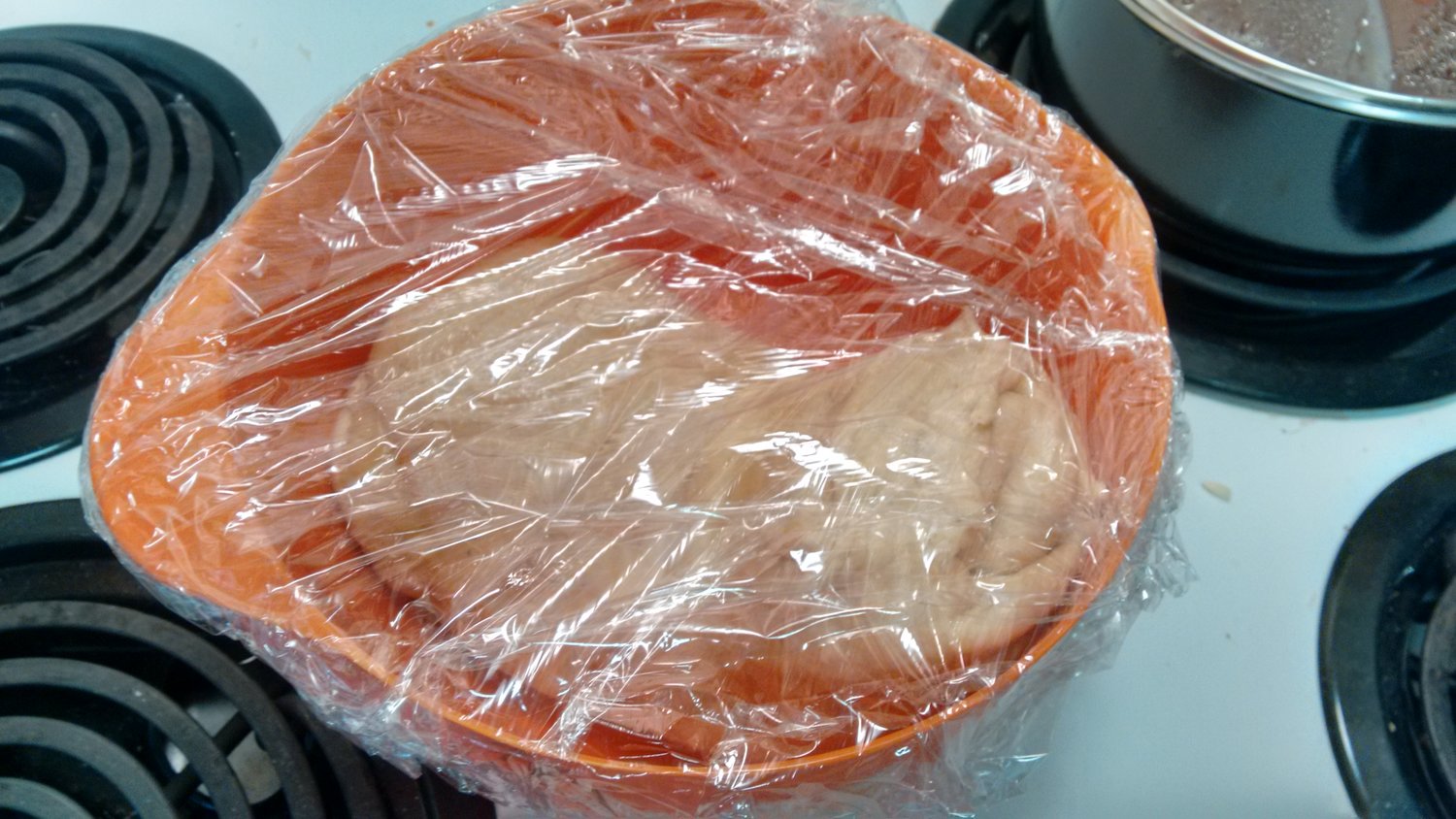 After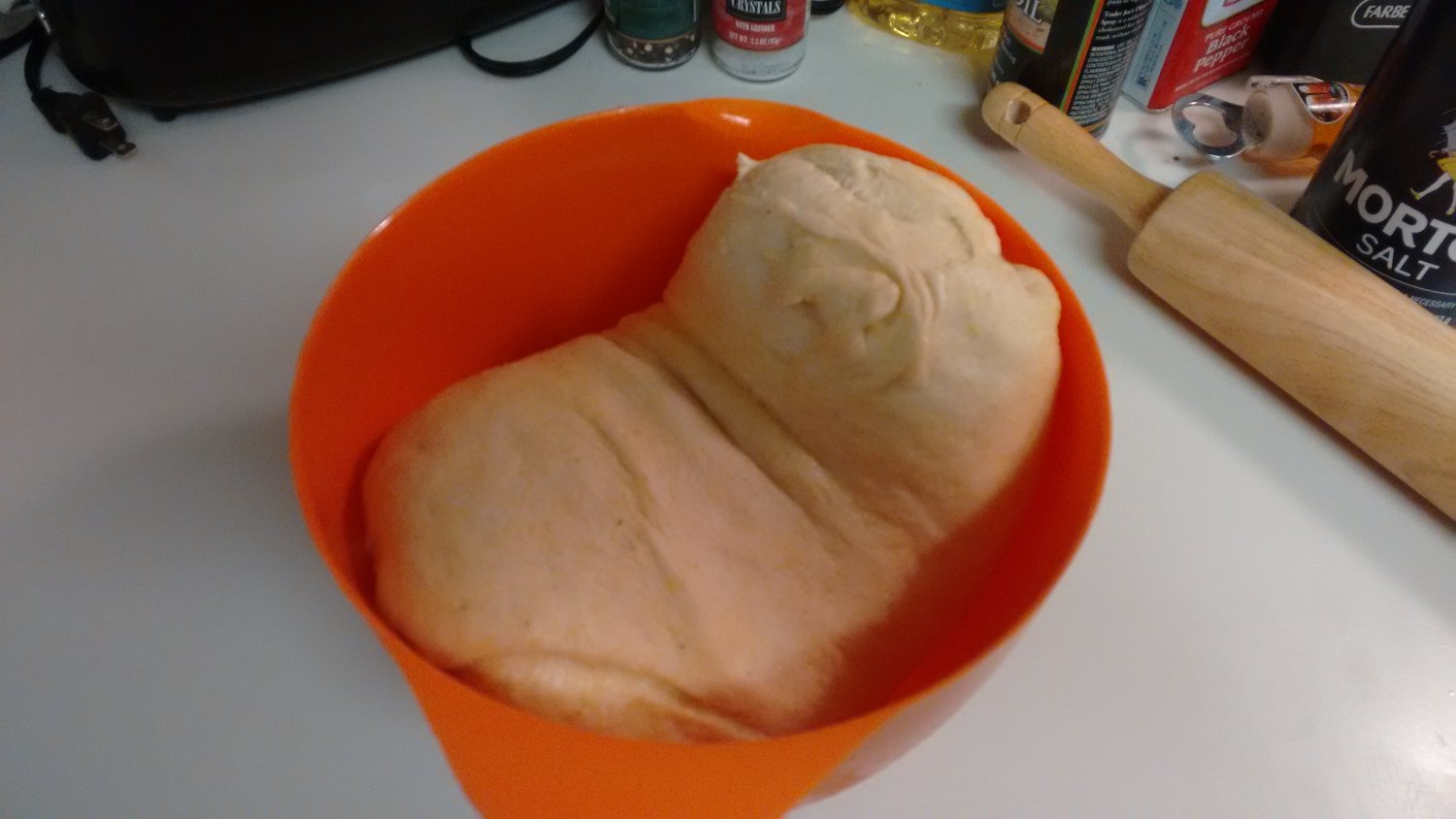 Sauce
Ingredients:
2 cloves garlic, minced
14.5 ounces canned diced tomatoes
0.5 teaspoon salt
0.5 teaspoon sugar
1 teaspoon black pepper
3 teaspoons red pepper flakes
Minced garlic was sautéed at medium heat with olive oil. The diced tomatoes, salt, sugar, black pepper and red pepper flakes were added. The mixture was heated to boil off excess liquid.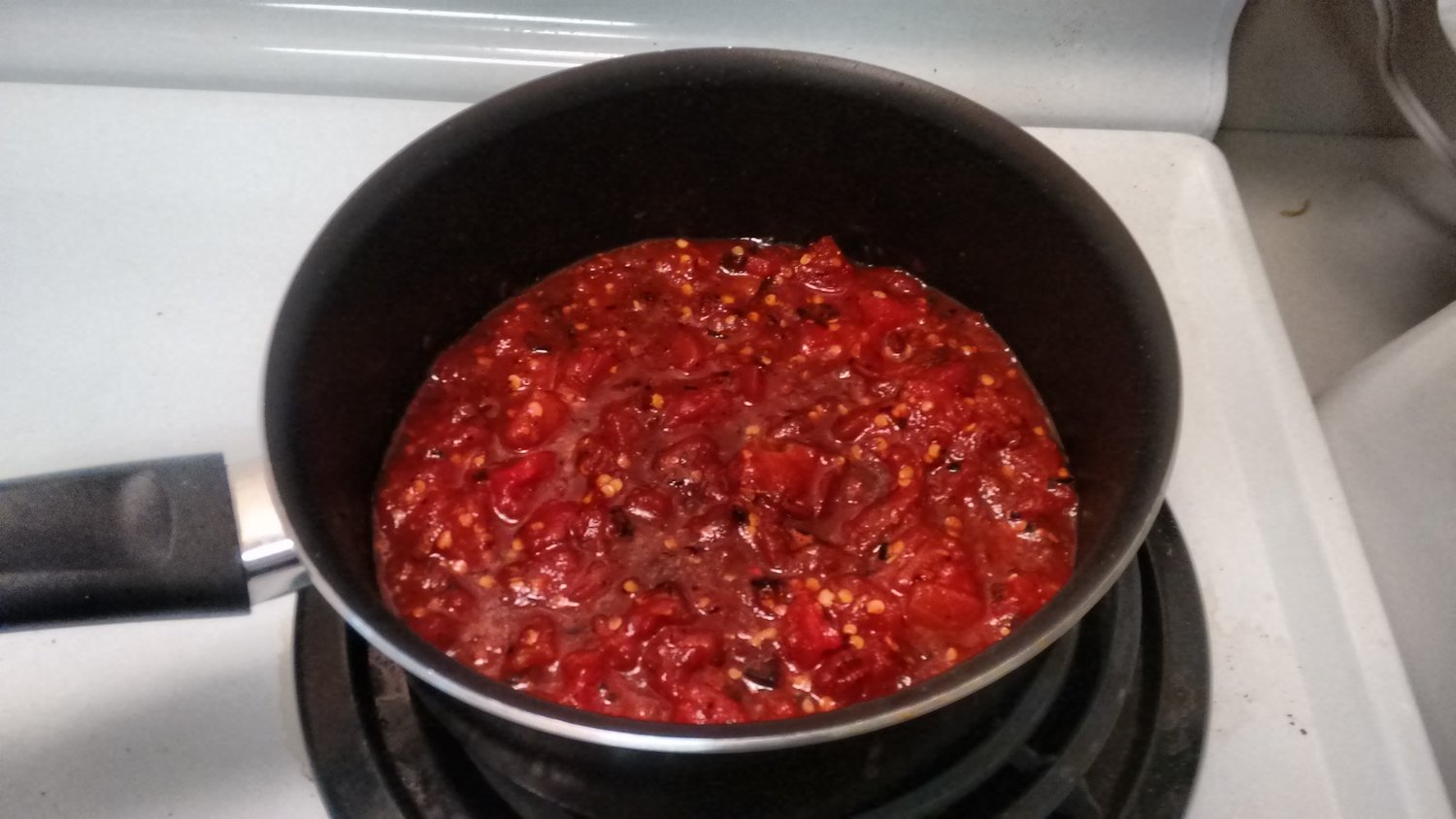 Stuffing
Ingredients
4 cups shredded mozzarella cheese
10 ounces frozen spinach
8 ounces sliced mushrooms
1 fat-looking jalapeno, sliced
The frozen spinach was heated in the microwave for 8 minutes. Liquid was decanted, and excess liquid was squeezed out. The mushrooms and jalapeno slices were sautéed at medium heat with olive oil.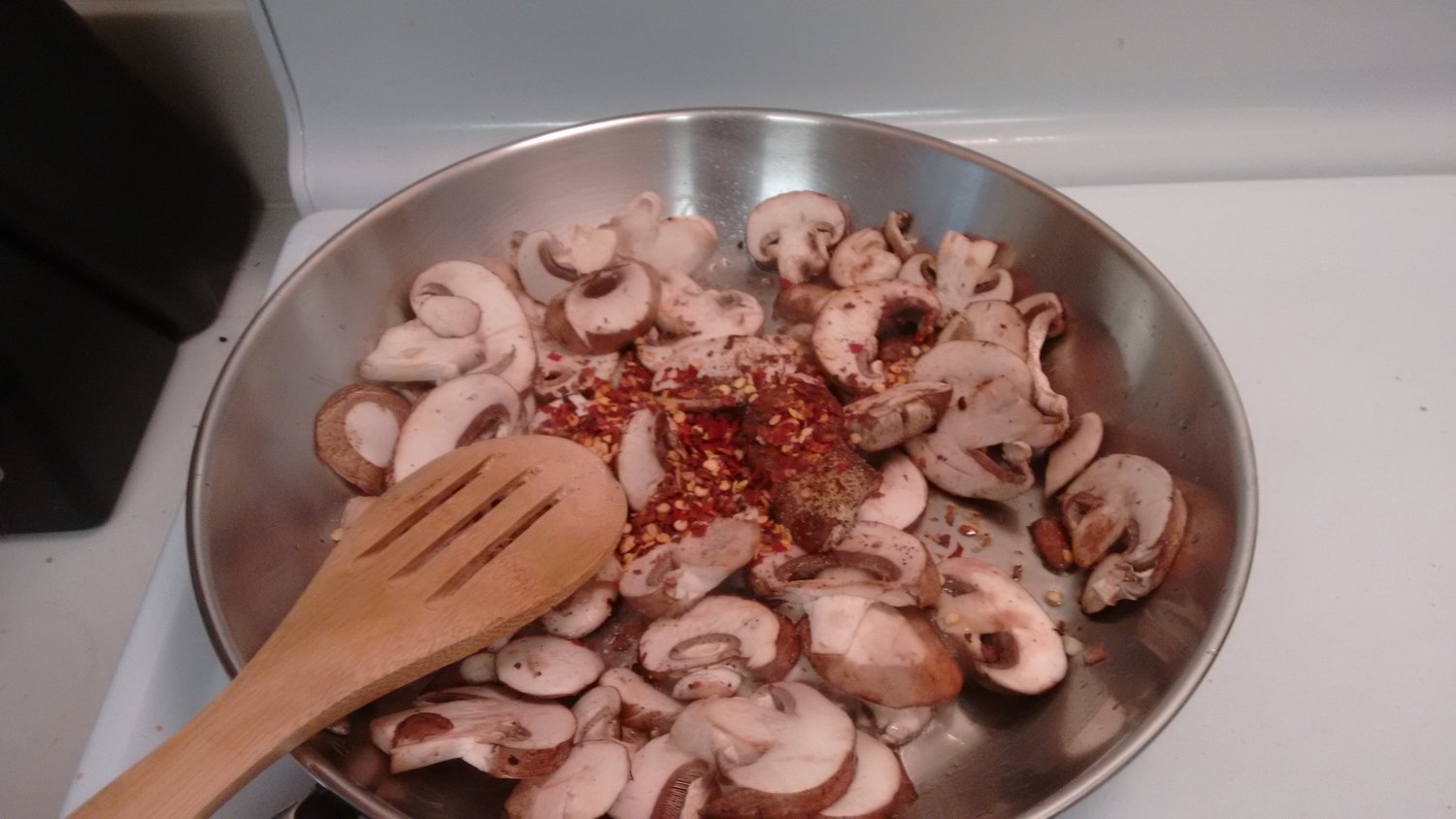 The mushroom, jalapeno, mozzarella cheese and spinach were mixed in a large bowl.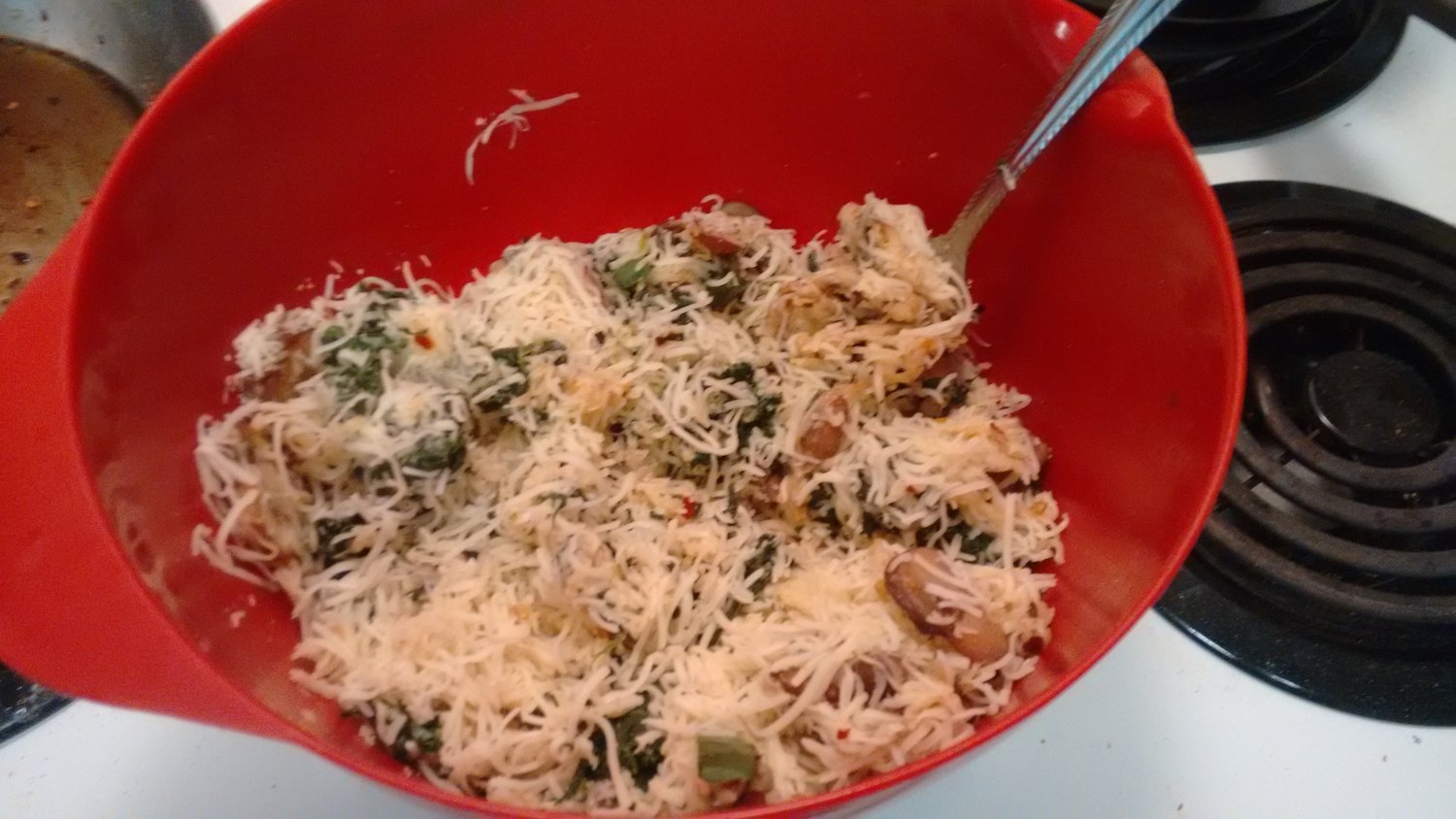 Assembly and baking
I only own a 9-inch pie pan that is way too short, so I used aluminum foil to make the walls higher.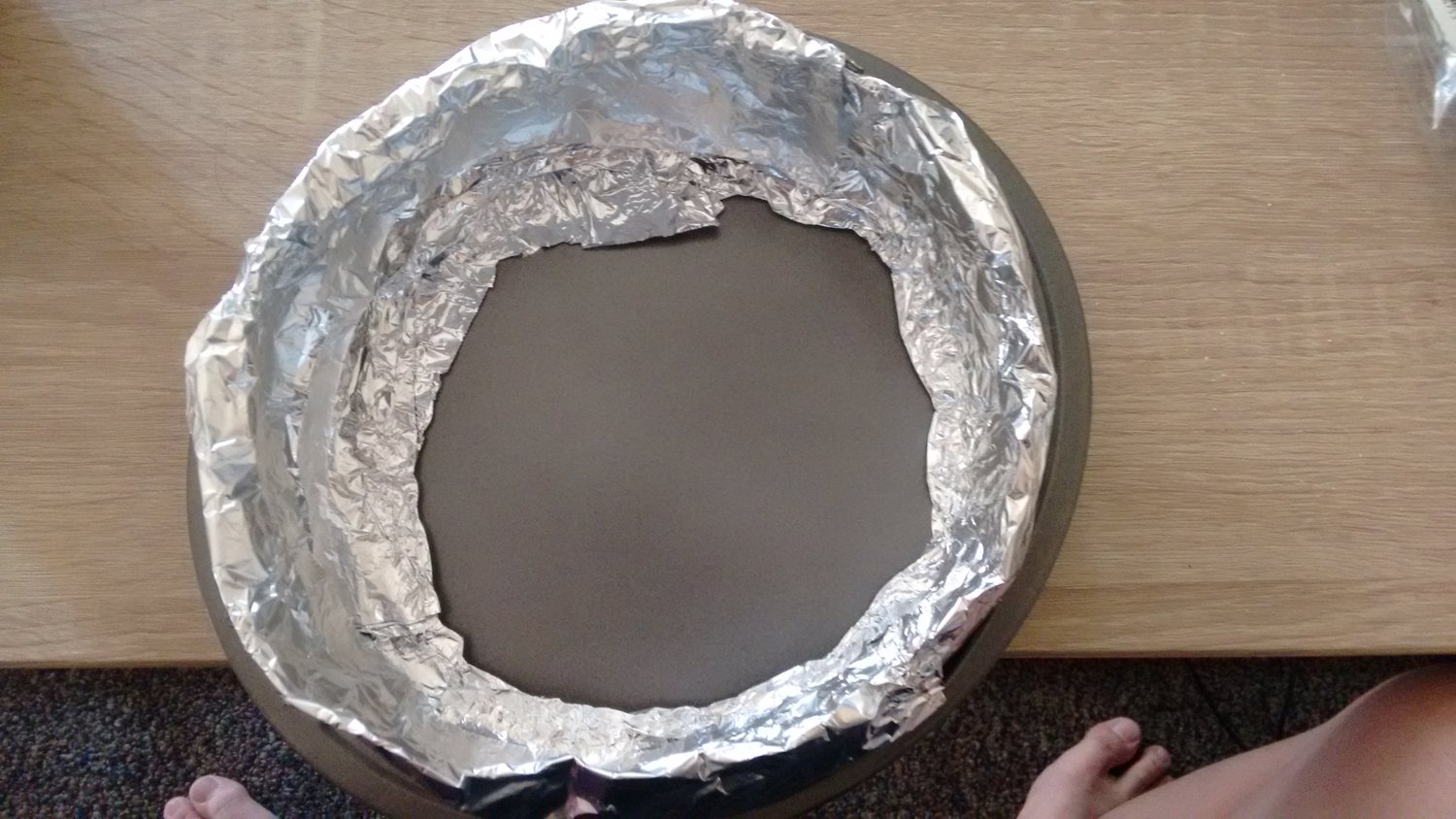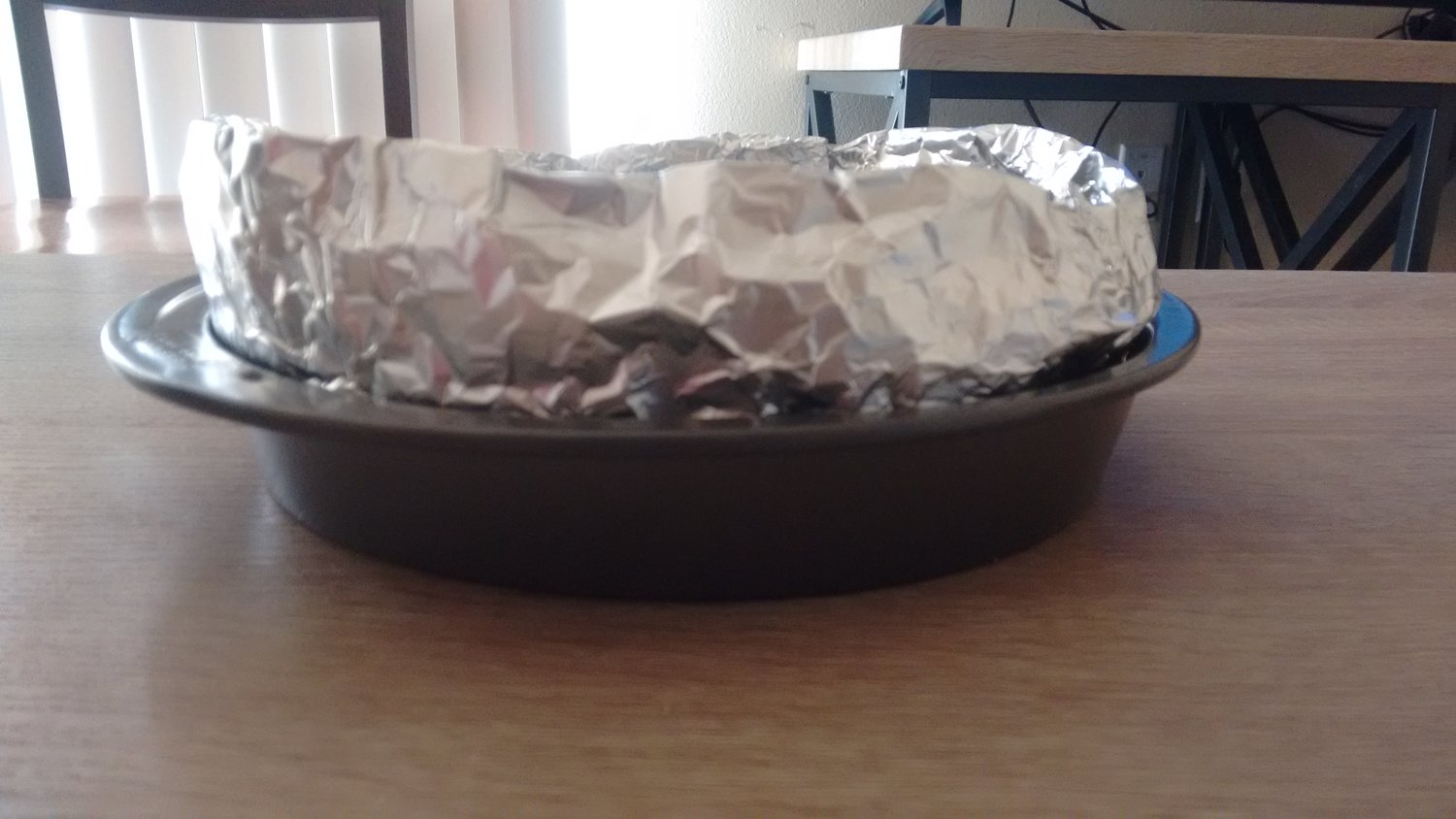 The chilled dough had nice layers, so hopefully the crust would be … crusty.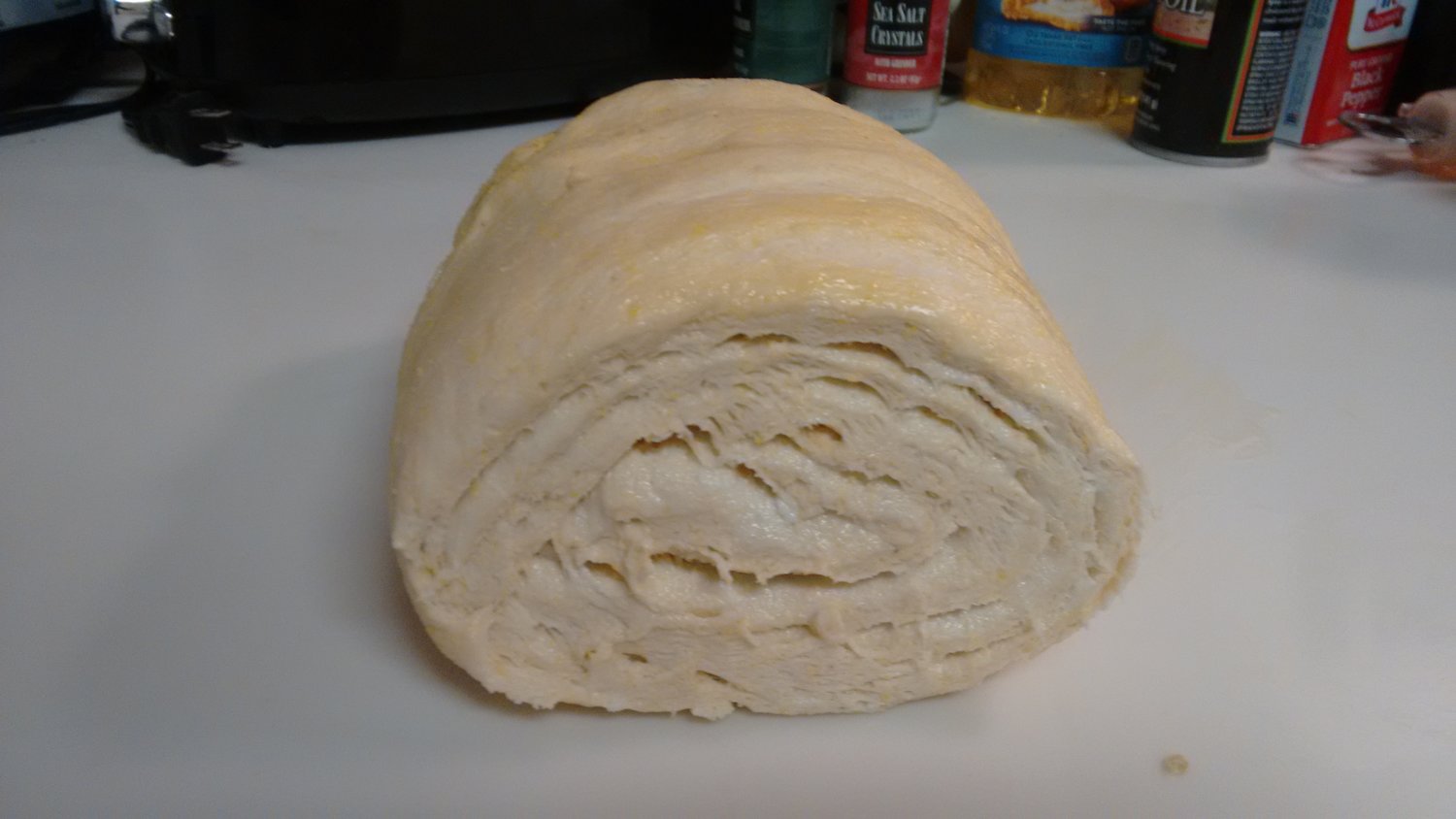 Two-thirds of the chilled dough was rolled into a 15-inch circle. The dough was then placed inside the pan. Stuffing was added on top.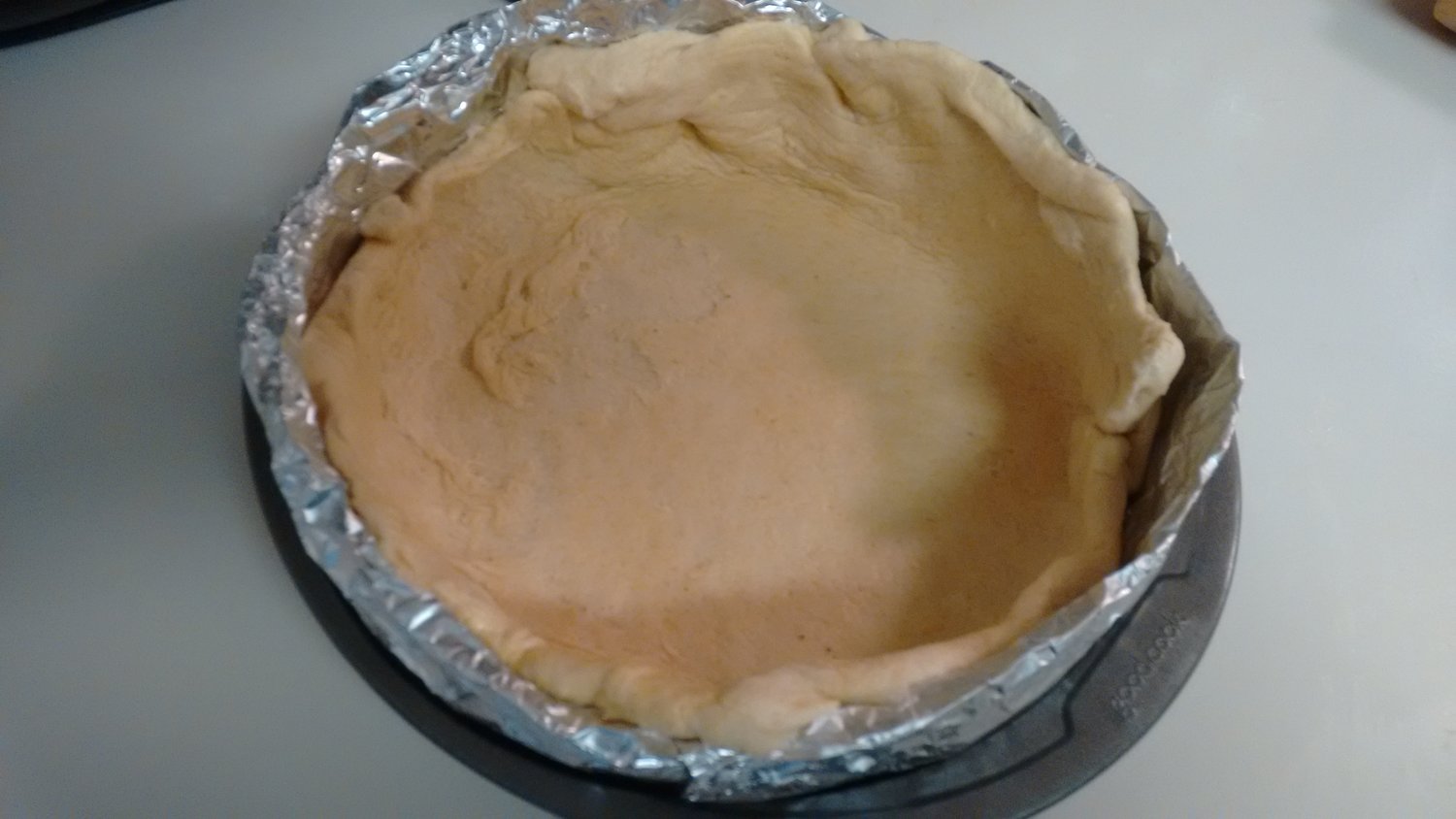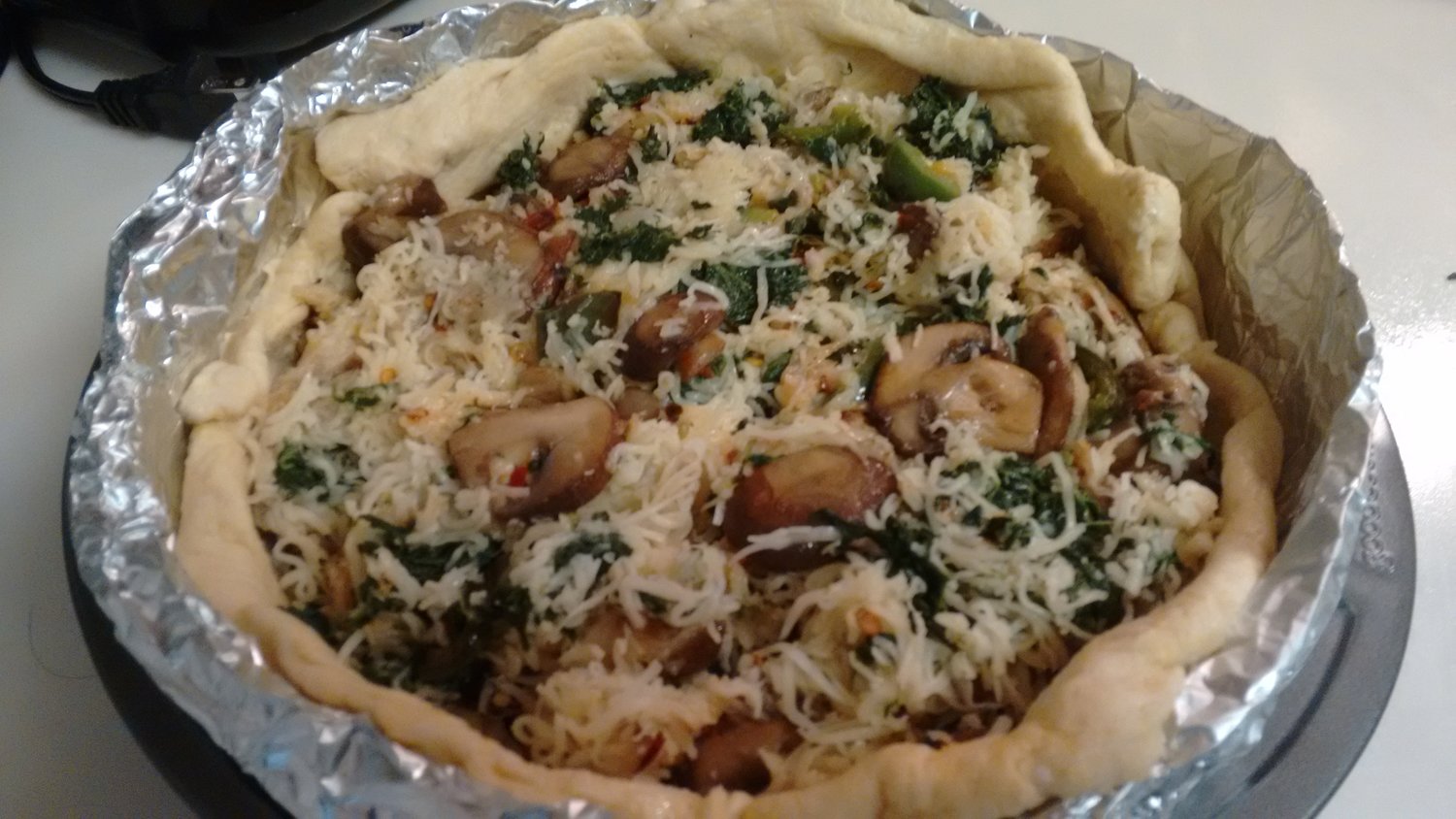 The last third of dough was rolled into a 10-inch circle, and was placed on top of the stuffing. The edges were pinched to prevent all that awesome mozzarella from leaking. A couple of holes were poked in the top crust.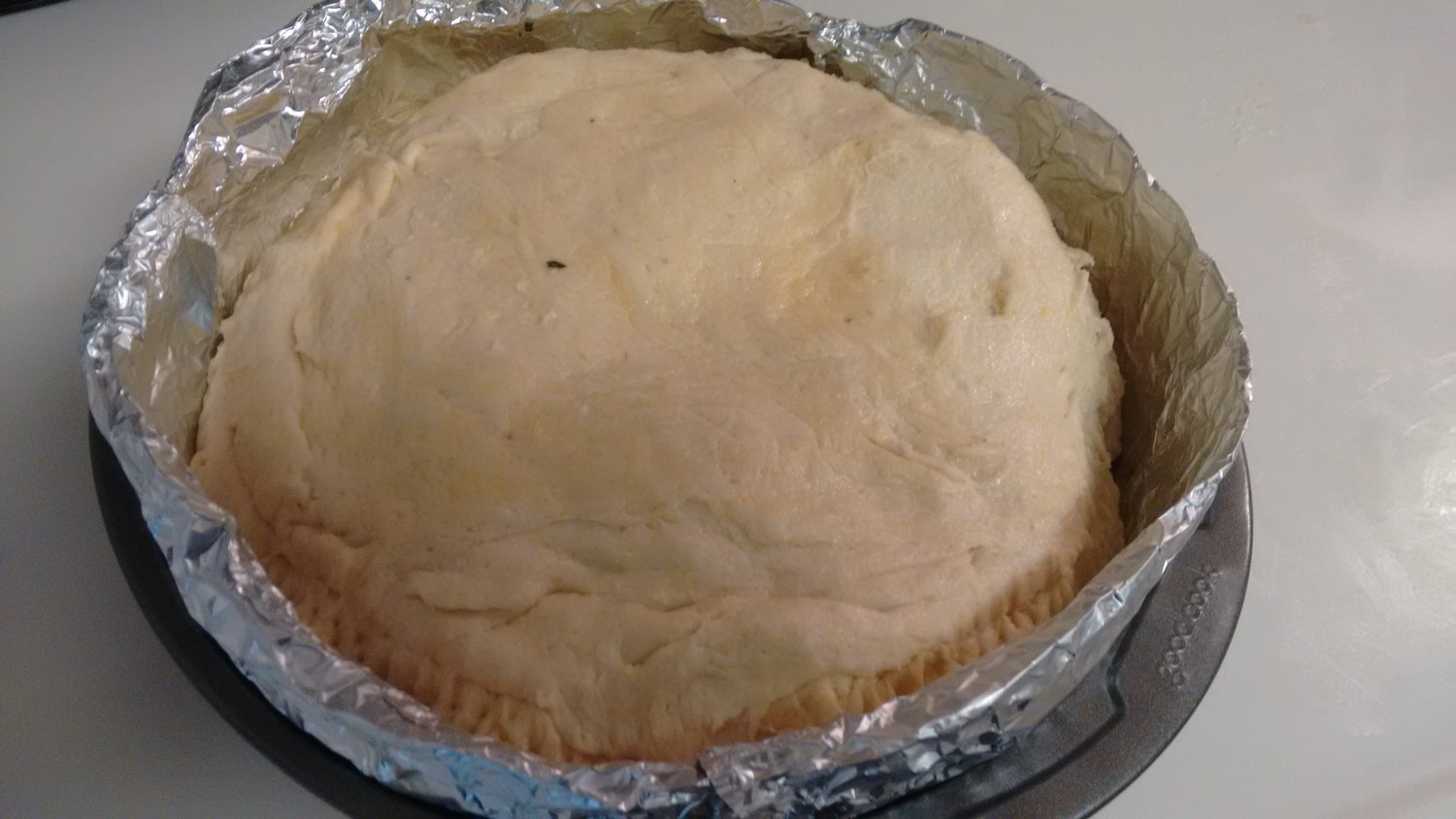 The pie was placed in a preheated oven at 500oF for 15 minutes, and the temperature was then lowered to 400oC for 5 minutes.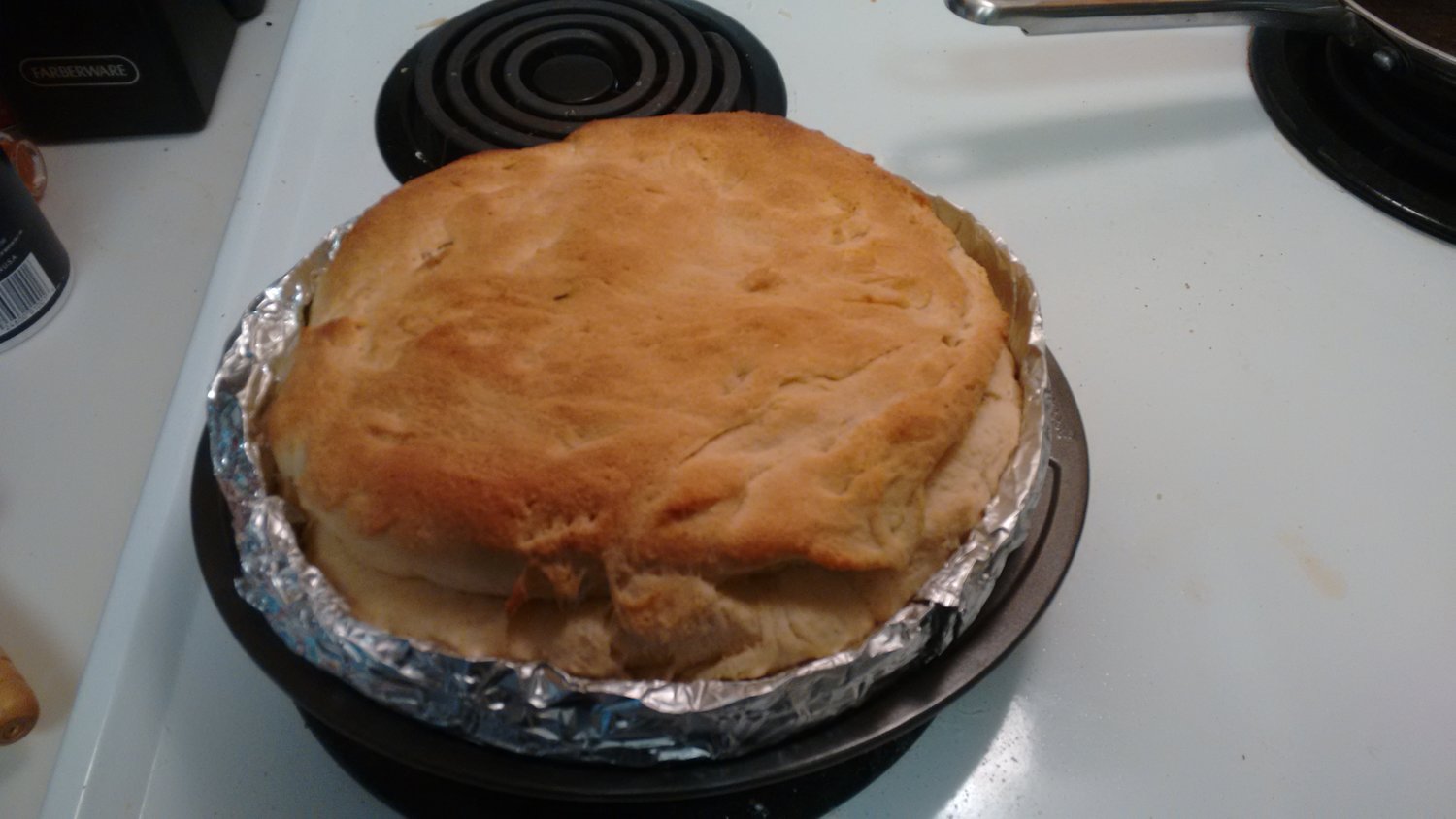 The tomato sauce was then spread on top of the pie, and the pie was heated in the oven for another 10 minutes. After 10 minutes of chilling on the rack, (future) Dr. Bulldog's first attempt of a Chicago-style deep dish pizza was ready for consumption!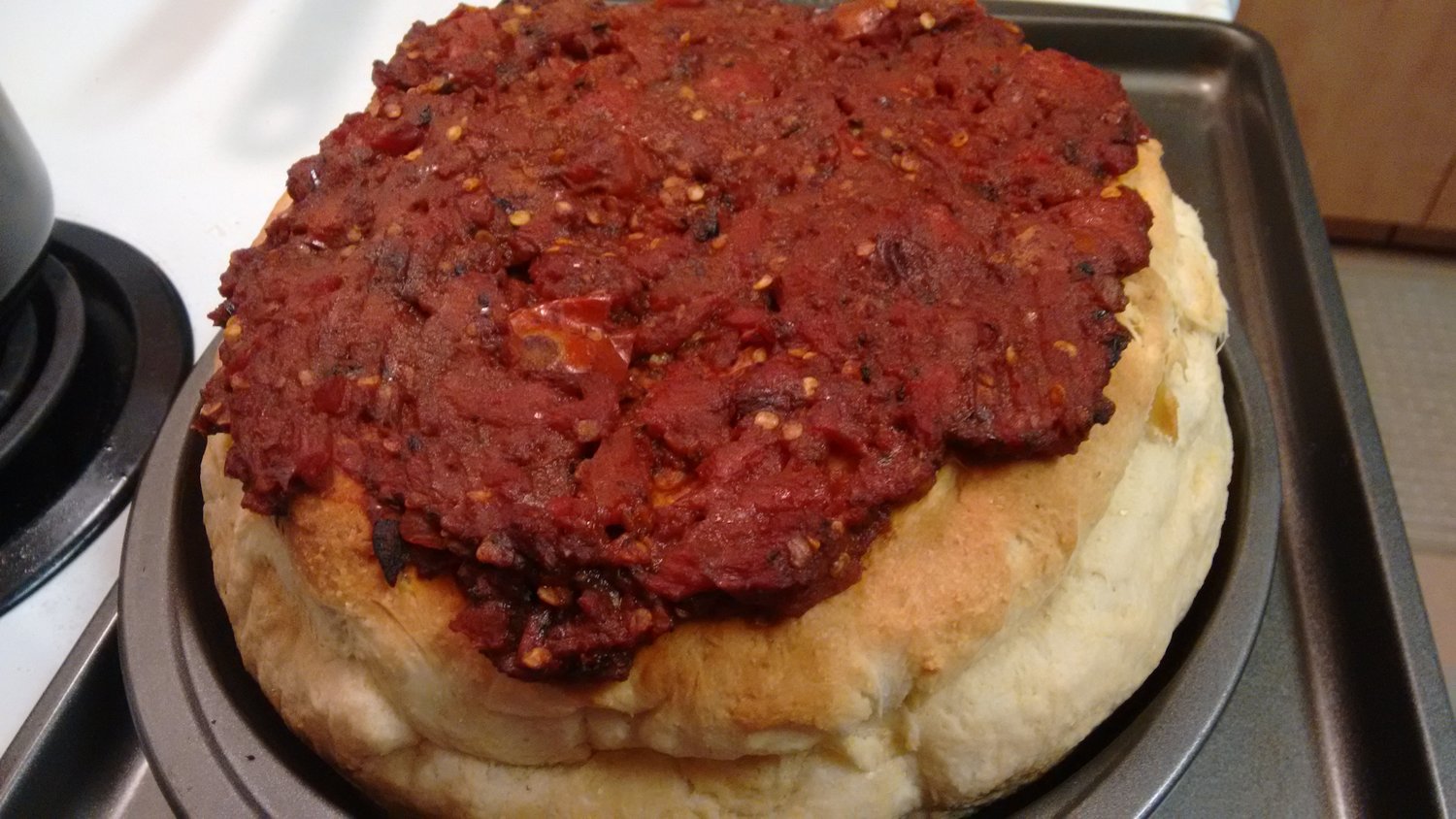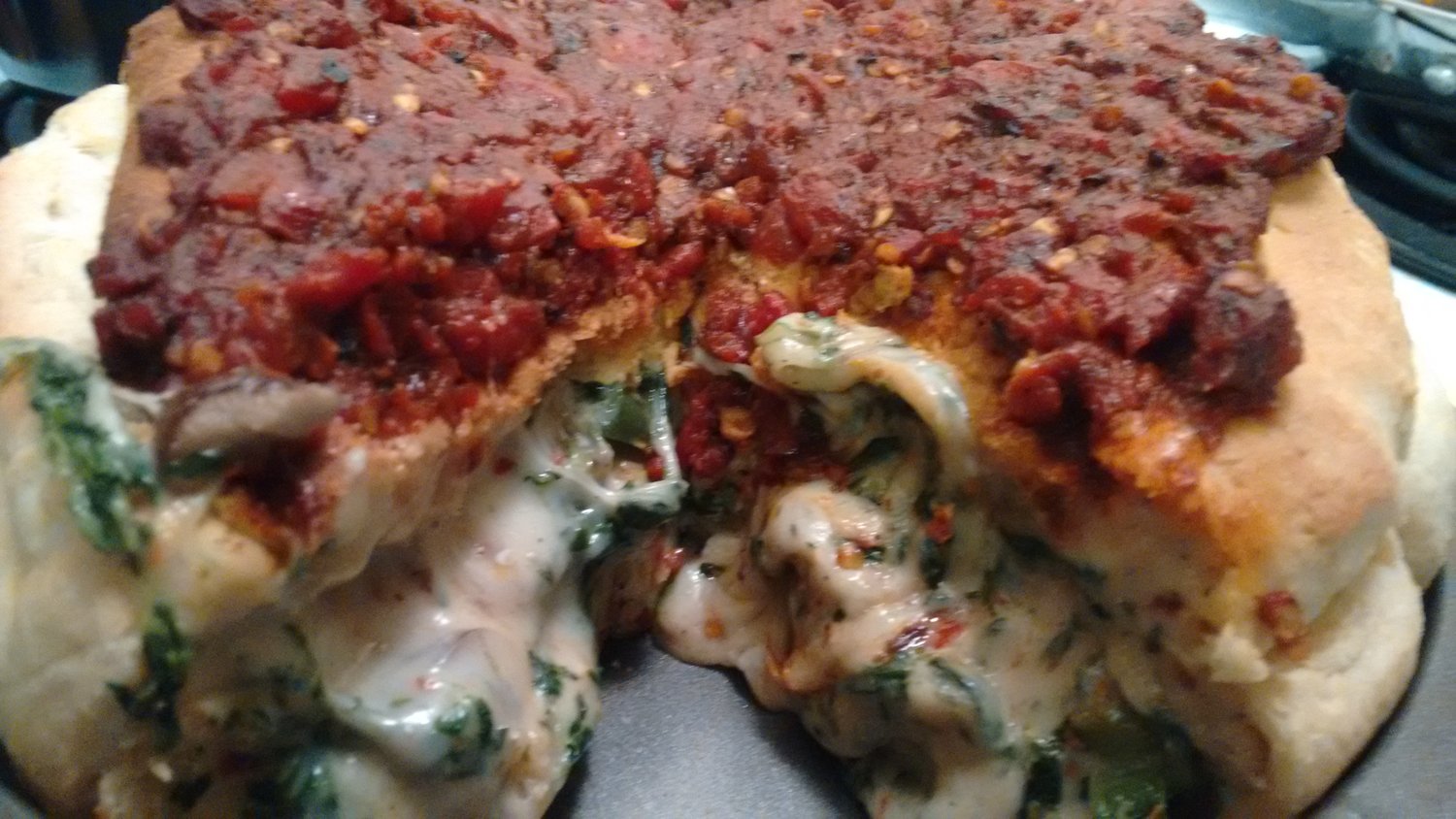 Discussion
May I preface and say I have never had a deep-dish pizza before (the one we had on my last birthday doesn't count, @CHeF KUBiAc and @Jimmy, though I appreciate the gesture), so I have no direct comparison. However, it is very delicious and has finally satisfied my years of yearning. It took me hours to prepare this behemoth, though, so I will likely reserve this recipe for major events in the future.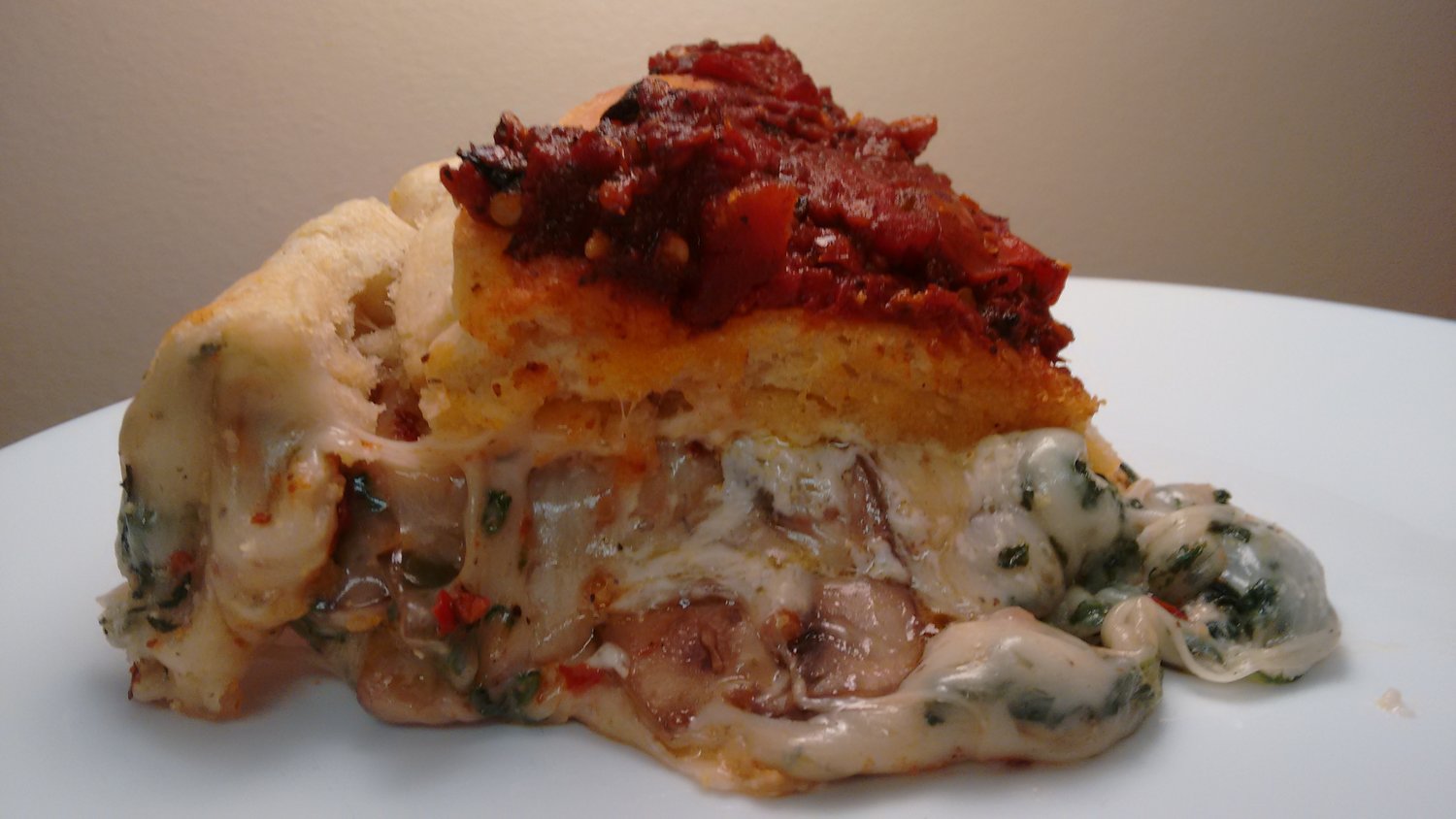 Some things I would change next time I make this:
Lose the top crust: I think the pie is already starchy enough, and I want the sauce to mix in a little with the stuffings.
Add more sauce: approximately 1.5 cups of sauce were made, and I think more should be added.
Use less cheese: I used 4 cups of mozzarella cheese, but I think I could get away with just 3 cups and that way I could taste the spinach and mushrooms more.
Oh, and just like last time, I am going to do a review on this new All-Dressed Ruffles chips. Note the maple leaf logo on the front ;)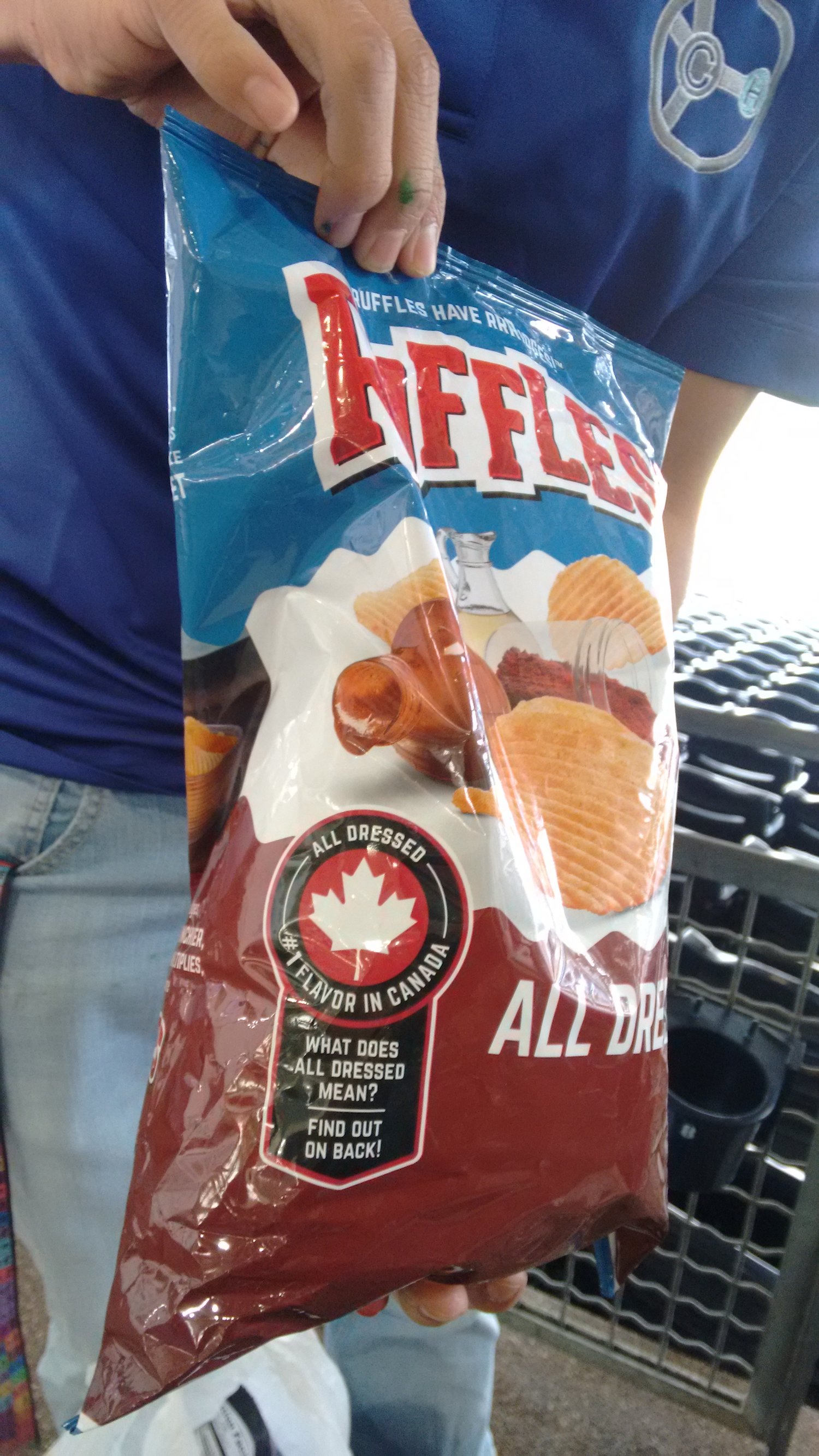 It just tasted like BBQ-flavored chips. I shared it with my lab and they tend to agree. (Shout out to the CCHF - Center for Selective C-H Functionalization!)
Until next time!!!