A Glitch in the Goulash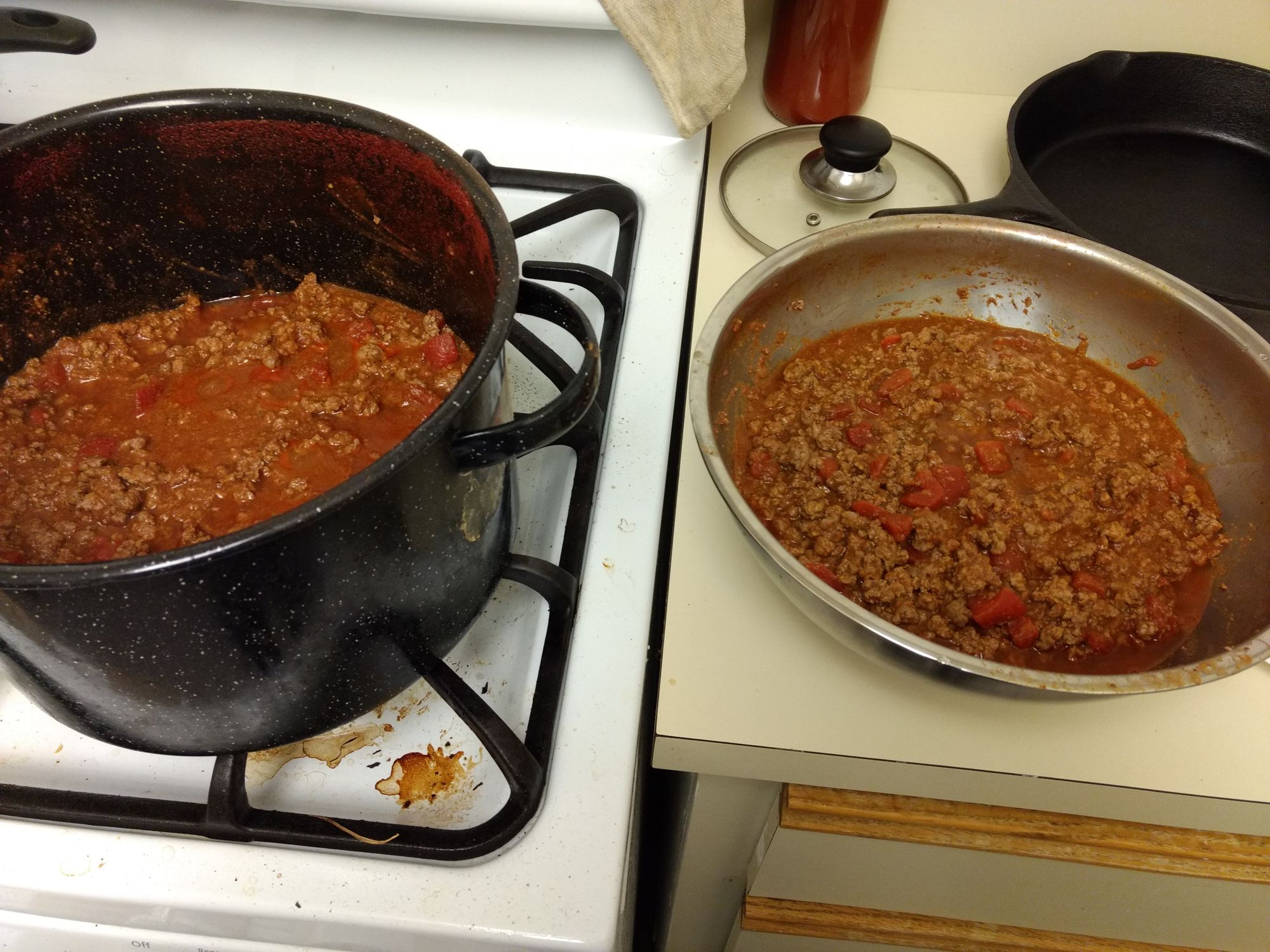 Nothing goes according to plan this week as I make a ground beef recipe. Inspired by a surprise meat grinder which showed up at my doorstep earlier last week, I promptly searched the internet for recipes, ultimately settling on a Goulash for Americans dish (I will note that adding "for Americans" after a noun causes the phrase to be very condescending. I couldn't help but feel insulted when looking at the cover of my highschool textbook Latin for Americans). Having recently eaten some tasty beef goulash dishes in Budapest, I was very ready to start cooking my own goulash.
Grinding the meat
I bought 3.5 lb of bottom round and 3.5 lb of top round beef. After trimming off most of the fat, I cut the beef into geometric shapes which somewhat resembled (1in x 1in x 1in) cubes.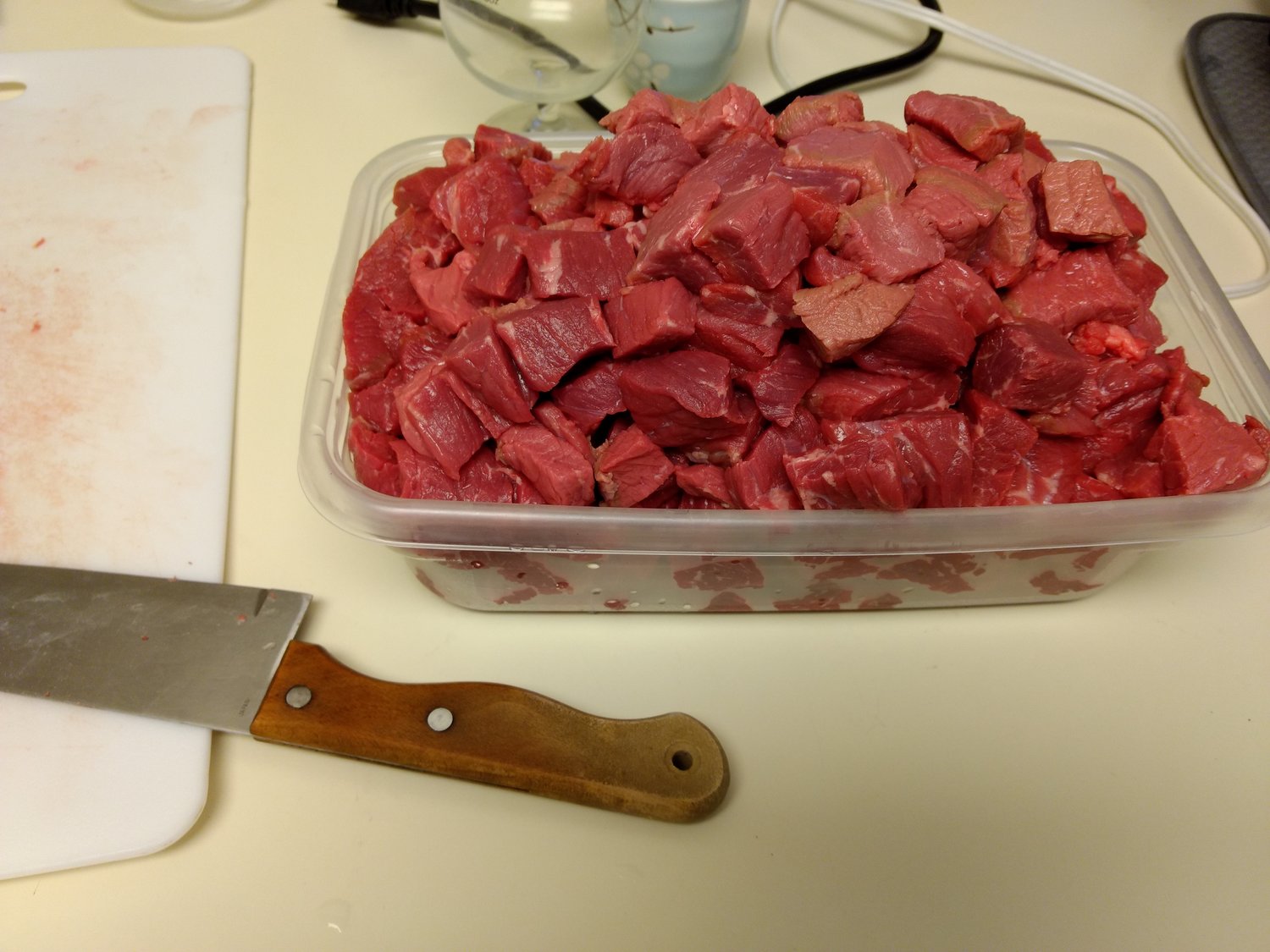 I then placed the meat in the fridge for a couple hours. I also placed the meat grinder itself in the fridge for a couple hours in order to chill the blades. According to López-Alt, smearing is reduced when both the meat and the blade is very cold. About 20 minutes before grinding, I put the meat in the freezer.
Finally, I grind the meat with the unexpected meat grinder. This is probably the most fun I've ever had in the kitchen. Grinding actually required significantly less force than I anticipated, and the 7 lb batch of beef was minced within 10 minutes. I was also surprised when blood started squirting everywhere due to the pressure involved with grinding. Next time I'll turn the device to face a wall in order to simplify the cleanup. I'm promoting this meat grinder to the top of my list of favorite kitchen tools, sharing the superlative spot with my stand mixer.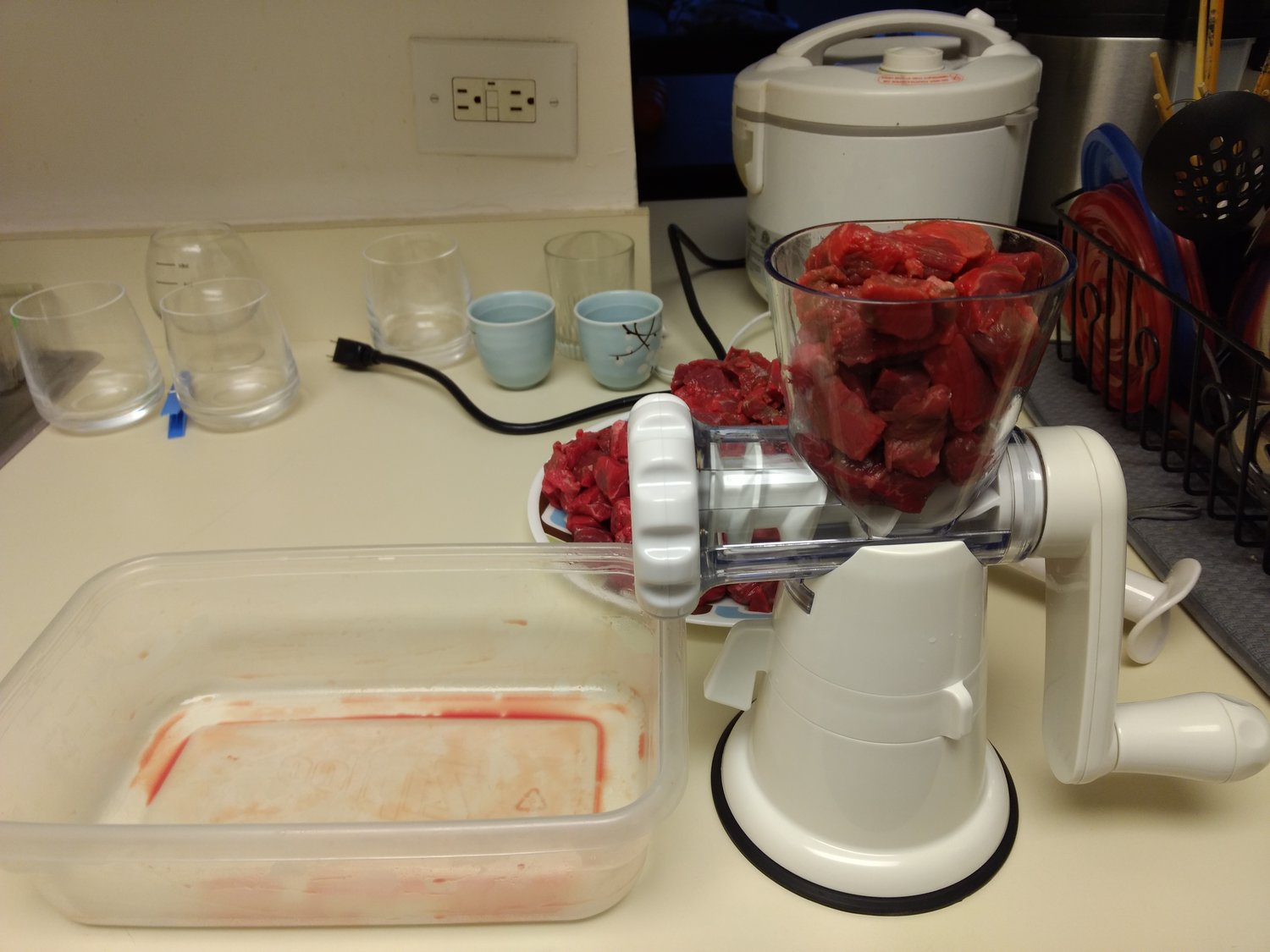 The quality of this ground beef is amazing. I don't think I've ever seen ground beef which looks this fresh. Note that I used the large die for this job.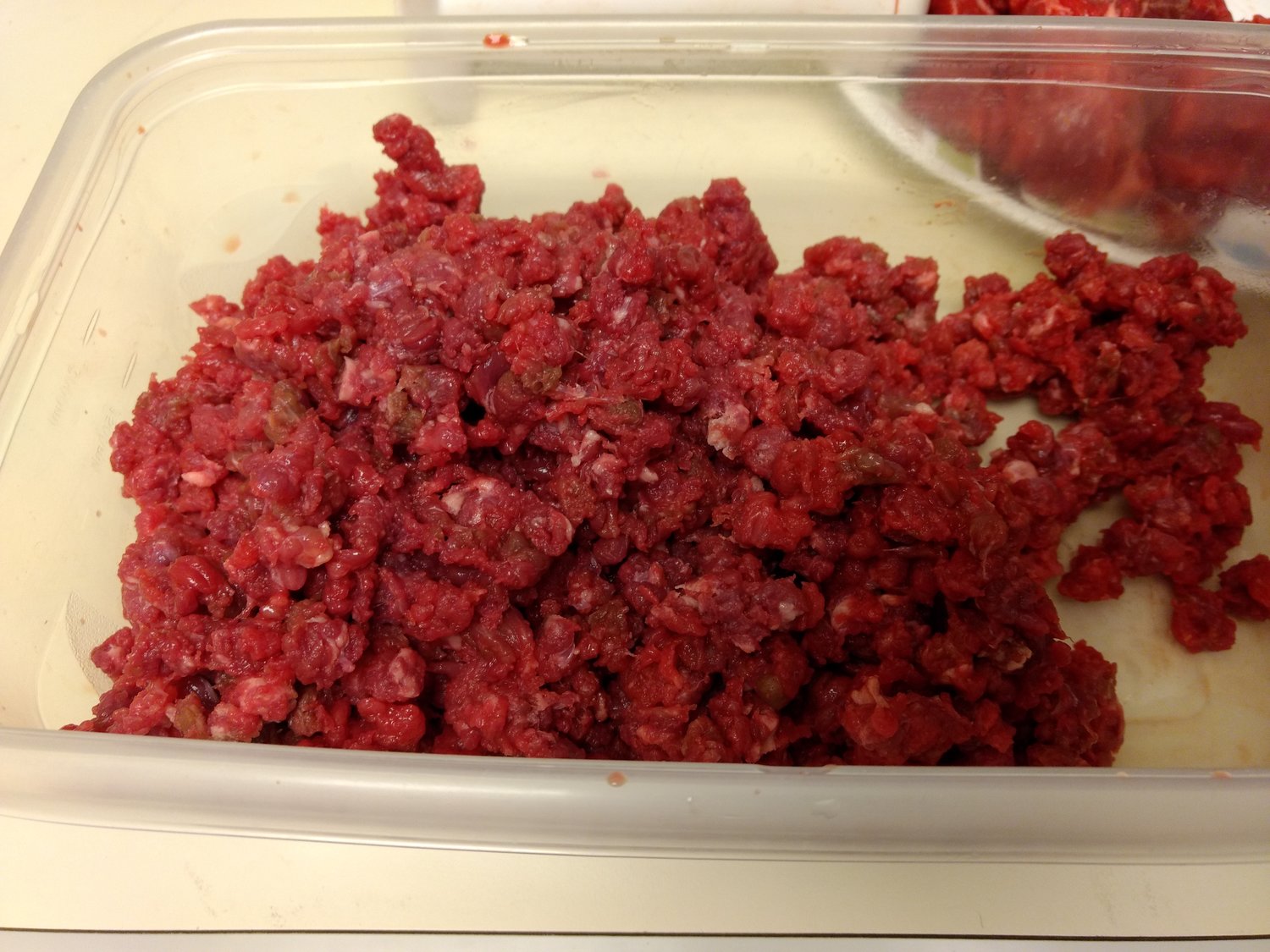 Cooking the dish
Ingredients
approx. 6 lb ground beef

Note that I started with 7 lb of fresh beef, but I estimate that I chopped off 1 lb of fat.

32 oz beef broth
64 oz tomato sauce
64 oz diced tomatoes
0.5 lb "Velveeta" cheese

Note that I saw no point in paying for the brand name version of this fake, low-quality cheese product, so I bought a generic version

Spices, including cajun, cayenne, salt, pepper, and italian seasoning
2 boxes of elbow noodles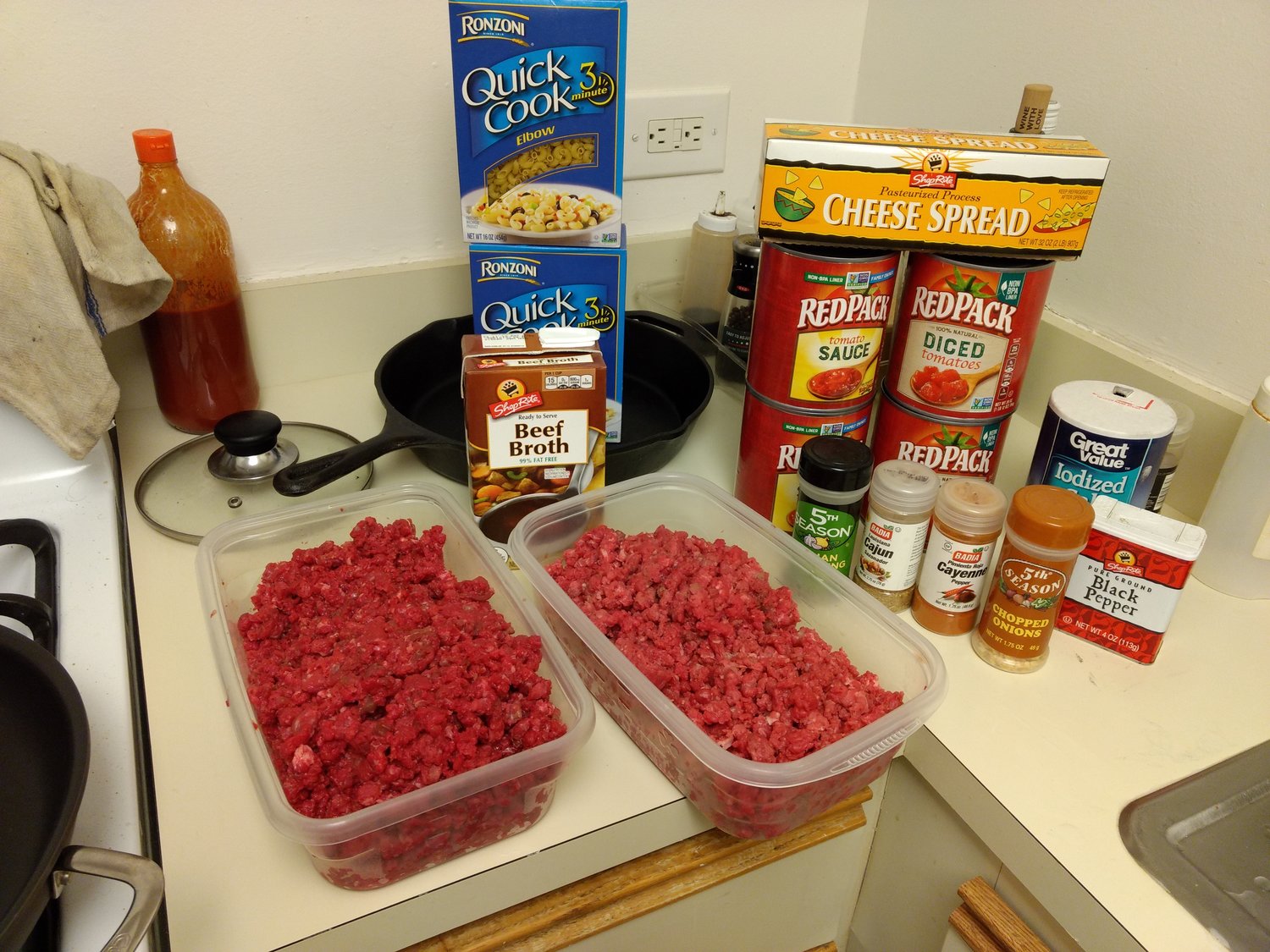 Methodology
The meat was first browned in a Quantanium coated pan.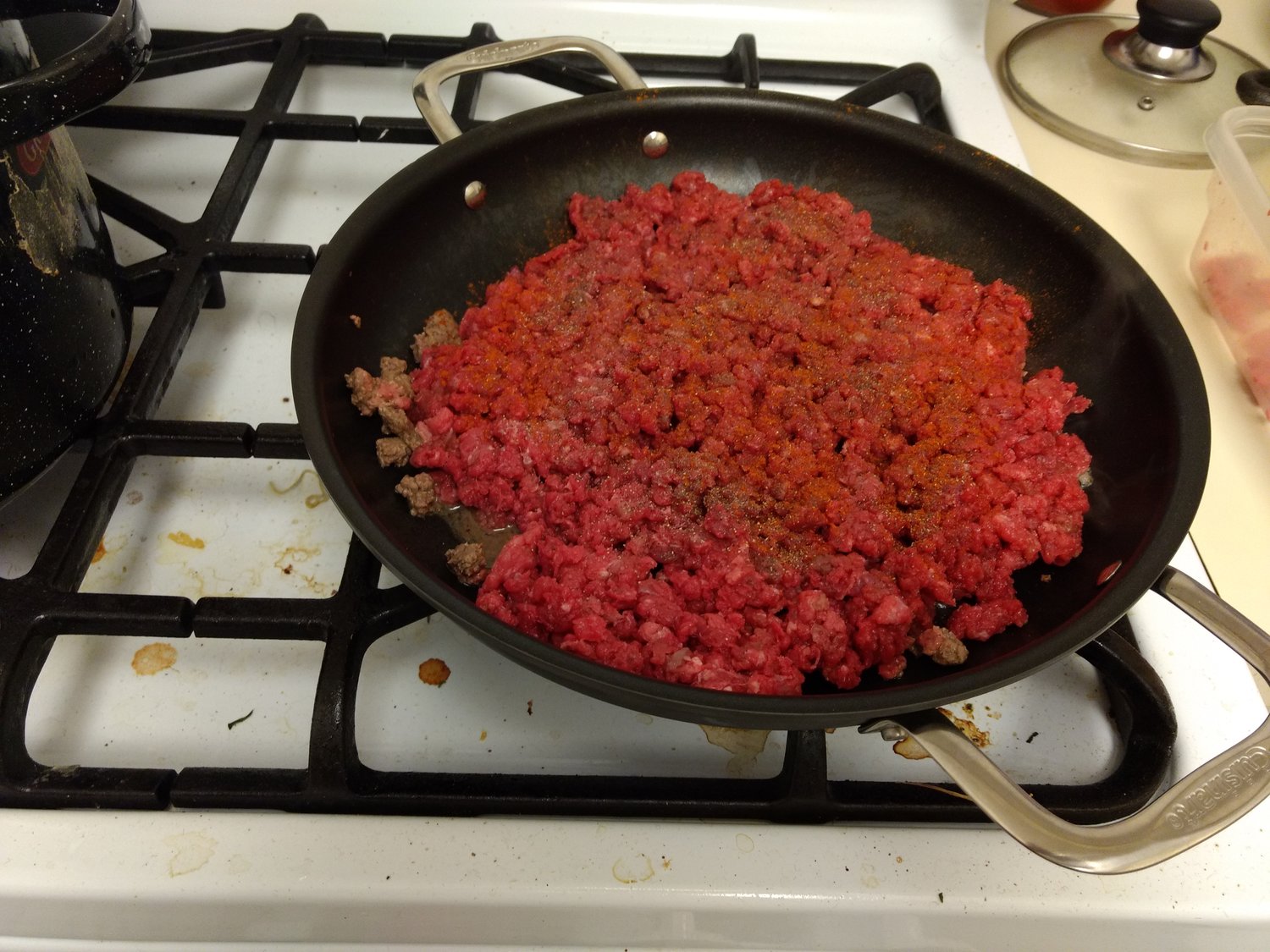 Then, everything except the noodles and cheese were added to a stock pot. The spices were not properly measured out; they were just added arbitrarily to the pot.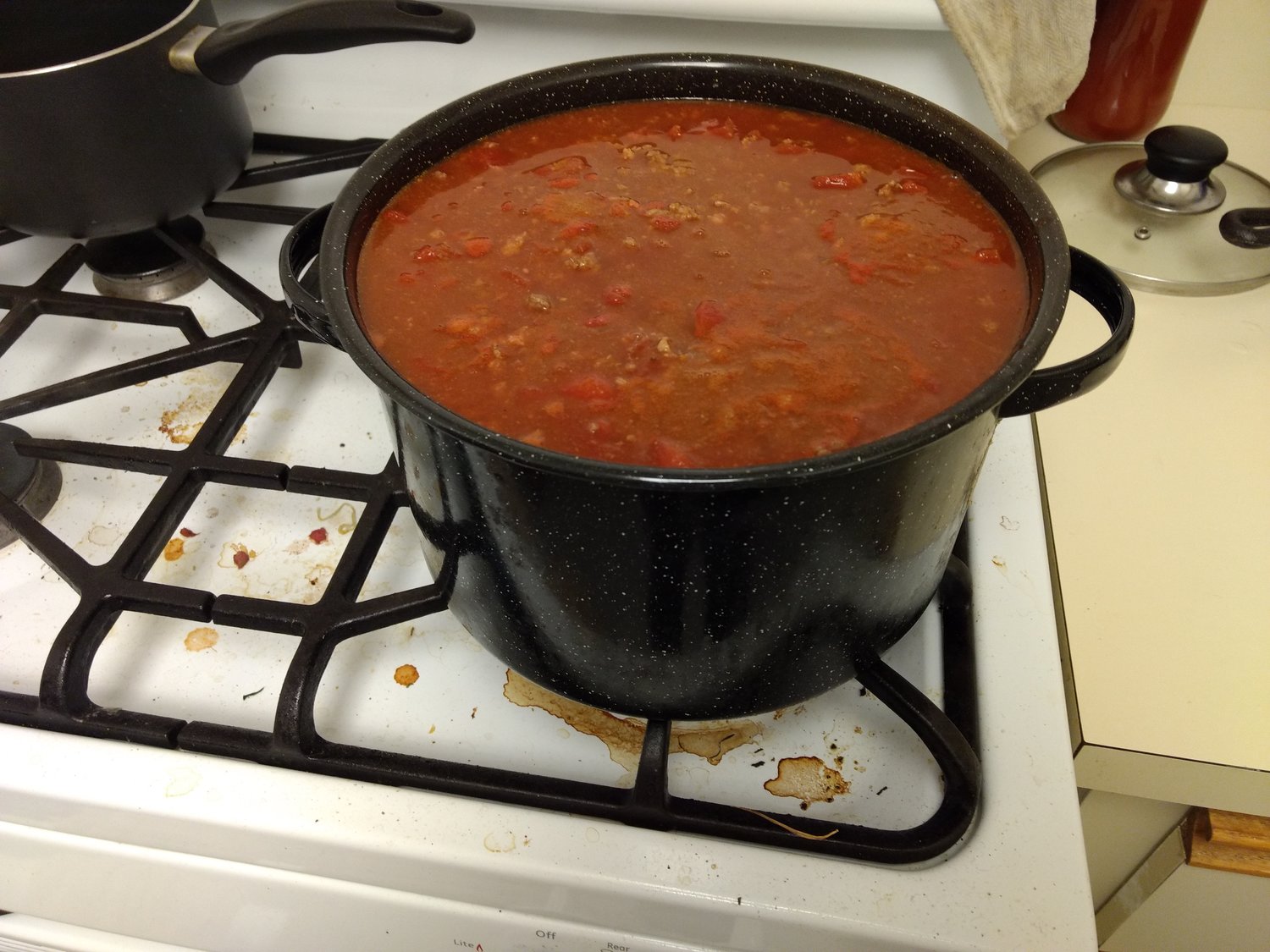 At this point, things start going horribly wrong.
Error: the stock pot is out of capacity.
Notice that the stock pot is almost completely full. Furthermore, there was too much liquid in the pot. Since I actually wanted this to reduce to a more viscous consistency at some point before the day ended, I had to remove some of the liquid. Unfortunately, this also removed a lot of the spices which had mixed with that portion of the liquids. I recommend only using 1 can each of tomato sauce and diced tomaroes.
Error: weekly pasta quota has been breached.
As the soup was reducing at home, I went to The Cheesecake Factory for the first time ever and ordered a 2400-calorie pasta. I finshed 90% of it. The chain was better than I expected, although I came in with pretty low expectations.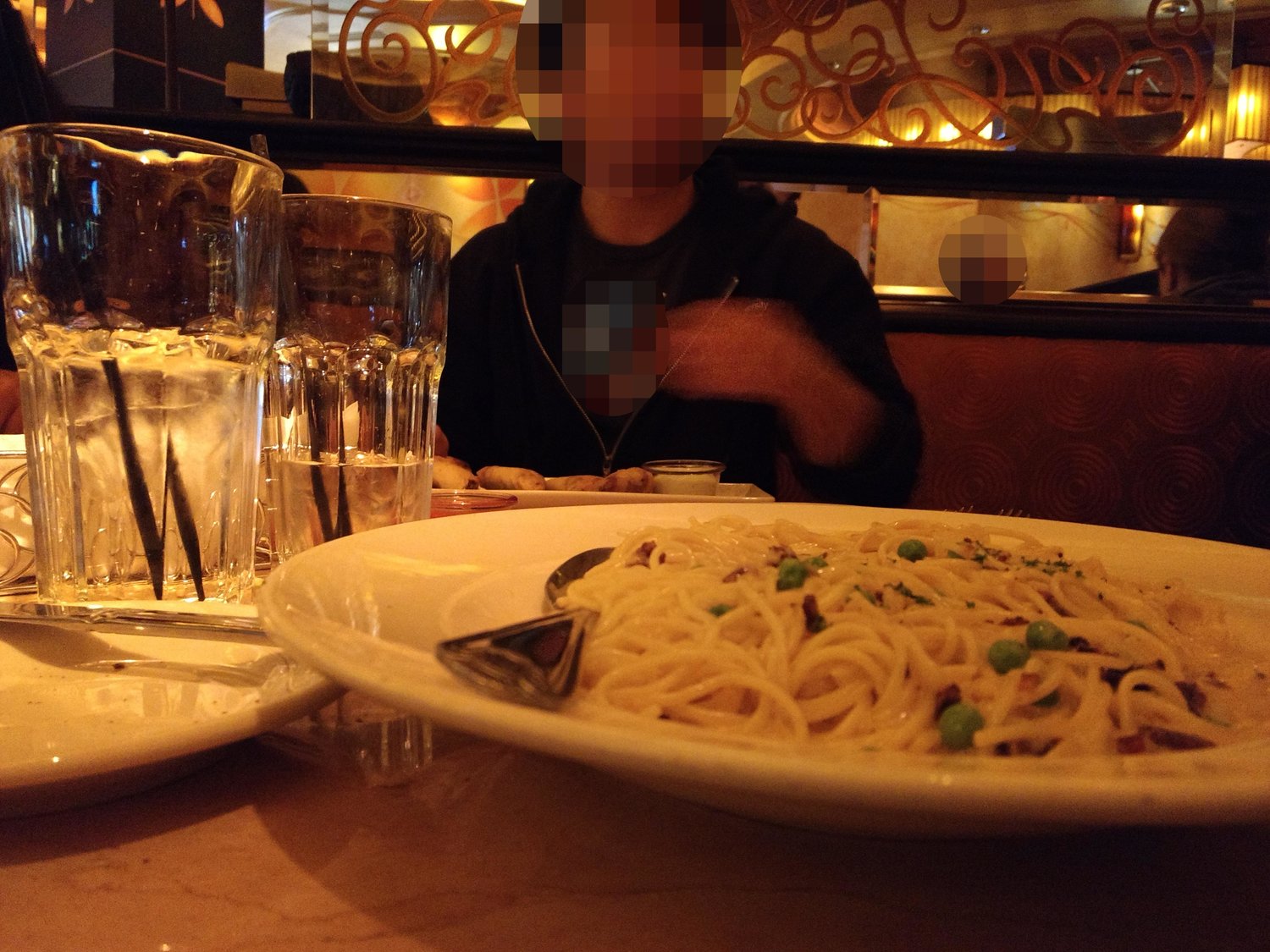 However, after returning home, I felt like even the sight of pasta made me feel a bit uncomfortable. I promptly put away the two boxes of elbow noodles and started to cook 3 cups of brown rice.
An experiment with cheese
After the soup was reduced, the dish was partitioned into two. 1/2 cup of cheese spread product was added to one partition and melted.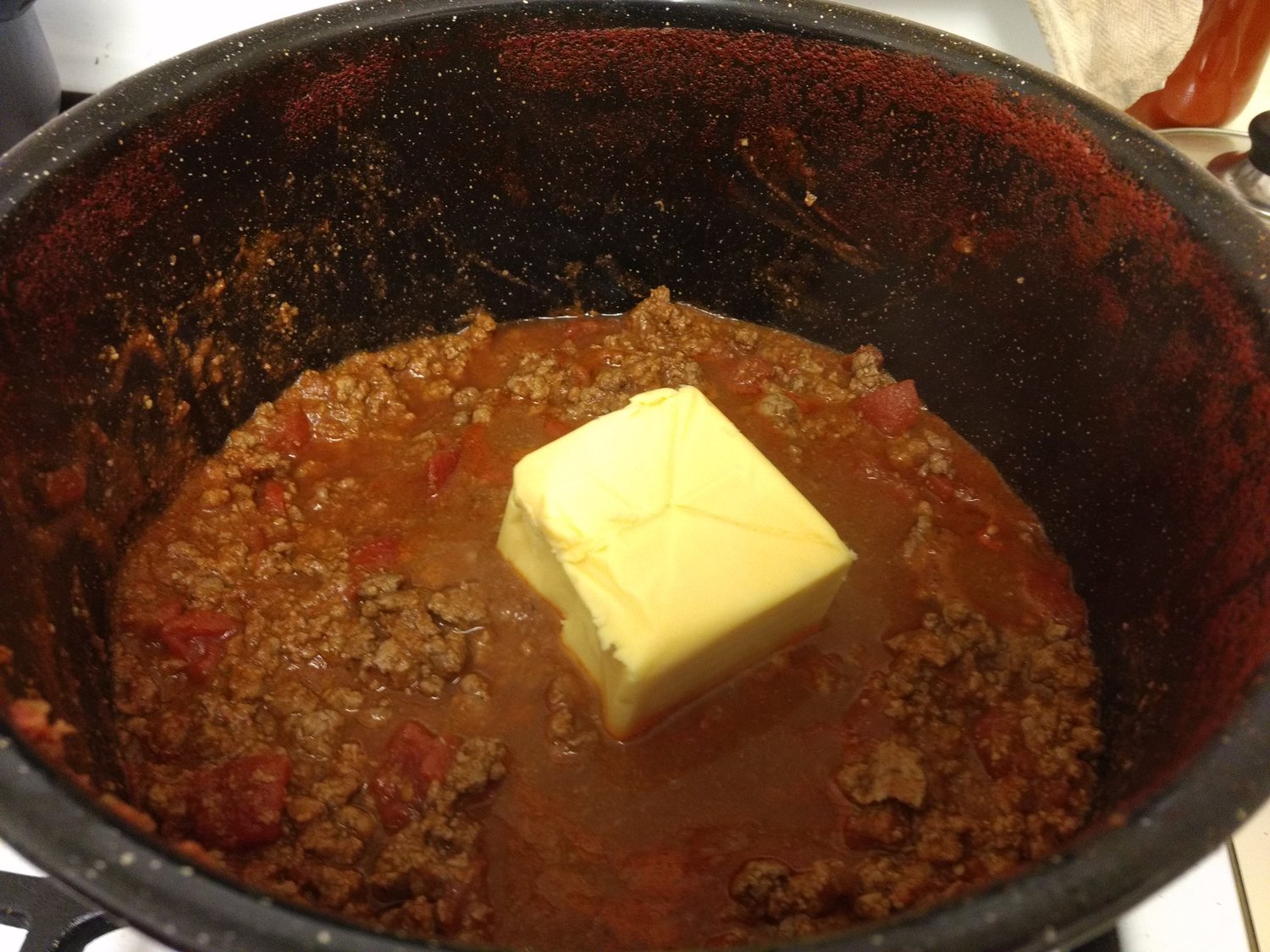 The result is two different-looking dishes with different consistencies.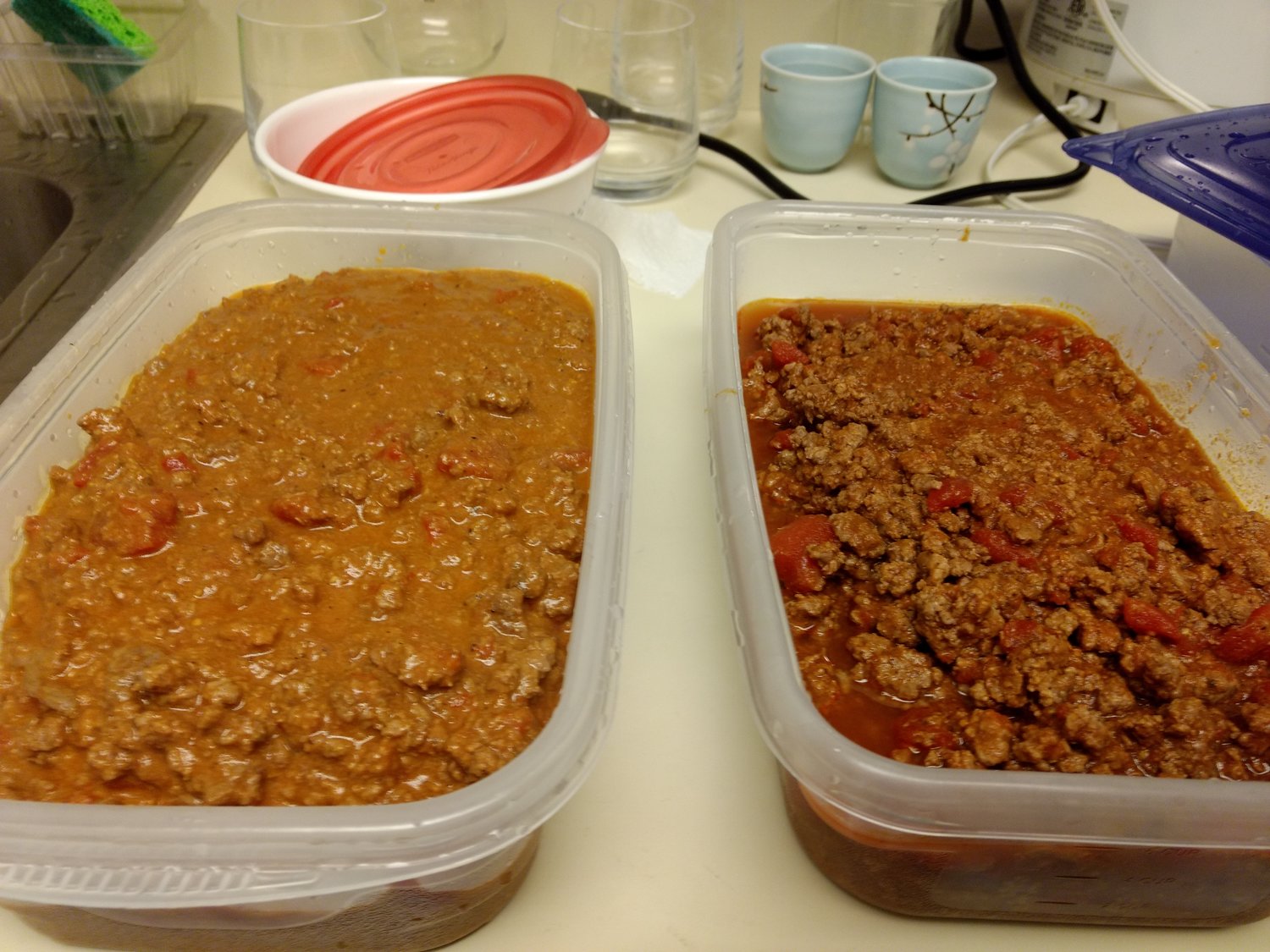 Error: unknown format.
I packed this with brown rice to bring to work for my lunch and dinner.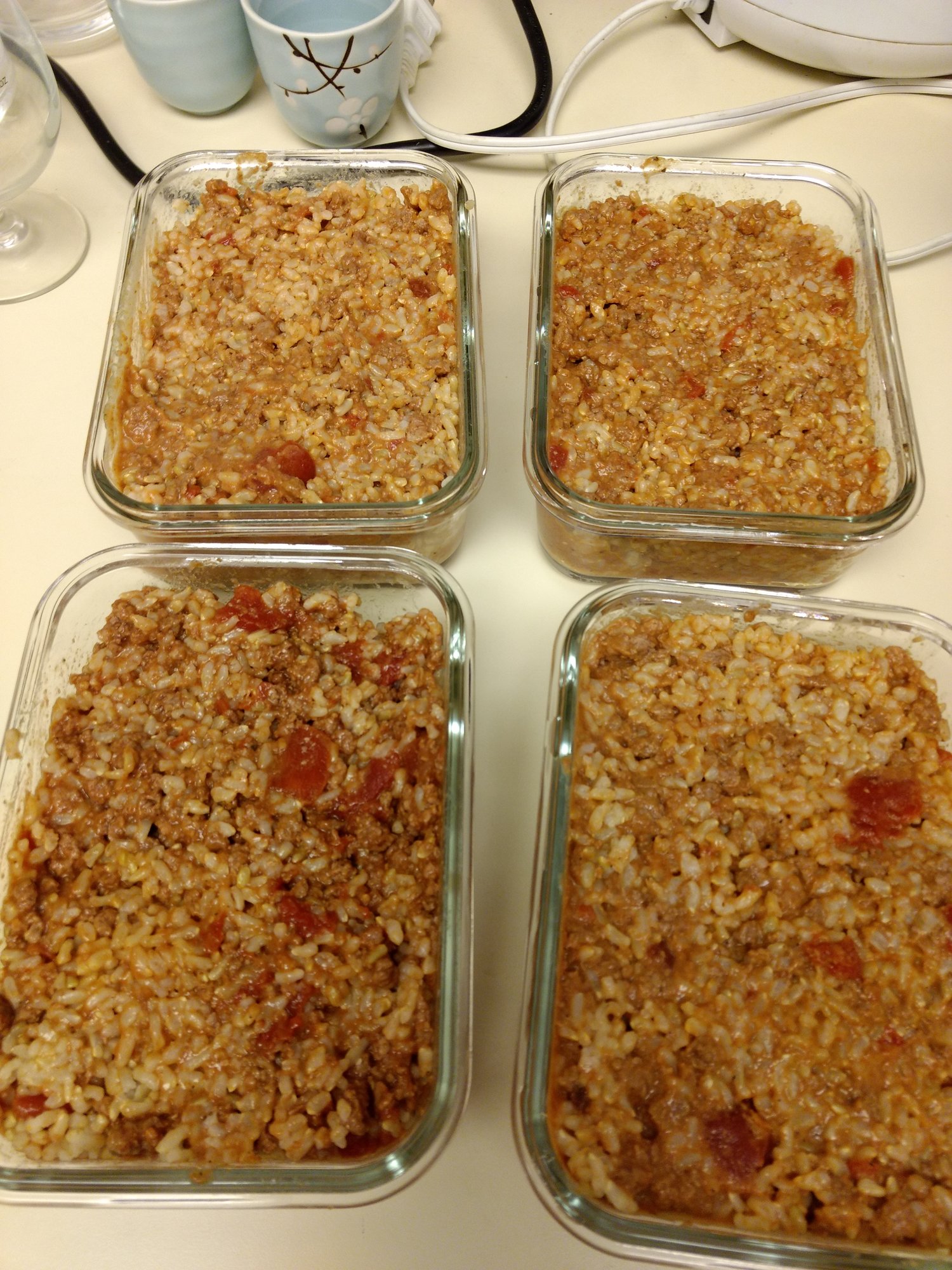 This is not goulash.
This is not even goulash for Americans.
This is not chili.
This is not meatloaf.
I don't know what this is.
But it's pretty good.
Analysis
I liked the cheese sauce version more. Both the flavor and the viscosity were an improvement over the non-cheese version. The dish worked surprisingly well with brown rice instead of noodles. Given how tasty it is, I'll call this dish a success, even though I don't quite know what it is.