I Can't Believe It's Not Butter Chicken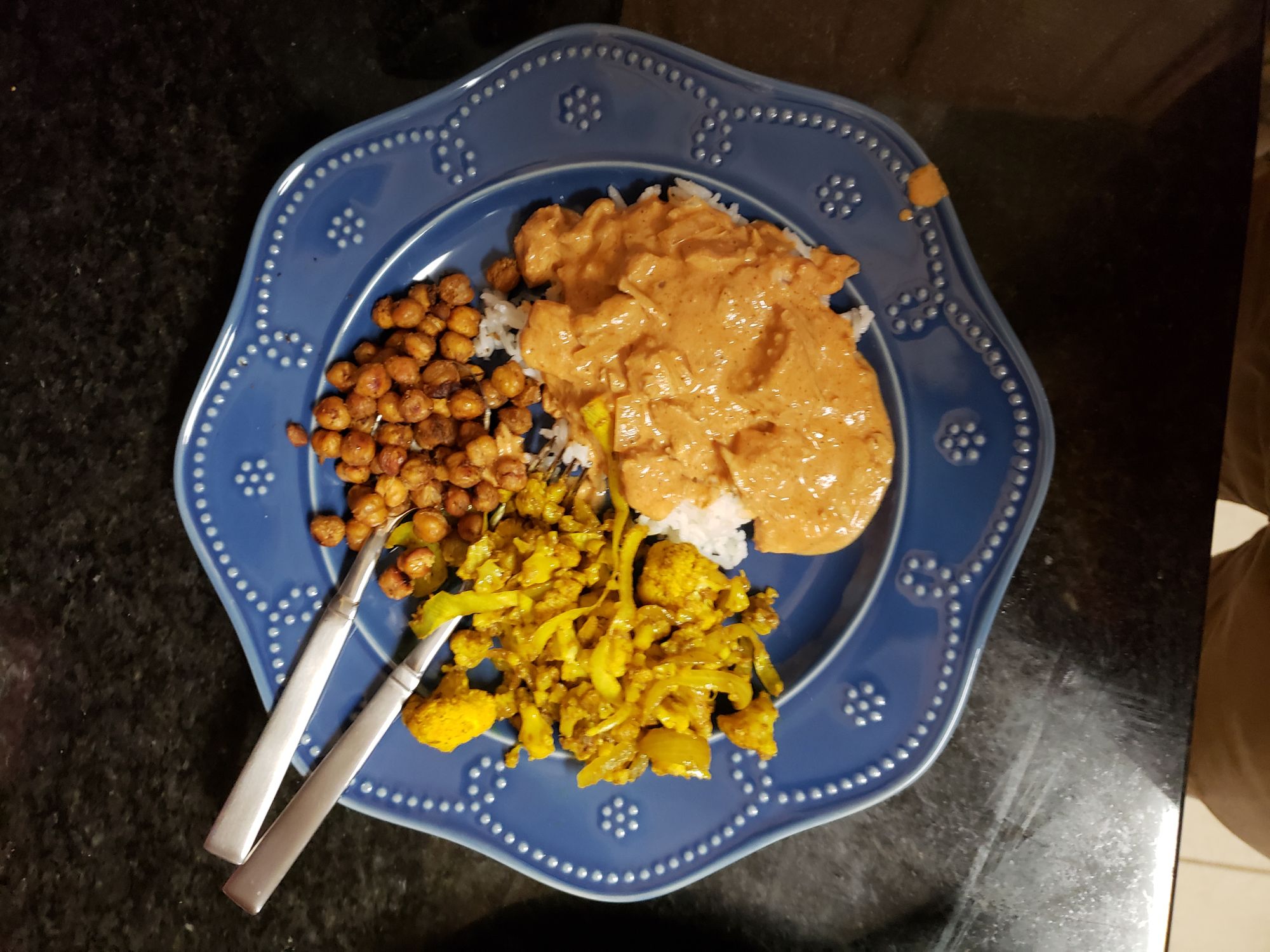 Because it is Butter Chicken! (or Chicken Makhani)
Perhaps the first time I had Indian food was when one of my high school dorm-mate's parents made butter chicken for our hall. It was one of the best things I had ever tasted. While I occasionally make some kind of curry, I just use sauce from a jar. This is my first attempt at making Indian food from scratch and attempting to recreate that delicious butter chicken.
Spicy(ish) Butter Chicken!
Ingredients:
Medium White Onion - 1/2 Onion - Chopped
Shallots - 2 - Finely Chopped
Roasted Cashews (unsalted) - Finely Ground - 1/2 Cup
Boneless/Skinless Chicken Breast - 2 lbs - Cubed
Heavy Cream - 2 Cups
Plain Yogurt - 1/2 Cup
Butter (unsalted) - 4 Tbsps (Half a Stick)
Tomato Puree - 2 Cups
Garam Masala - 4 Tsps
Chili Powder - 2 Tsps
Cayenne Pepper - 4 Tsps
Black Pepper - Several Pinches
Salt - Several Pinches
Garlic - Minced - 1 Tbsp
Ginger Paste - 1 Tbsp
Ground Cumin - 2 tsps
Bayleaf - 2 Leaves
Lemon Juice - 4 Tsps
Water - 1/2 Cup
Oil - Vegetable, Peanut, any cooking variety - A Tad or Two
Rice - Some rice, IDK man why you got so many questions???
Equipment:
Large Sauce Pan
Large Frying Pan or Wok
Rice Cooker or Small Pot
Blender or Food Processor
Cutting Board
Knives, Spoons, Spatulas, Measuring Cups
Stove
BONUS: Plaid beer to match your plaid knife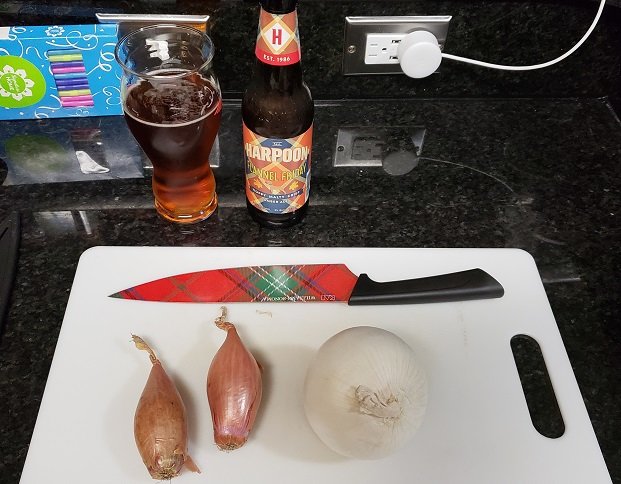 Instructions:
Sauce:
Add oil to pan and apply medium heat
Add chopped onion and shallot
Stir occasionally until translucent (~5 minutes)
Add butter, lemon juice, minced garlic, ginger paste, 2 tsps garam masala, cumin, chili powder, cumin, and bay leaf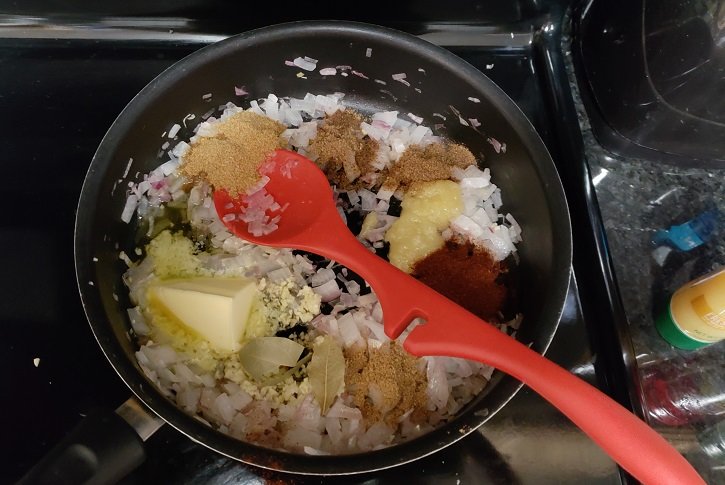 "Wow this smells great" - KUBiAc, 2018
Heat on medium for a couple of minutes (butter melted) with stirring
Add tomato puree and head on medium for a couple minutes with stirring
Reduce heat to low, add heavy cream and yogurt
Simmer for 15 minutes with frequent stirring (to avoid curdling), season with salt and pepper (~1-2 tsp each, to taste)
Turn off heat

Chicken:
Add oil to pan and apply medium heat
Add chicken cubes and stir occasionally with tongs or spatula (use batches if pan is too small)
Once cooked (~10 min) add 2 tsp garam masala and 4 tsp cayenne (less if you are a wimp) and stir
Add several spoon-fulls of sauce and stir for a minute until reduced
Add cooked chicken to sauce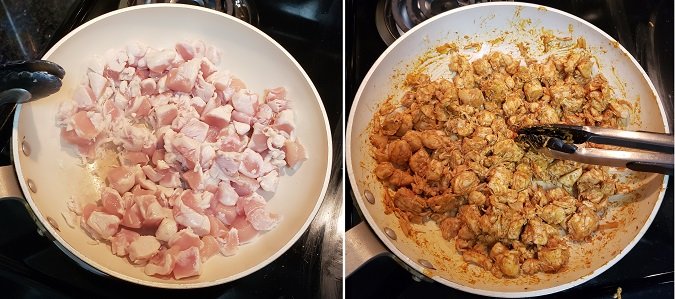 Finish:
Add water and ground cashew too the mix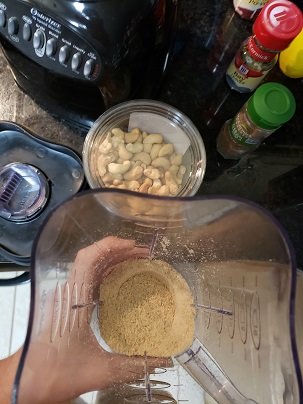 Simmer on low for ~10 minutes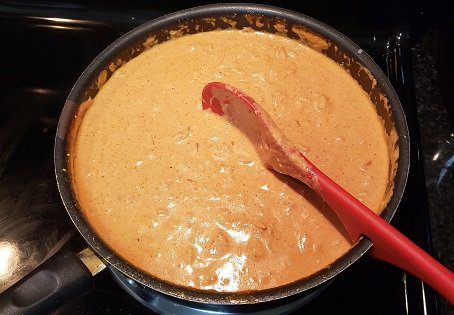 Cook rice in rice cooker or pot
Bonus Sides!
Crispy Chick Peas and Seasoned Cauliflower were prepared according to the linked recipes. Note: cooking times were increased to get desired crispiness and tenderness, respectively. In addition, the remaining half onion from the butter chicken was added to the cauliflower.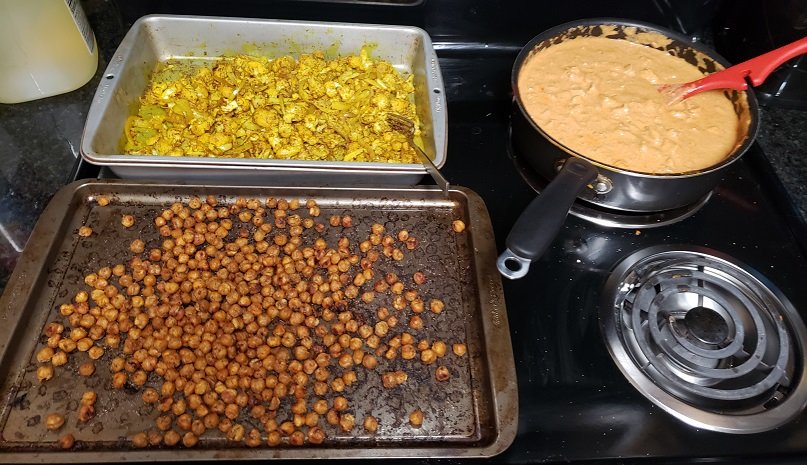 Results: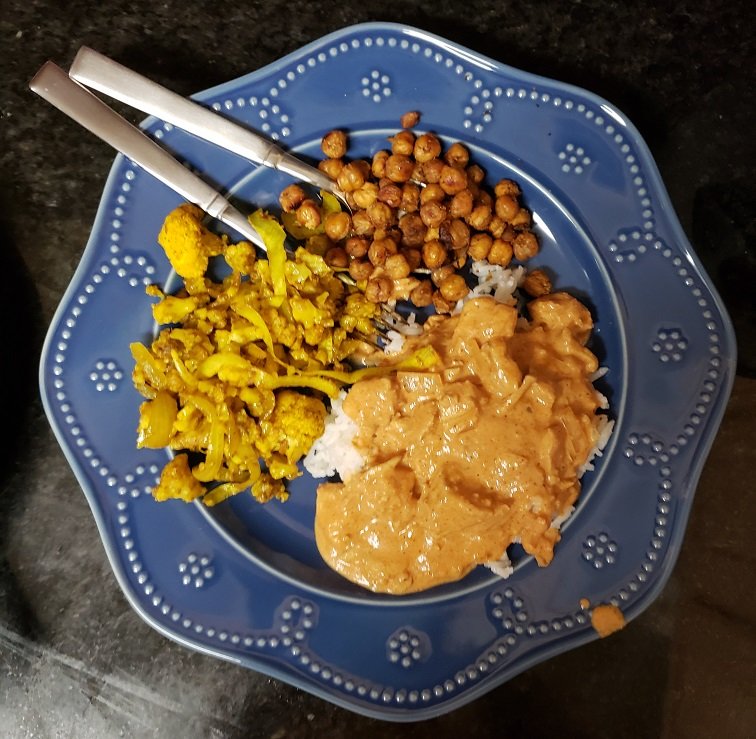 This dish smelled amazing from the moment the spices were added to the simmered onions until its consumption.
The flavors are balanced with a nice warmth from the cayenne. This would be a great cold weather meal.
In all, this made my apartment smell great and was a delicious endeavor.
Future Work:
The chicken was a little tough and could have been cooked for a shorter period of time. It also should have been cooked in smaller batches to get more browning.Furthermore, I think the pieces of chicken I prepared were a little on the small side, and I think heartier chunks would be an improvement.
I thick a bright chutney as a side would make a great addition. I'd also like to make naan.
I think a little more garlic and masala could be used, as well as a little less cayenne for the faint of heart. The dish was not super spicy, but the cayenne bordered on overpowering the other flavors.
Citations:
https://www.allrecipes.com/recipe/45957/chicken-makhani-indian-butter-chicken/ (modified based on comments and whims of the chef...)