Pi Day: Chicken Pot Pie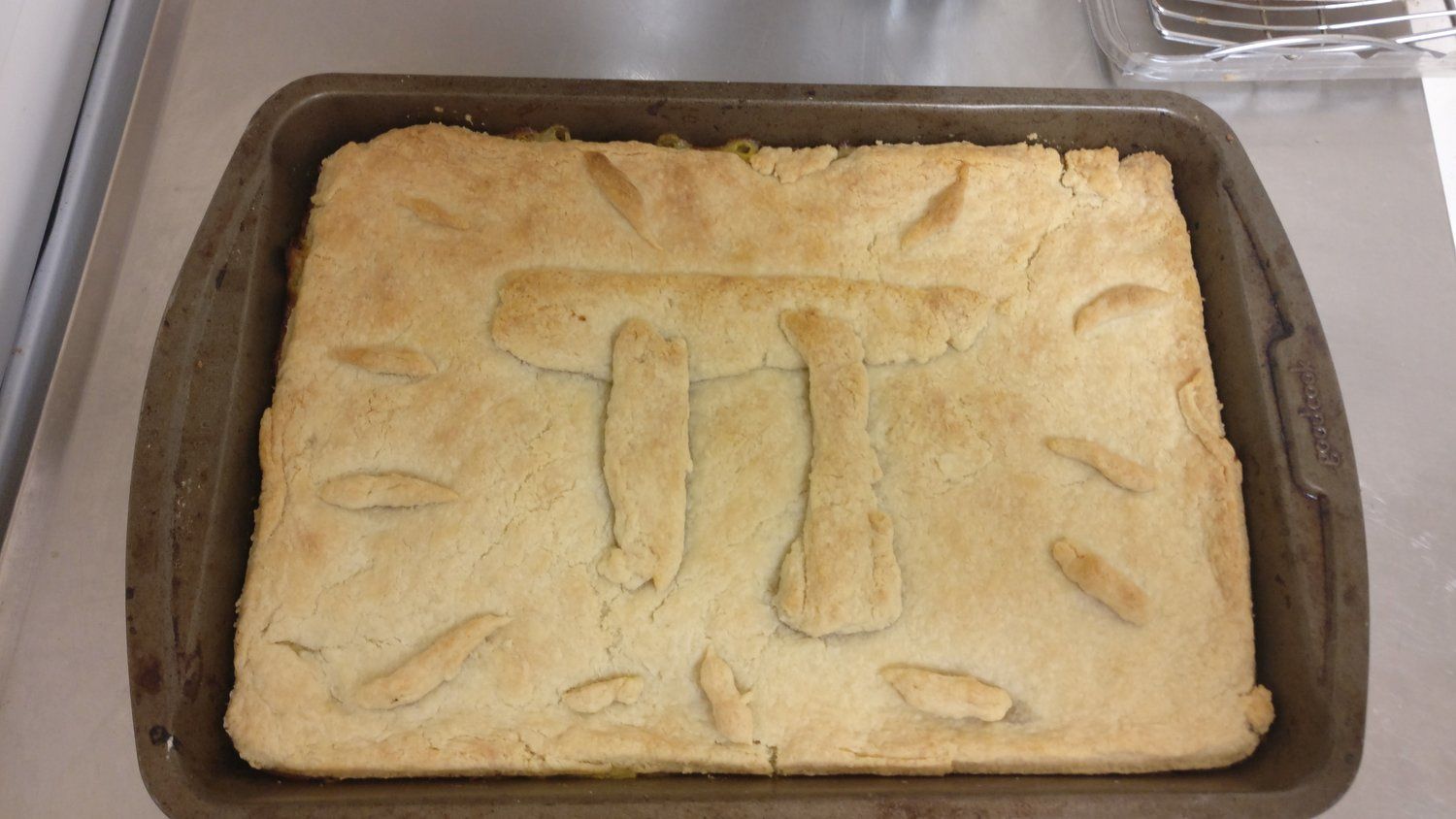 Happy belated pi day, my friends!
To celebrate the great day, my SO and I put together a modified chicken pot pie that doesn't use any cream, and I would say this one is just as good as the full-fat version.
---
Ingredients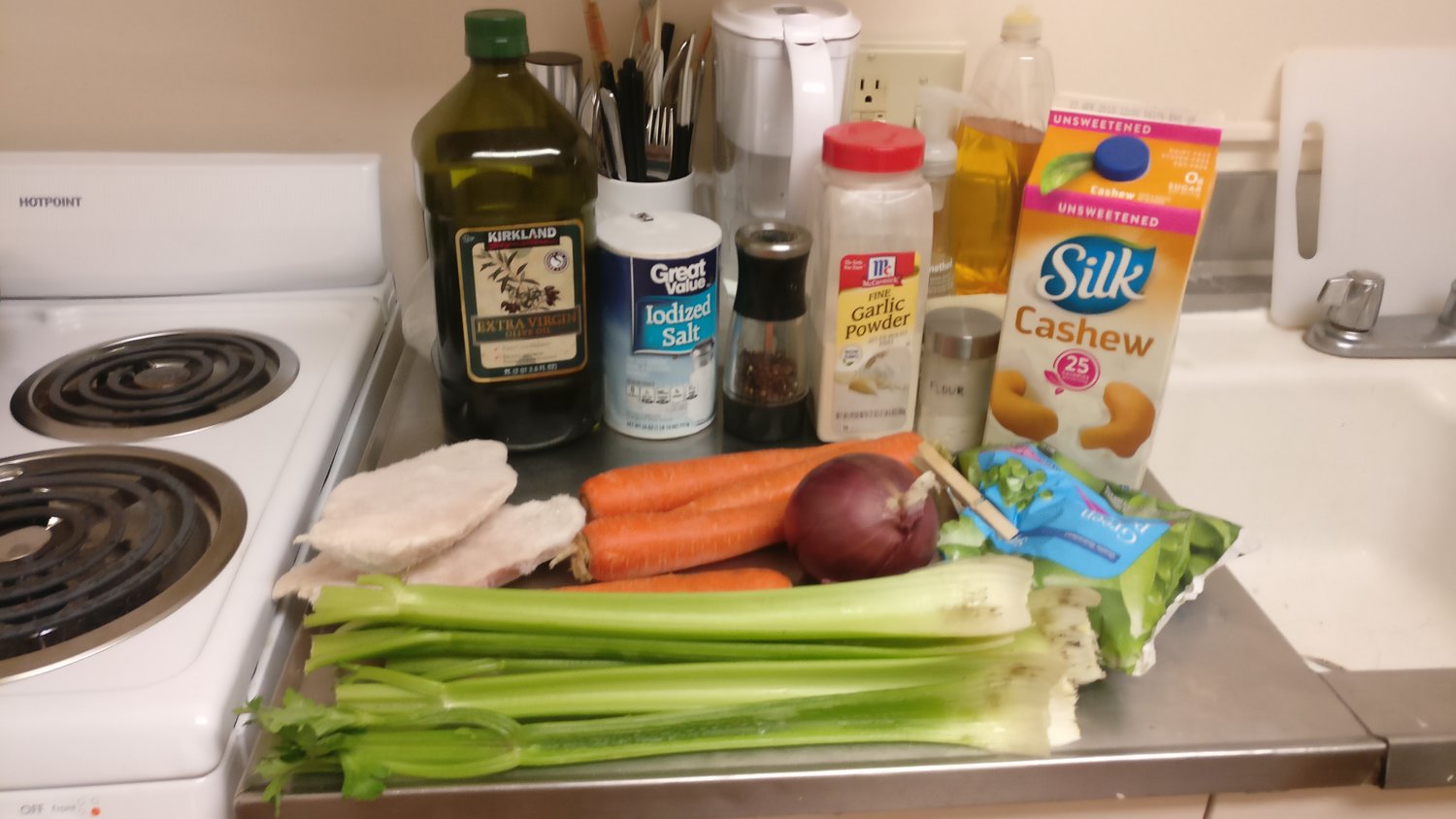 For the filling:
4 carrots
5 stalks of celery
1/2 onion
3 chicken breasts
1/2 cup frozen peas
1/4 cup flour
2 cups cashew milk (or whatever milk you choose)
garlic powder
salt + pepper
some olive oil for cooking in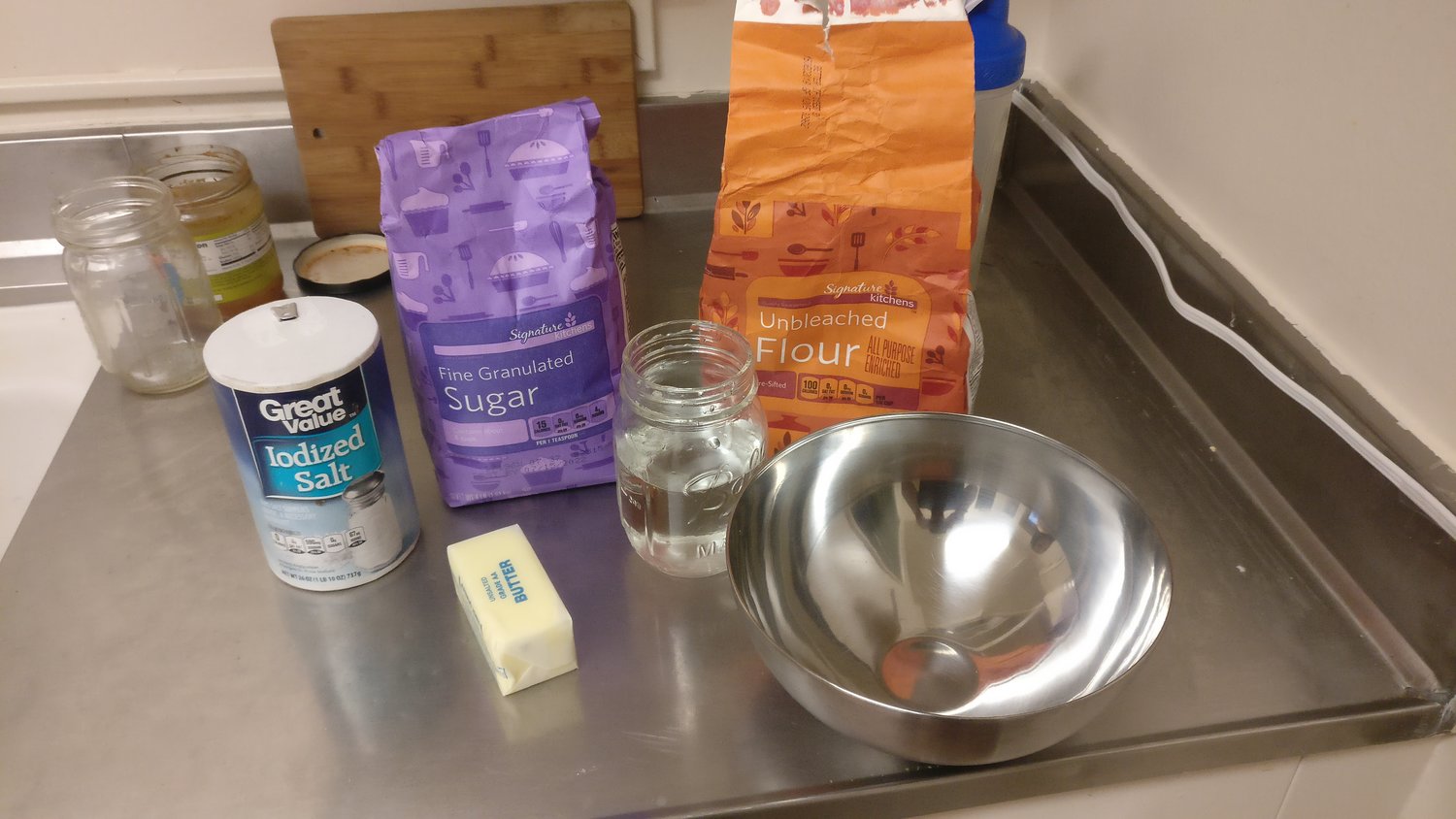 For the crust:
2.5 cups flour
1 cup unsalted, COLD butter
1 tsp salt
1 tsp sugar
1/4 cup super cold water
Methodology
We'll start with the filling.
Start processing the veggies--dicing the onion, dicing the celry, dicing the carrots. Everything should be roughly 1/4-1/2 inch cubes. Or the size of a pea.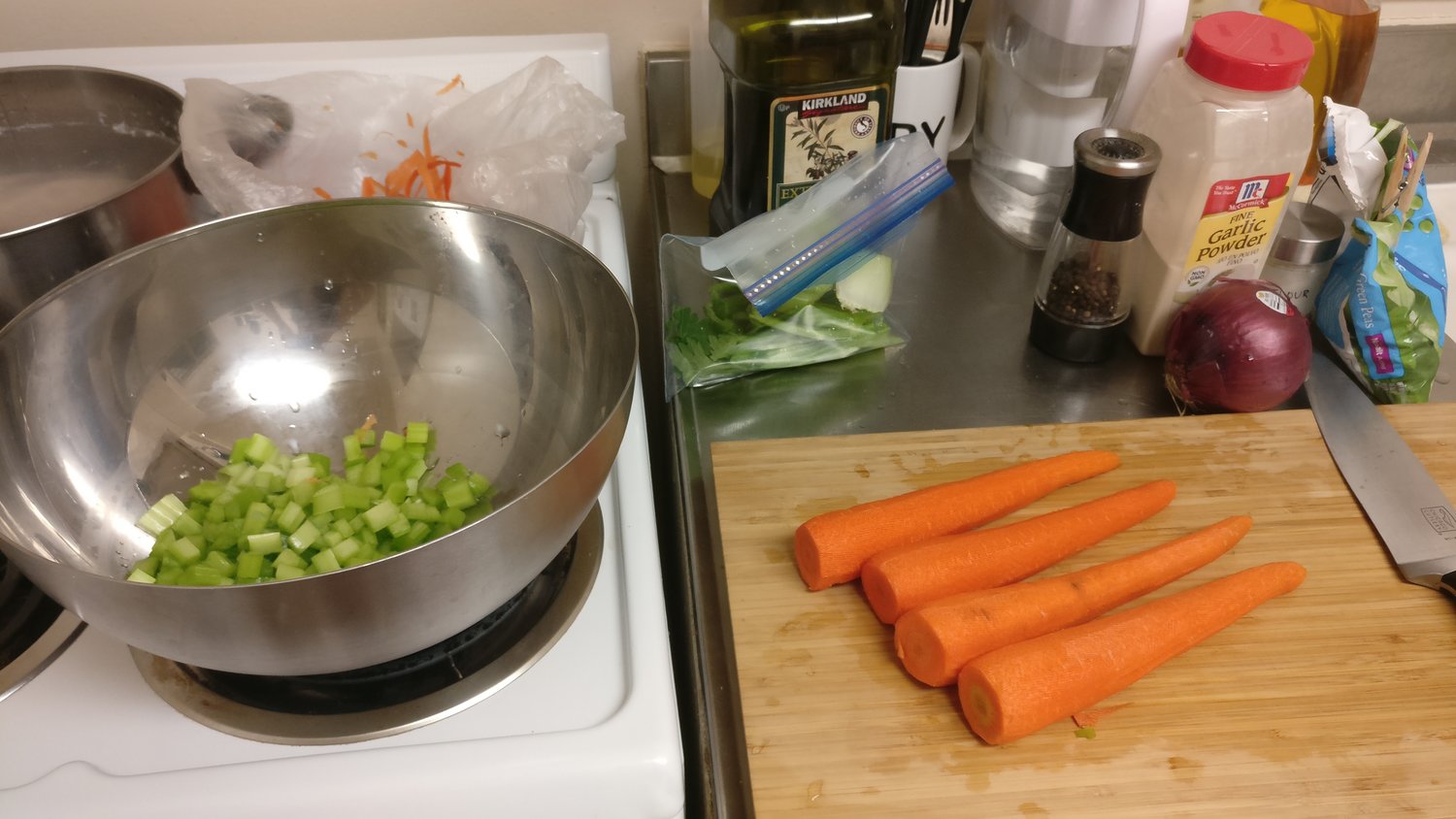 While that's going, start cooking the chicken. I boiled it, since it's easier to shred later that way.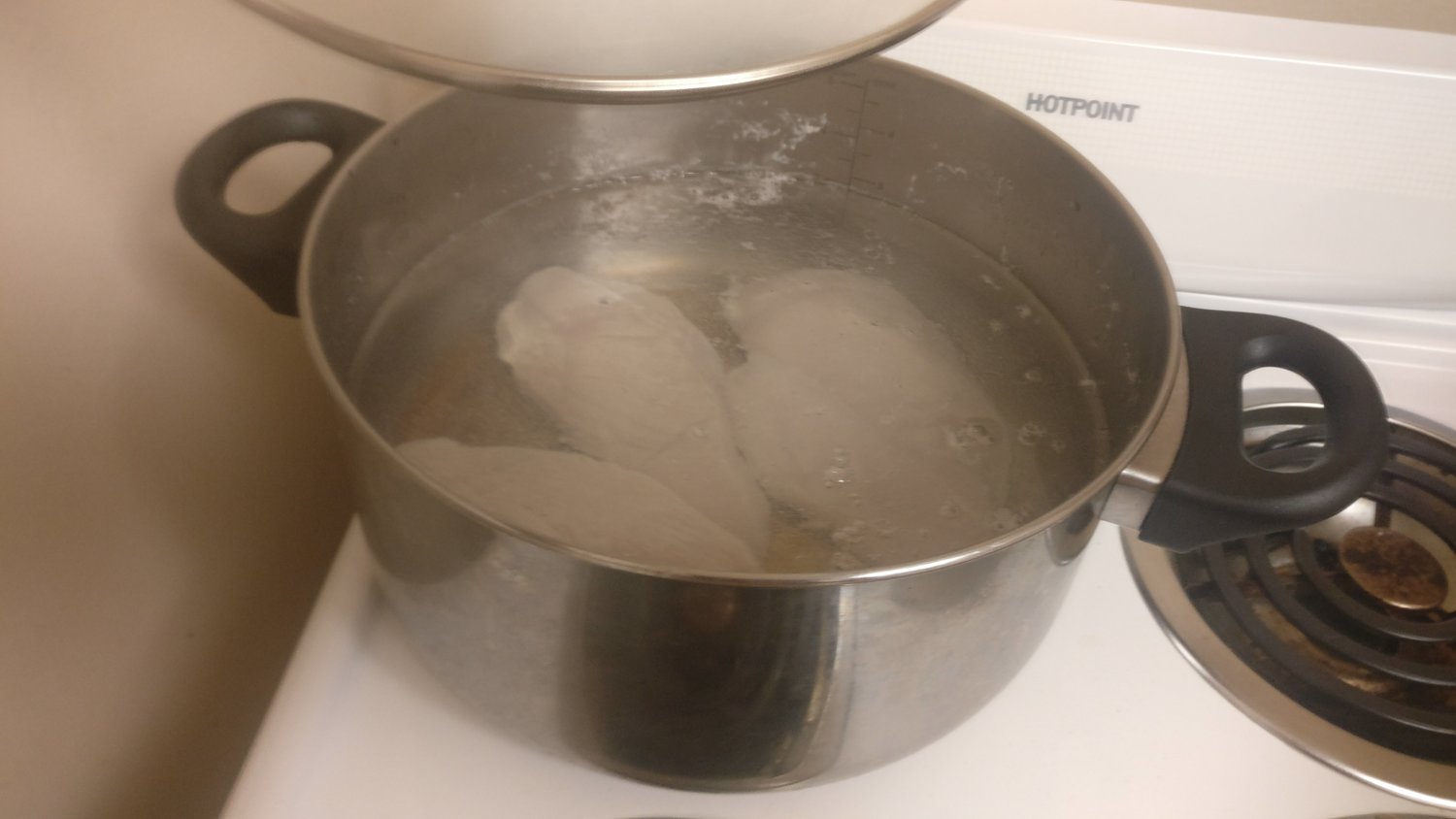 In a separate pan, cook up all the onion, celery, and carrot with some olive oil. We are trying to get these relatively soft.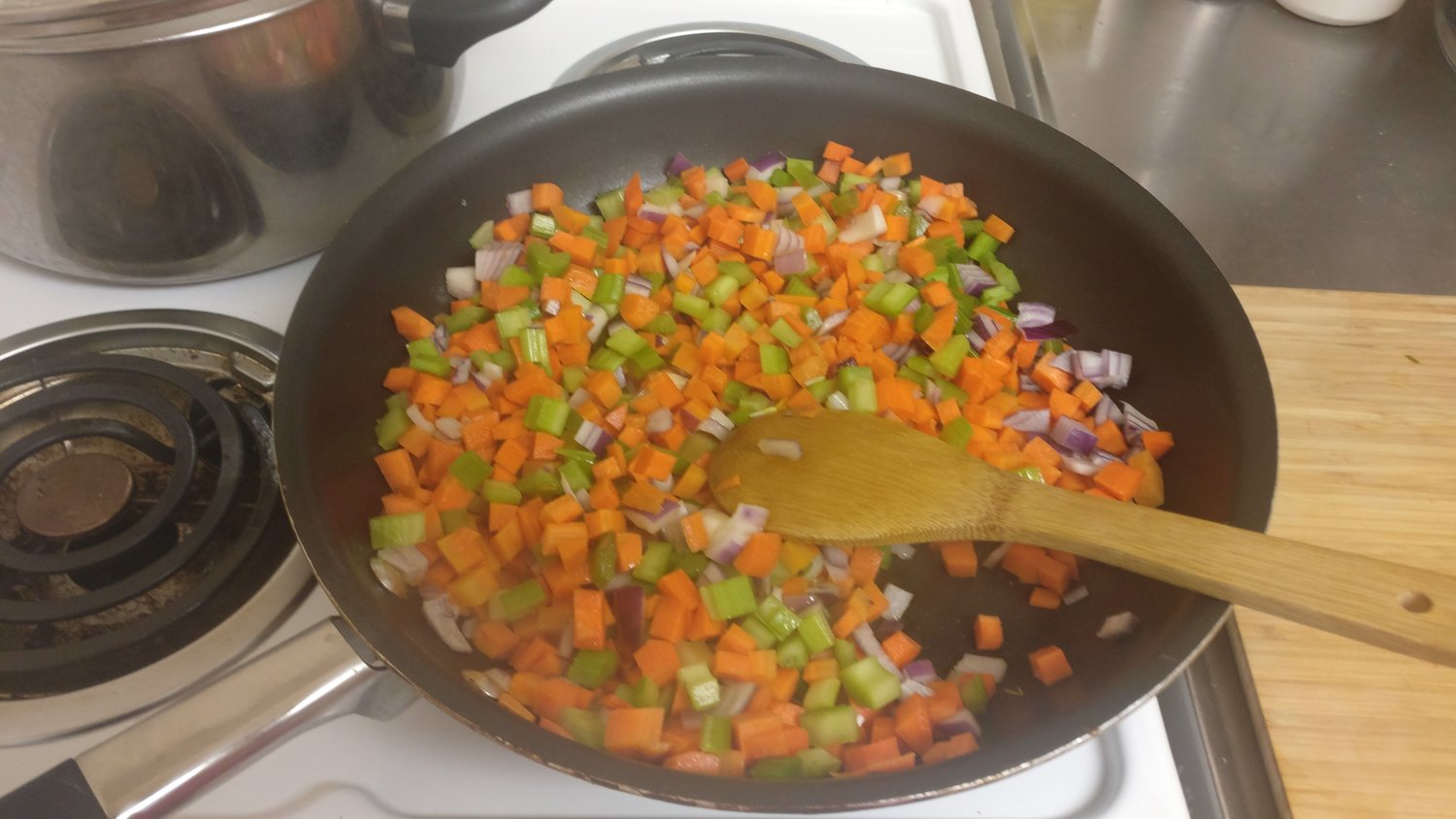 Jumping back to chicken--when it's done cooking, shred.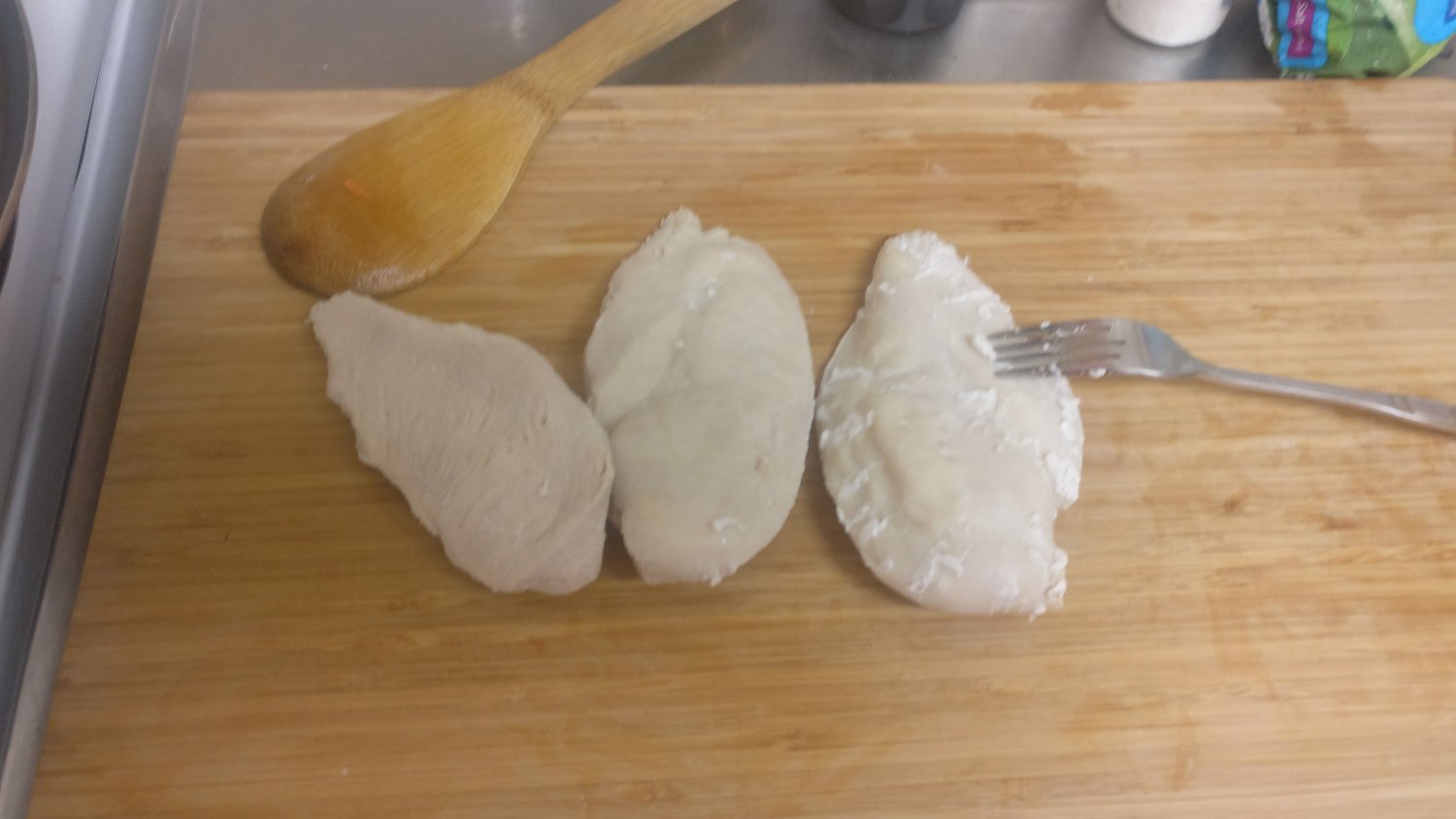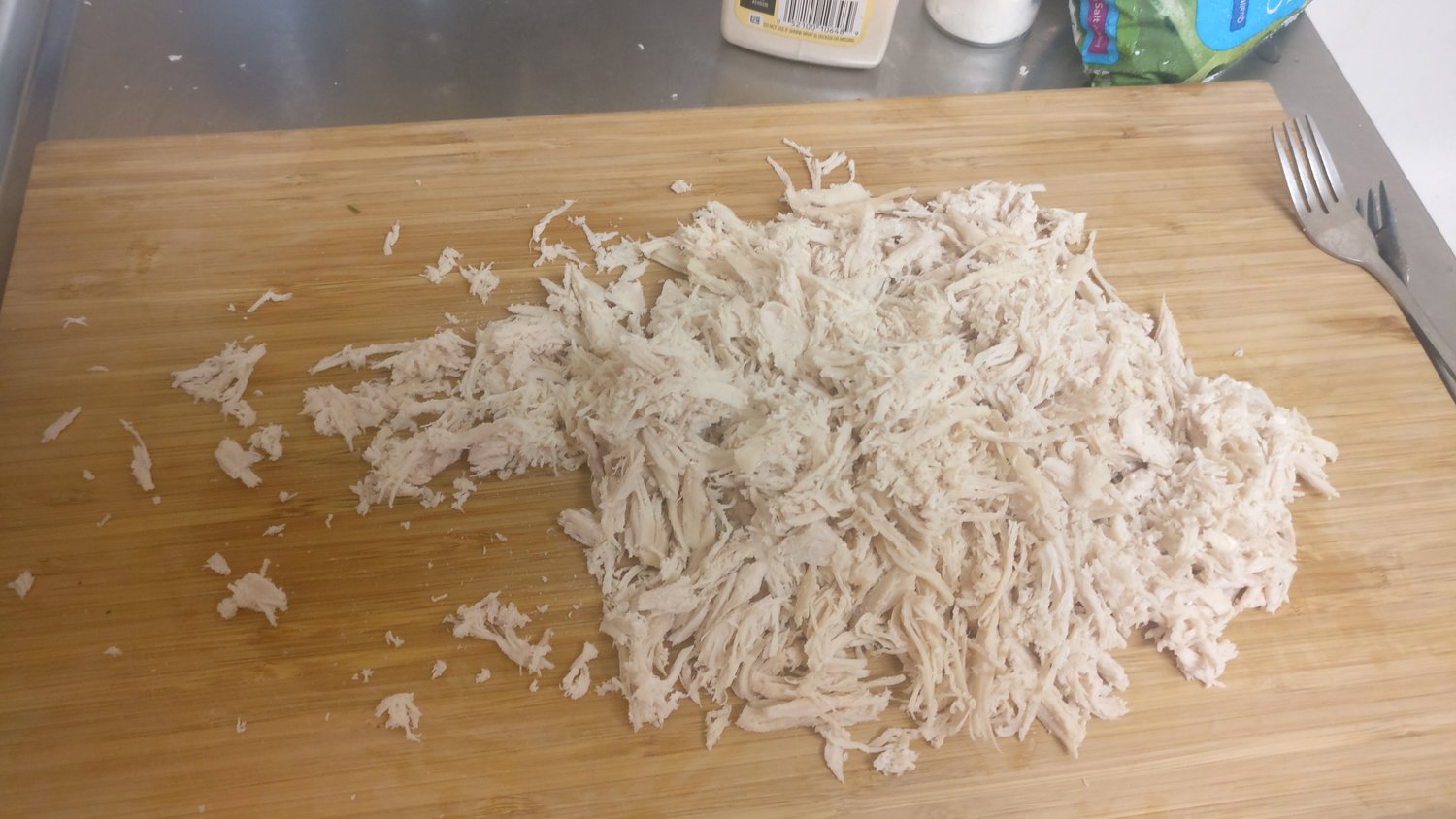 Toss in the seasonings (garlic powder, salt, pep, anything else). From recipe research, it seems like thyme is good ingredient with chicken pot pie, but I couldn't be bothered to buy any, hah.
Taste to make sure the flavor is right.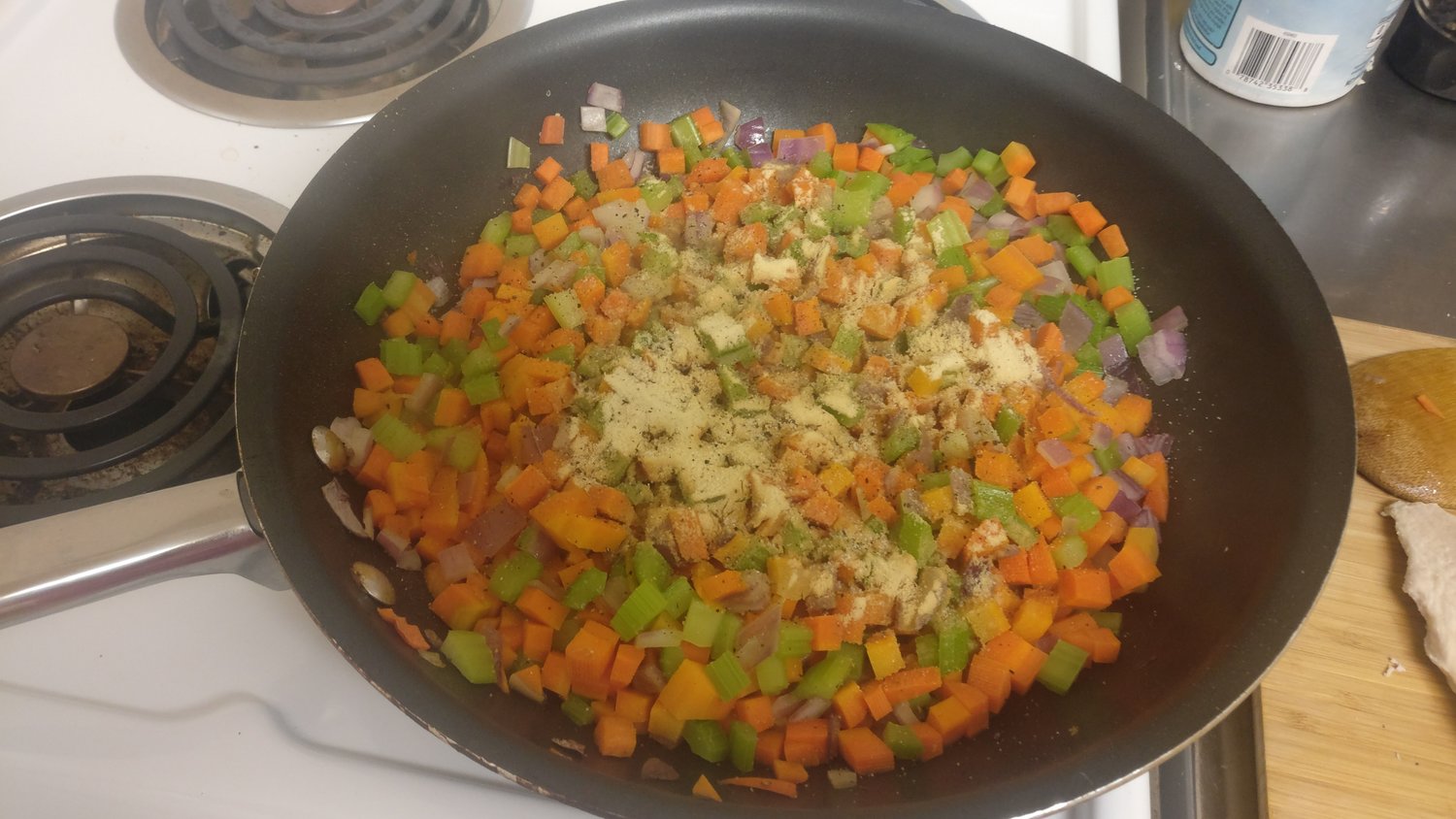 Toss in the flour and mix it around to cook for a few minutes.
This step is a bit like creating a roux, as you would with traditional macaroni and cheese or with create pate choux for eclairs. Roux is a combination of flour and fat, which gets cooked together into a paste, to which a liquid is then added to to create a thick sauce, like the cheese sauce for macaroni and cheese.
Make sure to cook the flour through thorough to (1) remove the raw taste, and (2) not get food poisoning. I read that eating raw cookie dough isn't dangerous because of the raw egg, but it is because of the raw flour.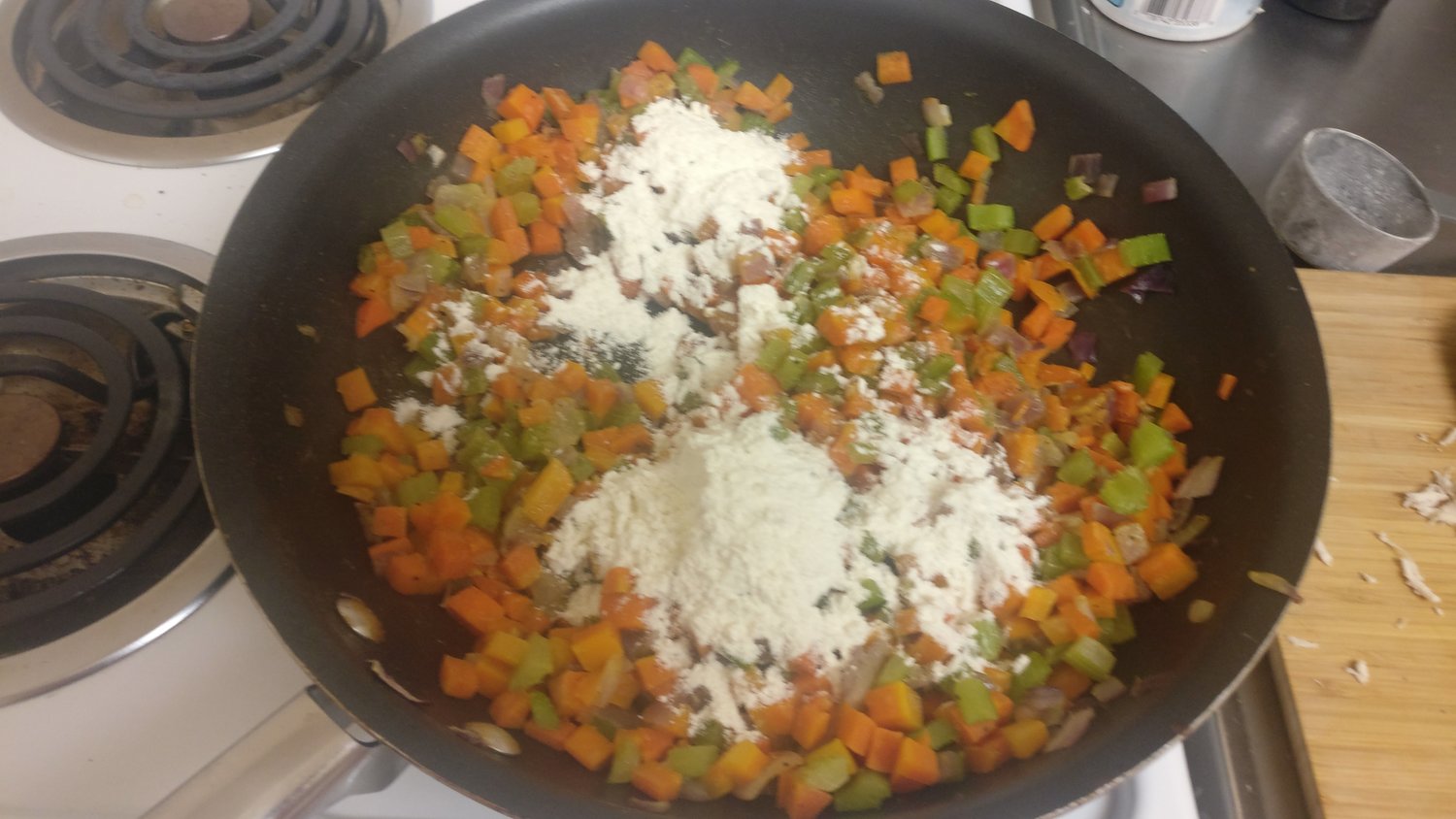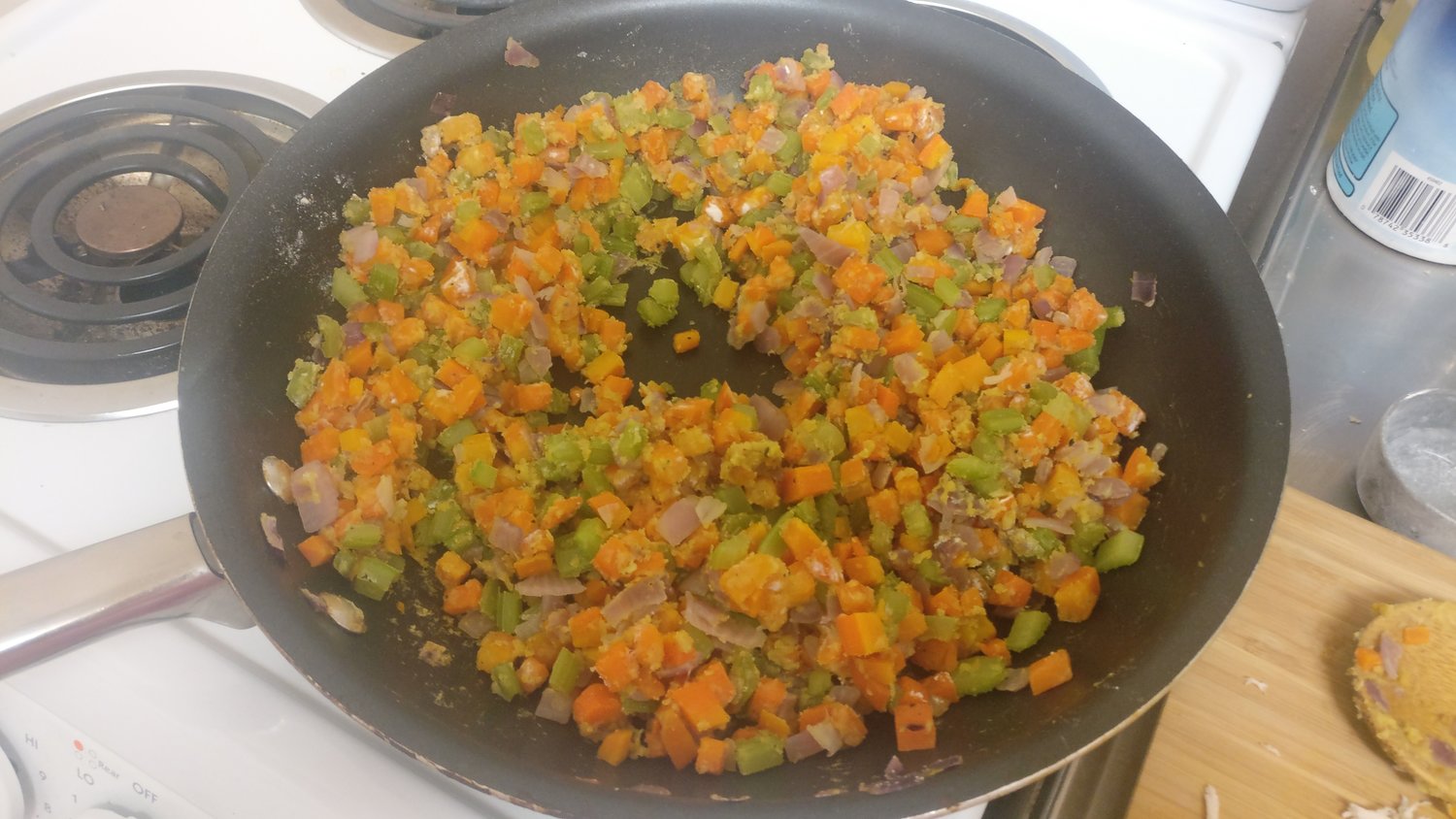 The roux is done.
Now add the milk in batches to combine.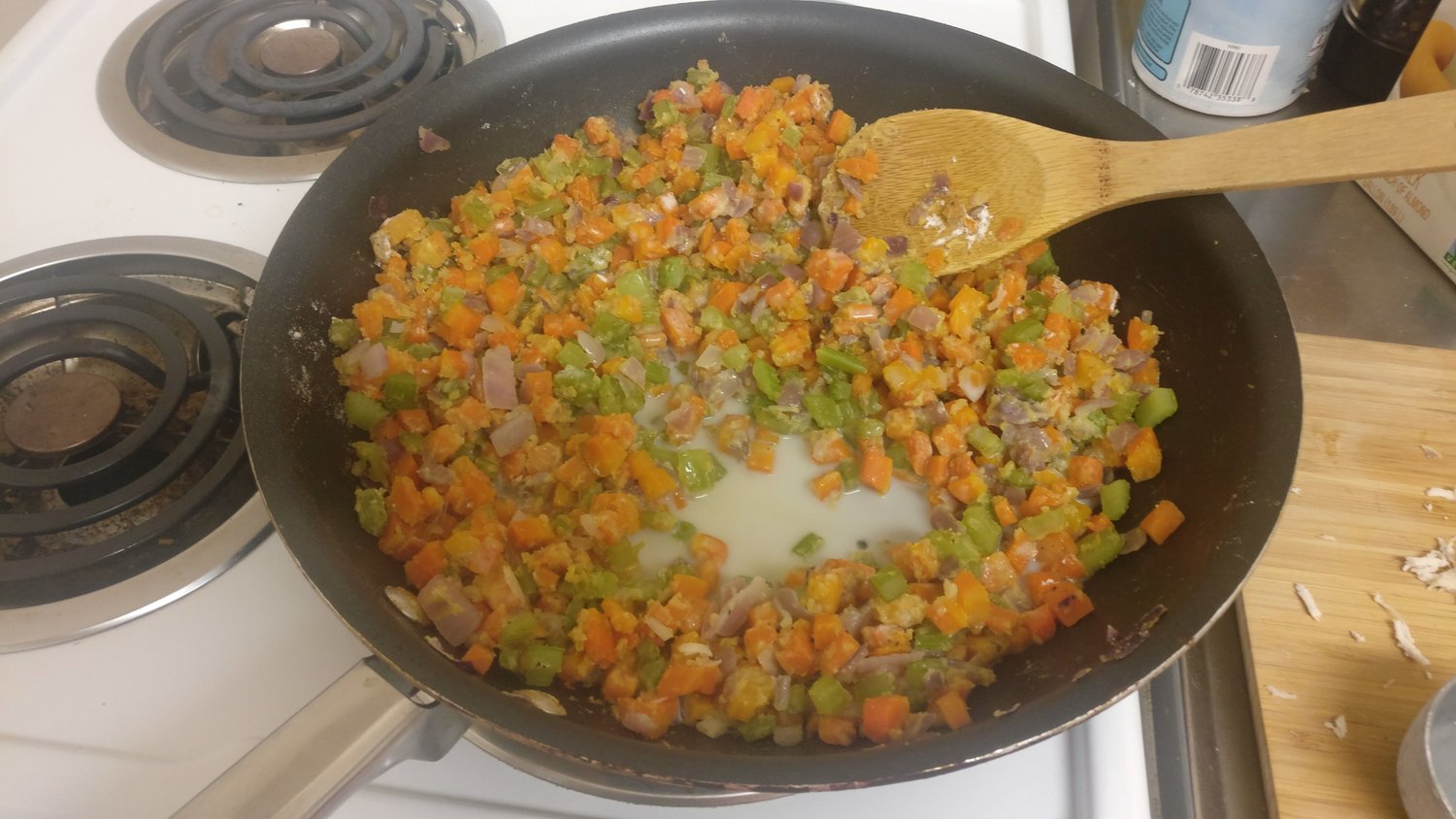 Add in the chicken and peas.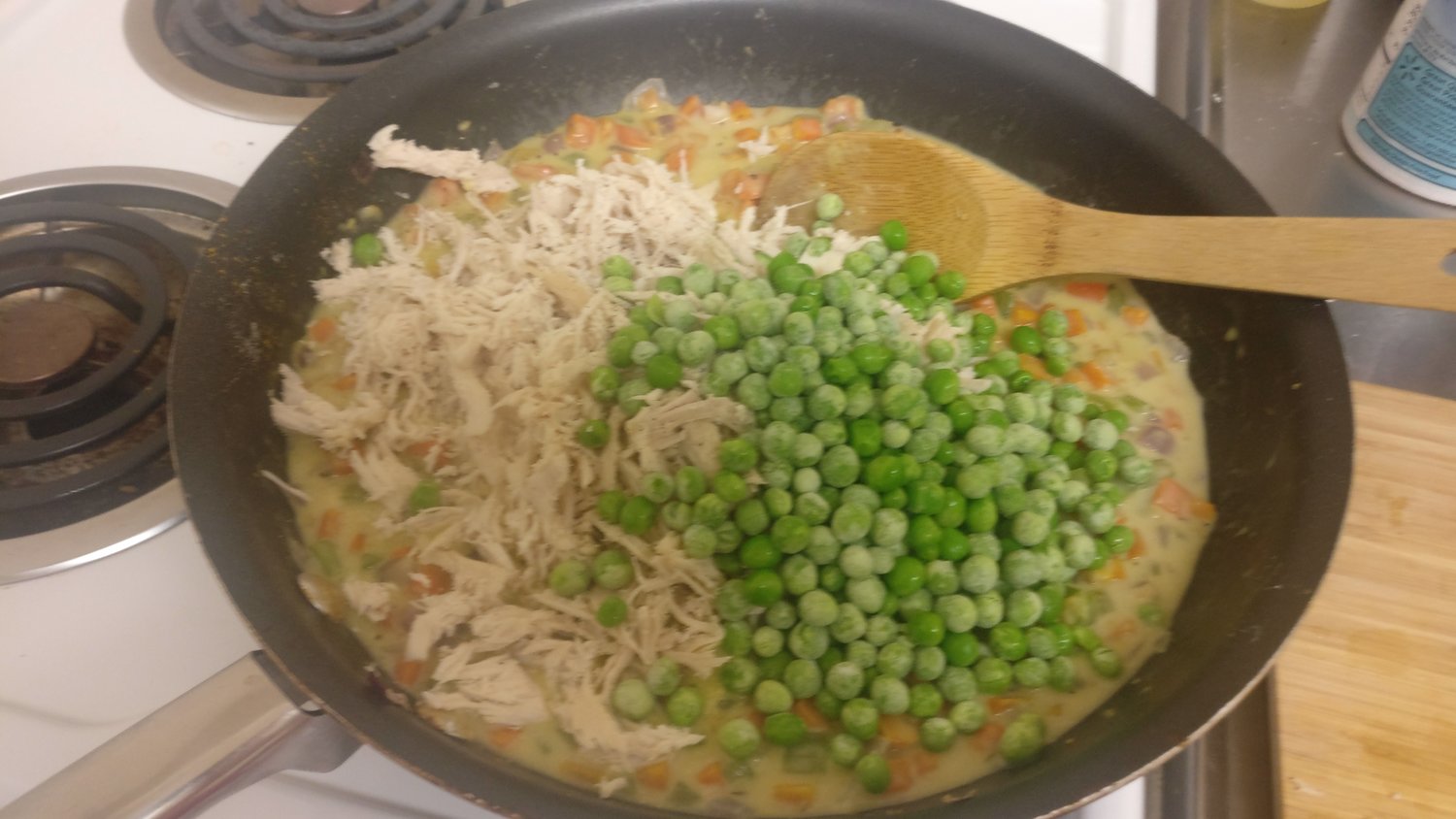 Nom nom, filling is complete.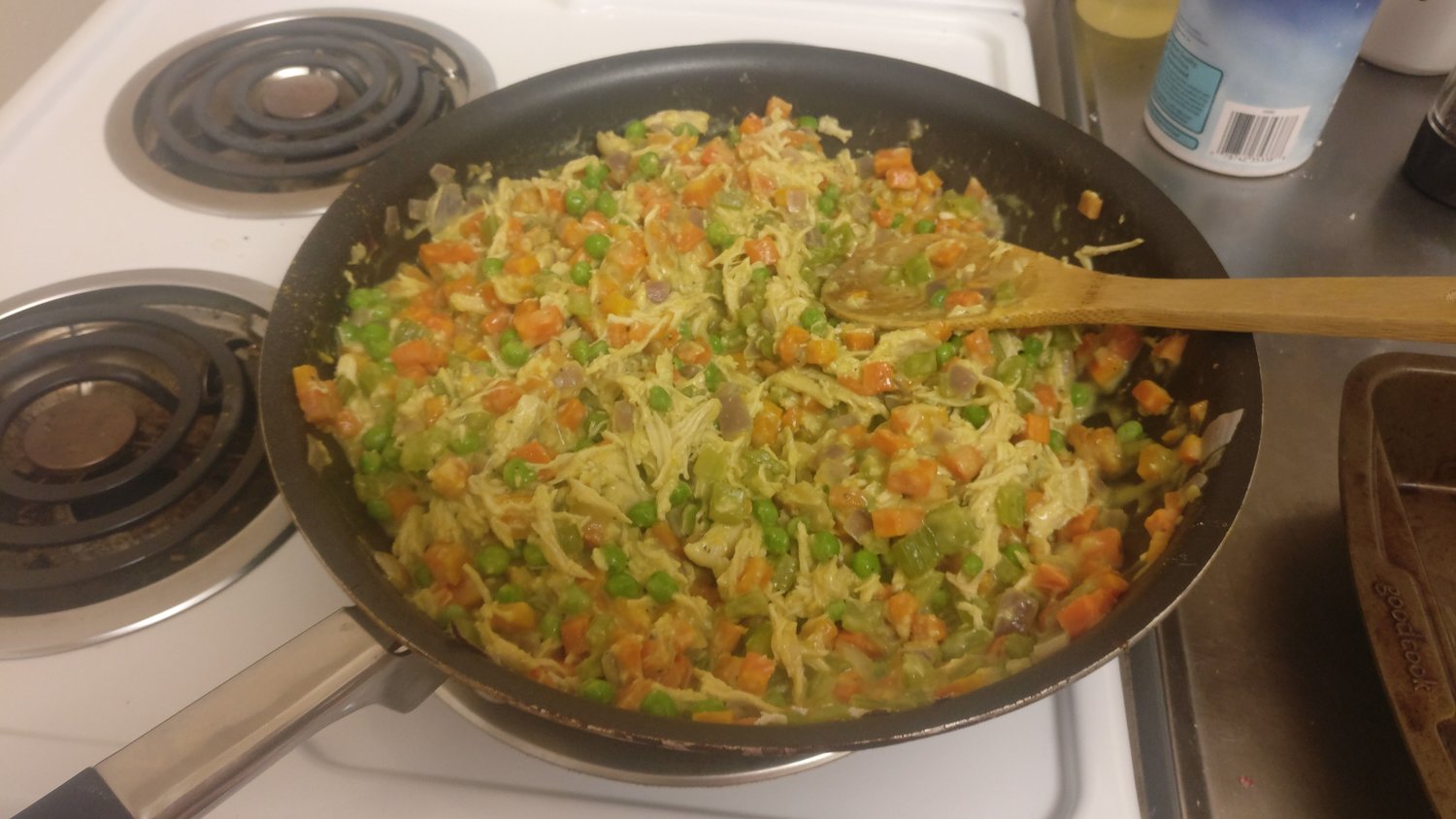 Now, onto the pie crust! Since we're trying to stay low-calorie, we decided to only lay pie crust on top, instead of bottom and top. That also provides some security in not needing to worry if the bottom crust gets thoroughly cooked.
Start by cubing the butter. We want to handle this as little as possible to ensure that the butter stays super cold.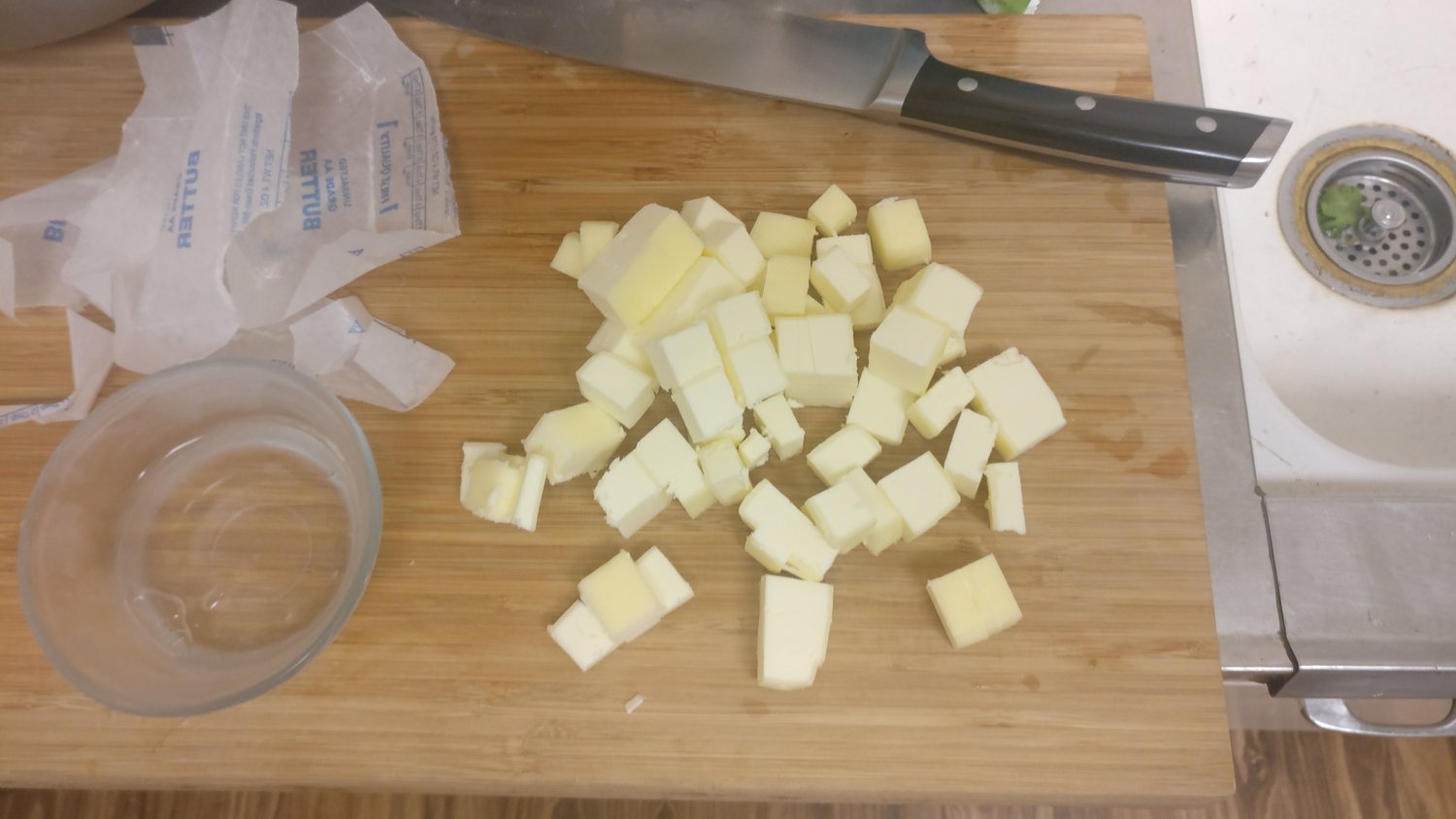 Dump everything--flour, butter, sugar, and salt--into a food processor. Add the cold water in small batches while pulsing.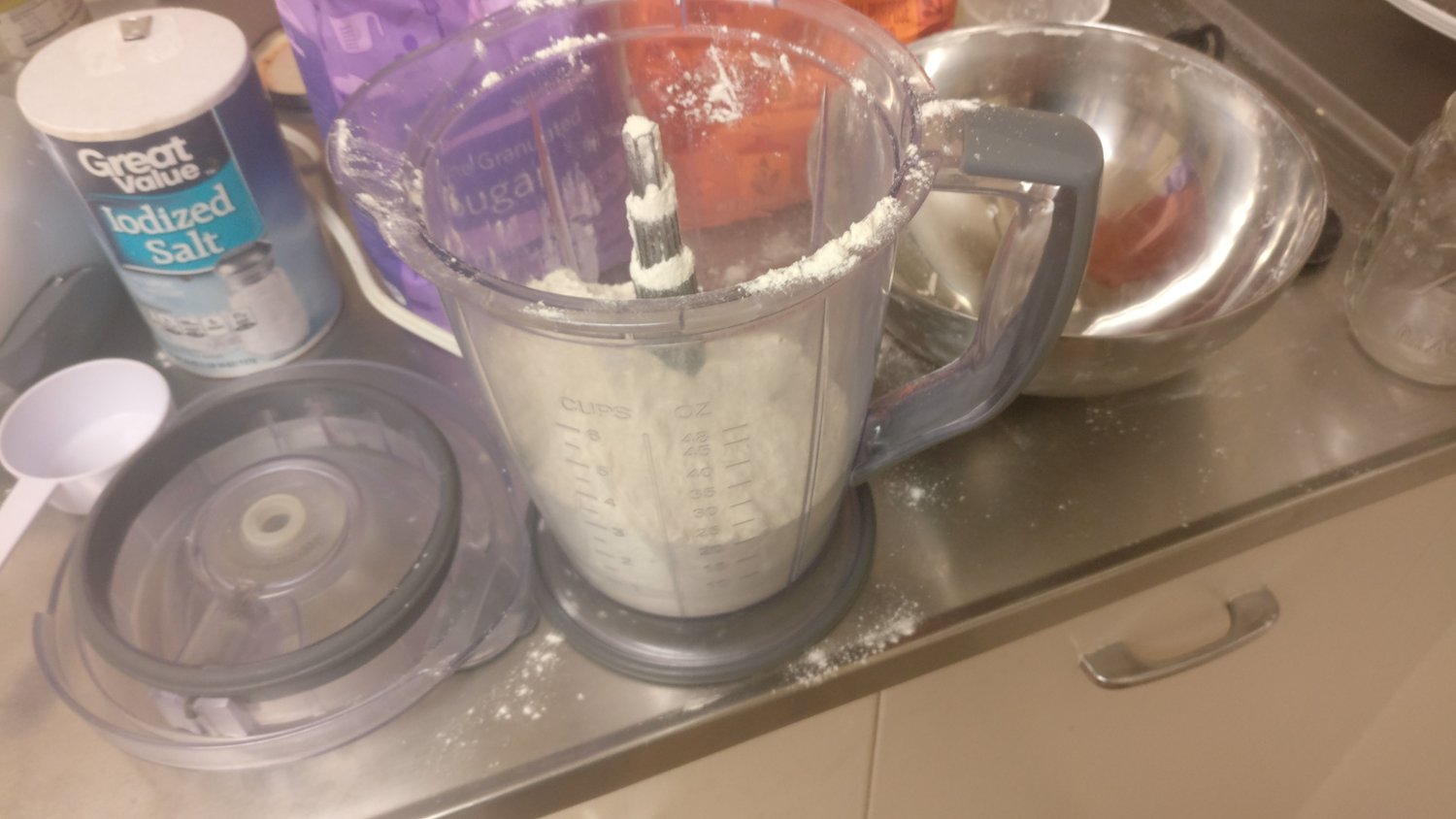 Process it until the mixture turns into crumbly wet sand. When you grab a handful and squeeze, it should hold together.
Pat the dough together into some flat discs.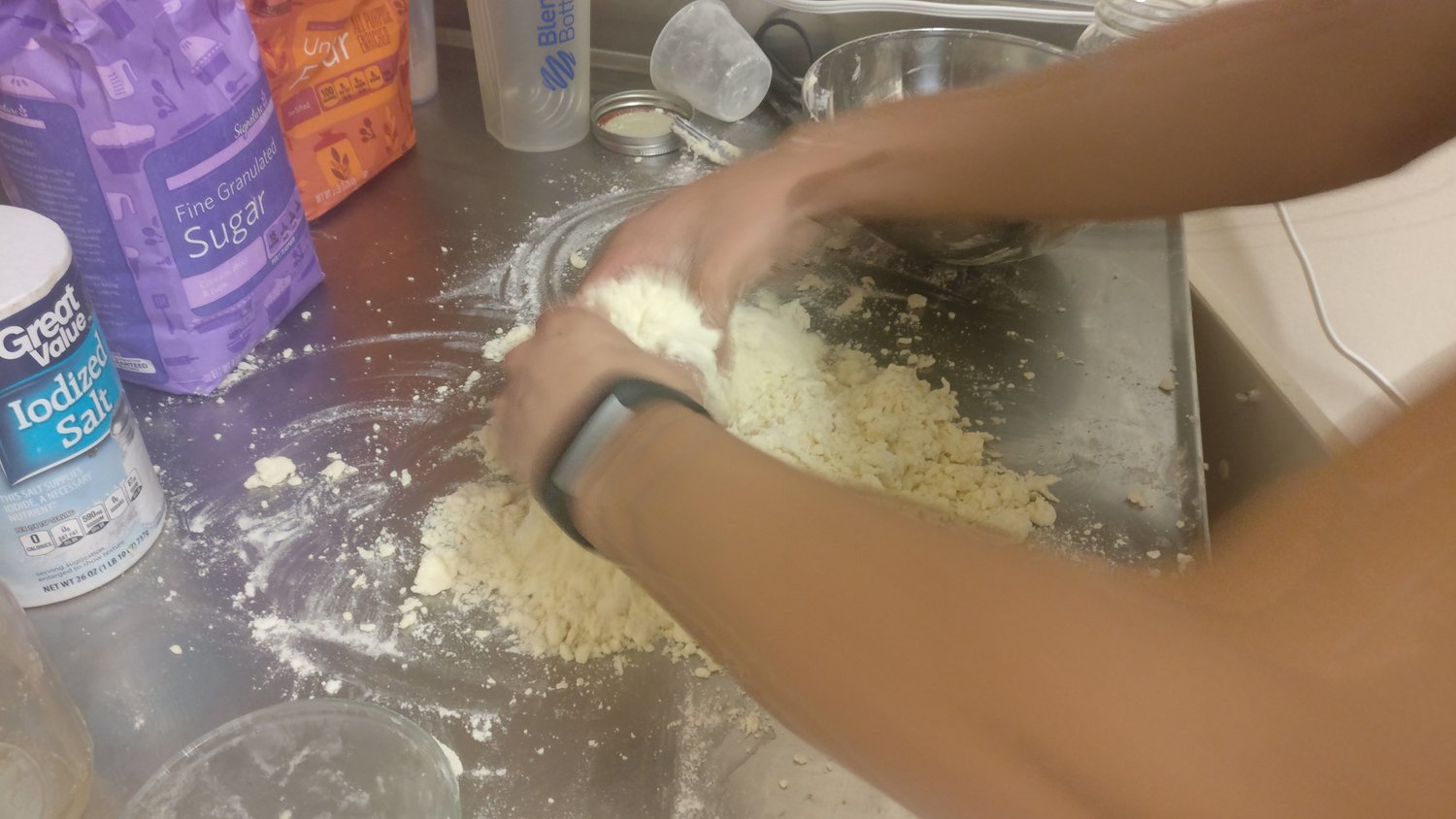 Cover with plastic wrap and refridgerate to let rest for 30 minutes.
After 30 minutes, dump the pie filling into a baking tray.
Roll out the pie crust to 1/4 inch thickness and lay it on top.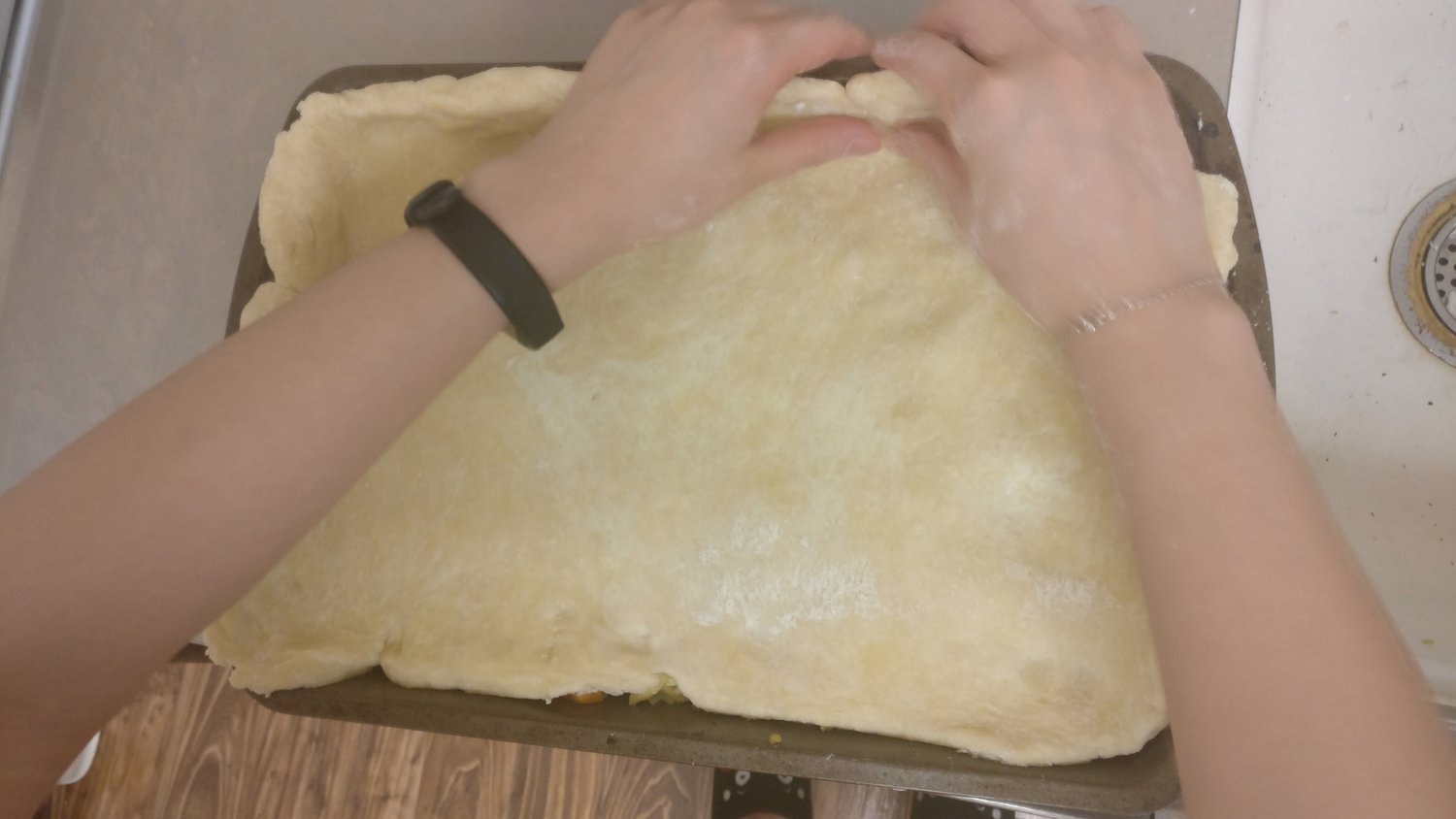 Cut off the excess, but don't waste it!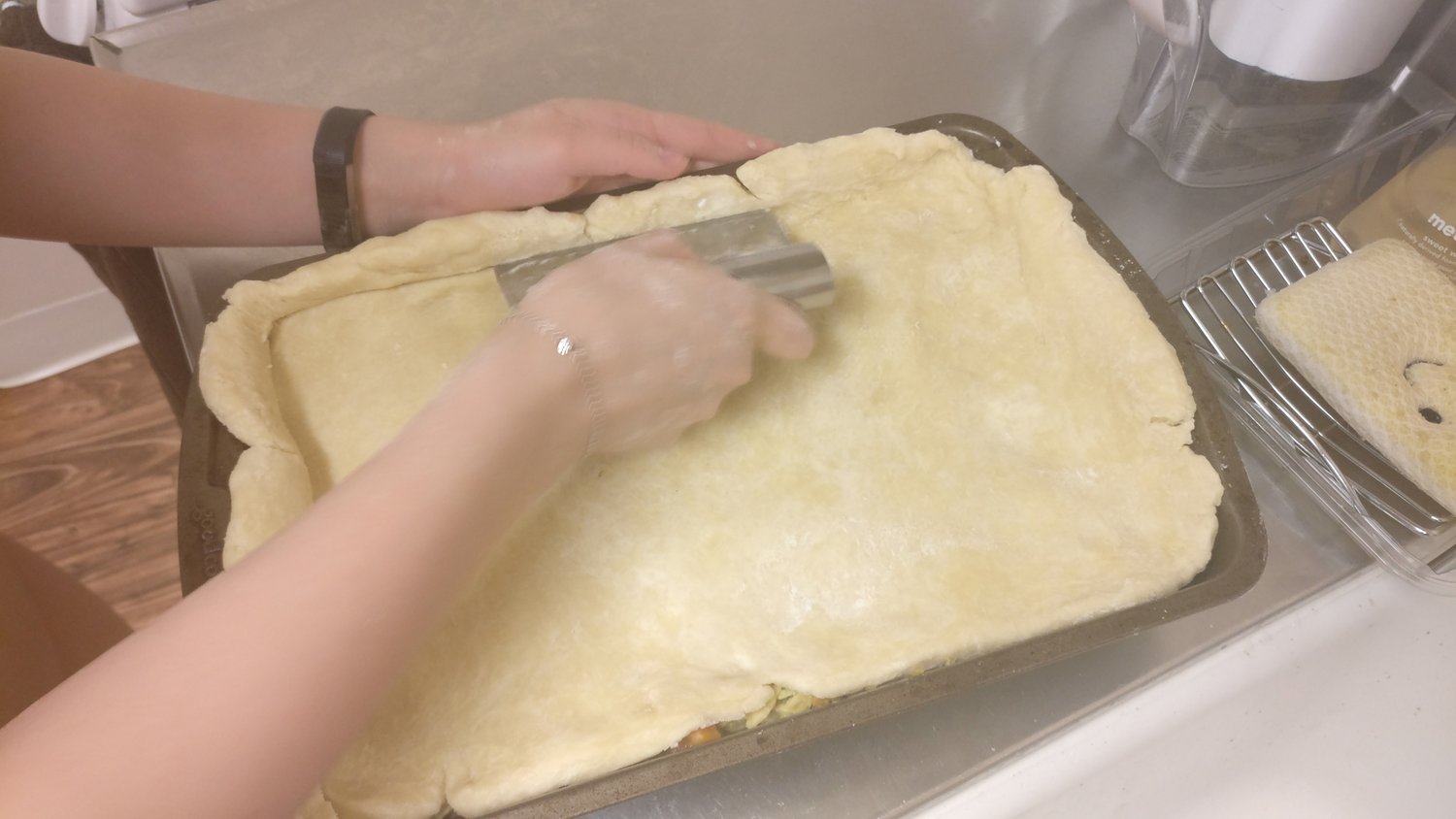 Turn it into some nice accent decor.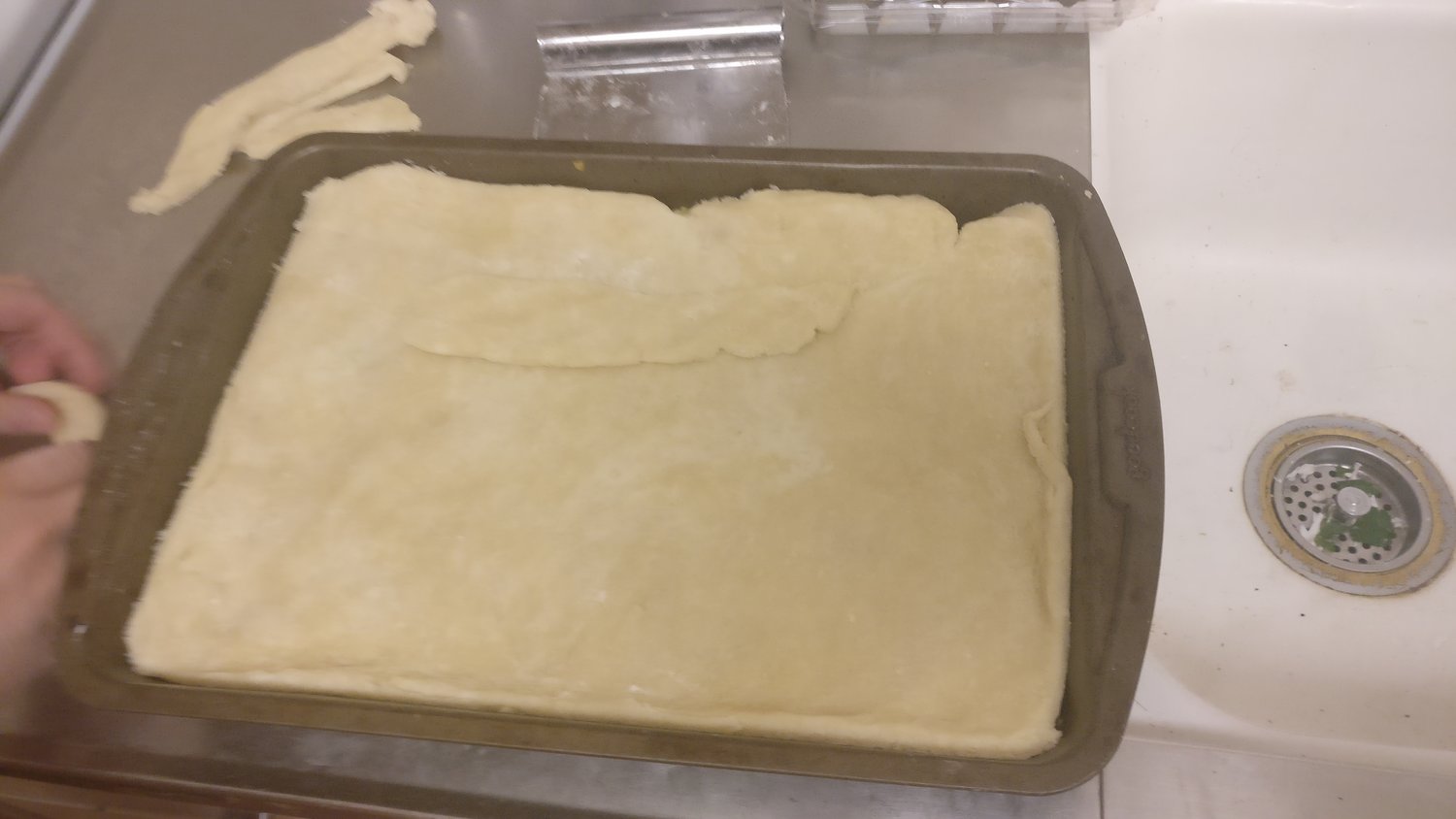 Brush the top with some egg wash or oil.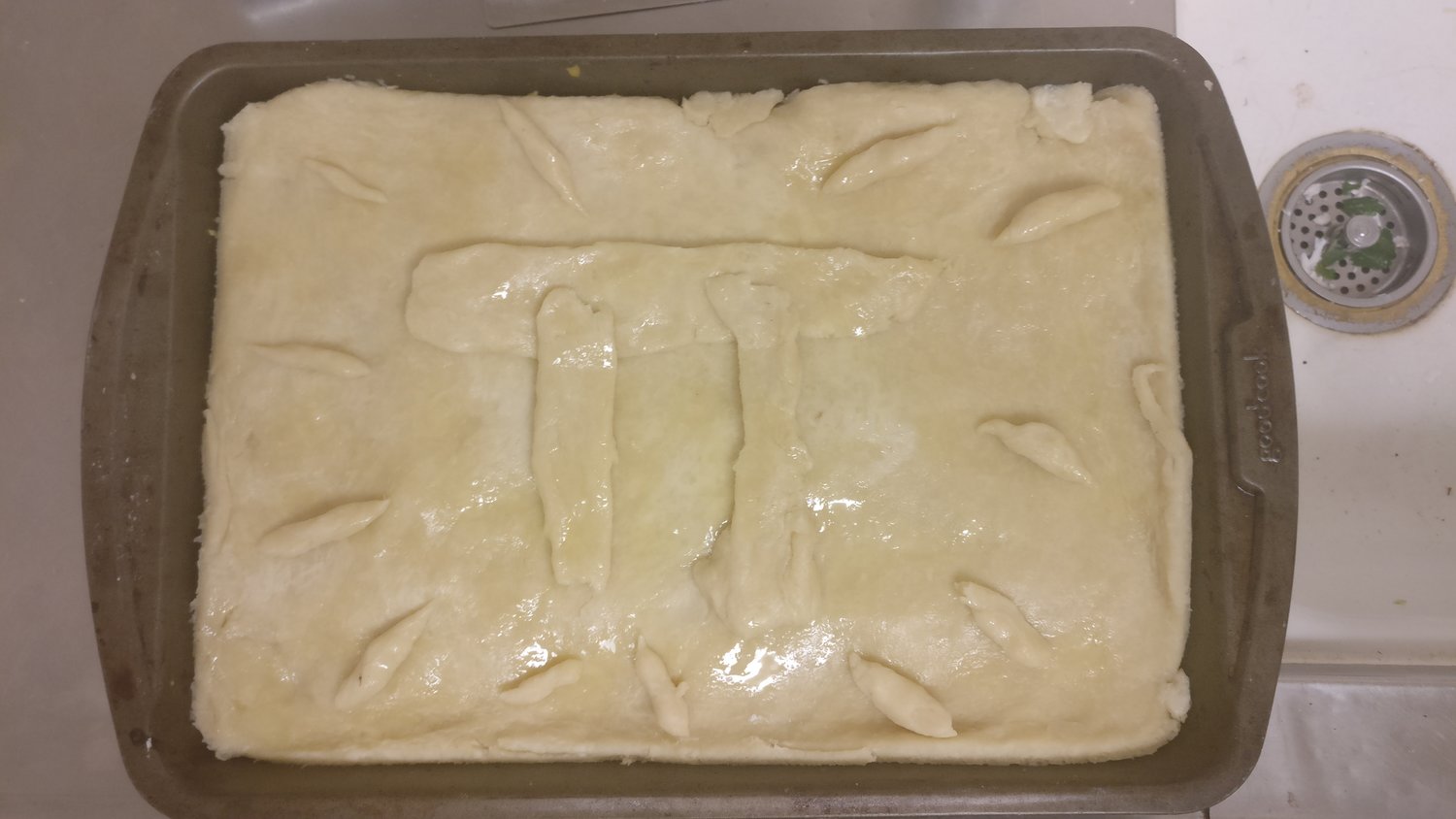 Bake in a 425F oven for 30 minutes or until the top gets golden brownn.
Results.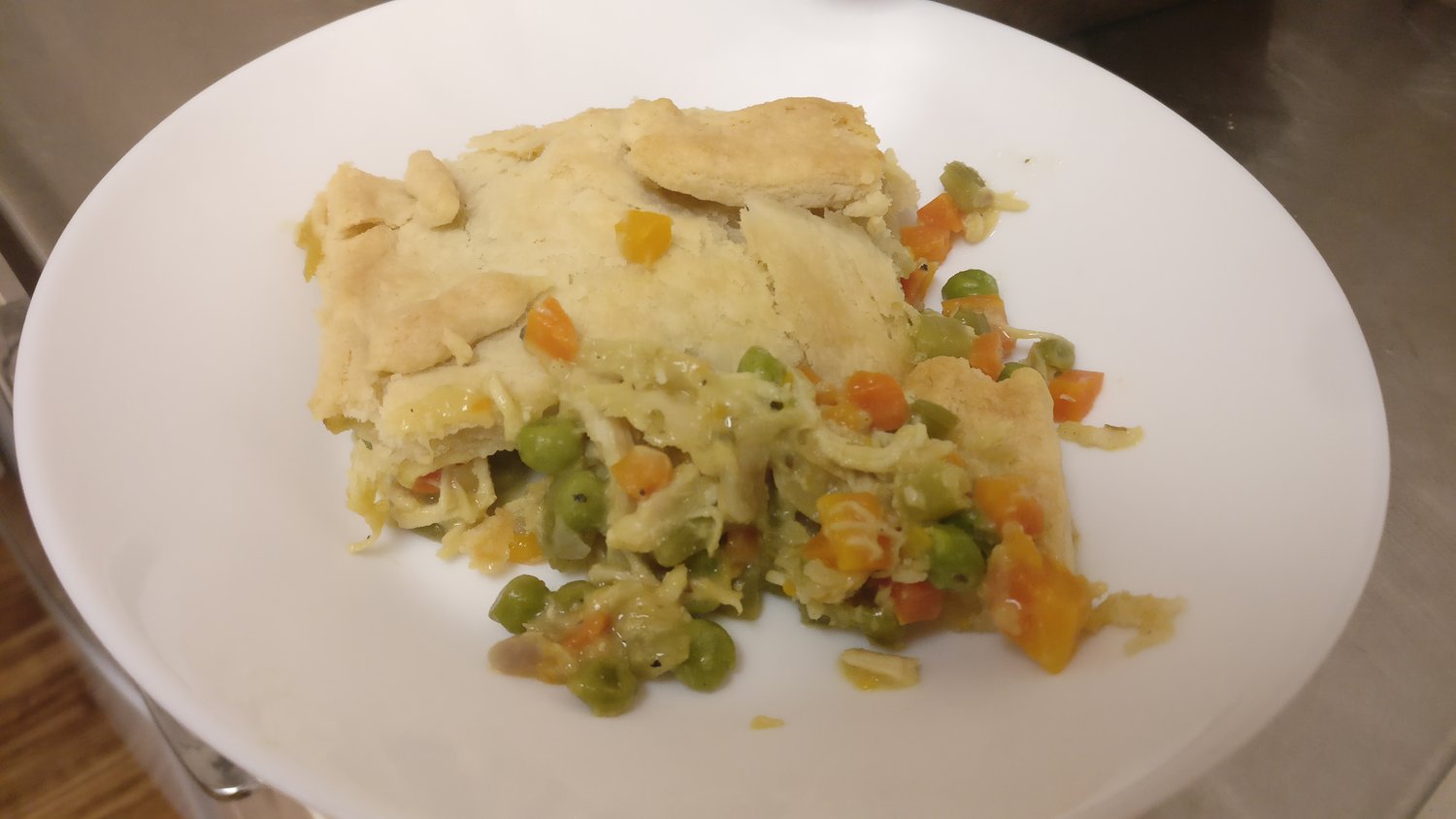 This lasted 3 days worth of dinners and was very good. The pie crust was amazing, and the filling was laden with veggies--just the way I like it.
For the future, I might acquire some thyme just to see if that makes a big difference, but I have no other ideas on how to improve. Definitely recommend making this, though the pie crust from scratch takes some time. You could definitely get away with a storebought crust and your own filling.