Sichuan Boiled Fish (Shui Zhu Yu)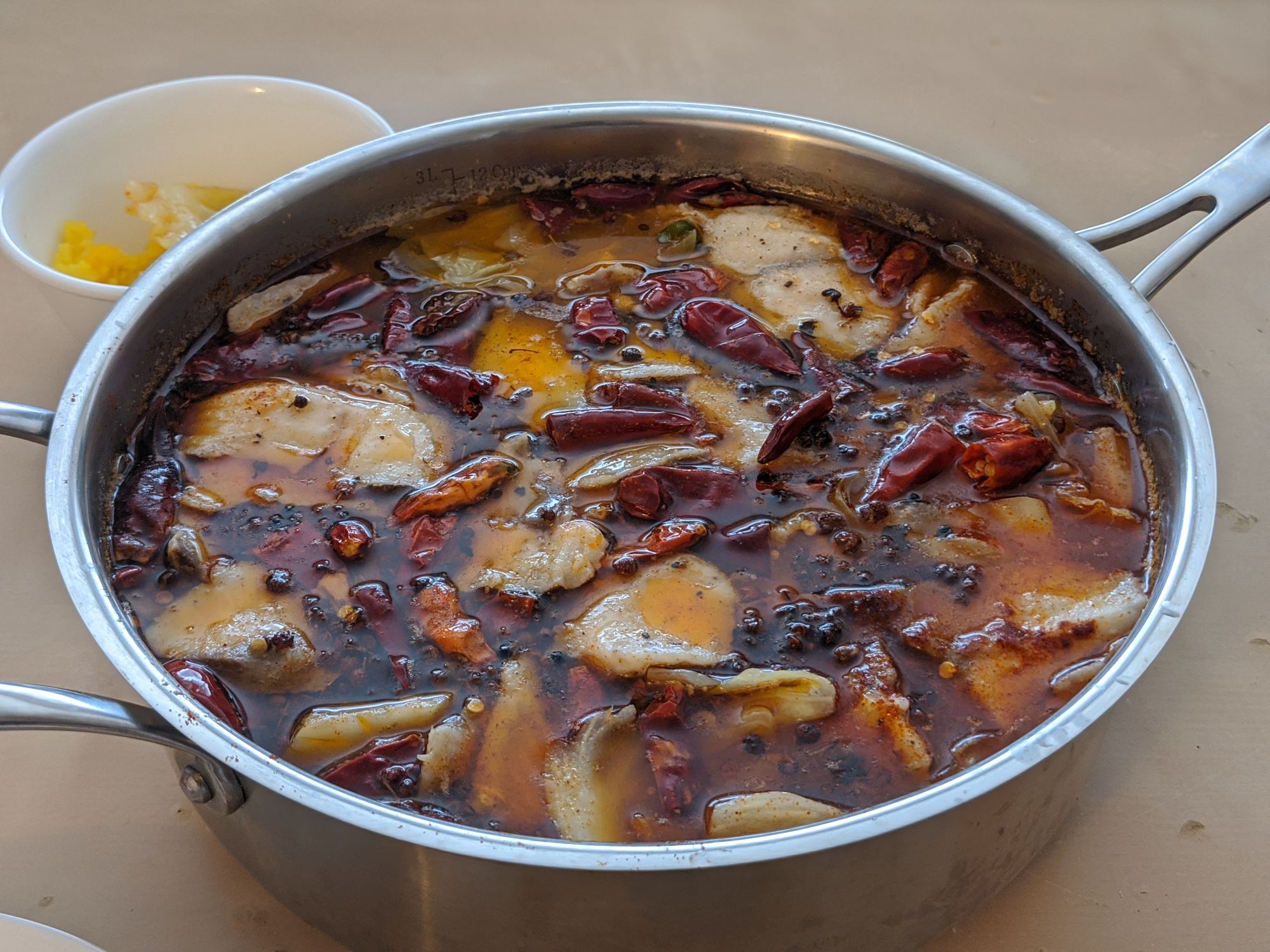 This is one of our go-to's whenever we hit up Sichuan places (highly, highly, highly recommend Z&Y if you're ever in the Bay area), but given the circumstances with shelter-in-place, we've been trying to recreate the dishes we love at home, and I'd say it's been a great success.
Adapted from Woks of Life! We've made a couple tweaks to the ingredients list to hit the flavor we want.
---
Ingredients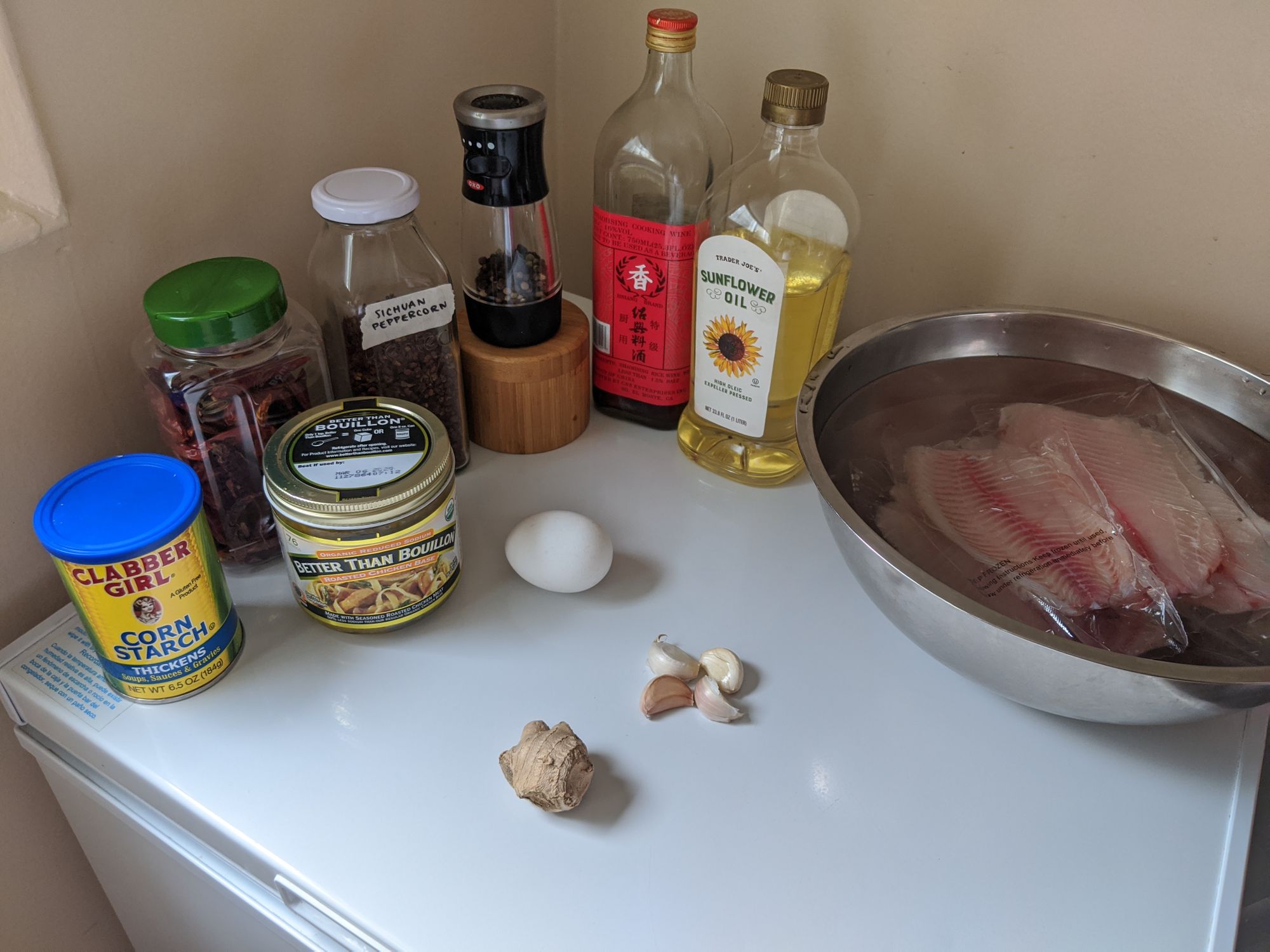 1 lb white fish fillets--we've tried tilapia and catfish
1 tsp salt
1/2 tsp ground white pepper
2 tbsp Shaoxing wine
1 egg white
1.5 tbsp cornstarch
1 tbsp cooking oil + 1/2 cup to pour over top
3 c chicken broth
2 c water
a thumb of ginger, gliced
3 gloves garlic, minced
2 scallions
As much napa cabbage or soybean sprouts you desire
15g dried red chili peppers
5g green Sichuan peppercorns
5g red Sichuan peppercorns
As much chili powder you want to add more spice 🔥
Methodology
You'll need an extra half hour before starting to cook to let the fish velvet.
Slice up the fish into 1/4-inch thick slices at an angle to get lots of surface area. Toss the fish into a bowl that'll fit in your fridge.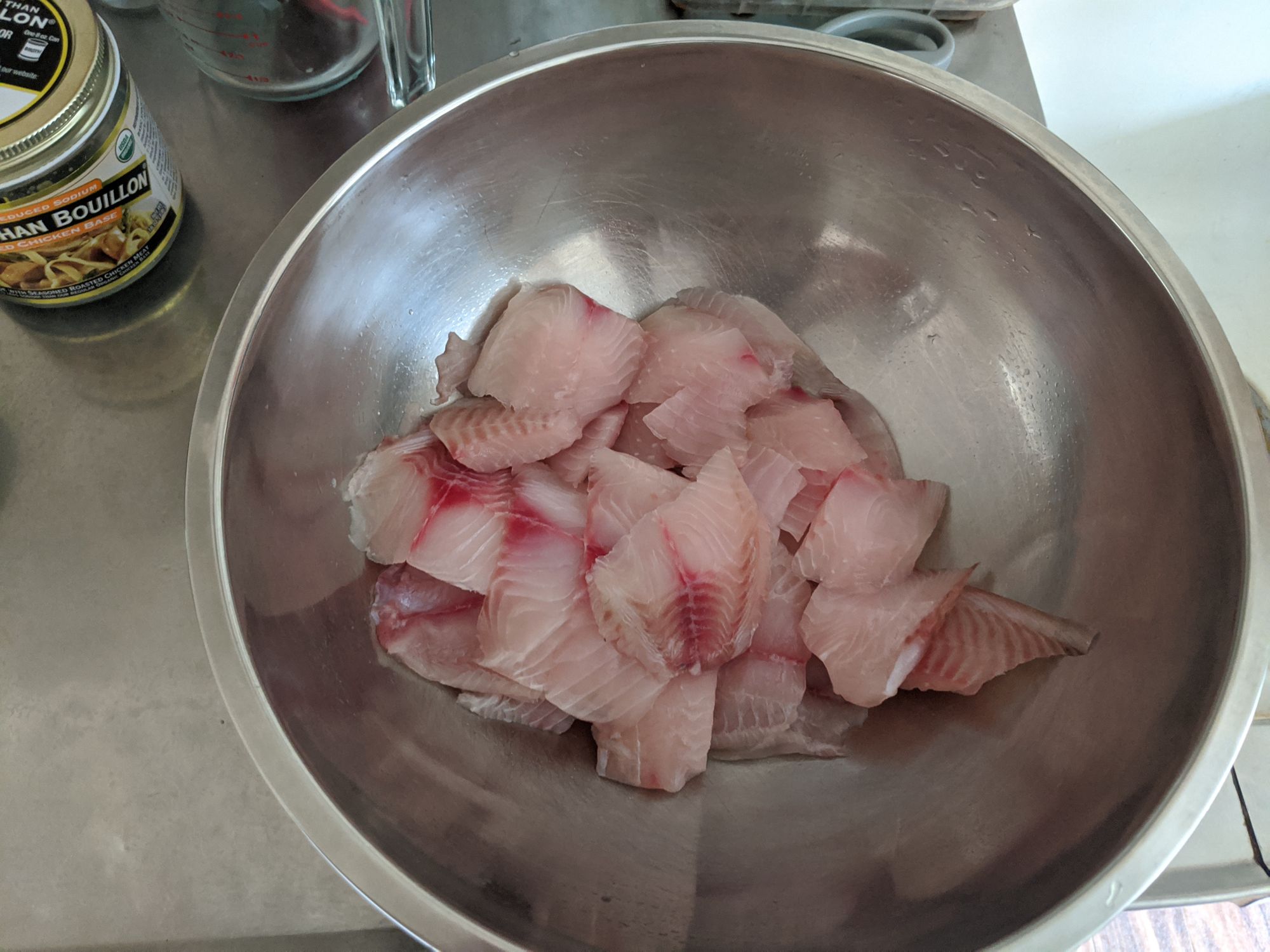 Add the salt, ground white pepper, 1 tbsp of Shaoxing wine, and mix.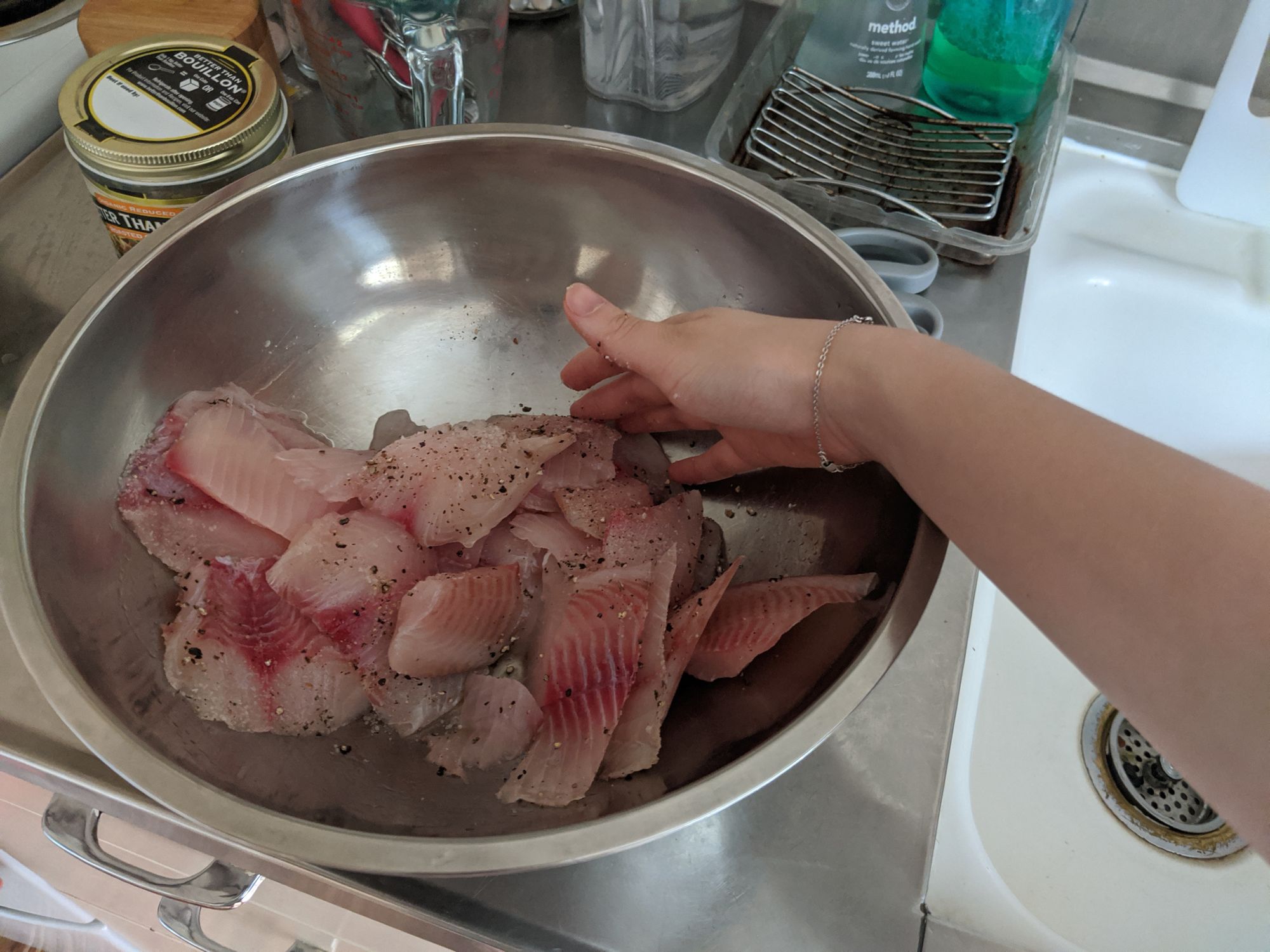 Follow that up with the egg white and cornstarch and mix, which will make everything feel gooey. This is the magic of velveting that will make the fish feel so soft in your mouth later!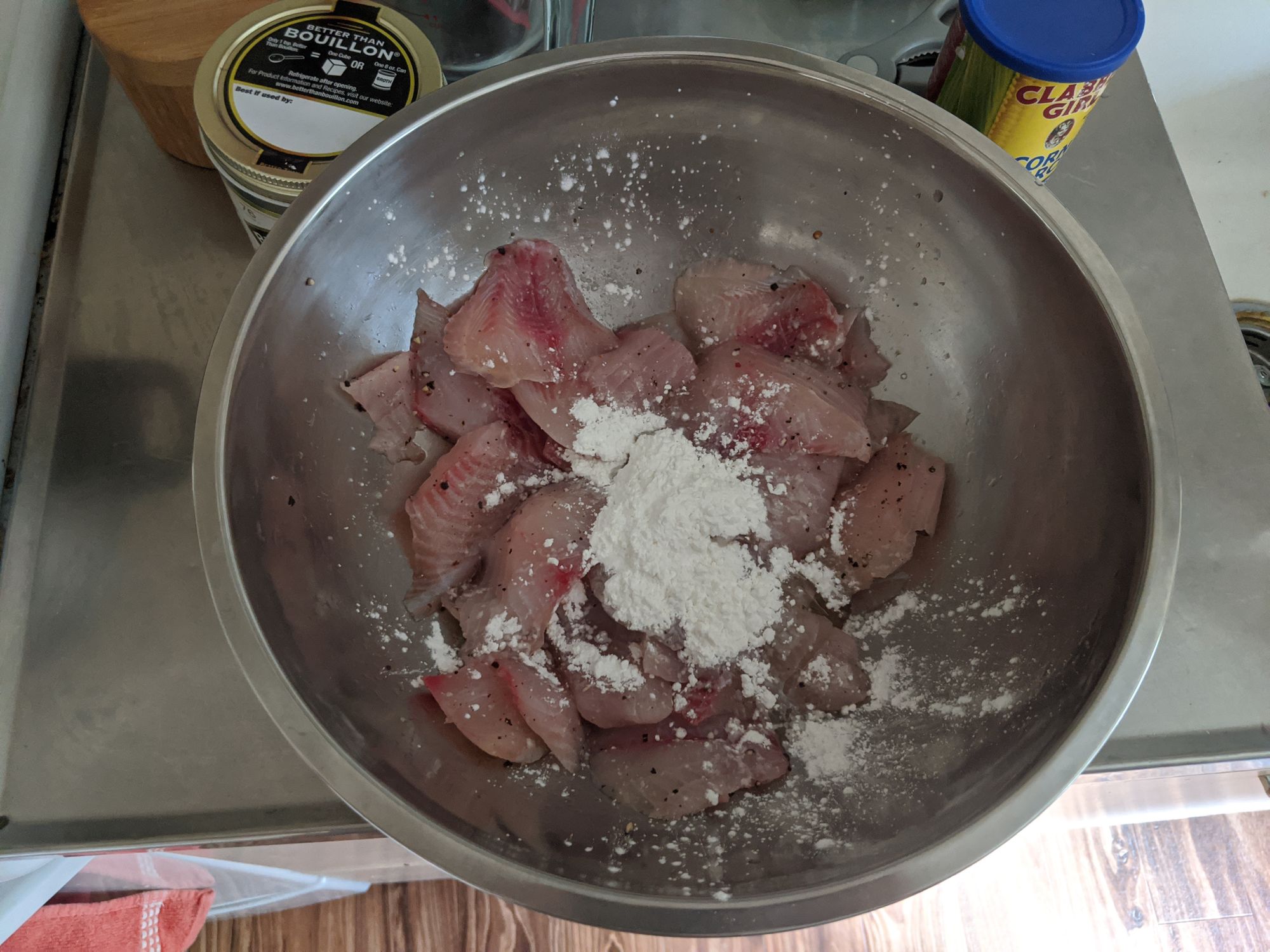 Drizzle the tbsp of oil over top to keep things from drying out, cover, and put in the fridge to marinate for 20 minutes.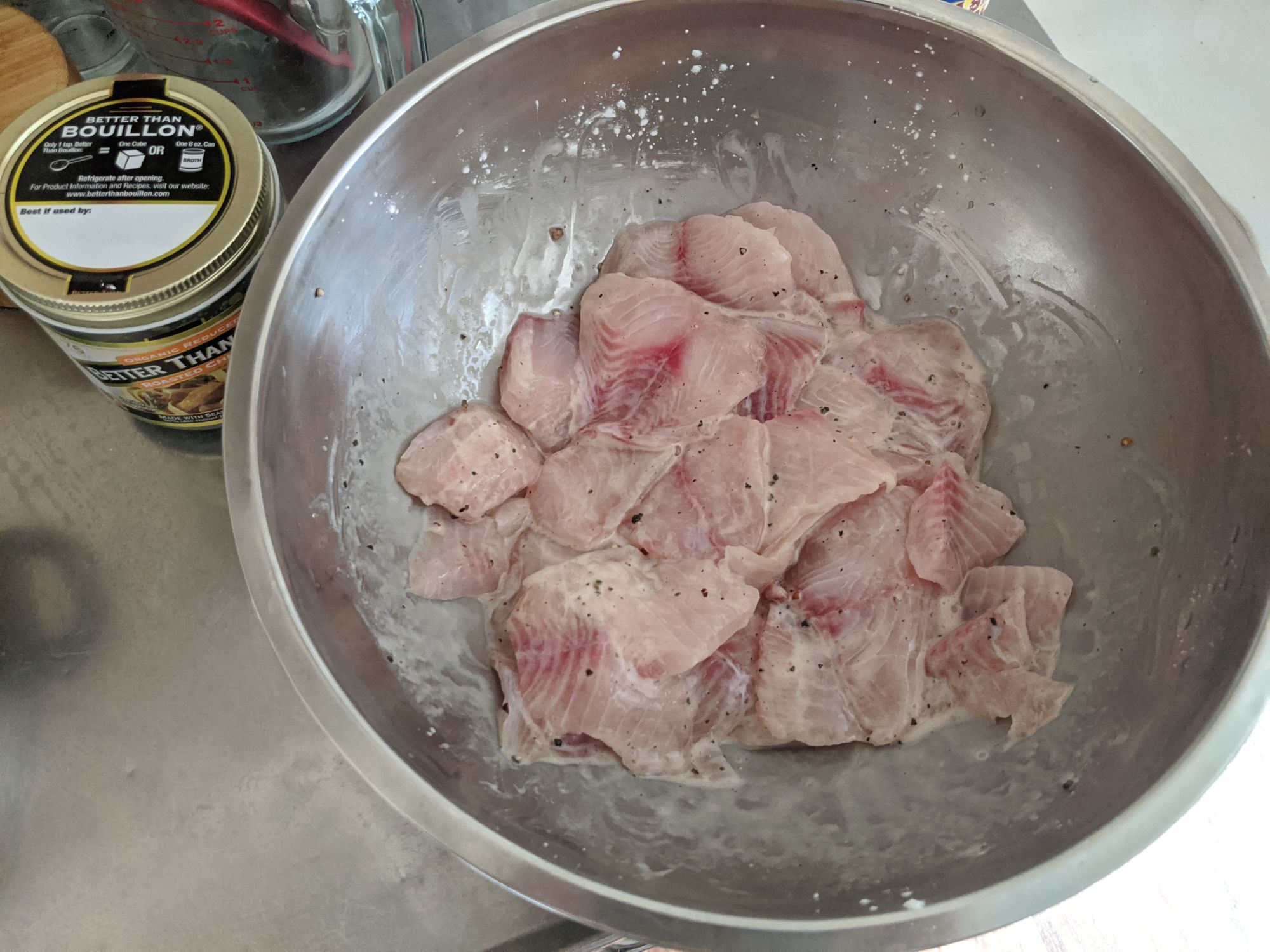 Over on the stove, we can start prepping the soup and veggies.
In a pot over high heat, bring the chicken stock, water, ginger, garlic, scallions, some white pepper, and 1tbsp Shaoxing wine to a boil. Add salt to taste.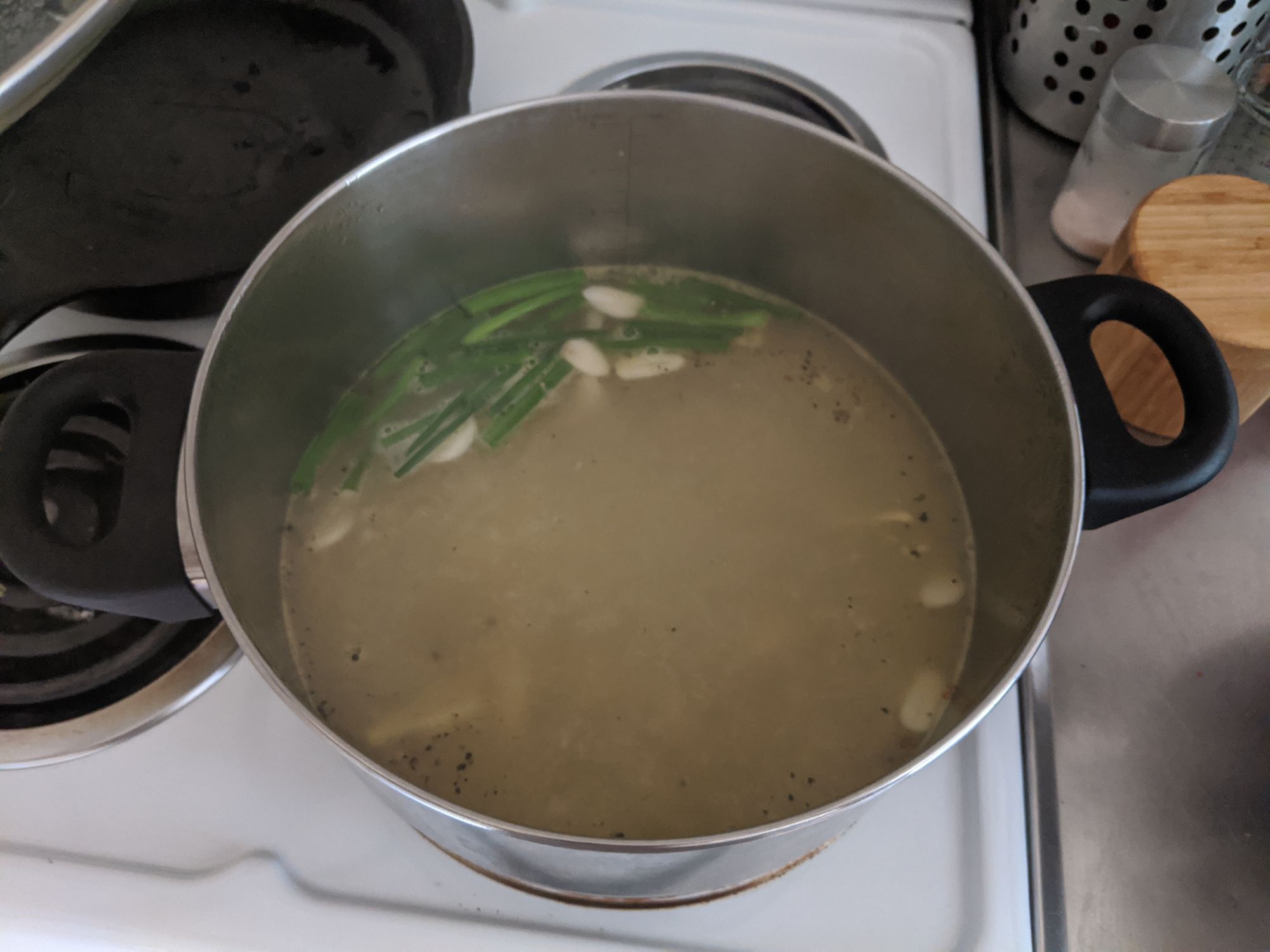 Once boiling, add the veggies and cook them down.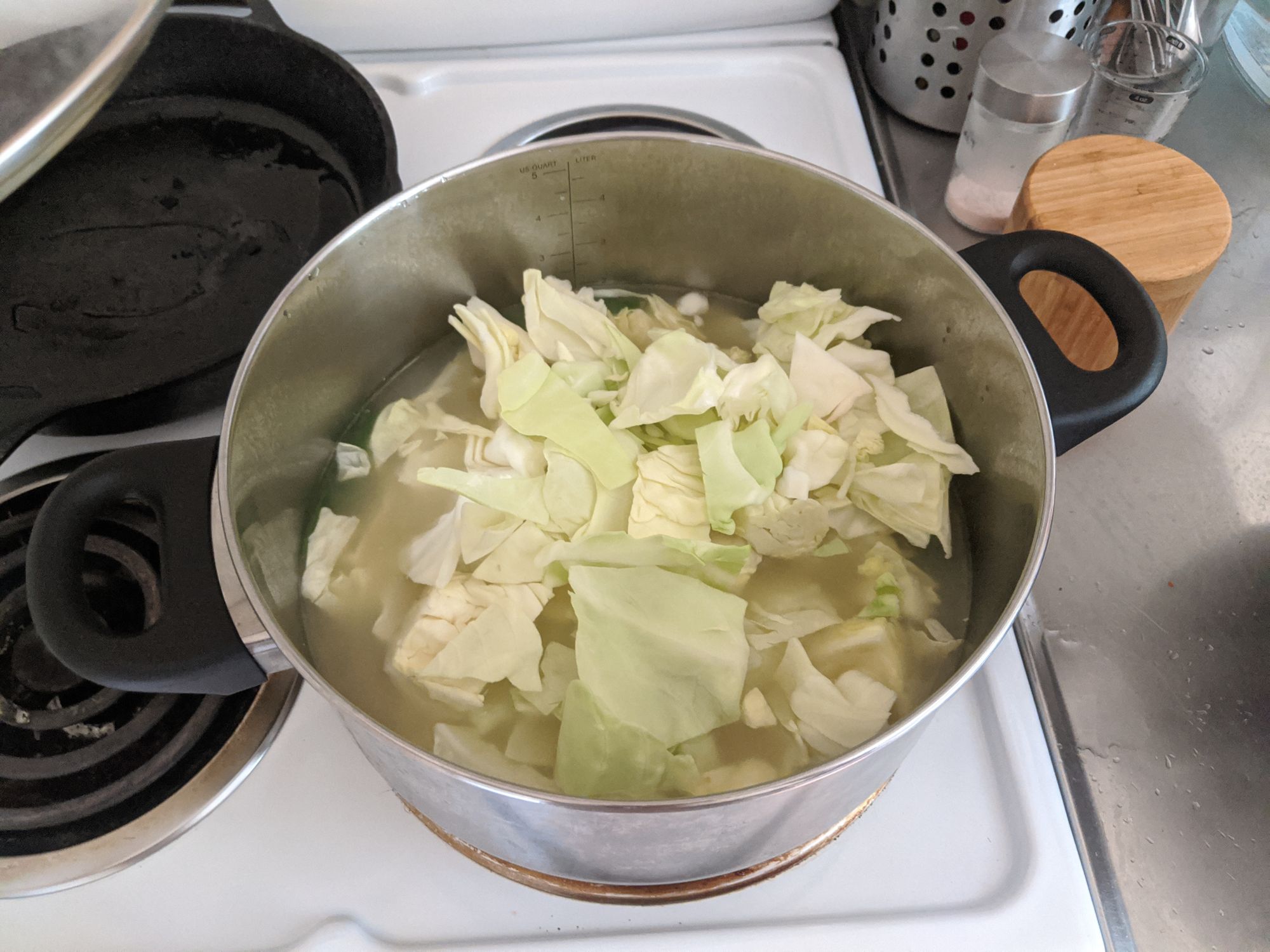 Once wilted and cooked to a doneness you like, pull them out into a separate boil to take them off the heat.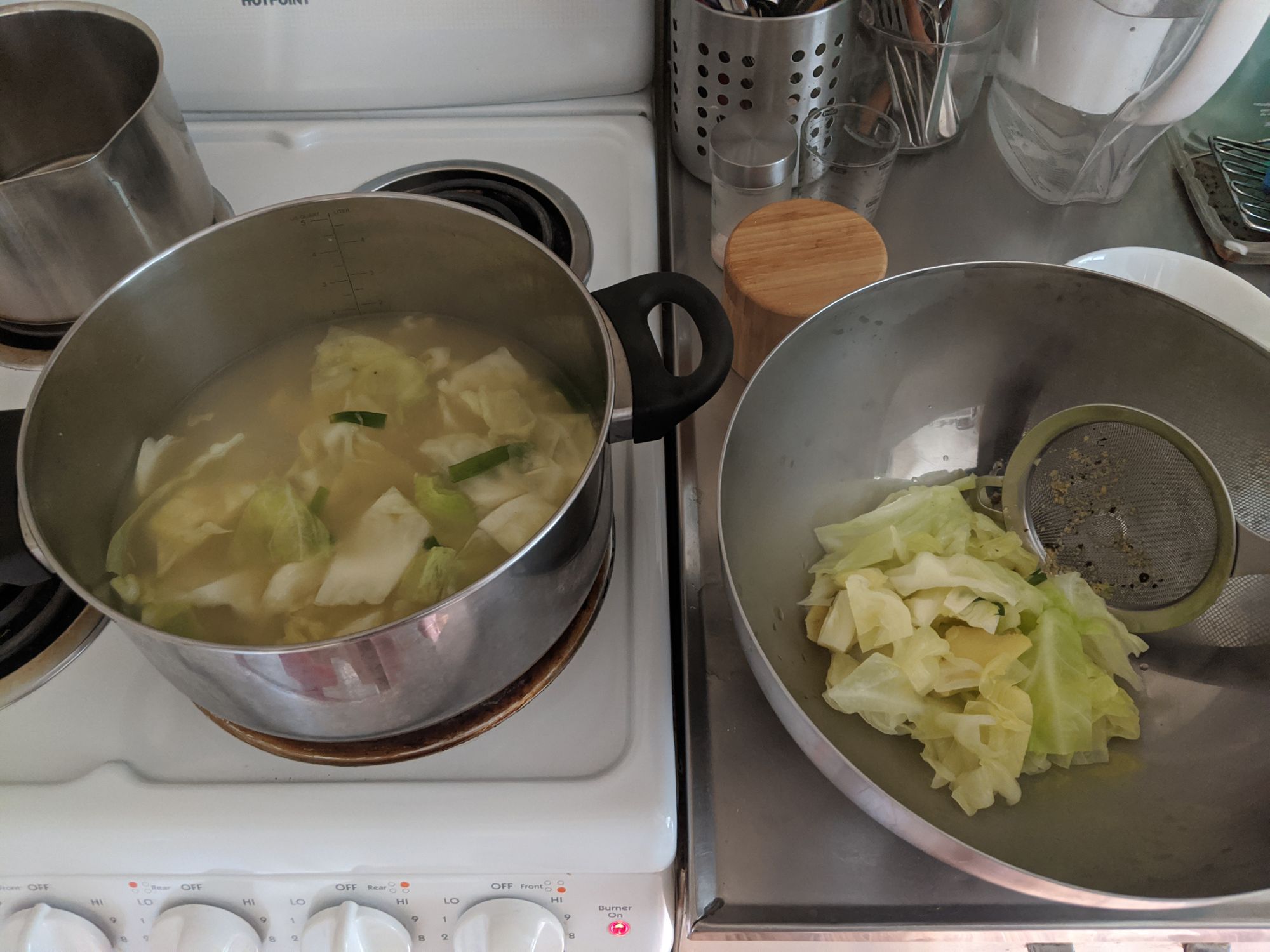 Once the fish is ready, heat the 1/2 cup of oil in a separate pot.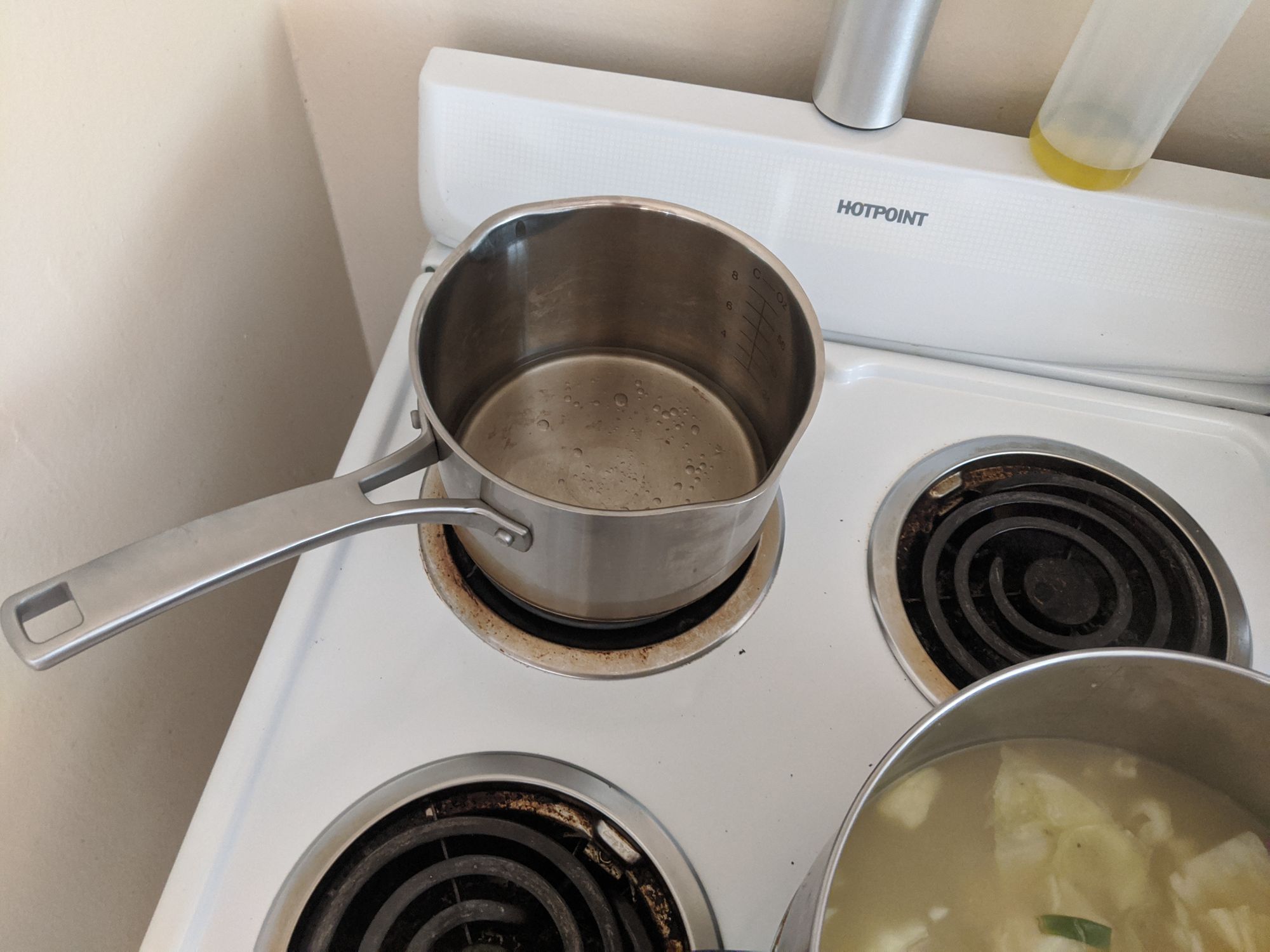 At this point, forget to take photos of the remainder of the process, hah.
In the main pot with the stock that's still at a boil, start dropping the fish slices in one-by-one and pull it off the heat when it comes back to a boil. The fish doesn't take long to cook.
Put the veggies, fish, and stock into the biggest heat-safe bowl or pot/pan you have. Sprinkle the dried chili peppers and all the peppercorns over the top.
Now be careful!
Pour the searing hot oil you had in the separate pot over the spices resting on the surface of the broth/fish/veggies. This is going to cause a lot of sizzle and a massive cloud of whoof.
Add ground chili pepper to taste if you need more spice in your life.
Results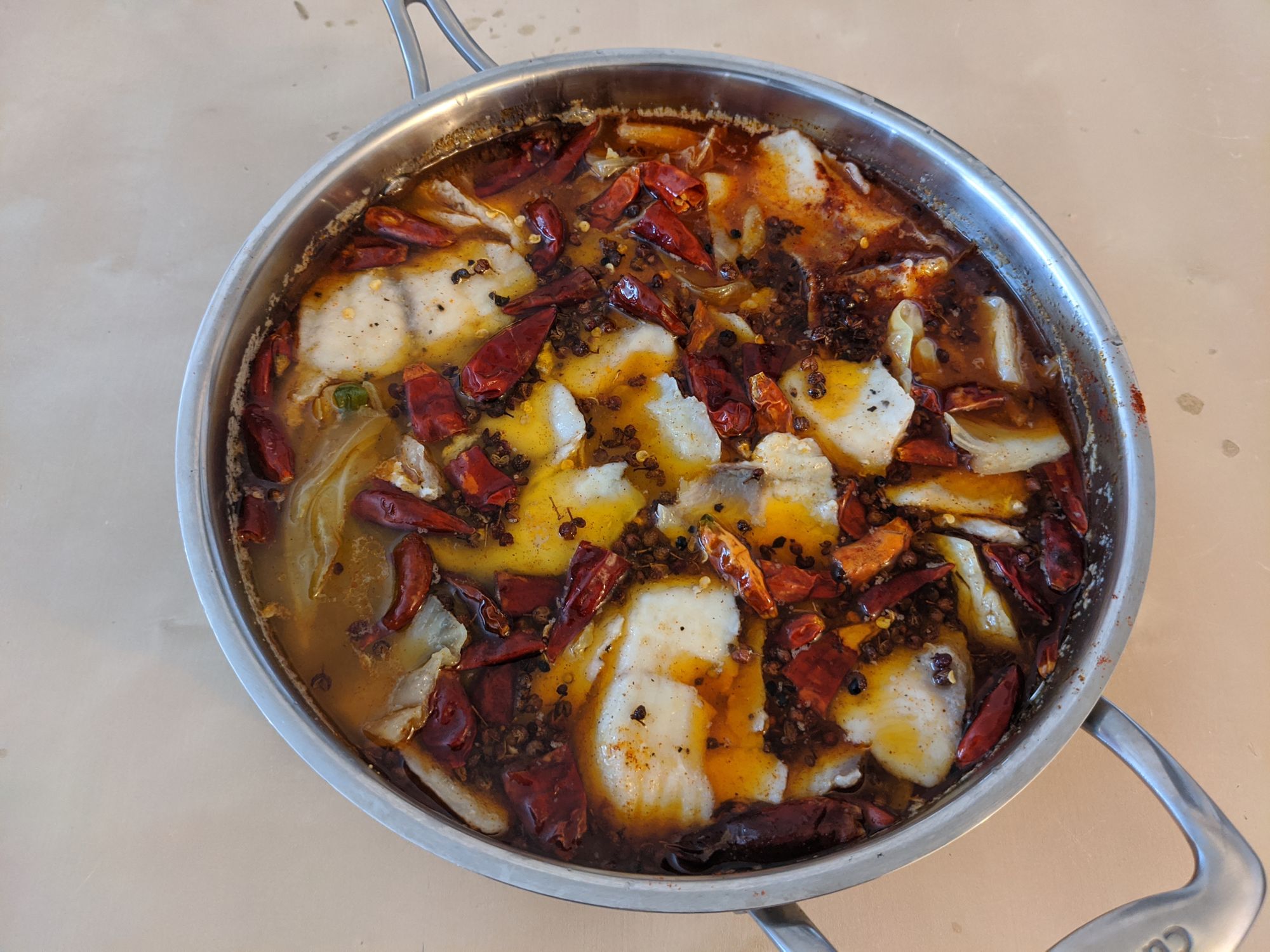 Very easy, very cheap (when you grab the frozen fish on sale!), and very tasty. Every time we make this, we end up saving the broth and add more fish and veggies for the next few meals, so it lasts a long time. Once we feel the broth is exhausted for the fish usage, we cook up noodles and use the intensely flavored broth as a noodle soup base.