My work friend's mother packs him the most delicious curry potato tuna cakes, and for whatever reason, he always seems to prefer buying food instead of eating his packed lunch, which means more lunch for me!
I love everything potato, but even more so, I love everything sweet potato, so I knew I had to try making some myself.
---
Ingredients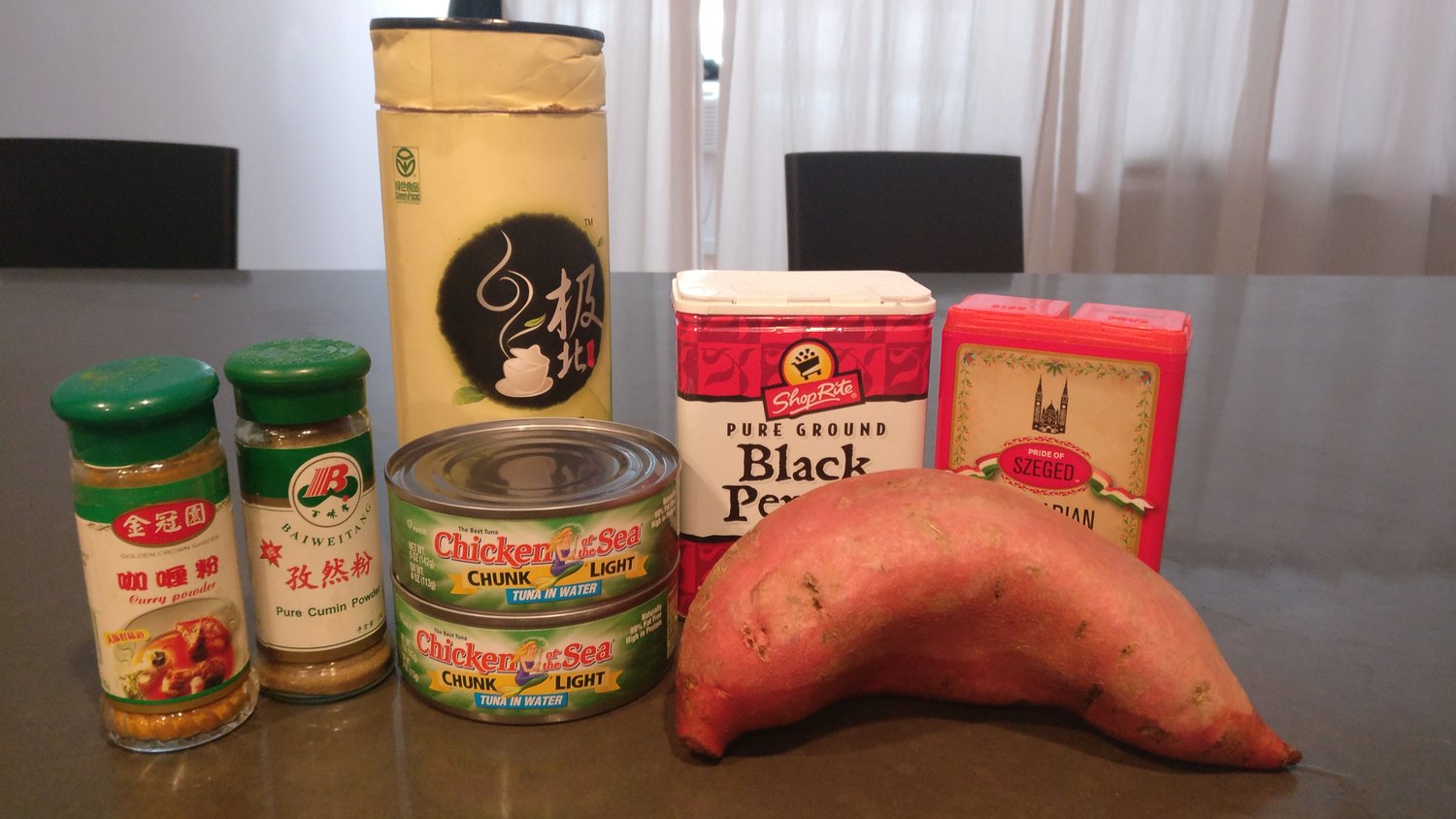 It took some effort to find a recipe to work off of that didn't include eggs as a Very Important Binding Ingredient, but if you have eggs on hand, those are probably pretty good to use, as I learned later! This is what I used:
2 cans of tuna in water (drained)
500g cooked sweet potato
1/4 tsp salt
1/4 tsp pepper
1/4 tsp cumin
1/4 tsp curry powder
oil for coating
Methodology
I had my sweet potatoes ready from roasting them in the oven until the sugar was leaking out (1hr @400F), but you could alternatively cube, boil, and drain your tots instead.
Mash up your sweet potatoes in a bowl.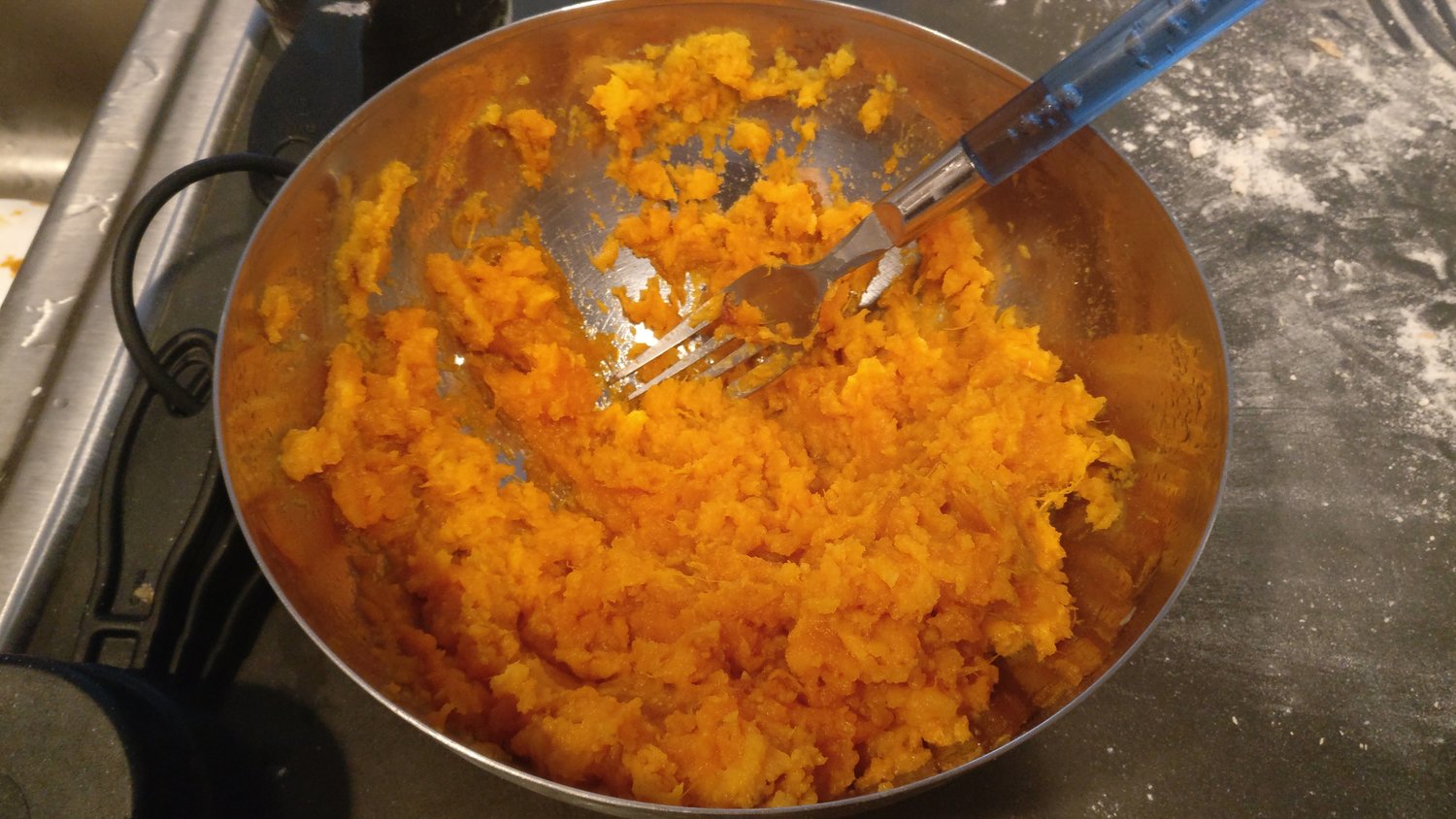 Add the drained tuna and spices. Mix it in with the sweet potato mash.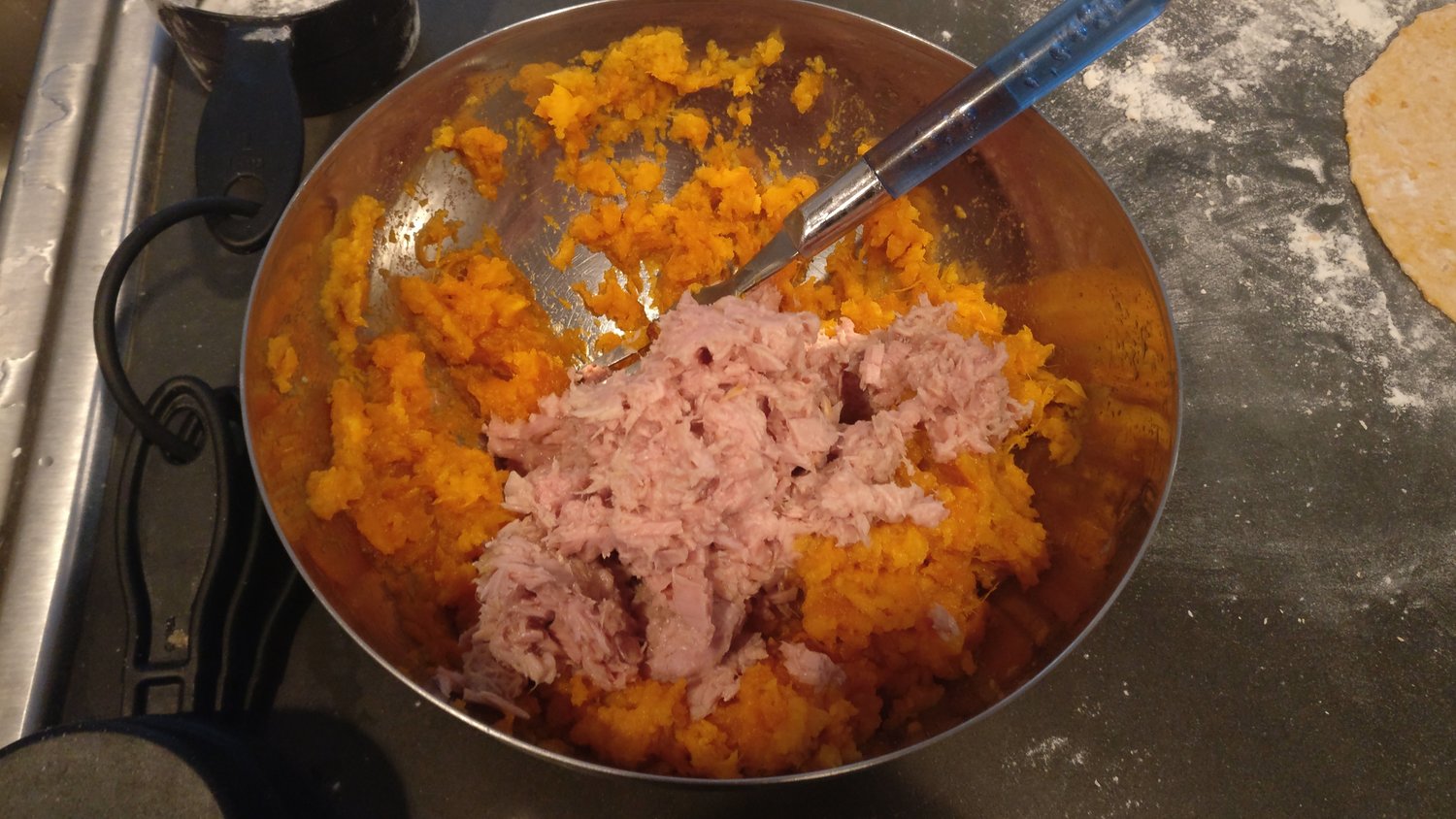 Form your cakes. It's easiest if you can grab a 2-tablespoon amount, roll it into a ball, and then flatten it into a disc.
At this point, you can decide if you want to bread your cakes or not and if you want to fry or bake them. I first went with no-bread and bake because of (1) the lack of eggs in my fridge, (2) the lack of breadcrumbs, (3) I don't have the extra calories for the combination of carbs and oil anyway.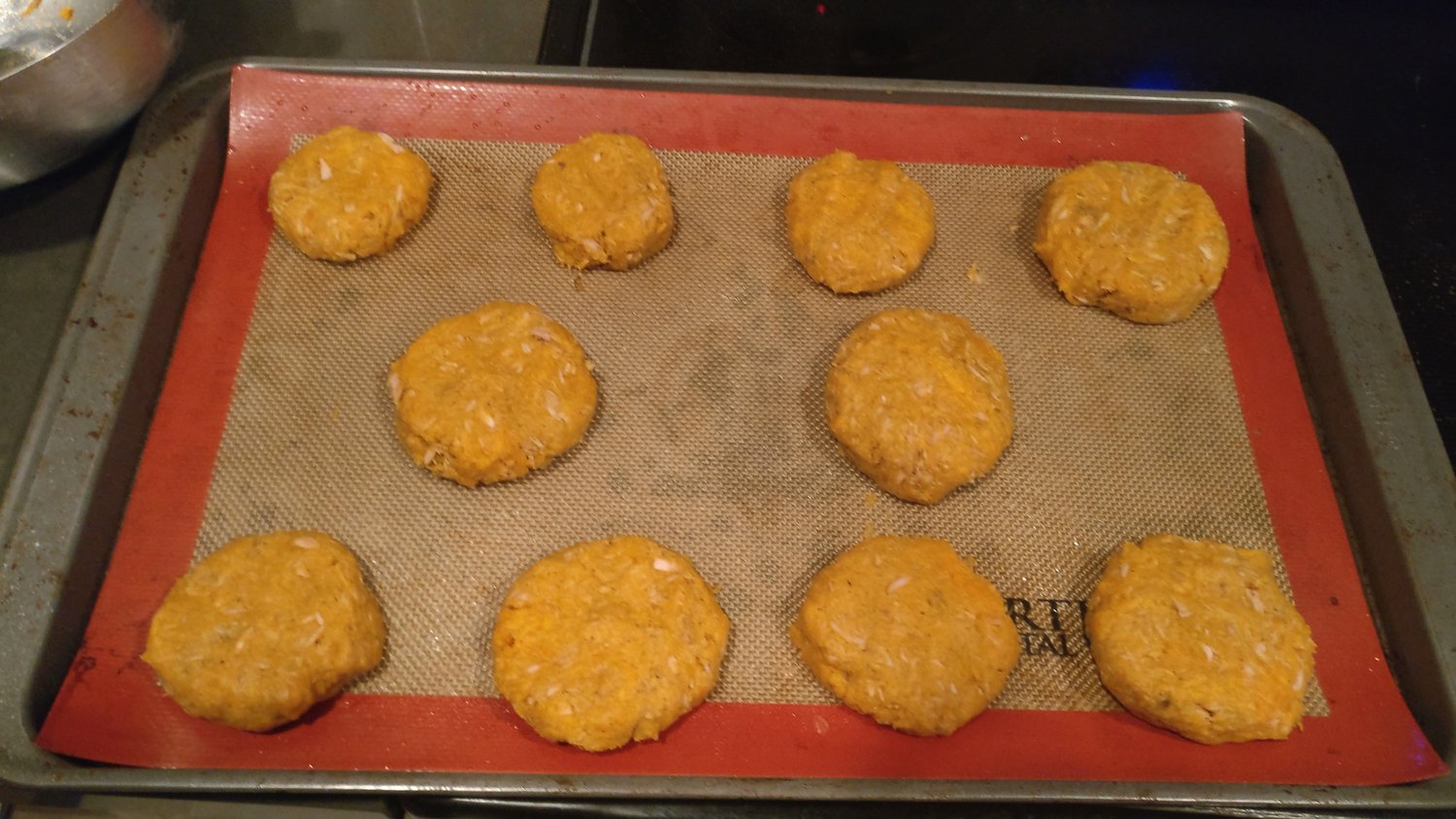 To bake, I prepped my baking sheet with a silicone sheet and laid my tuna cakes on top. I then had a failed attempt at baking them for 20 min @ 400F because they were so soft and fell apart, so I moved onto trying to fry them on the stovetop, in hopes that building a nice sear would hold things together.
Result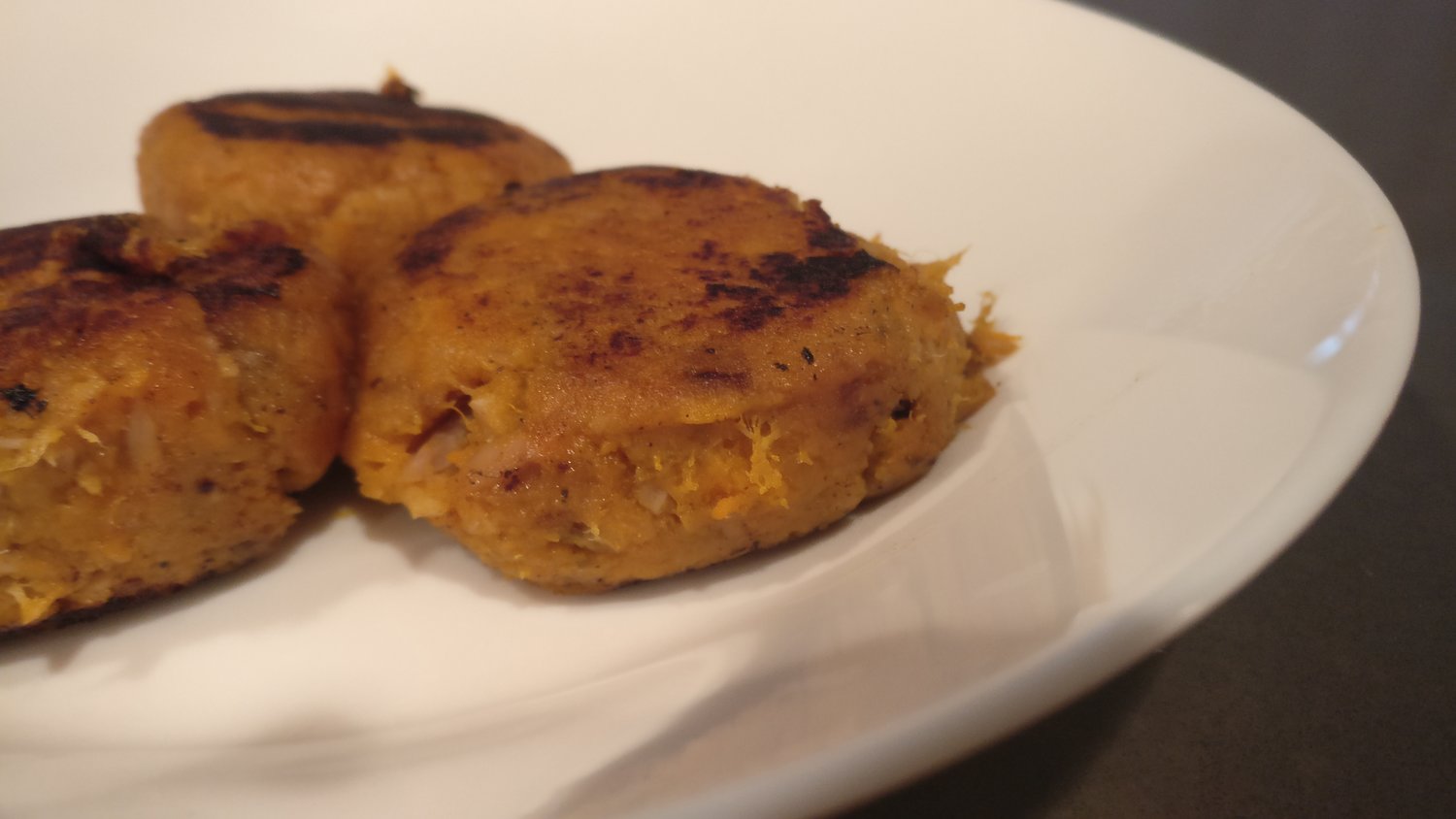 Still soft, the flavor is super nice, but it's definitely not the prettiest thing to look at. I can see now why there are so many recipes that make it more meatball-ish with egg and oats/breadcrumbs. After I get my hand on some eggs, I may have to try this again!
Since it doesn't really hold it's shape too well, it might be worthwhile to cut the time spent shaping and frying and just have a nice protein-loaded sweet potato mash.