Vegan Pumpkin Mochi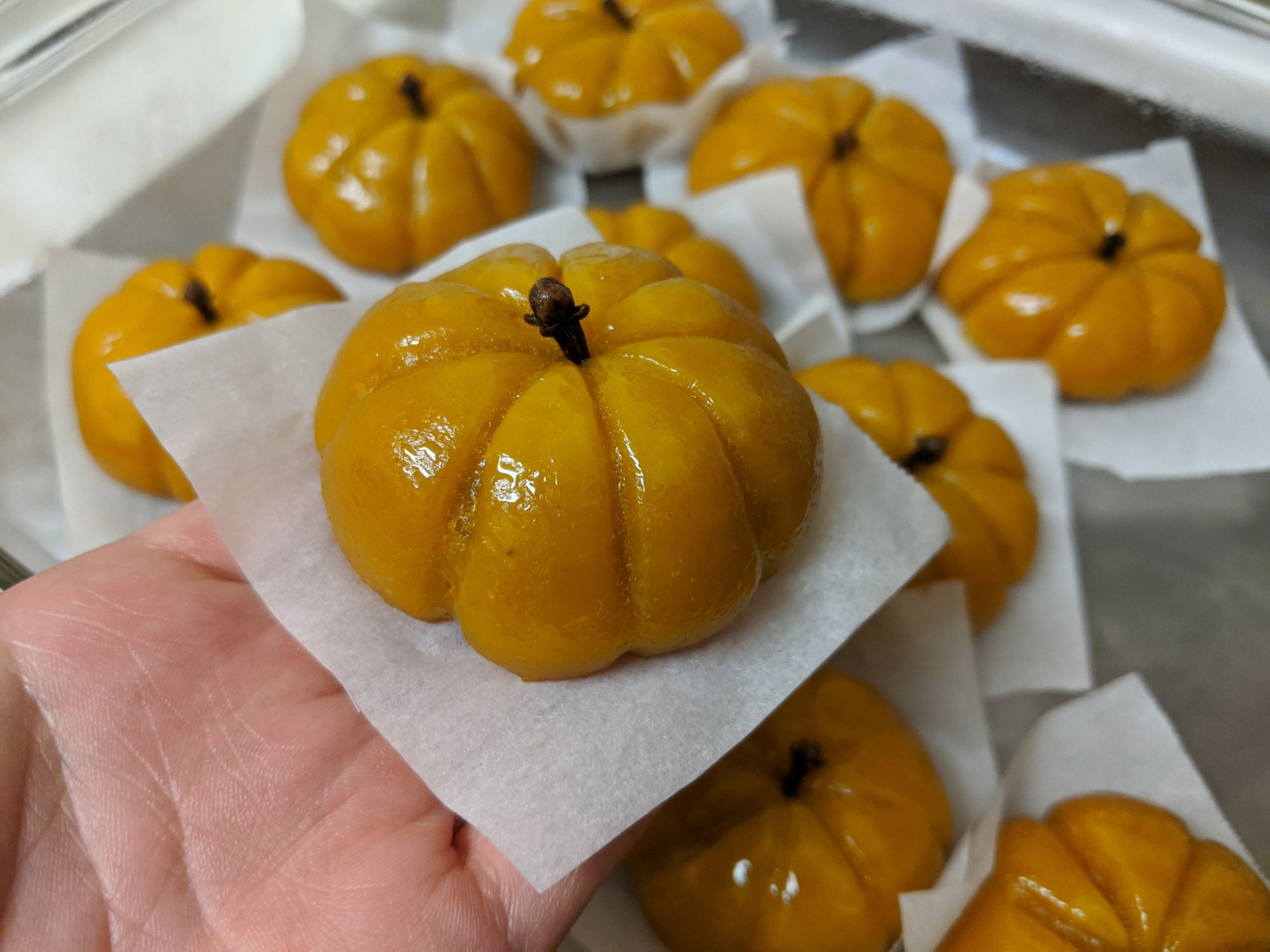 My team at work had a vegan spooky treat potluck to celebrate Halloween, with folks bringing in fun cocktails, "blood" hummus, "witch finger" pretzel treats, and such...
I knew I wanted to make something pumpkin-related to fit the season, and from a recent trip back from Japan, I was craving some fresh mochi. Amazingly, The Woks of Life delivered again with a phenomenal pumpkin mochi recipe!
---
Ingredients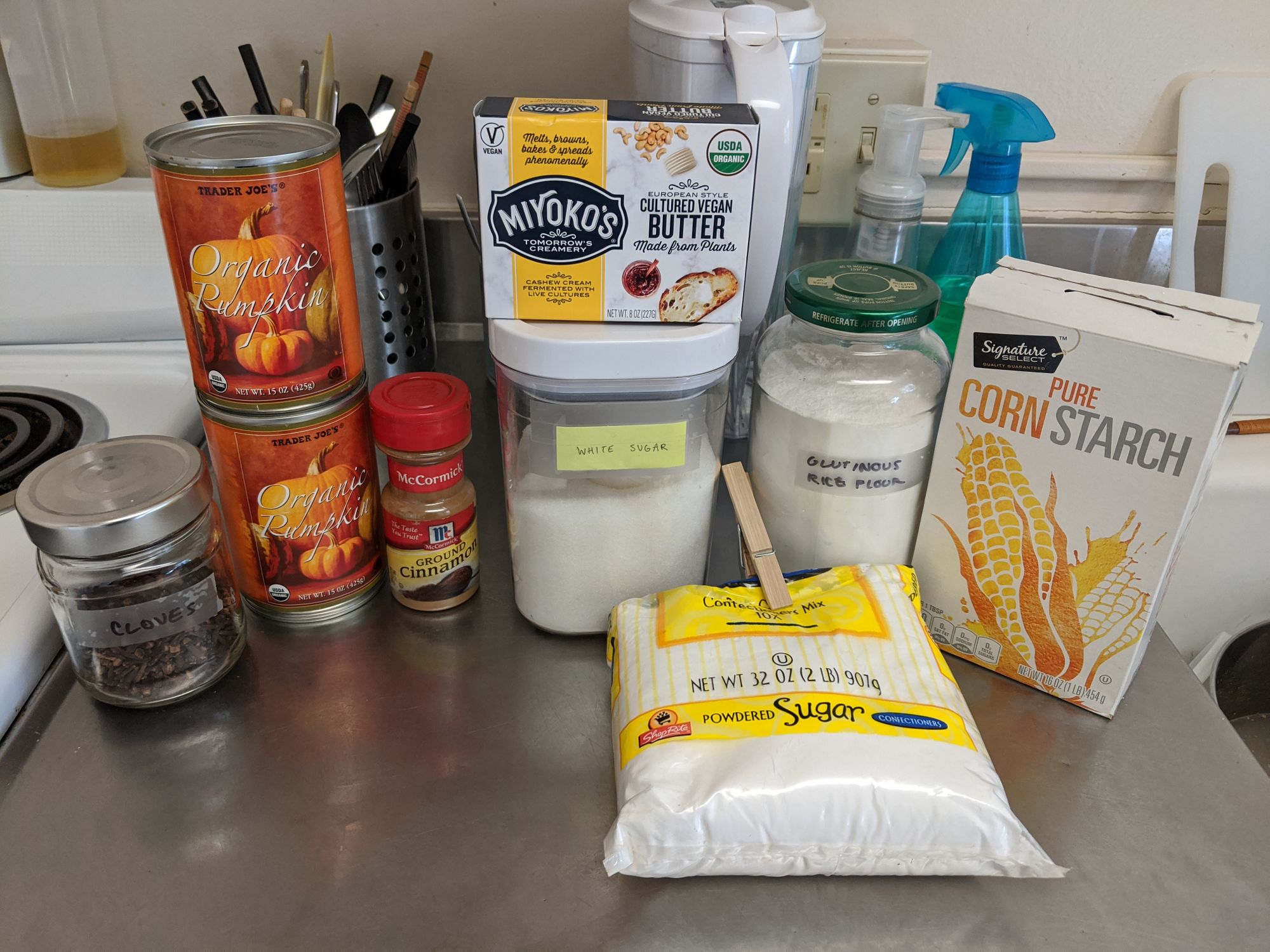 4 tbsp butter (I used vegan butter)
30 oz pumpkin puree divided into 2 cups + 1.5 cups
1/3 cup granulated sugar
1/2 tsp ground cinnamon
2.5 cup glutinous rice flour
3 tbsp cornstarch
1/2 cup powdered sugar
15 whole cloves (1 clove per pumpkin you make)
Methodology
We'll start by reducing down the puree mixture to create the filling.
This step took me almost an hour, and I'd probably omit it next time since I'm not wildly fond of filling in mochi anyway.
Melt the butter in a pan.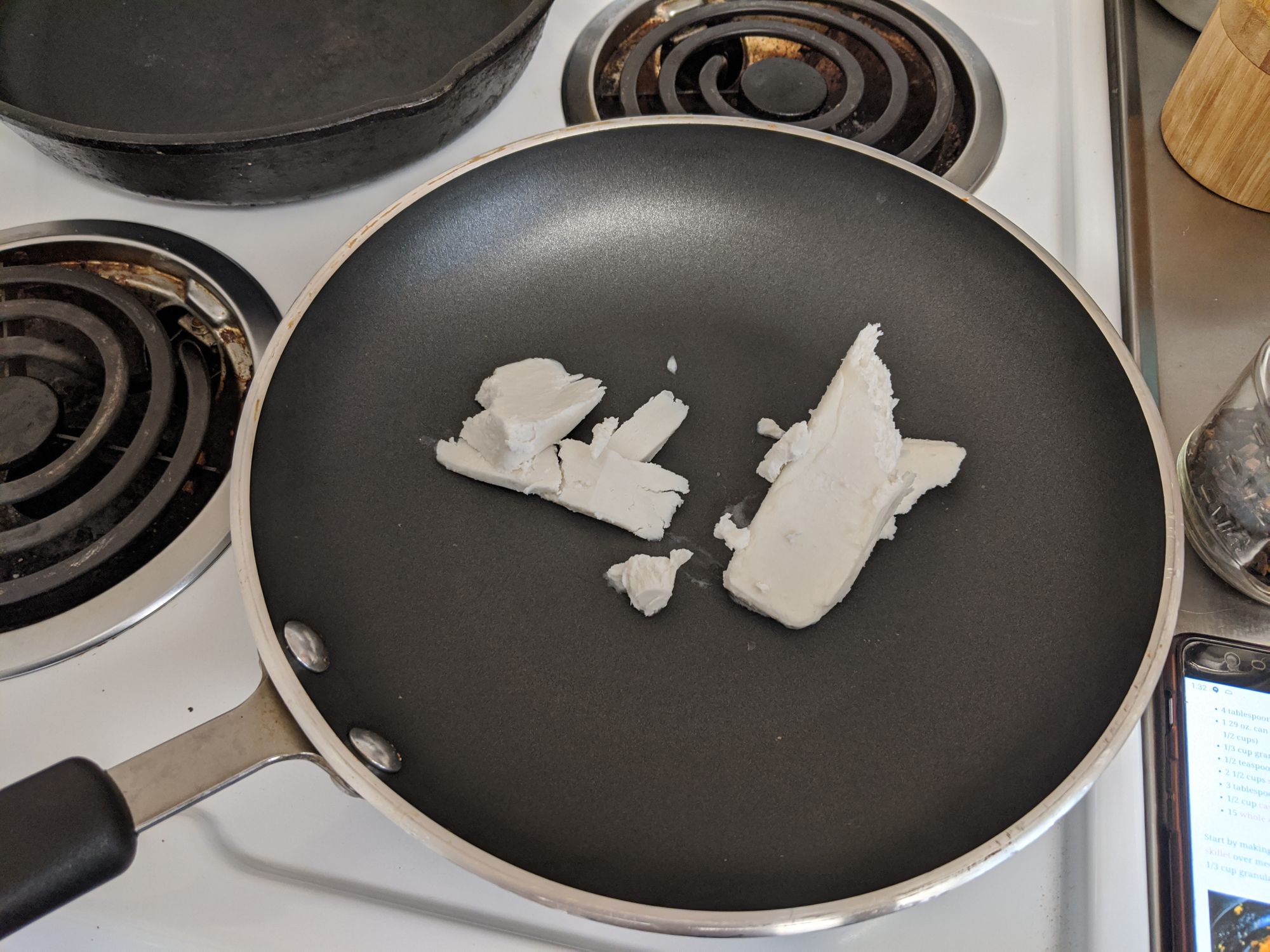 Add 2 cups pumpkin puree, granualted sugar, and cinnamon.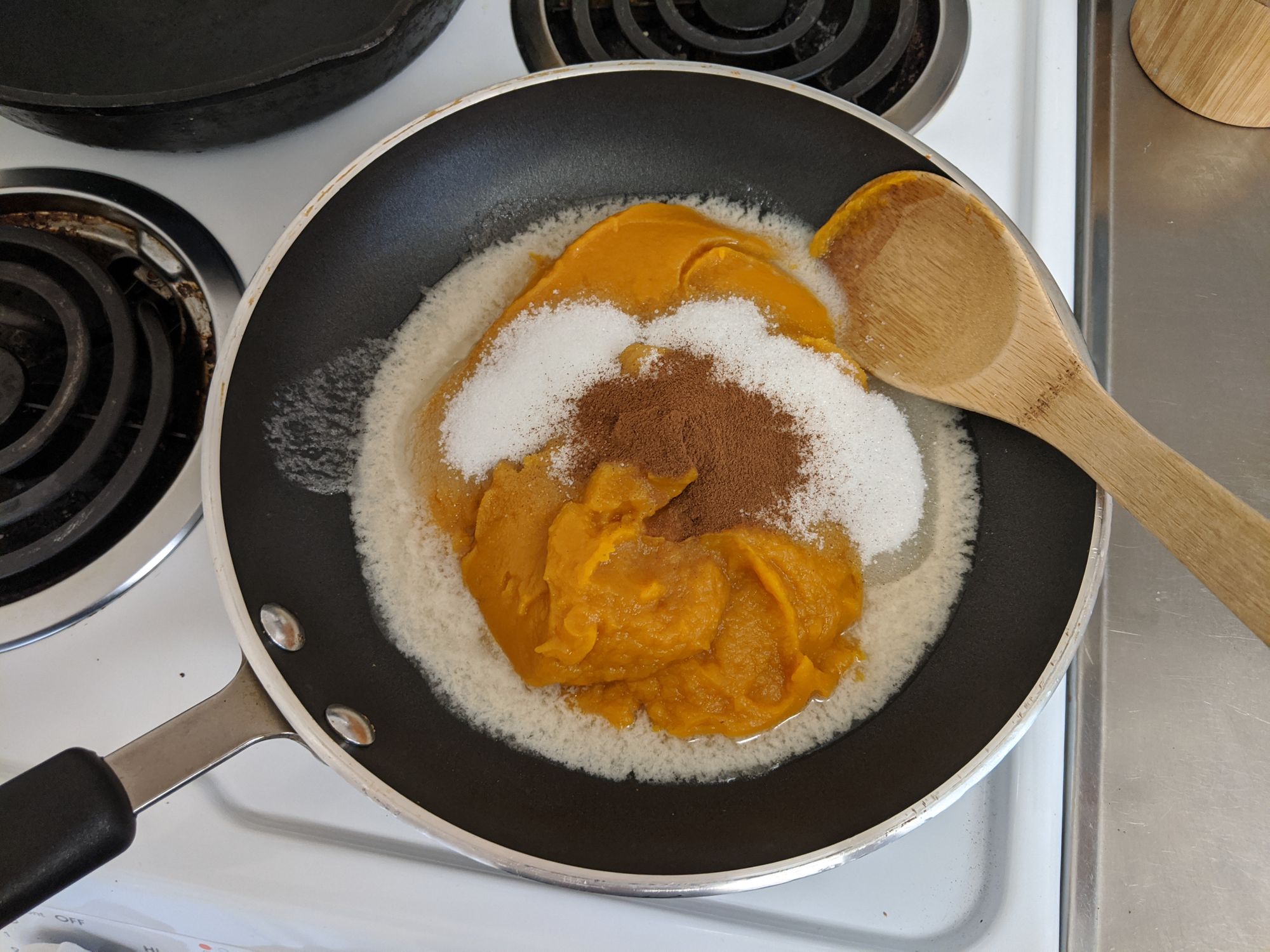 Keep watch over the mixture and keep stirring until it becomes a thick paste.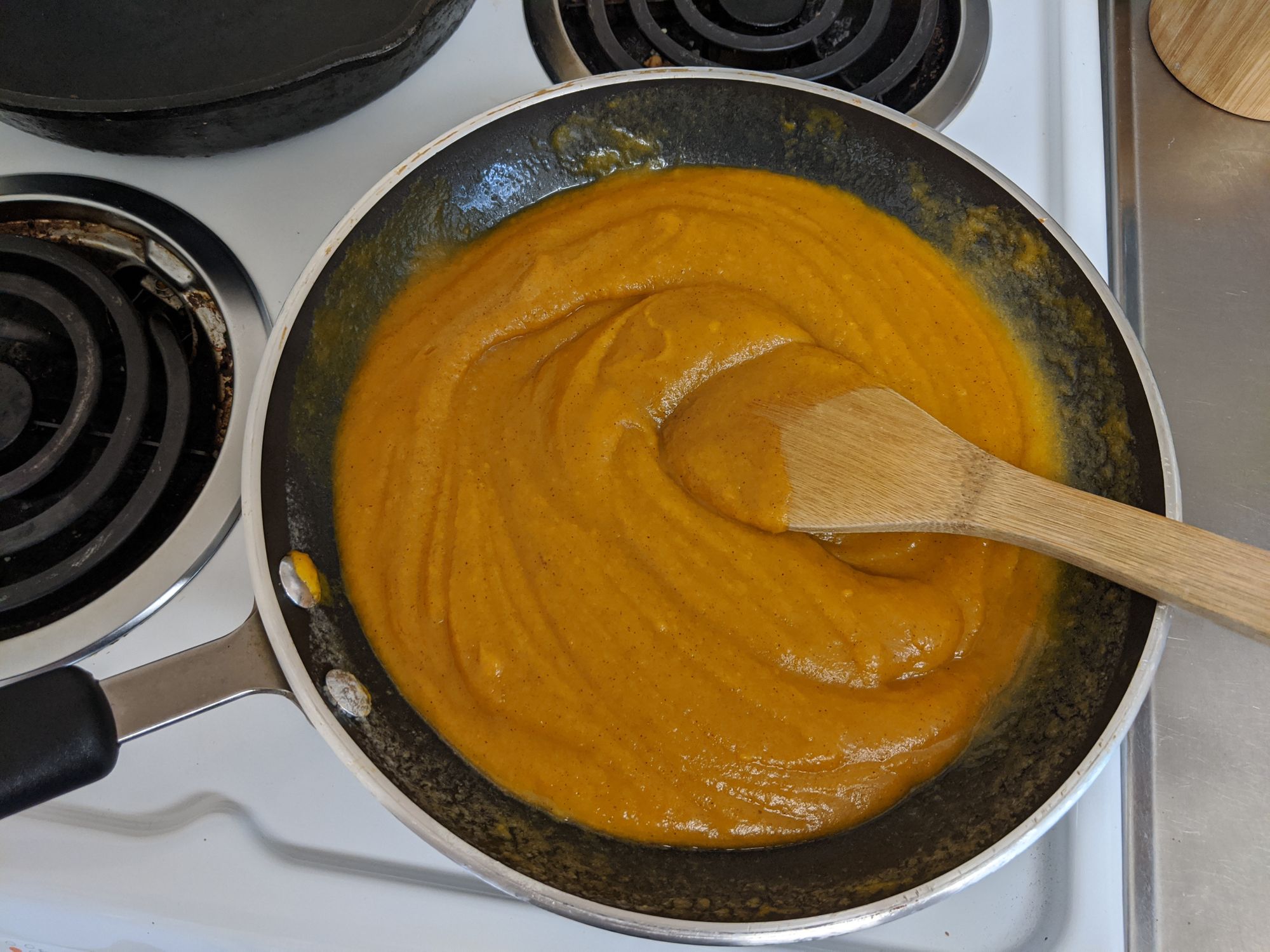 It will start bubbling a lot and cause some fear for burning, so stay close!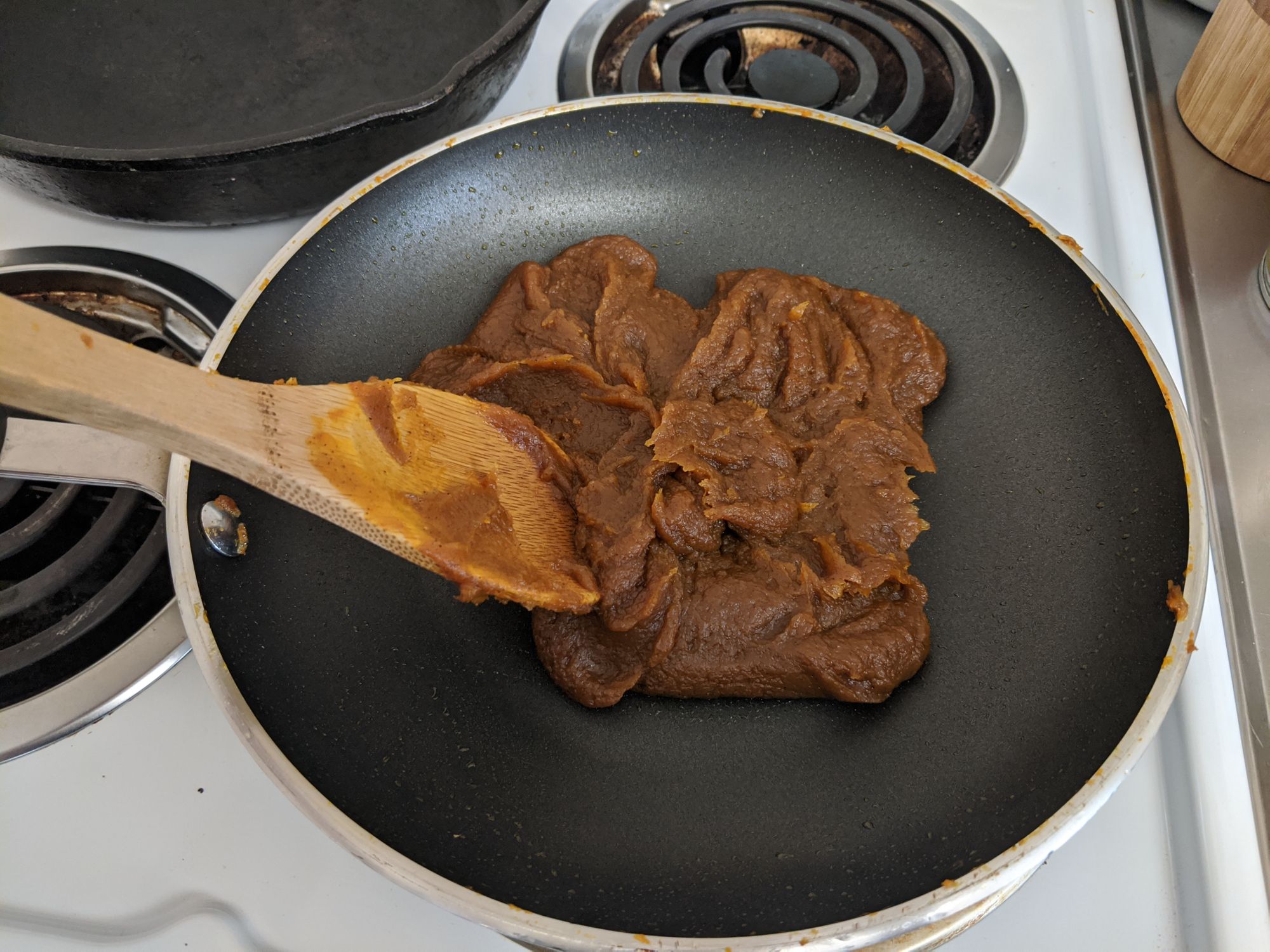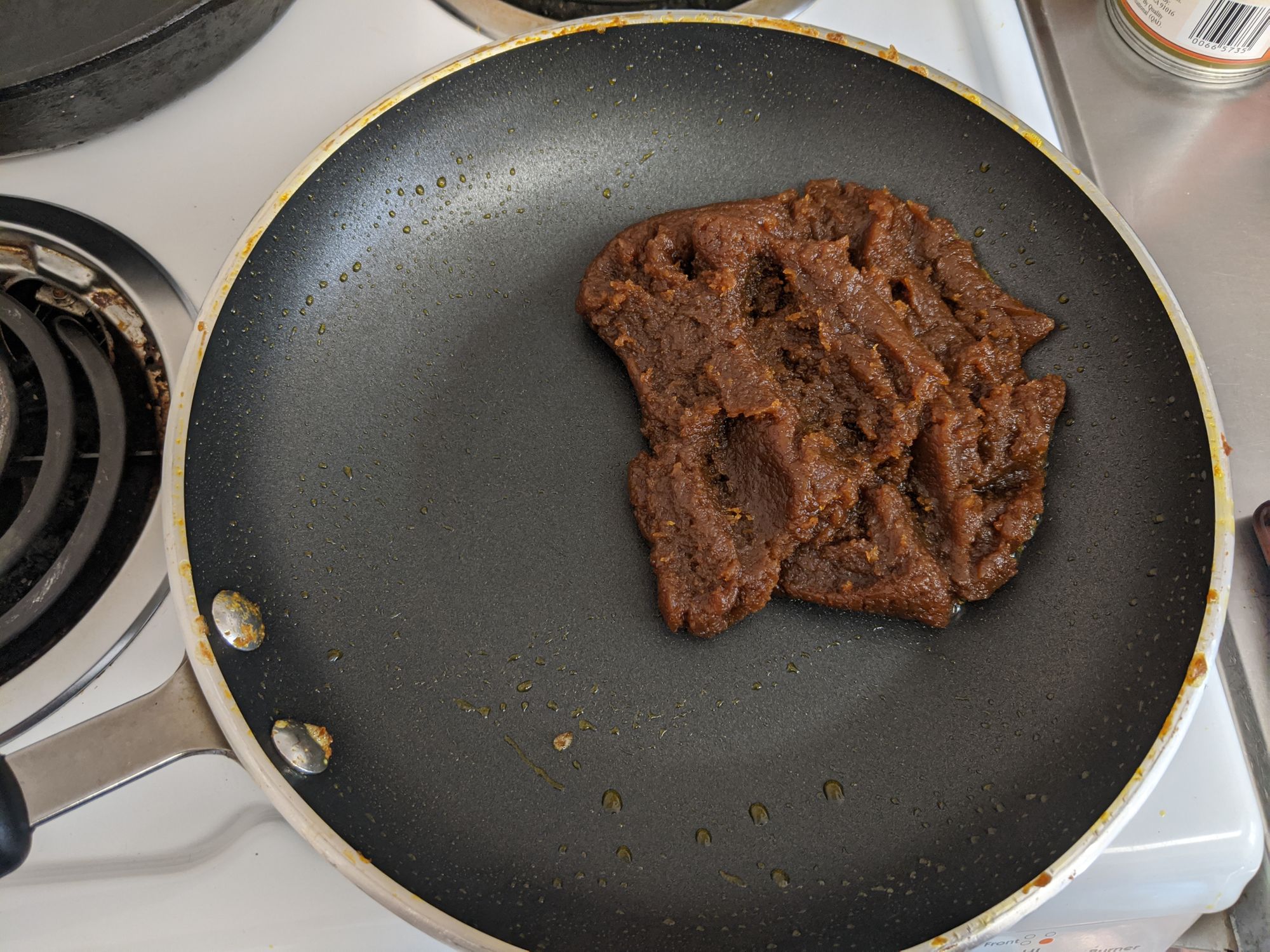 When the paste is done, transfer it to a bowl and let it sit in the fridge to cool.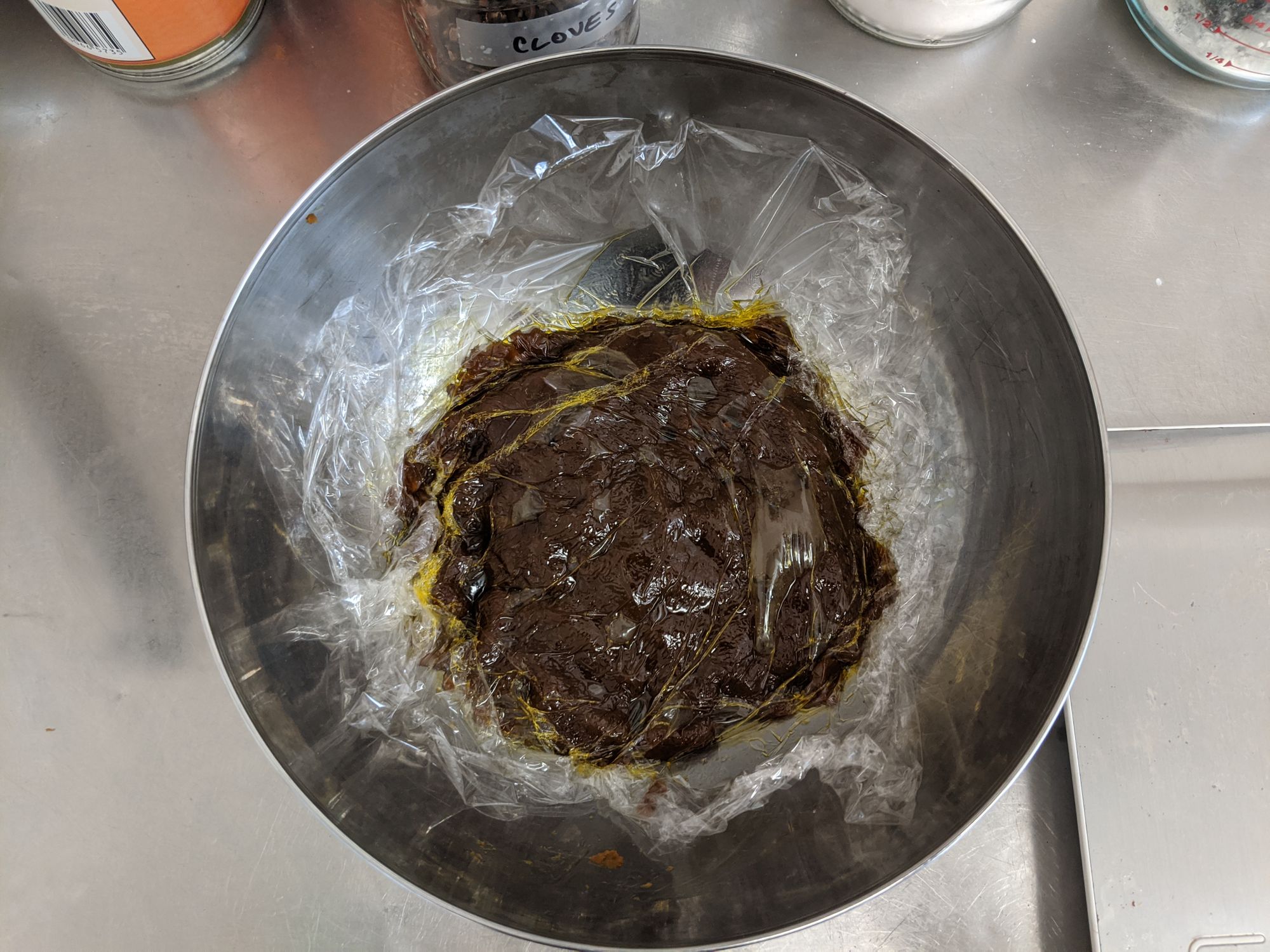 While the paste cools, we'll focus on the mochi dough.
Sift together the glutinous rice flour, corn starch, and powdered sugar.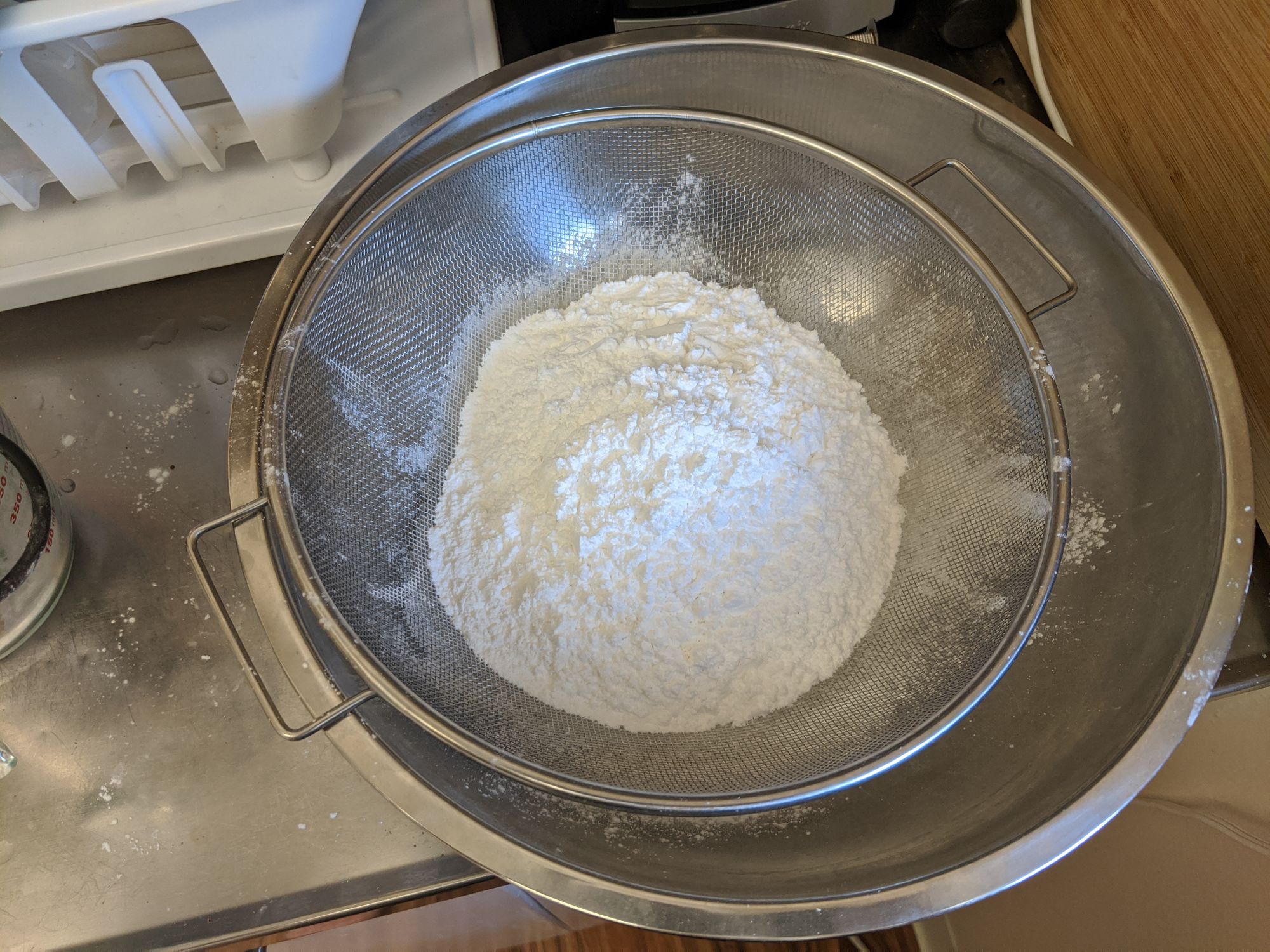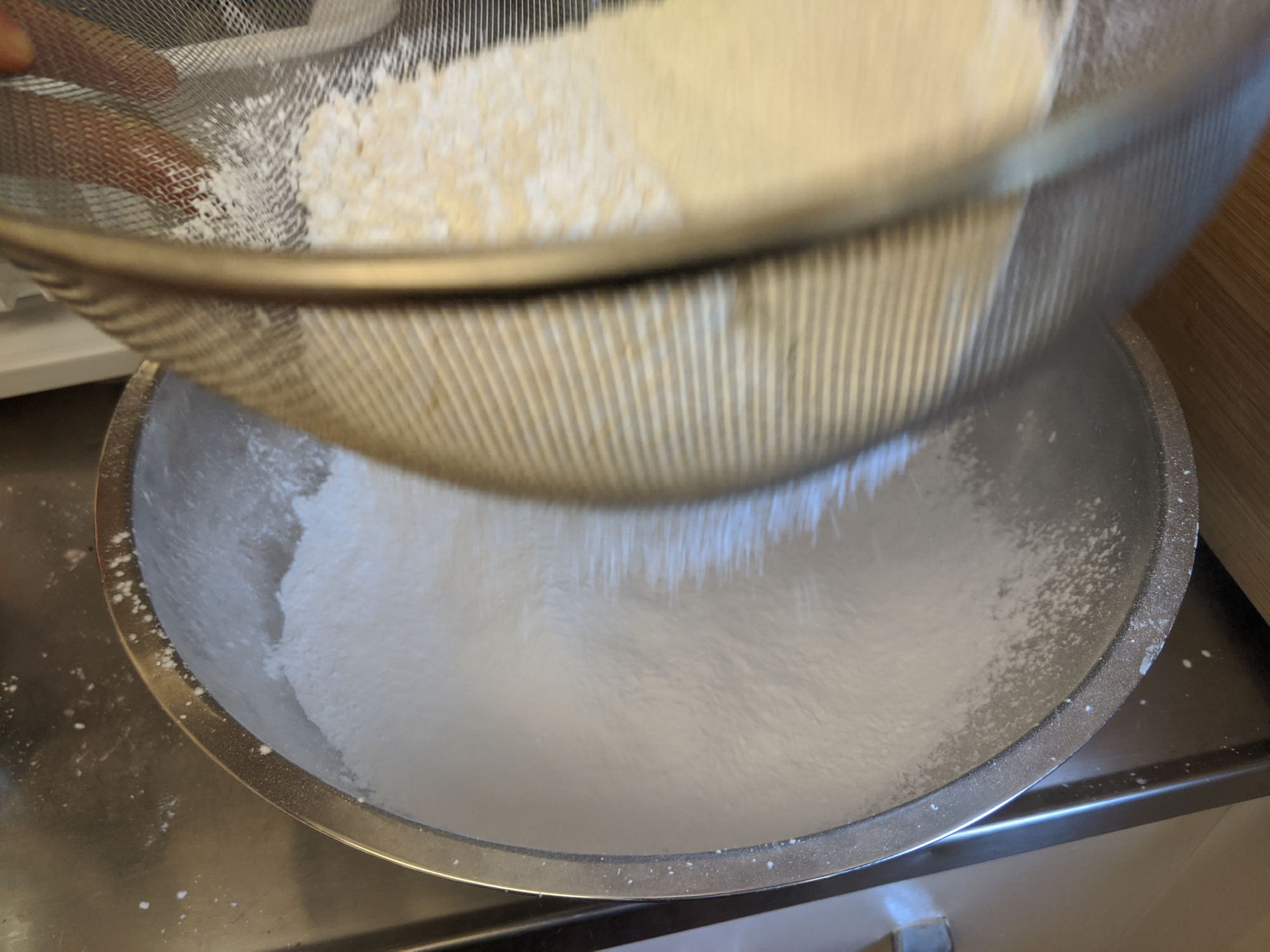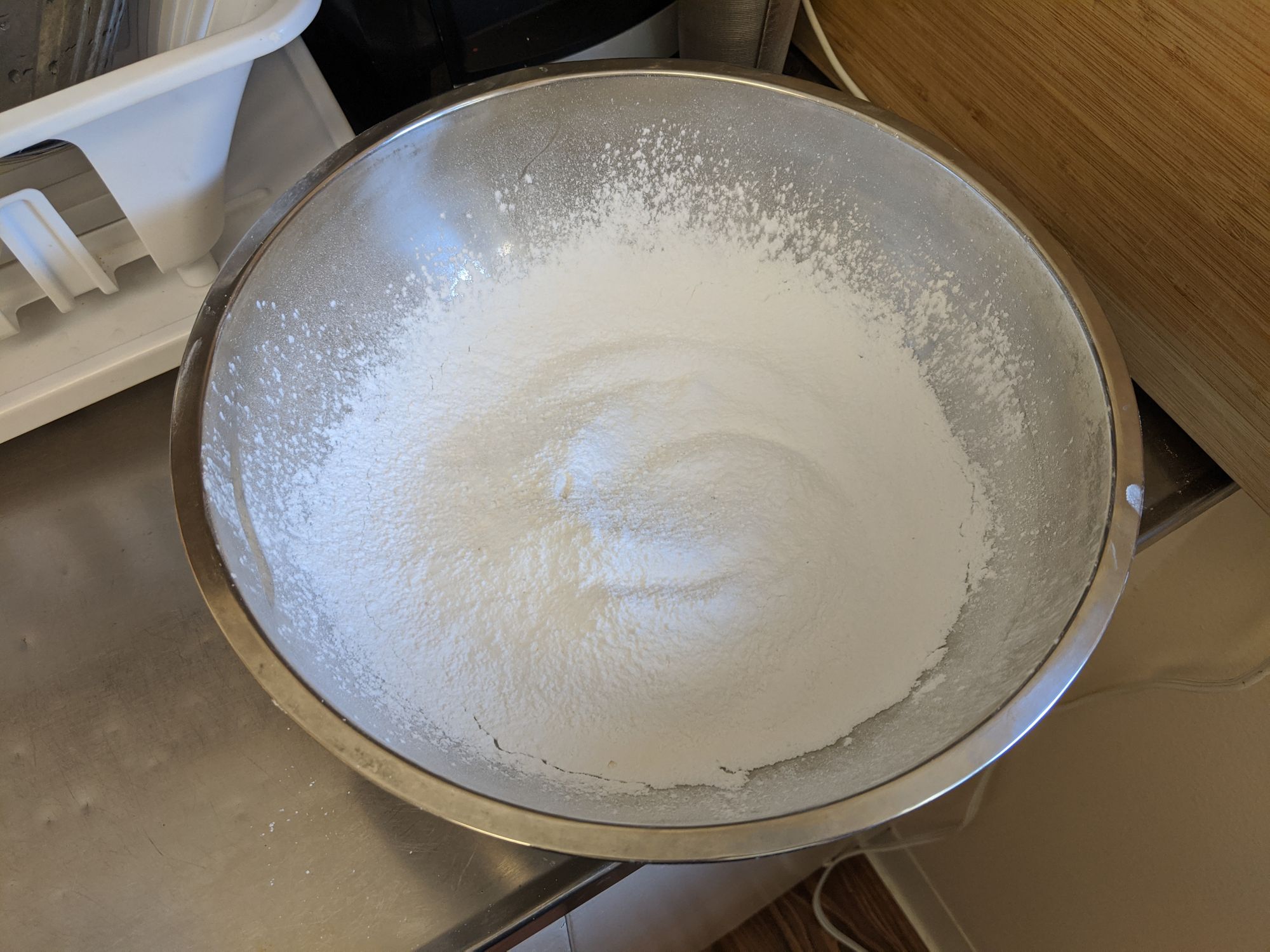 Add the remaining pumpkin puree and mix it in to form a dough. If it feels dry and starts to crack, add a few drops of water.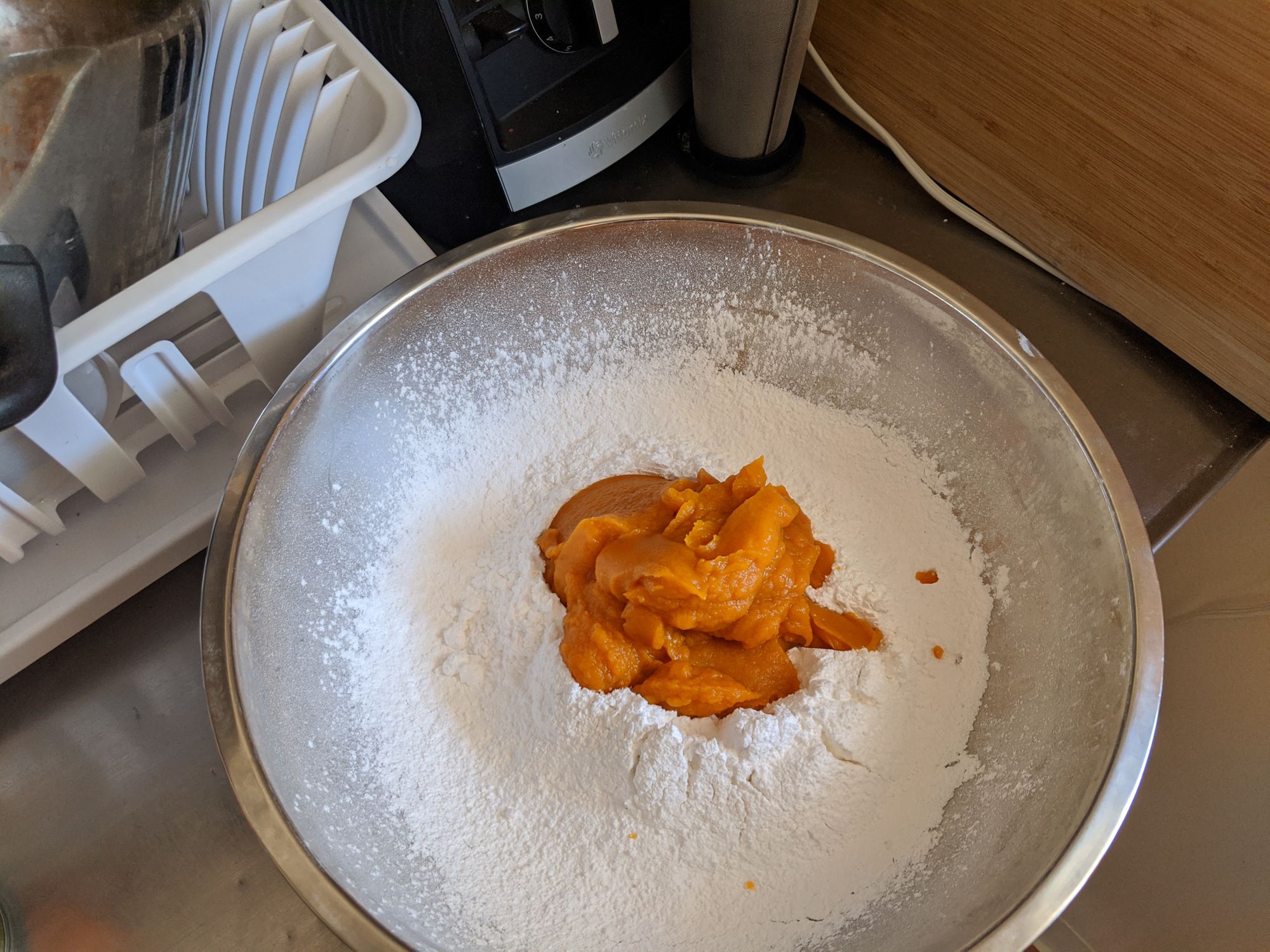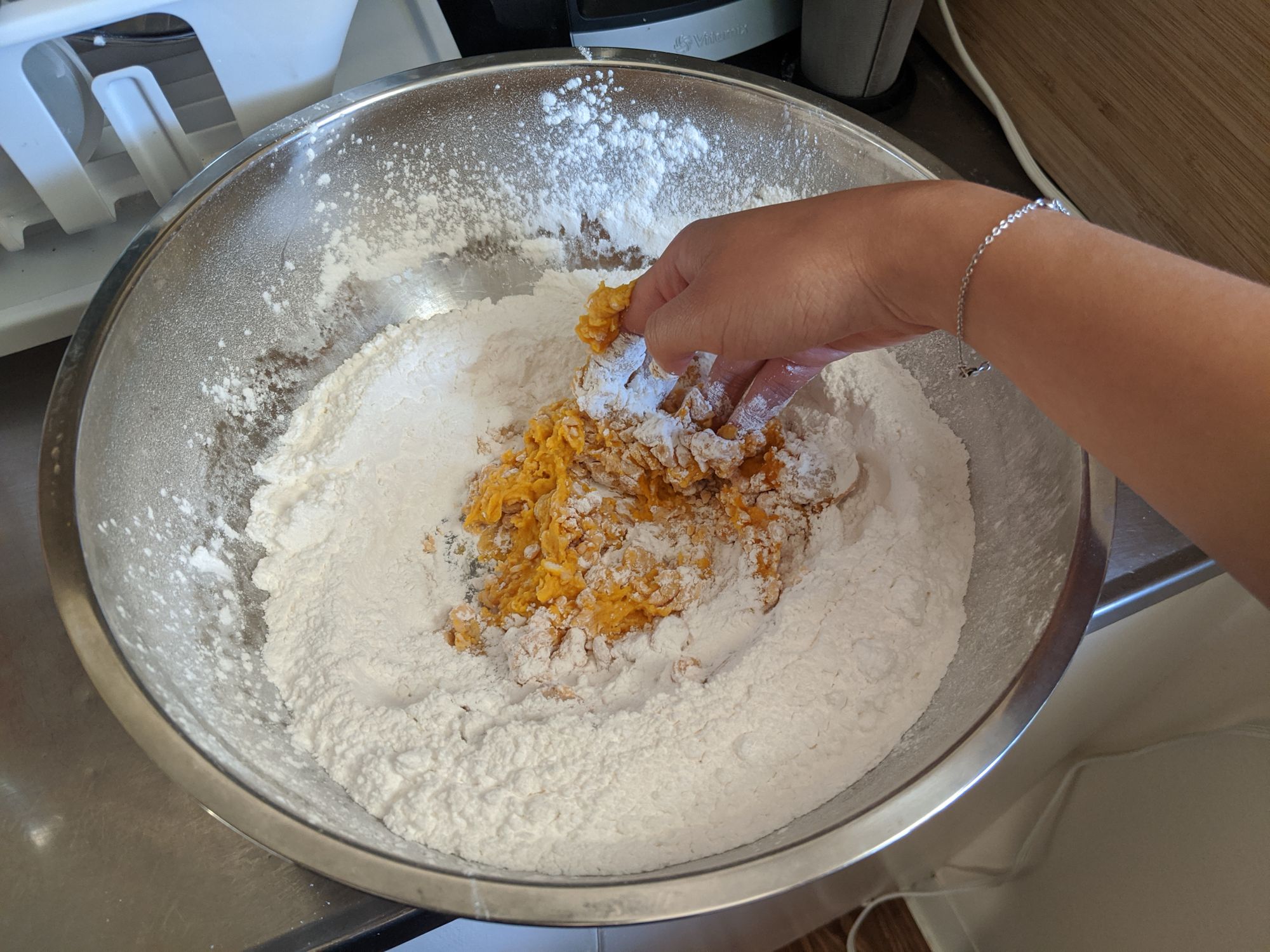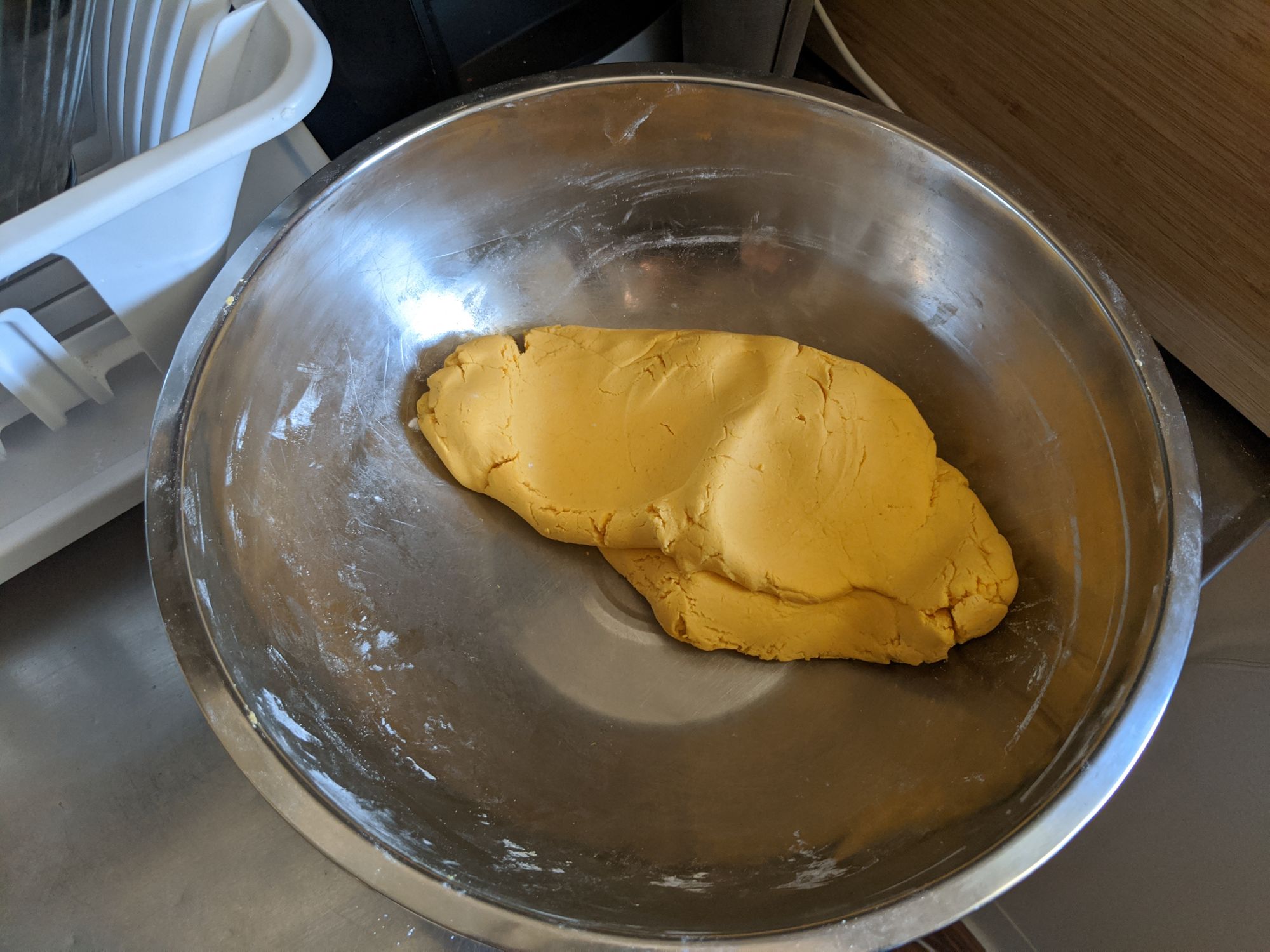 If you want your pumpkins to be super aesthetic and evenly-sized, weigh out the components!
I was able to get 15 pumpkins out of this, so I weighed the paste and divided that in 15...and did the same with the mochi dough.
Weigh out the pieces and start rolling them into balls to help prep yourself for assembling the pumpkins. Make sure to keep the mochi dough covered with a moist towel to keep it from drying out.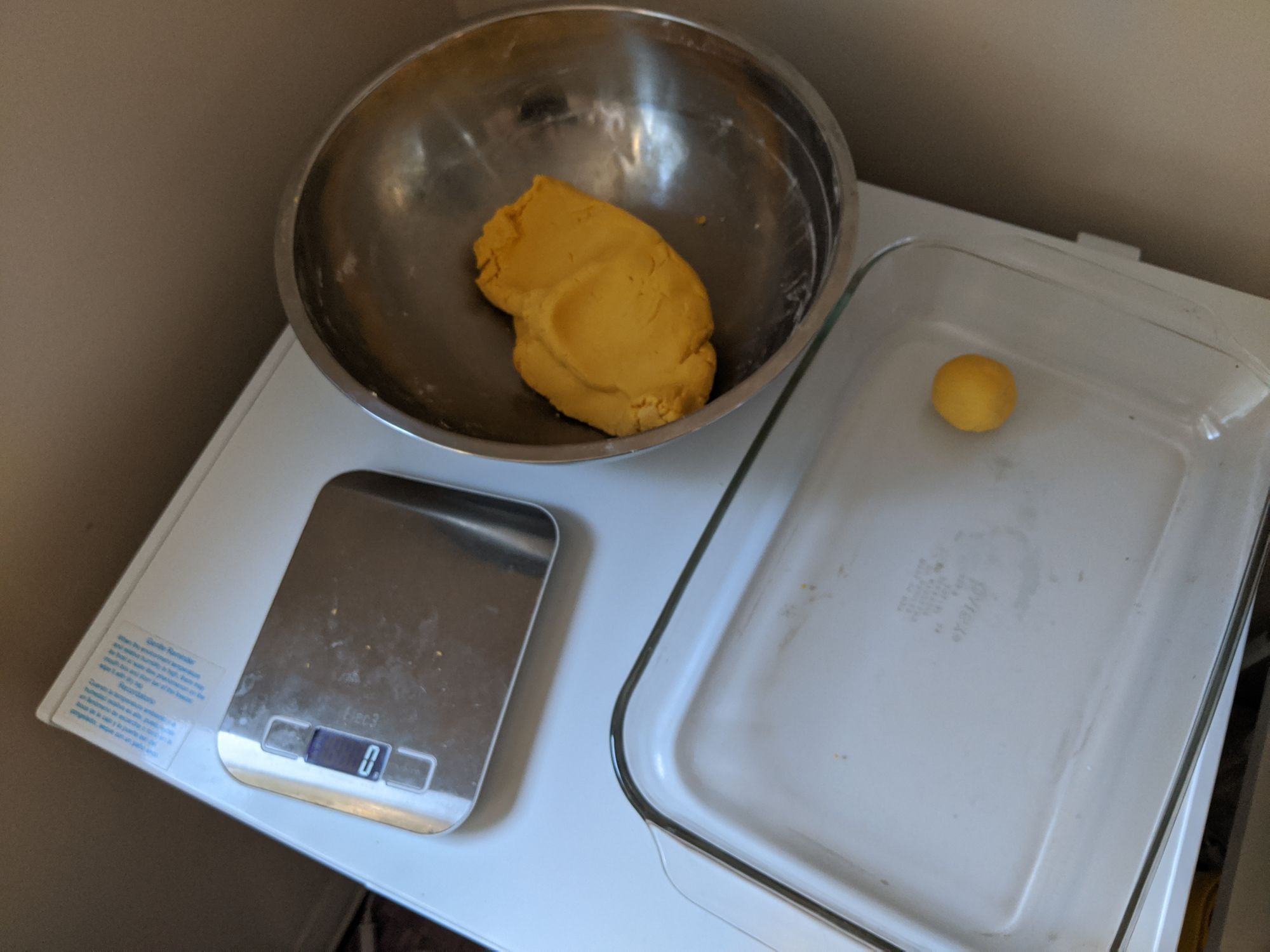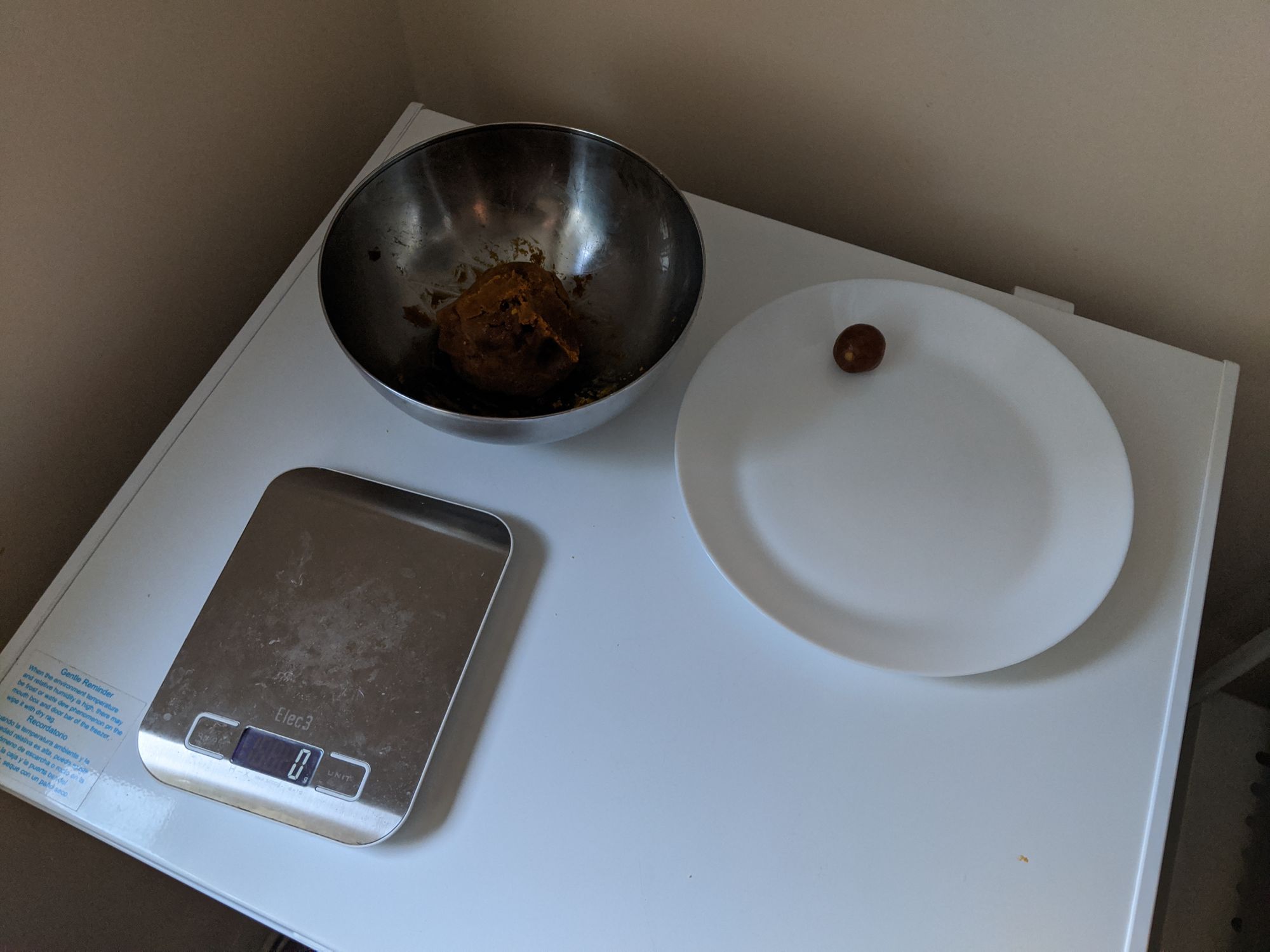 To put these together, wet your palms a little bit and flatten the mochi dough into a 3" circle. Place a ball of paste in the middle, wrap it, and roll to form a sphere.
I found that it helped to roll the dough with slightly moist hands to get rid of any crease marks.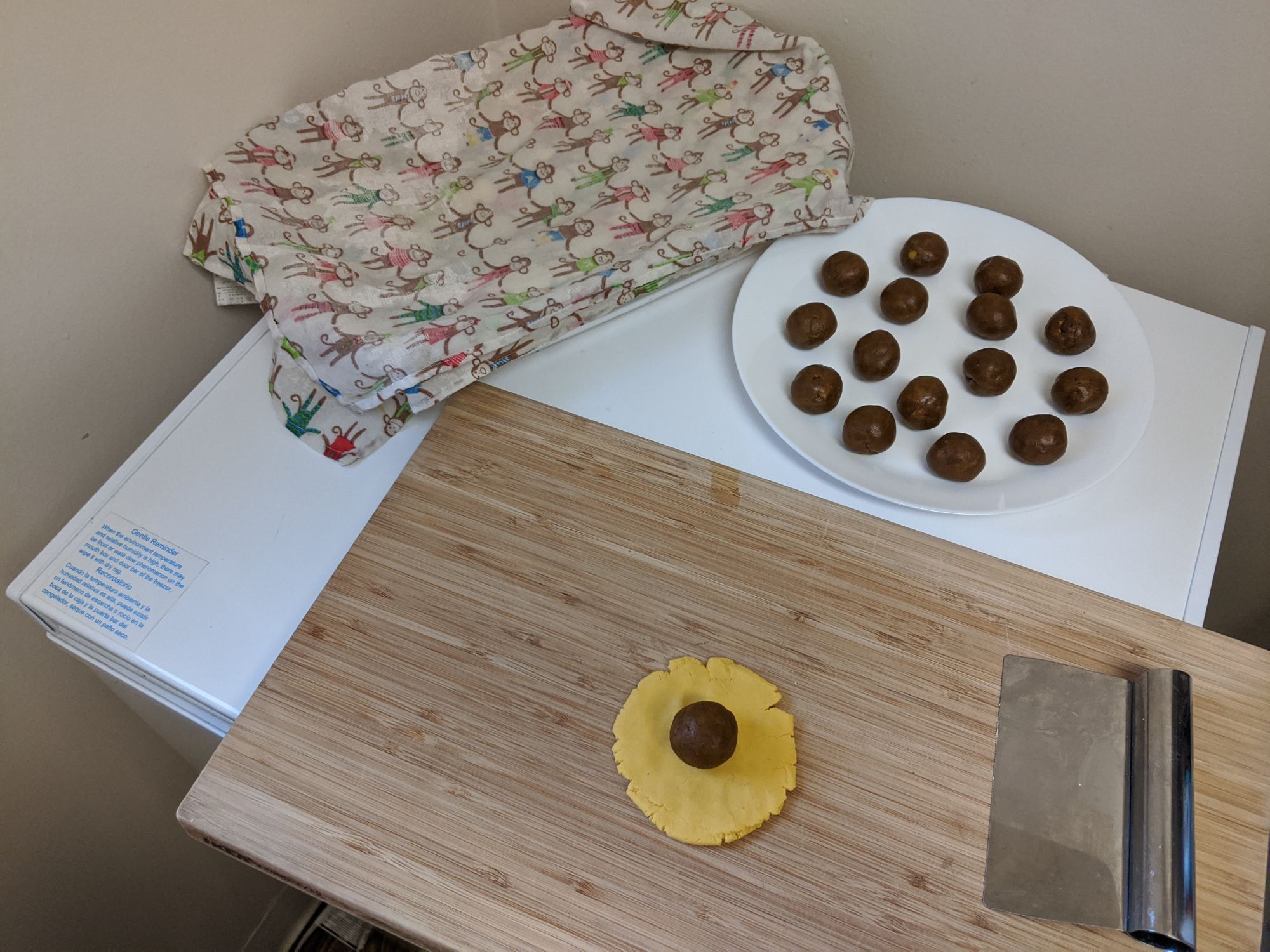 Flatten the sphere slightly to get that pumpkin shape, and then with a toothpick or skewer or paperclip, imprint lines around to form a pumpkin.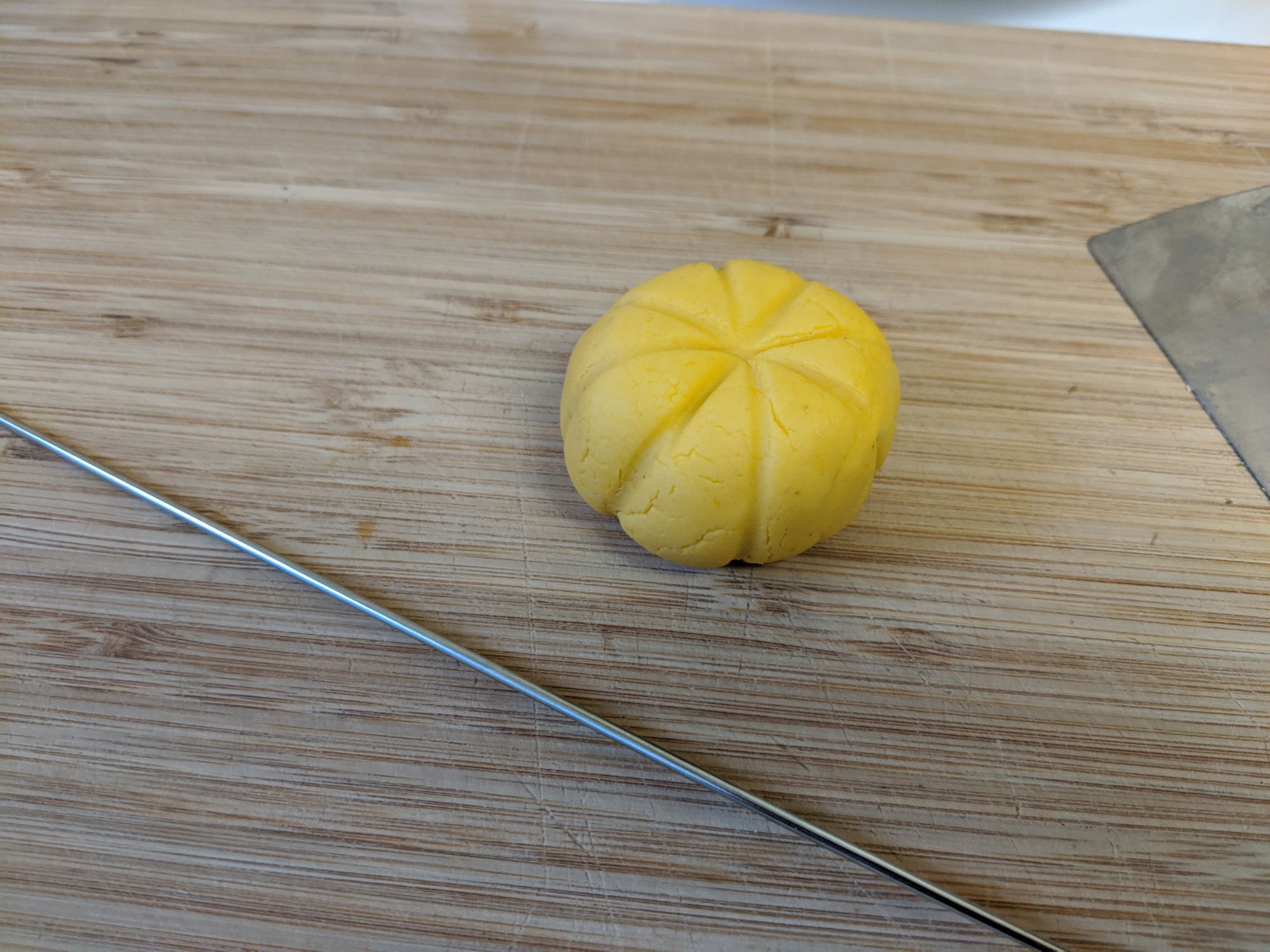 Pop in a clove to add them pumpkin's stem!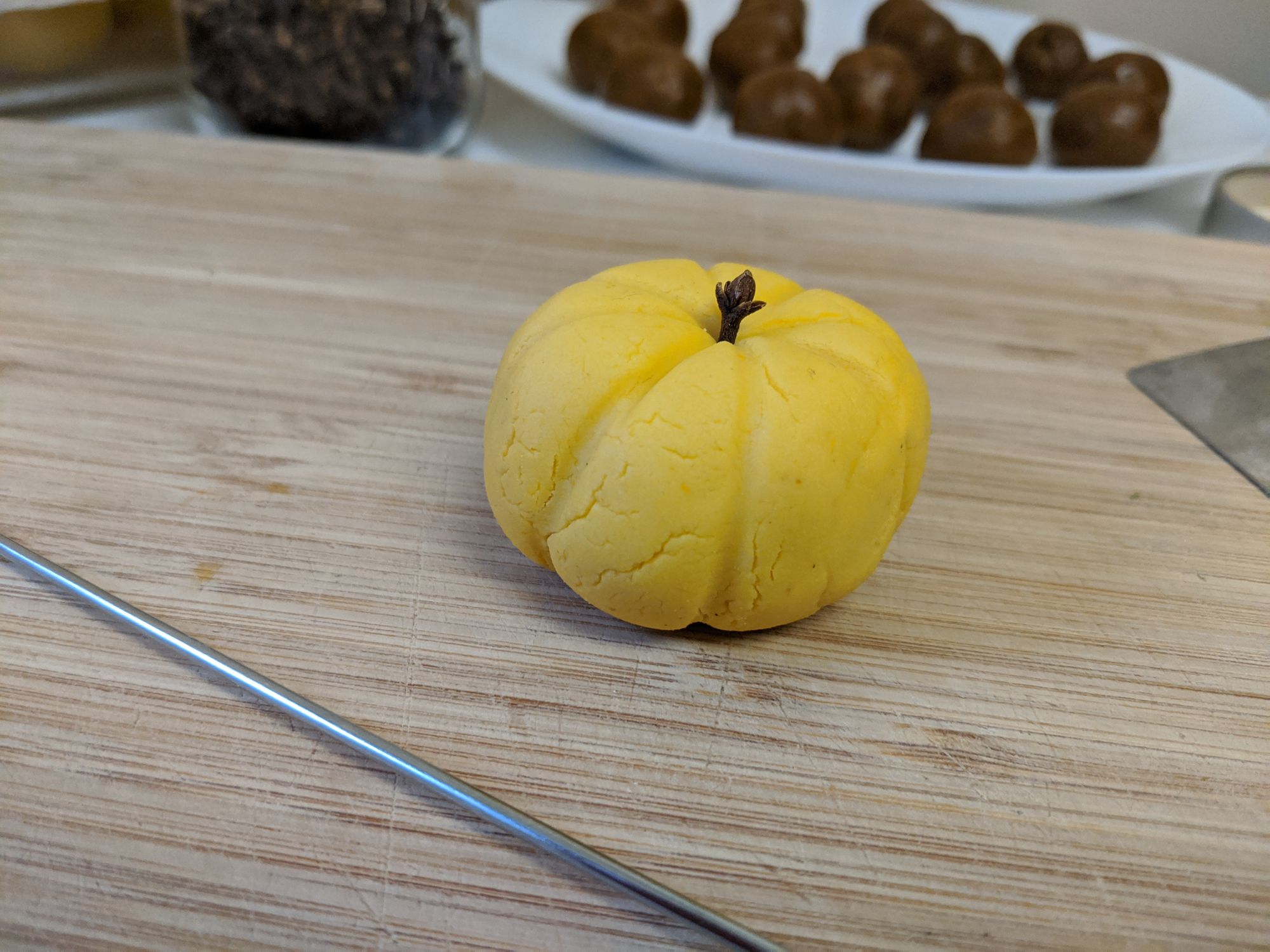 Place on a square of parchment paper and place in your steamer. Keep this covered with a wet towel as you assemble to keep the pumpkins from drying out.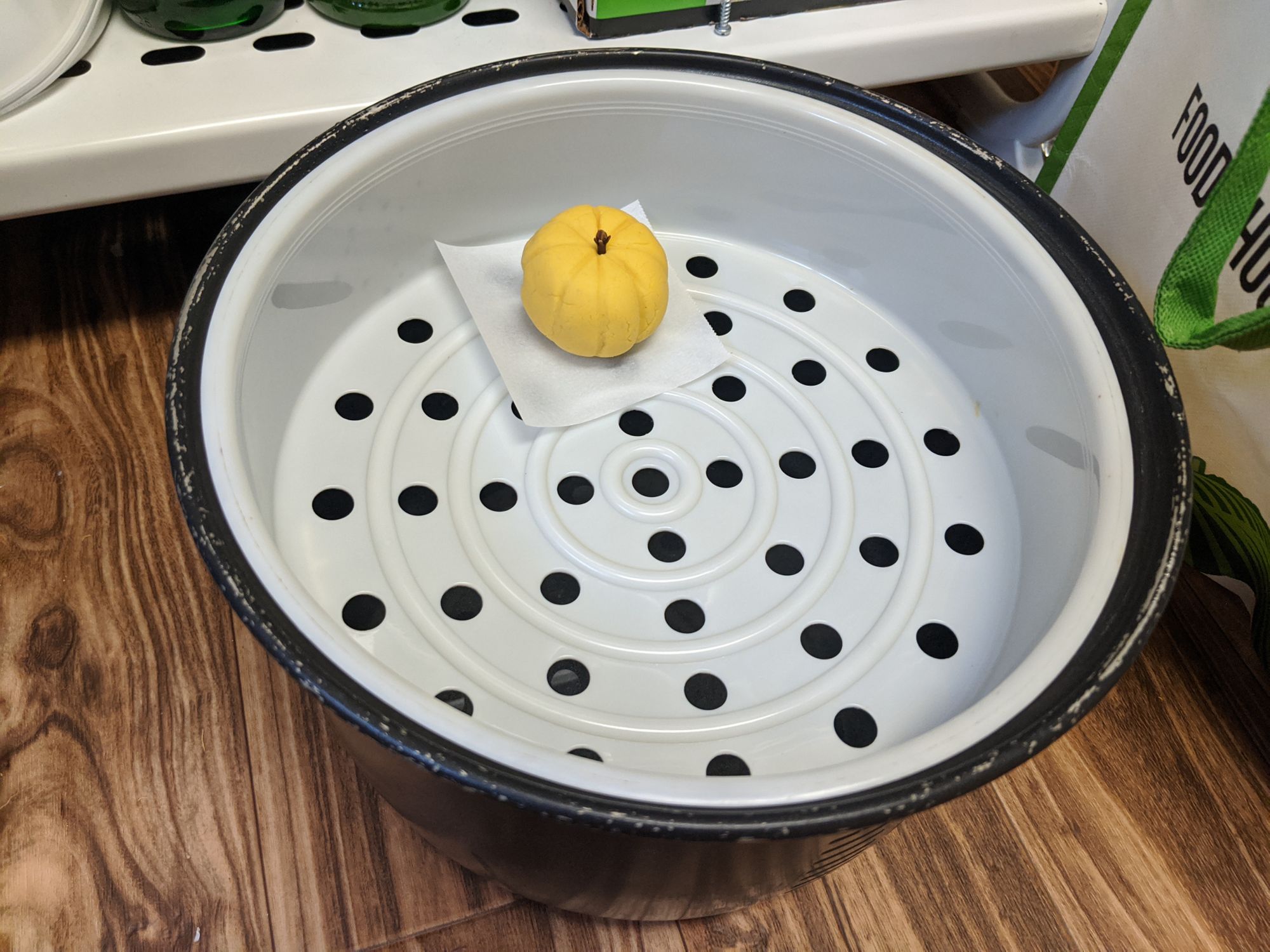 When you've filled the steamer basket, steam for 11 minutes. I like to slip a towel at the top so when steam rises up and condenses, the liquid falls onto the towel instead of onto the food.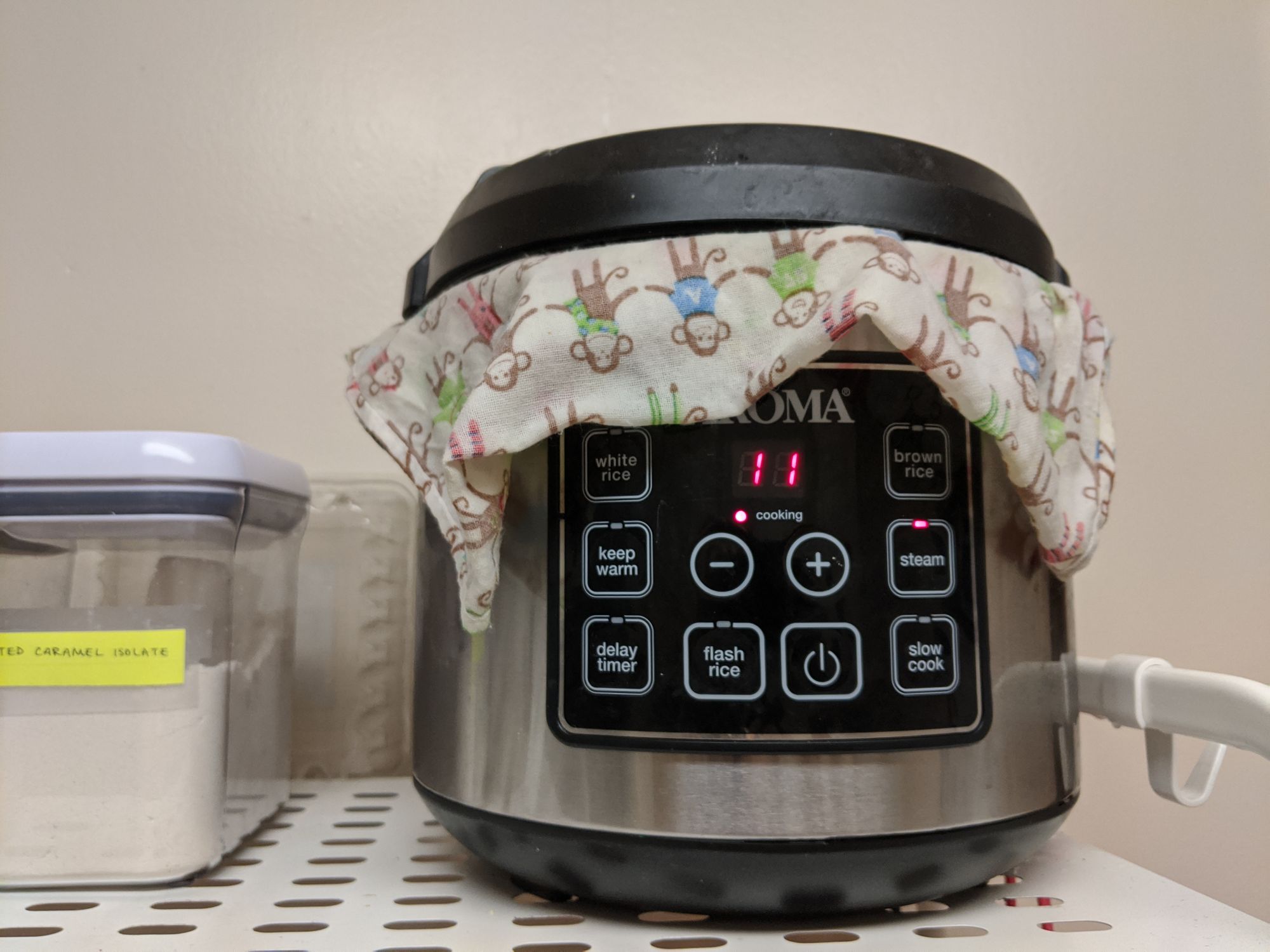 Results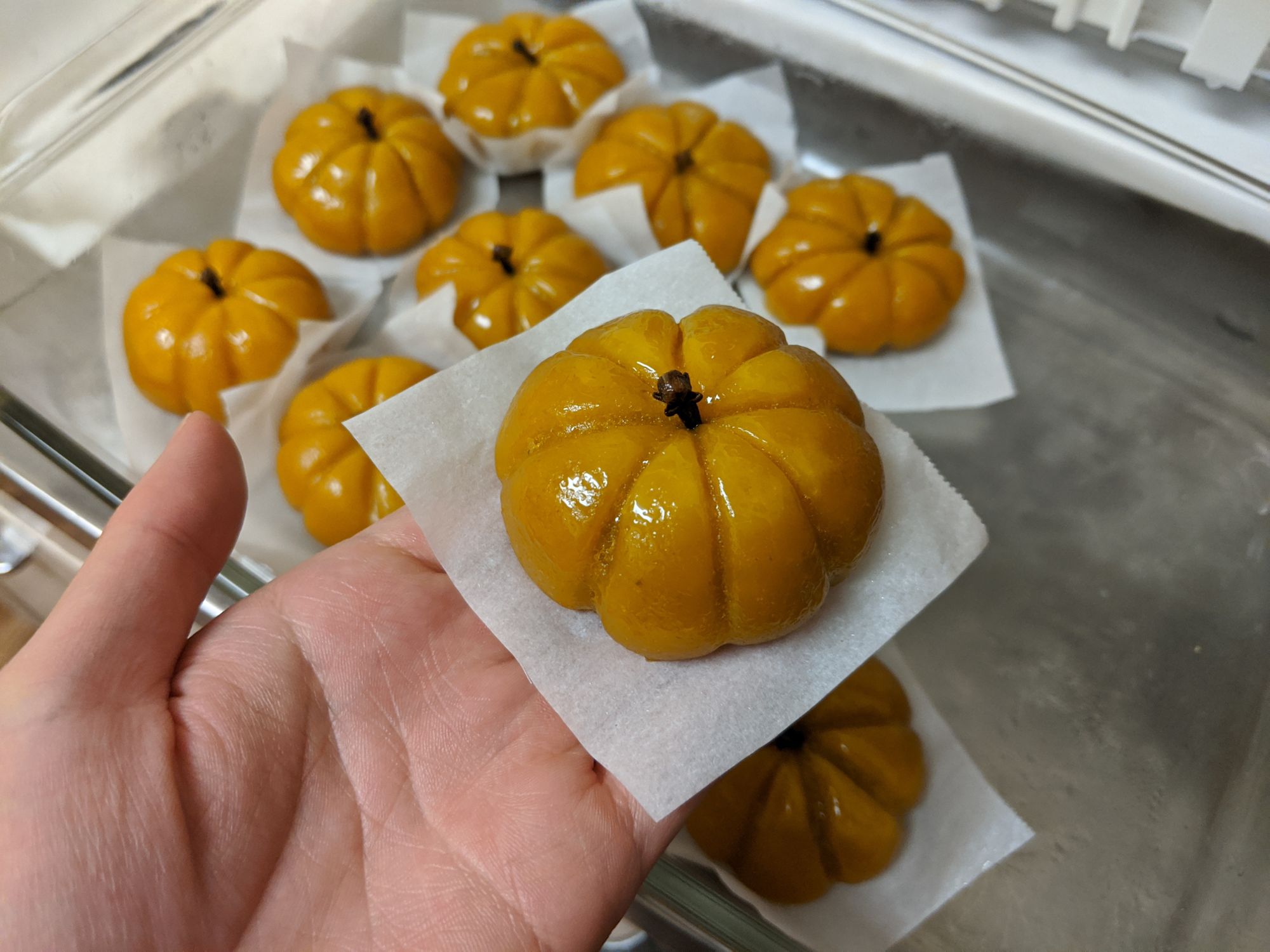 I was so pleased with how these turned out, and they're definitely the cutest food I've ever made.
They were all gone by the end of the potluck, so I'd say it was a great success. I probably wouldn't make this again solely because of how long it took to make the filling and then assemble and shape each individual pumpkin...but it's definitely fun and very satisfying to see the end result.