Vegetarian Eggstravaganza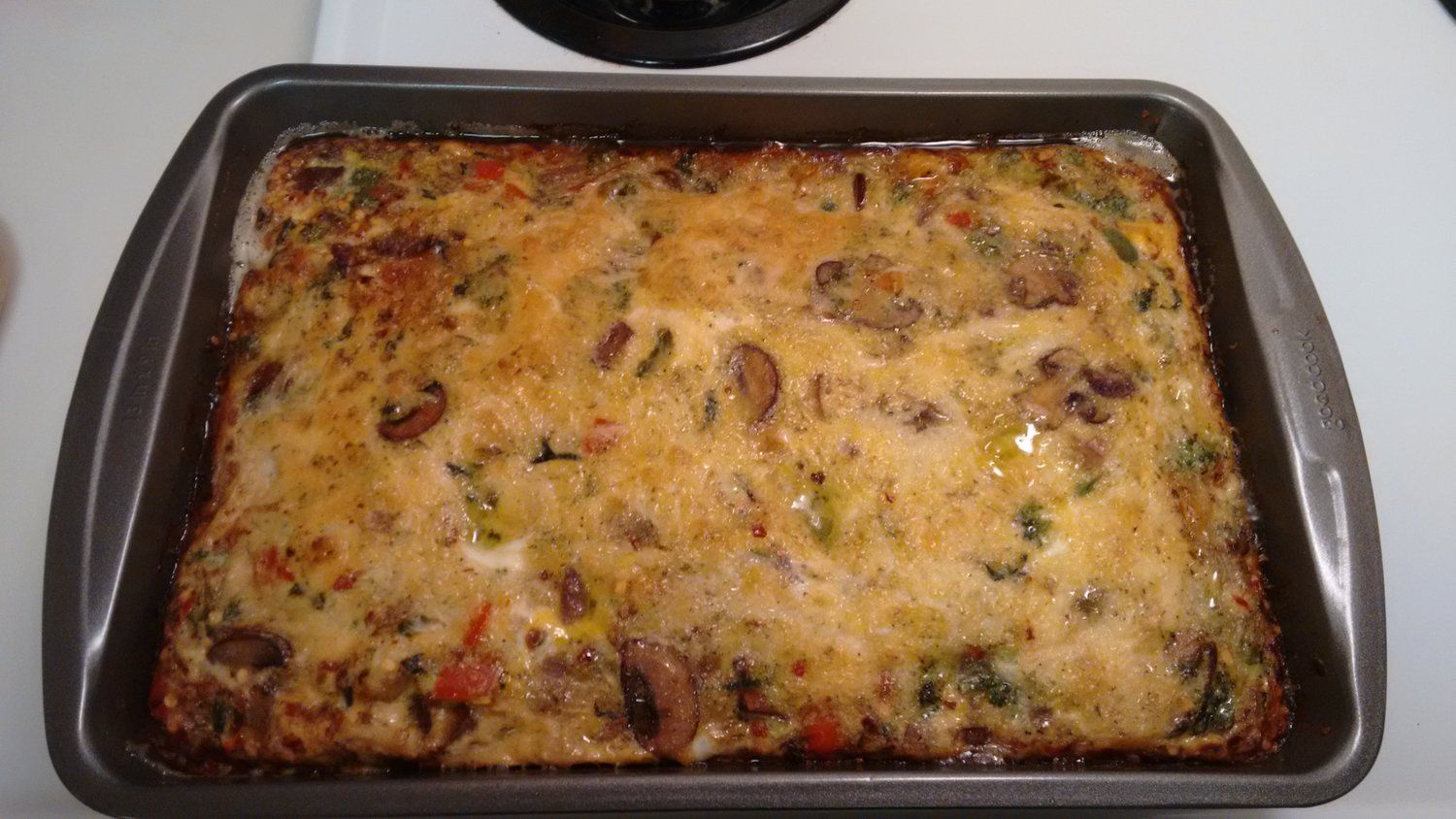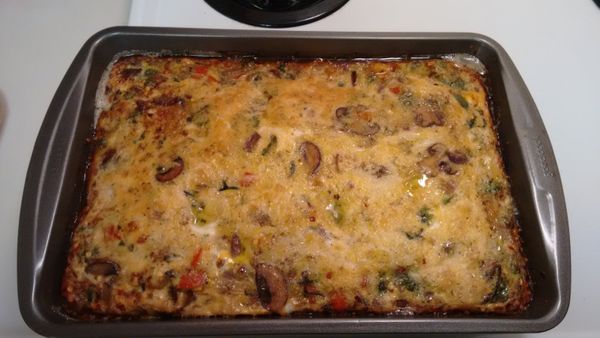 Abstract
An eggstremely punny food update from (future) Dr. Bulldog on his eggscellent vegetarian egg casserole.
Introduction
As announced in my post last week, I have been pursuing a more vegetable-heavy diet as I try to live like an adult and keep my arteries unclogged. The last time I went 86% vegetarian, it lasted for 2.5 months (for those who are not familiar with 86% vegetarianism, it means I eat vegetarian 6 days out of 7 in a week). It was an un-eggspected but very solid effort for a first-timer, and combined with a rigorous eggsercise plan, I lost eggsactly 21 pounds in the first 1.5 months. Unfortunately, I went back to my former life of microwave chicken nuggets as the pressure of my bachelor honors thesis piled higher & deeper. Ever since then, I had been too busy (or at one point, too crippled) to maintain a vegetarian diet. I have learnt that, unless one is content with eating salad every meal, it requires a lot of creativity and forward thinking/planning to prepare vegetarian meals. Now that I am in a mostly-research mode and have a more concrete 8a-6p work schedule, I can spend more time thinking about what I am eating.

To follow up on my vegetarian deep dish pizza, I had prepared a vegetarian egg-casserole: I don't think I have ever used so many ingredients from the veggie aisle in a single dish in my life. The recipe is very simple, but I got to relax a little bit on the eve of the new school quarter, and hone my skills at dicing peppers/onions and cracking eggs (because I get to crack 18(!) eggs!). I had struggled with dicing, but I have improved a lot since I found this Gordon Ramsay's tutorial:

The idea to use the middle finger knuckle to guide the knife downward motion is quite-life changing for me.
Eggsperimental
Ingredients
0.5 red pepper
0.5 yellow pepper
2 jalapenos
0.5 red onion
8 ounces sliced mushroom
2 cups broccoli florets
2 cups fresh spinach
18 eggs
0.5 cup 2% milk
Salt, black pepper, red pepper flakes to taste
1.5 cups mozzarella cheese, shredded
Parmesan cheese, grated
The red and yellow peppers, jalapenos and red onion were diced then sautéed for ~ 5 minutes.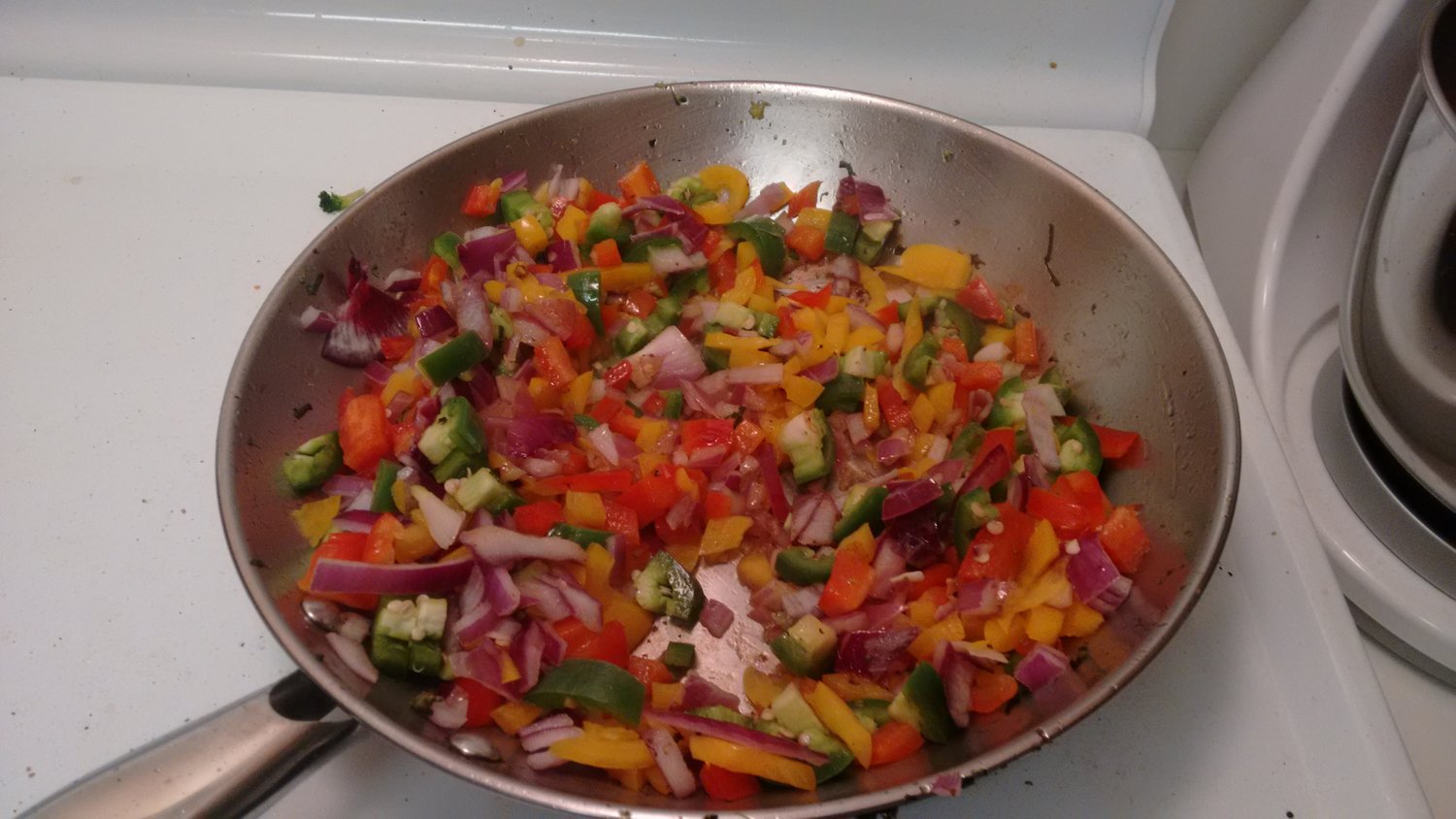 The mushrooms were sautéed. After 7 minutes, broccoli florets were added. After 3 more minutes, spinach was added, and the mixture was heated for 2 more minutes. The mushroom mixture was combined with the pepper mixture.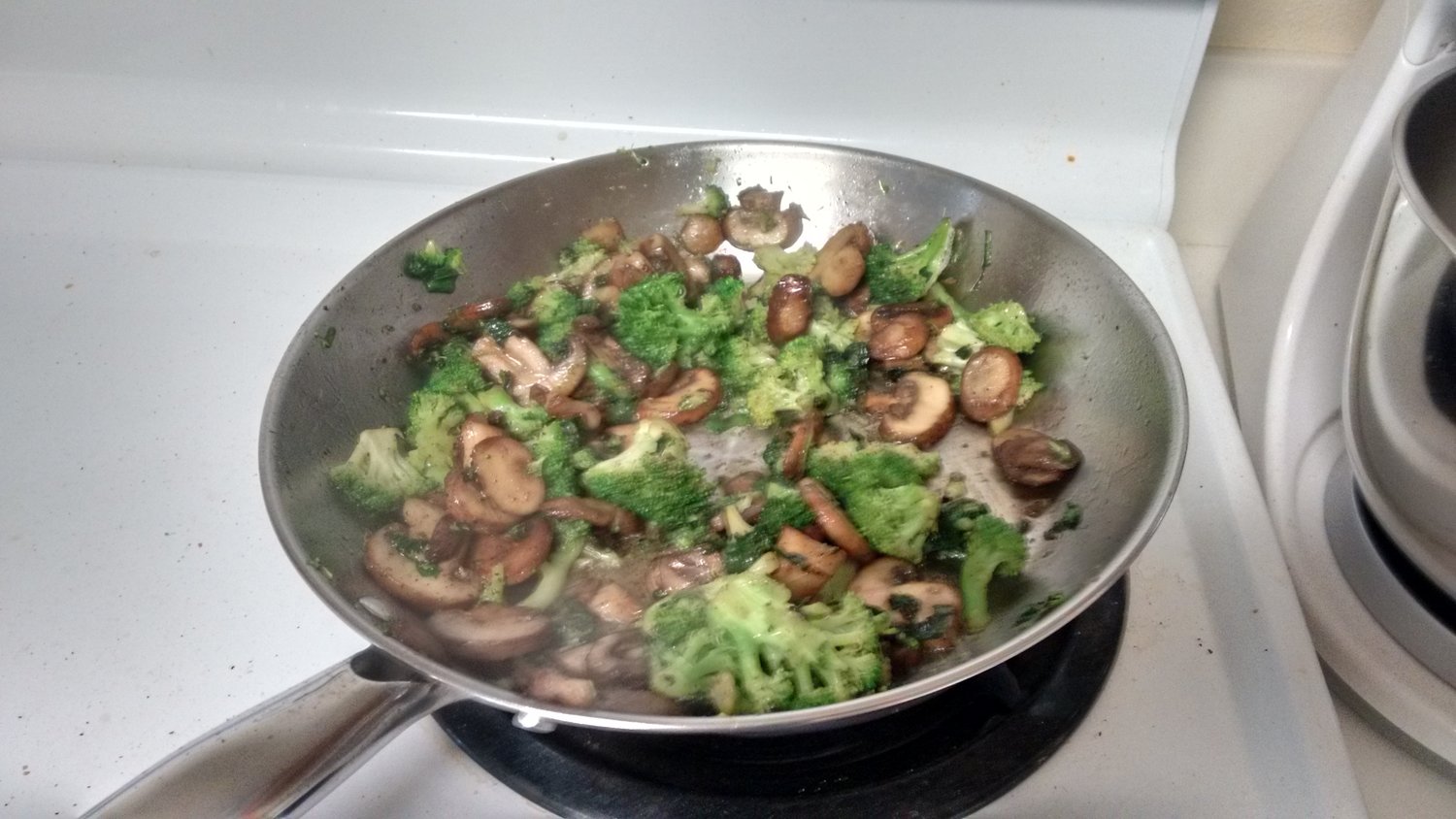 18 eggs were whisked. Yikes, 18! (Don't believe me? Count the yolks) Half a cup of 2% milk was added, and the egg mixture was seasoned with salt, black pepper and red pepper flakes.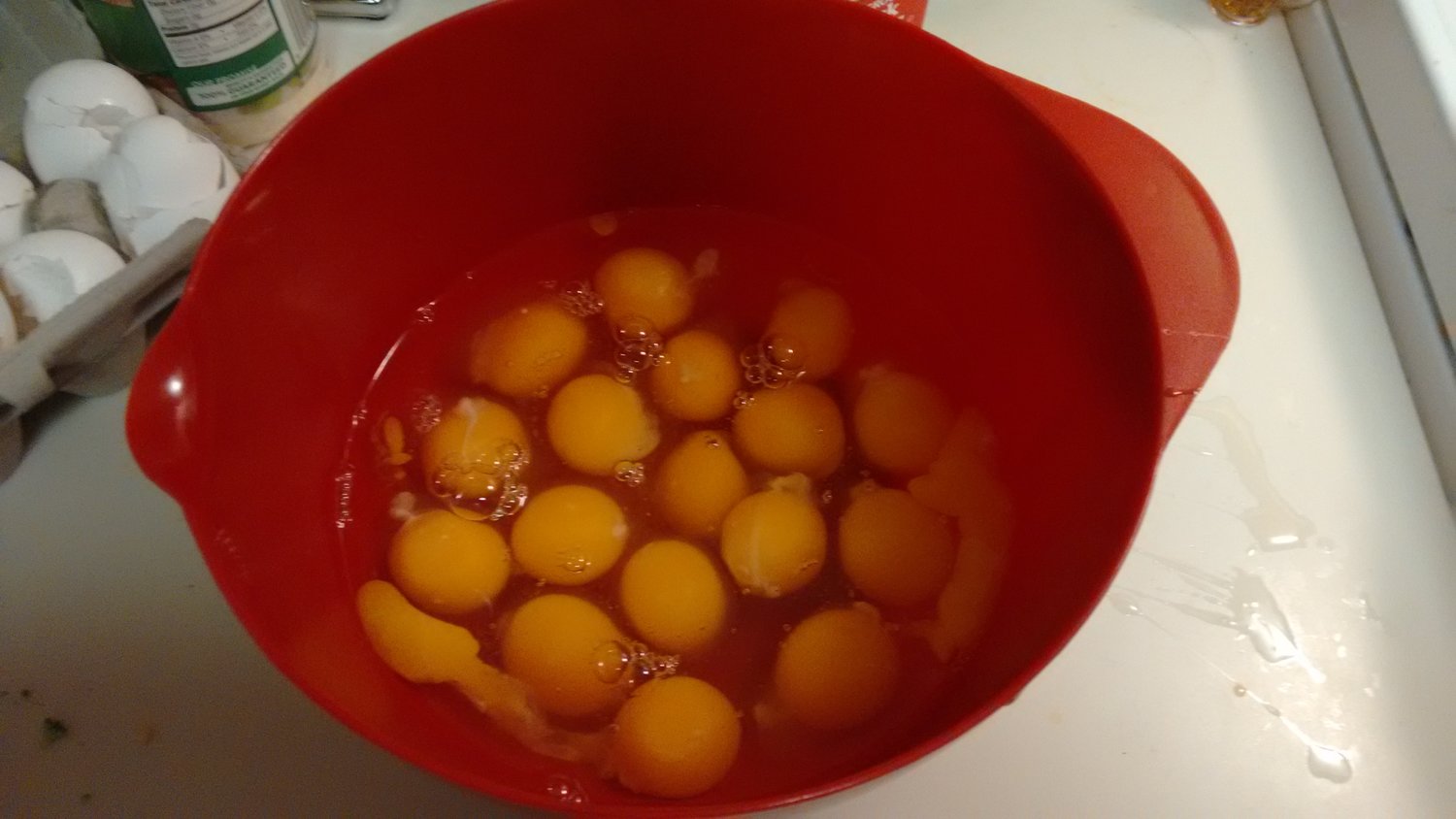 The egg mixture, then the veggie collage, and finally the mozzarella cheese were poured into a 13"x9" pan. The mixture was mixed well with a fork, and baked in a preheated oven (350F/177C) for 40 minutes.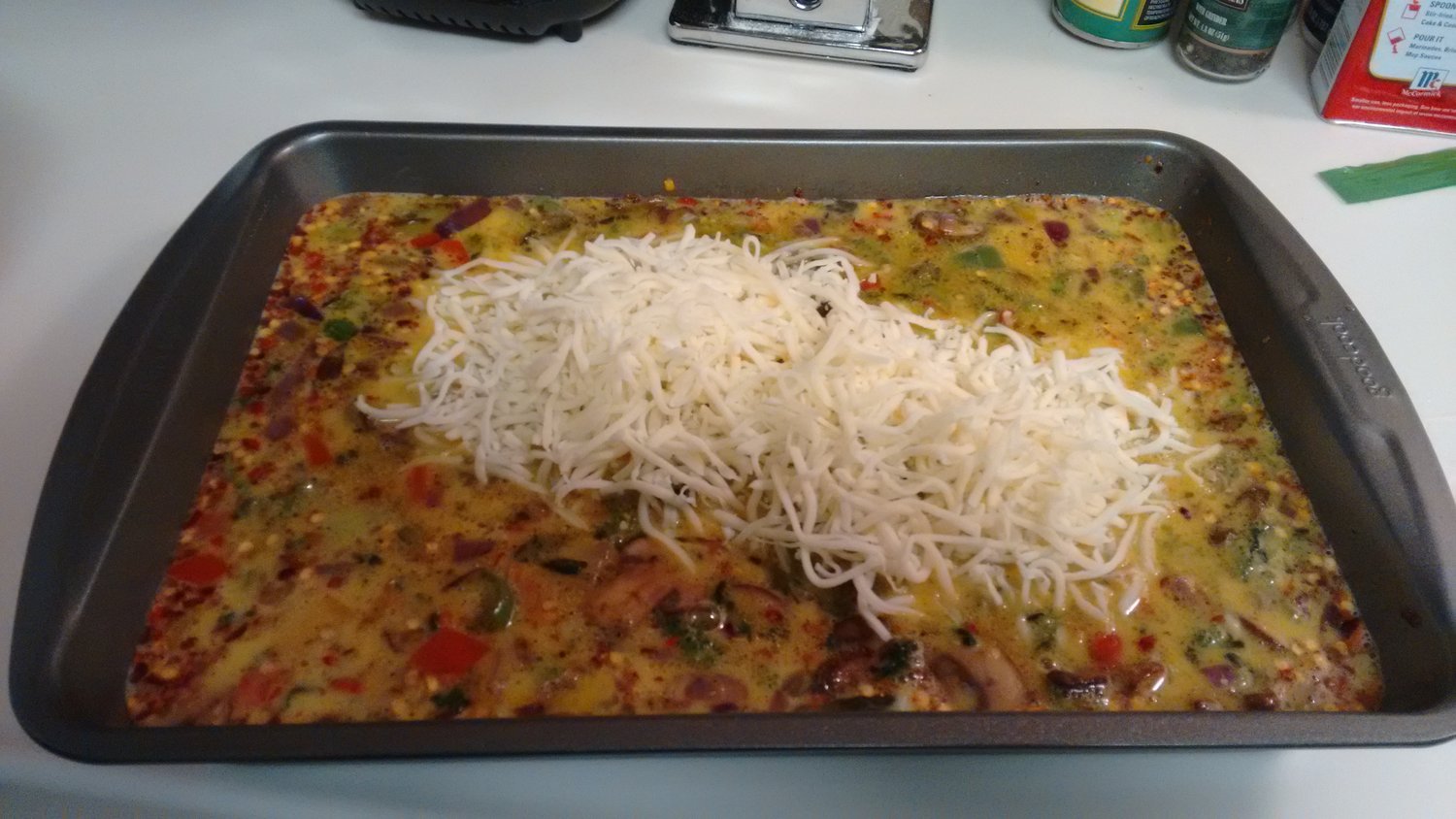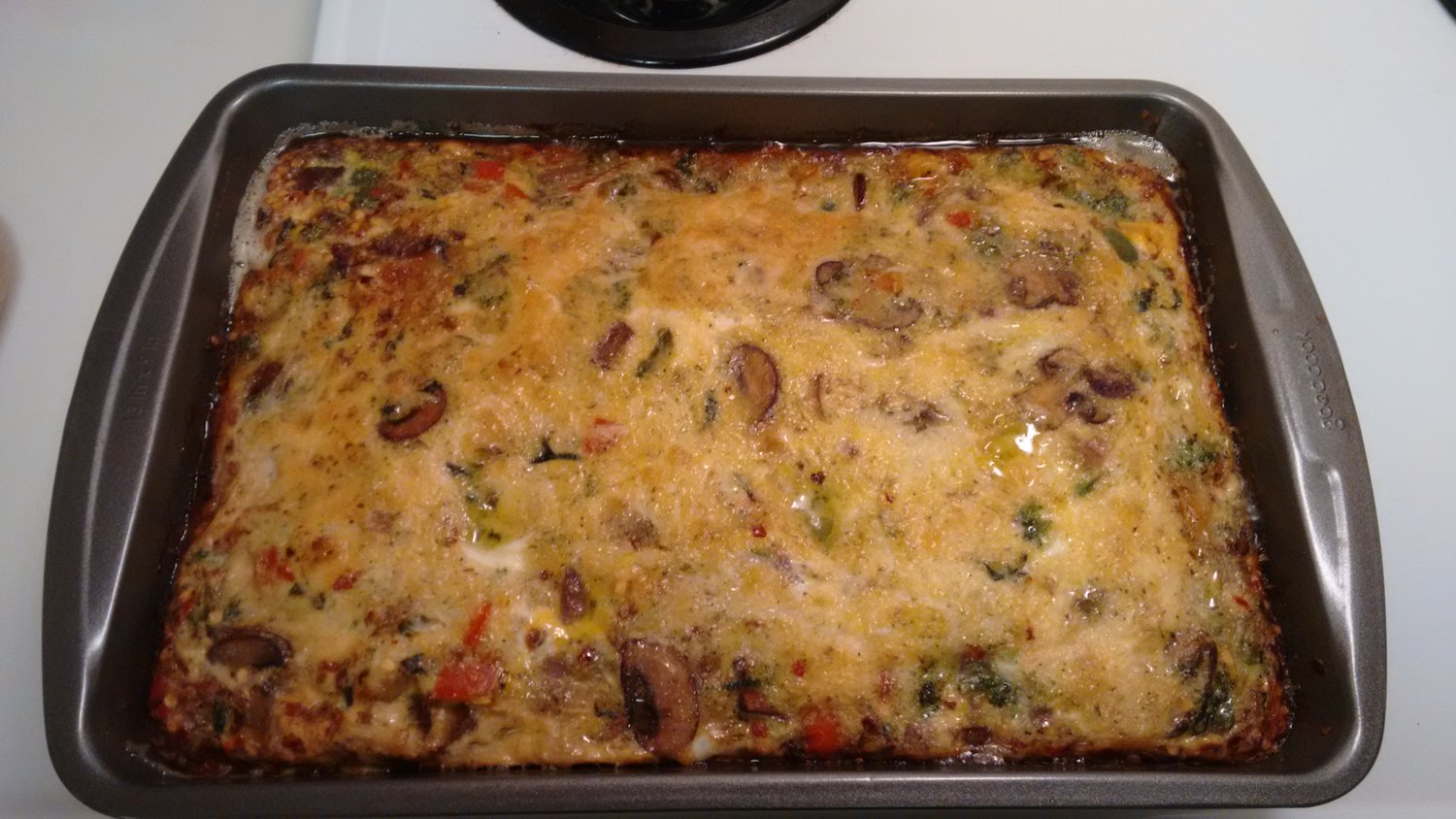 The casserole was topped with grated parmesan cheese and served with rice.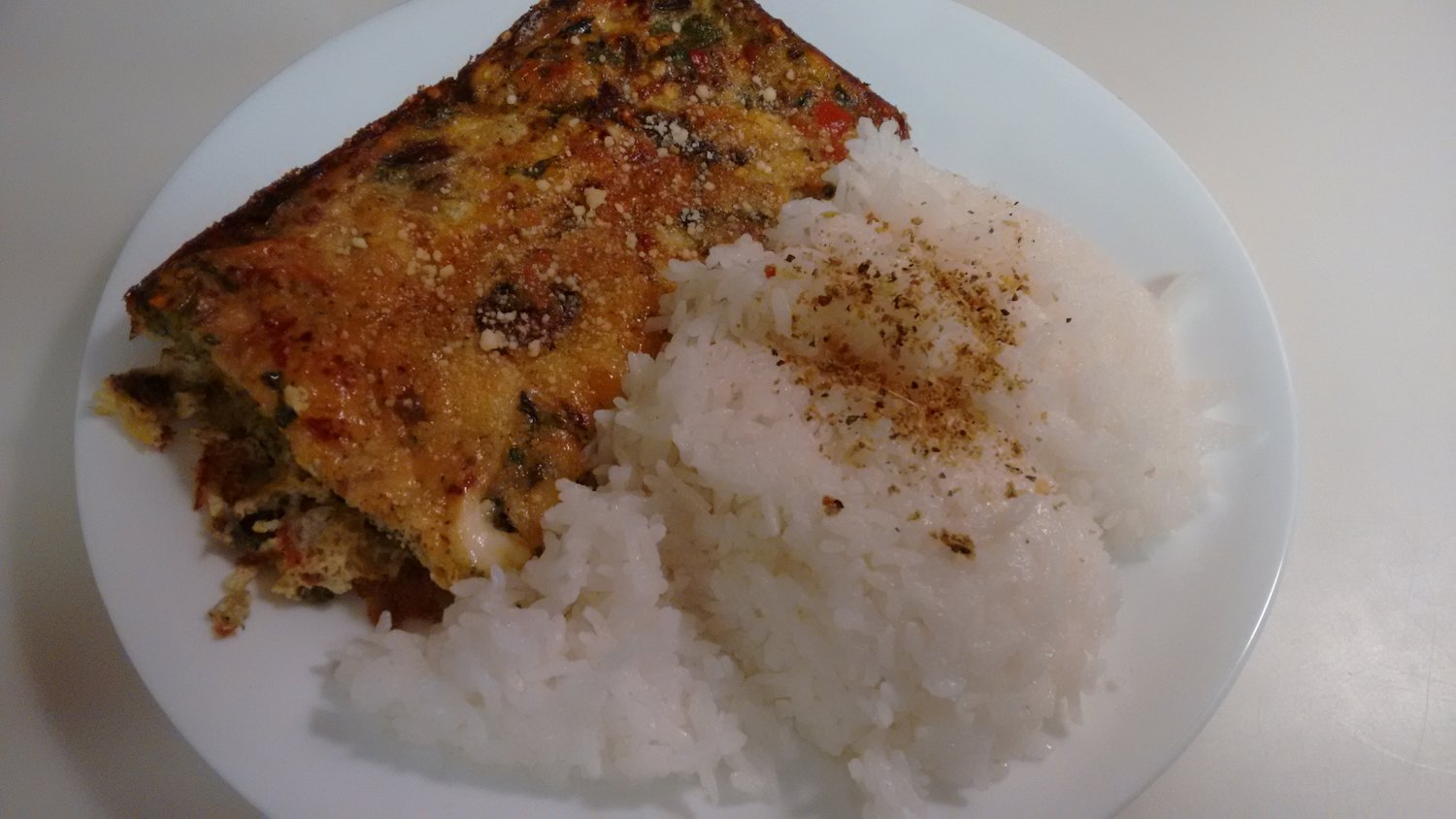 Discussion
Overall, it was a very easy dish to prepare. I did get to practice my dicing skills. My seasoning of the egg mixture was too conservative, and I think the casserole could use some eggstra cheese (what casserole doesn't?).
Because the recipe is eggstremely simple, I am highly likely going to make it again soon. I plan on incorporating even more vegetables next time to truly make it a vegetarian egg casserole: for eggsamble, zucchini, tomatoes, leek and Brussel sprouts.
I adopted this prep from several eggsisting recipes, but the calorie of this dish has not been reported. Here is a rough estimate:
0.5 red pepper - 19 (cal)
0.5 yellow pepper - 25
2 jalapenos - 8
0.5 red onion - 20
8 oz sliced mushroom - 50
2 cups broccoli florets - 34
2 cups fresh spinach - 14
18 eggs - 1638
0.5 cup 2% milk - 52
Salt, black pepper, red pepper flakes to taste - ~0
1.5 cups mozzarella cheese, shredded - 474
Parmesan cheese, grated - ~ 22
Total: 2,356 calories (~ 10 servings)
Very eggsciting news, I just invested in a 9" spring form pan, and I have a lot of food projects coming up involving it, so watch this space!