Clam Spaghetti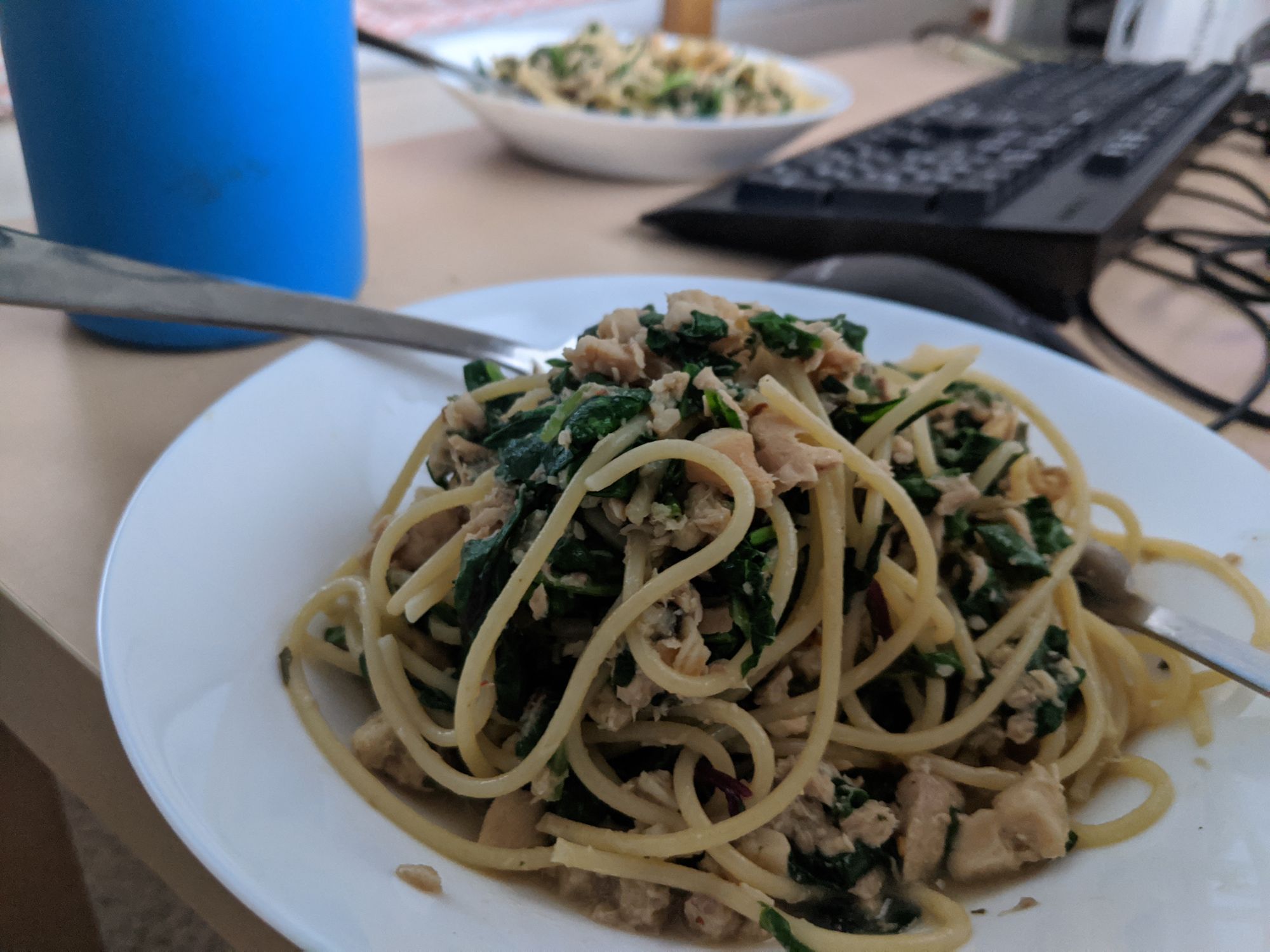 When I was making clam chowder, I initially bought some canned clam for the recipe, but ended up getting my hands on some frozen clams to use instead, so this can has been sitting in my pantry for quite some time.
In conducting some Google-fu on what canned clam could be used for, I found a recipe that sounded tasty with a light wine sauce. The end result is based off this recipe: https://www.simplyrecipes.com/recipes/spaghetti_with_clams/
---
Ingredients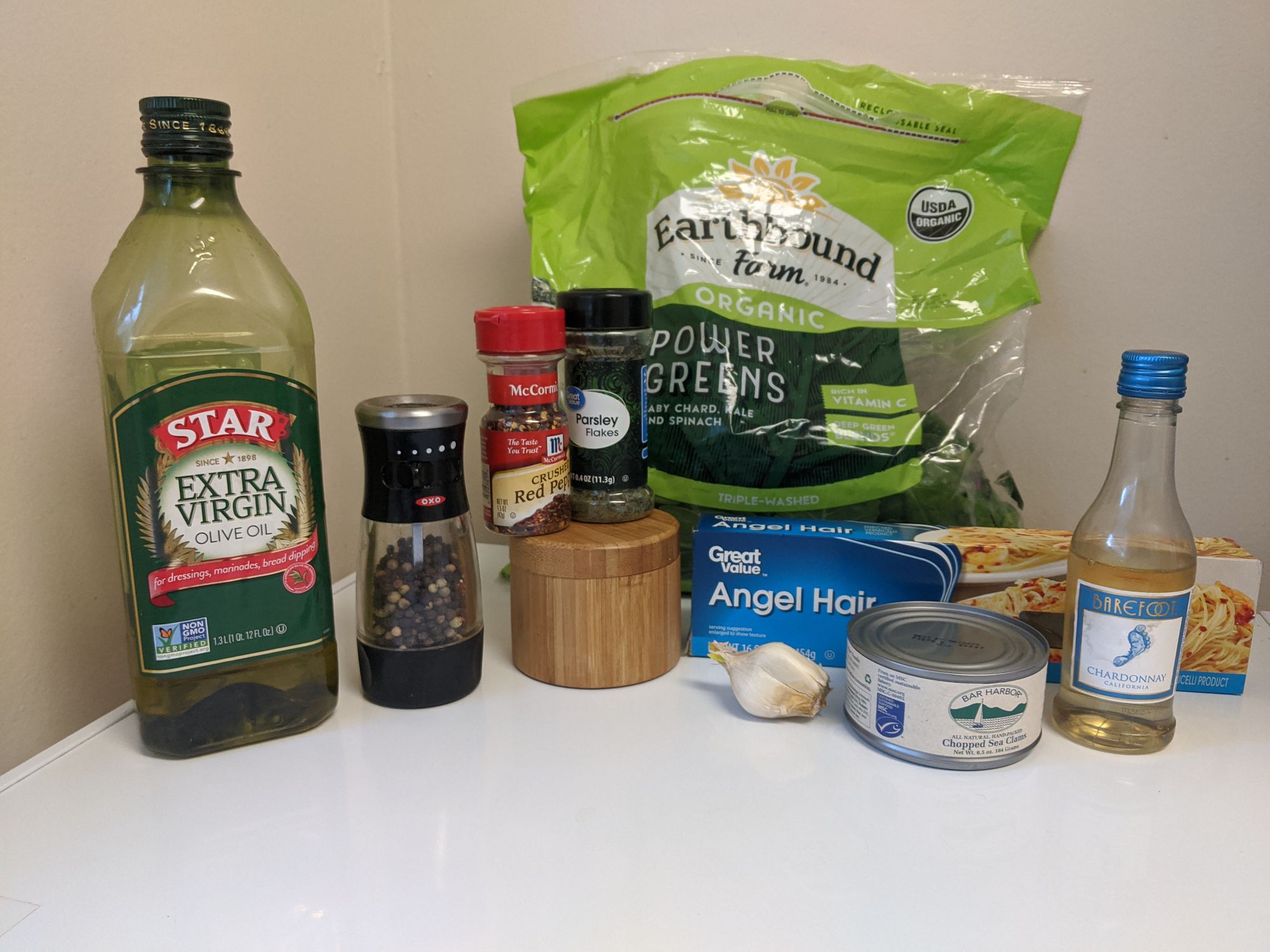 8 oz angel hair pasta
3 tbsp olive oil
4 cloves minced garlic
pinch of crushed red pepper
1 can clams + liquid
1/2 cup wine wine
2 tbsp parsley
Salt for pasta water
Ground pepper to taste
Handful (or two or three) of greens
Methodology
In a pit, start prepping the angel hair. Bring a pot of salted water to boil, and cook the pasta according to package instructions, minus a few minutes. We'll finish cooking the pasta in the sauce, so you want to have it slightly underdone in the water-boiling part.
In a separate pan, heat the olive oil on medium and add the garlic and crushed red pepper to start infusing the flavors with the oil.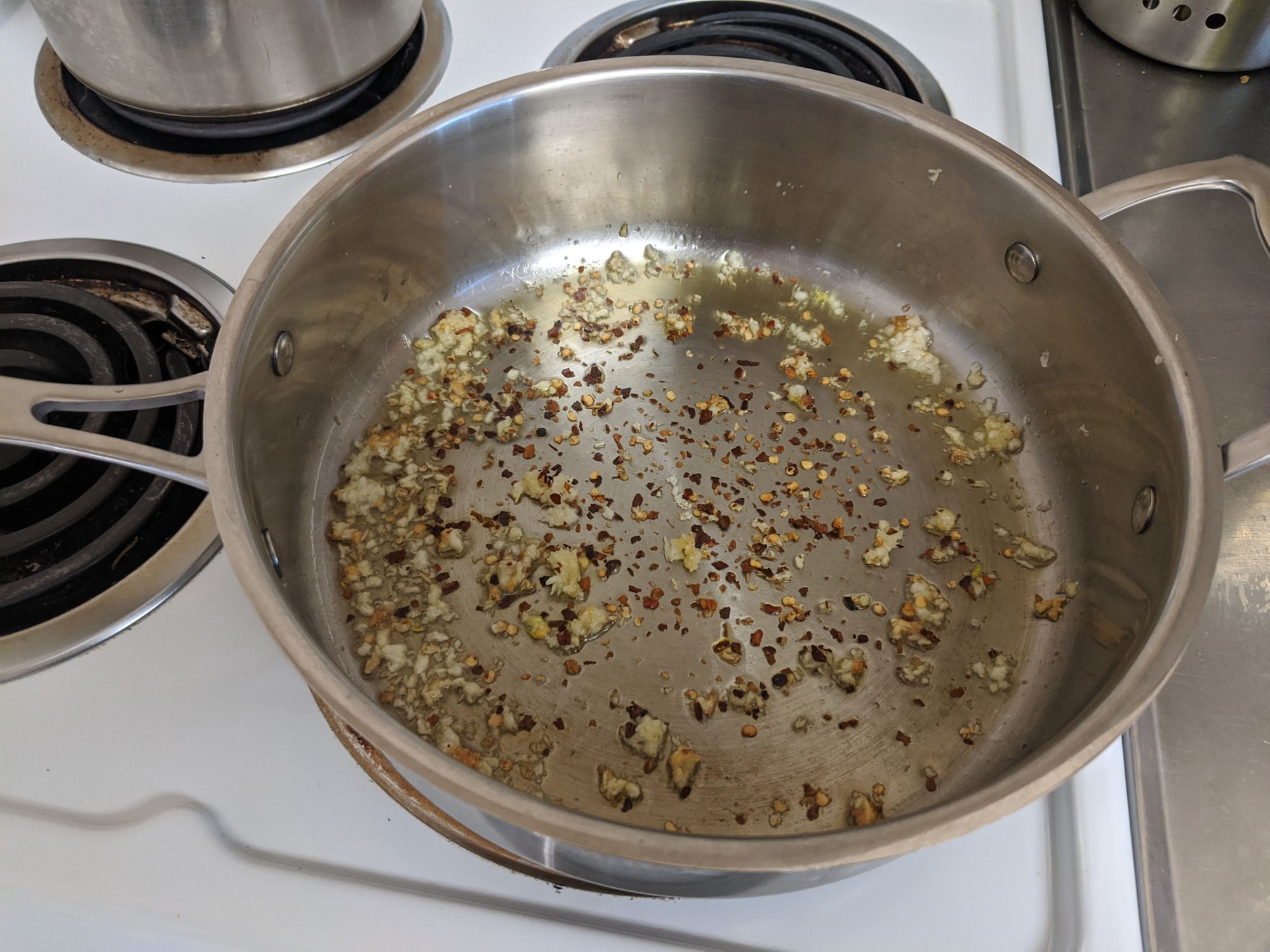 Just as the garlic is starting to brown, add the wine and clam juice. It'll start smelling really nice in a fishy and alcoholic way at this point. Crank up the heat to high to reduce the sauce.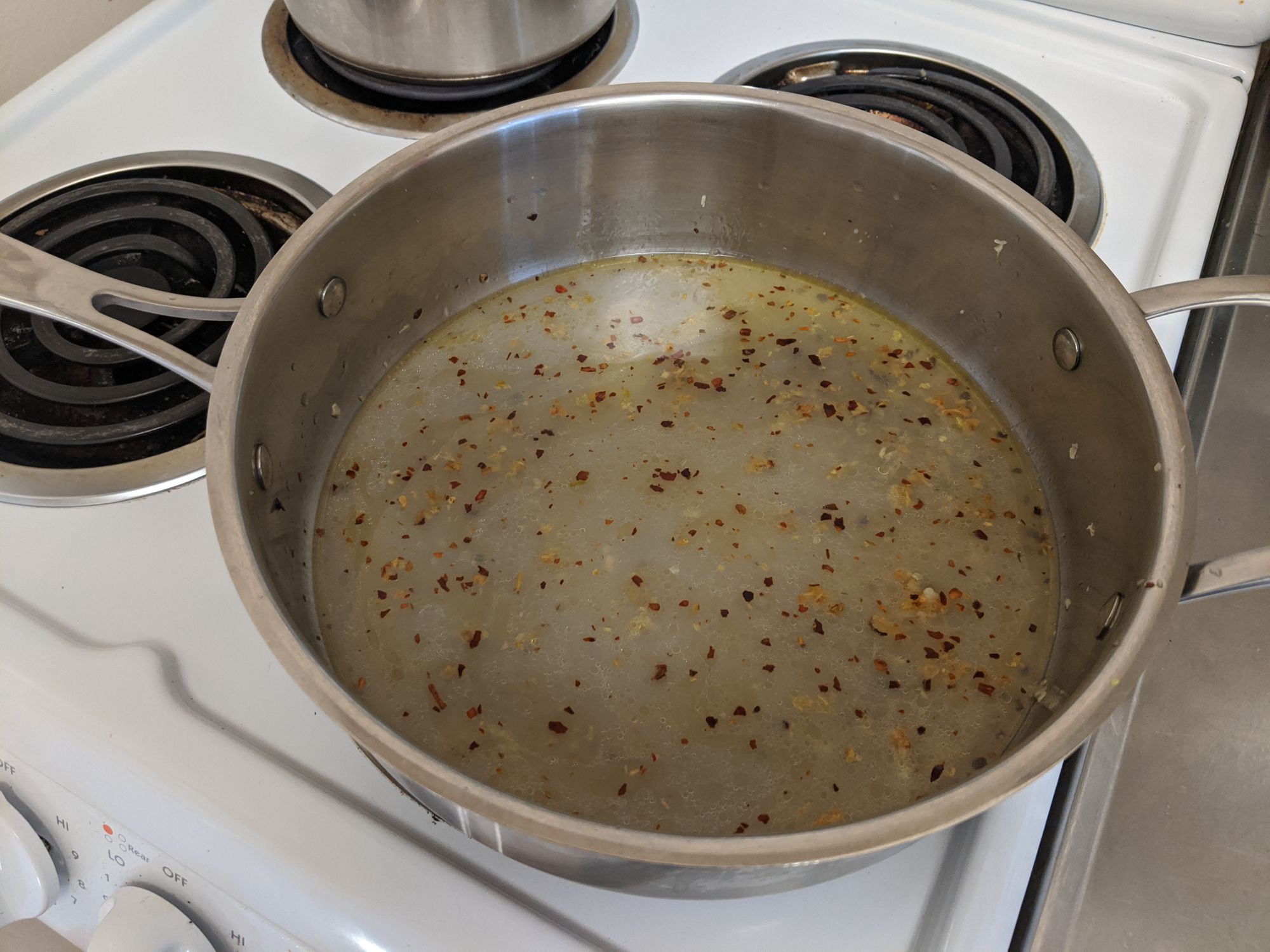 When the pasta is near ready, transfer the pasta to the pan with the sauce.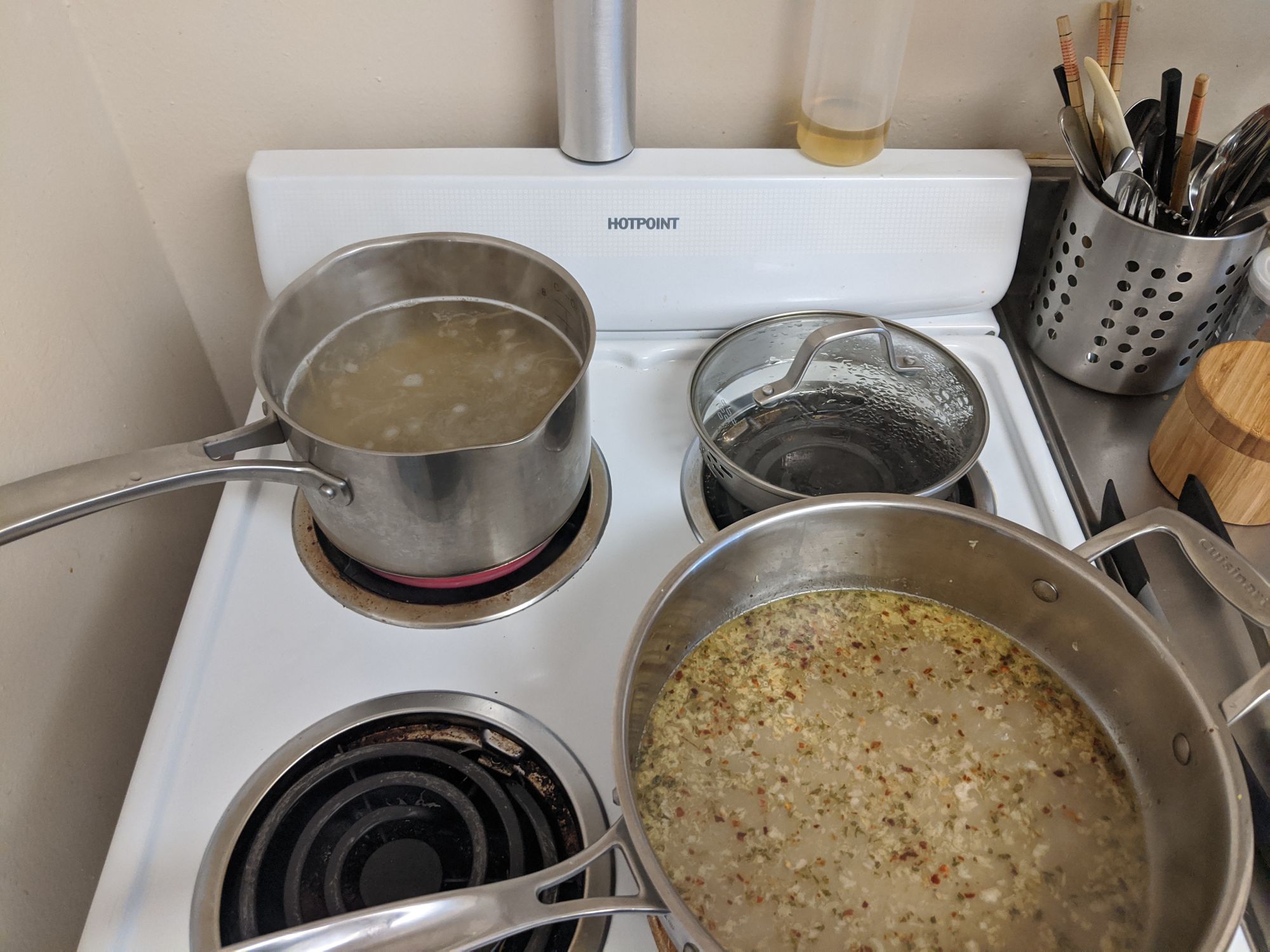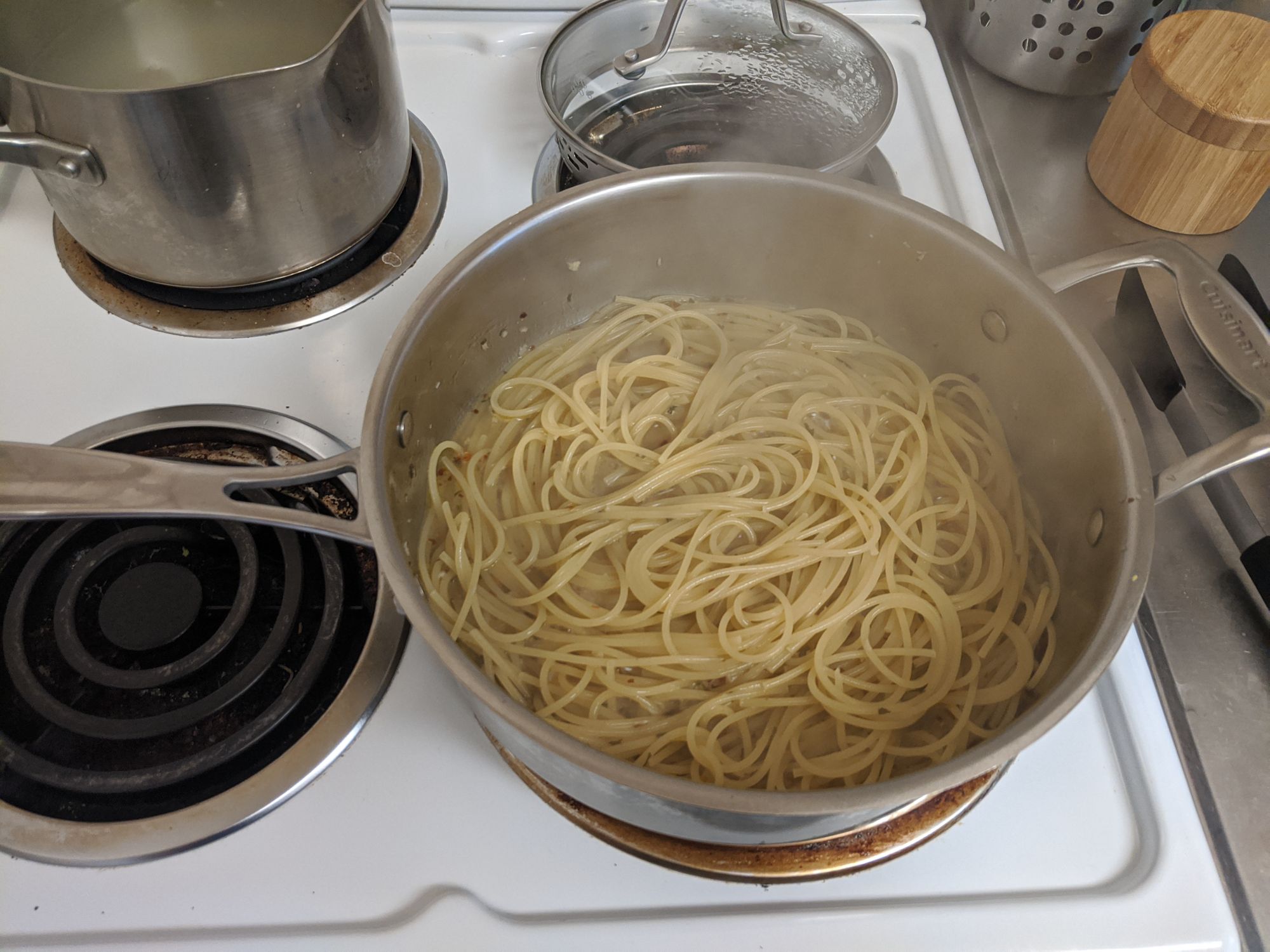 Add the clams, parsley, and black pepper.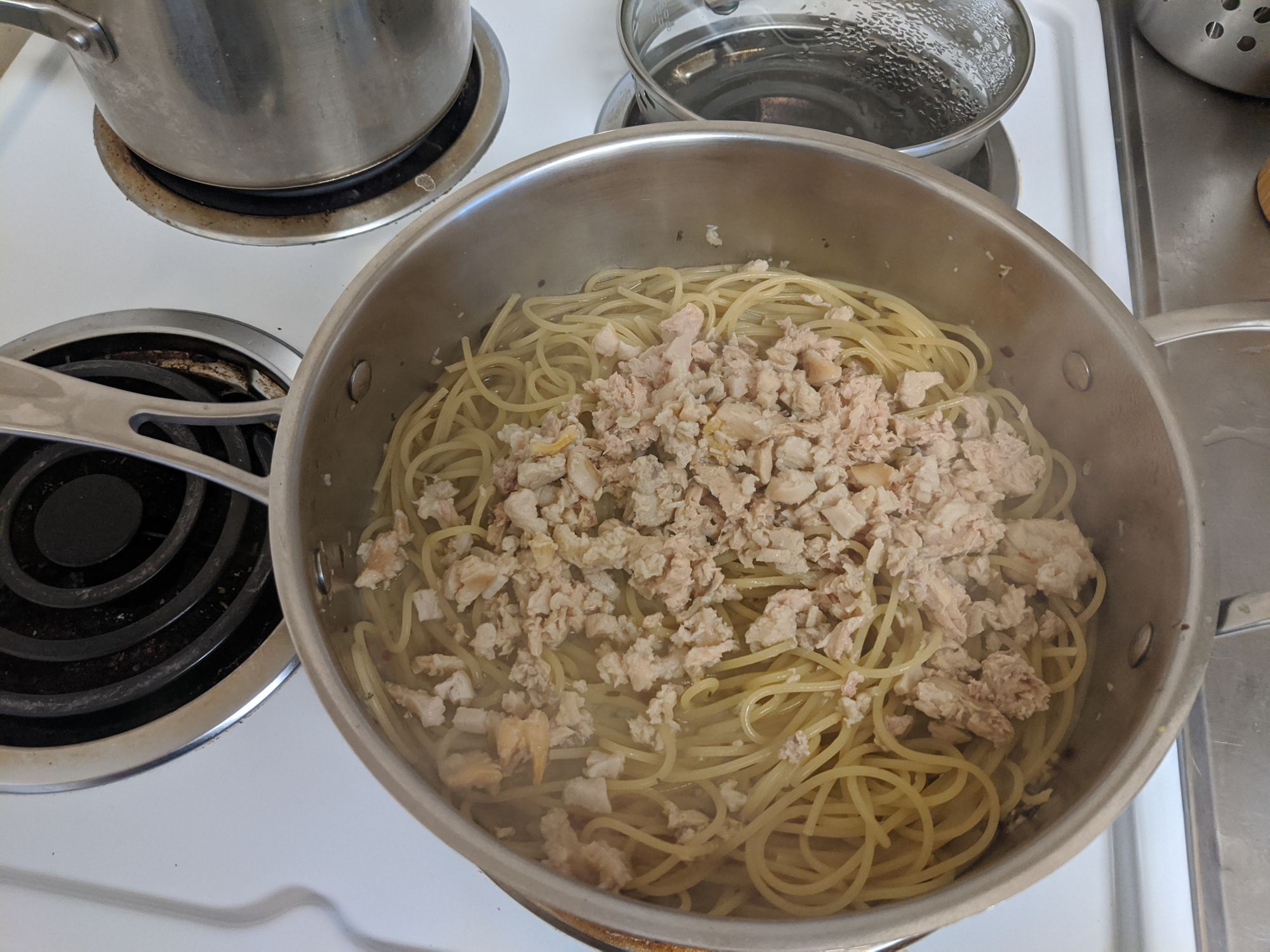 At this point, also add in your greens and mix them in to wilt down and combine everything with the sauce.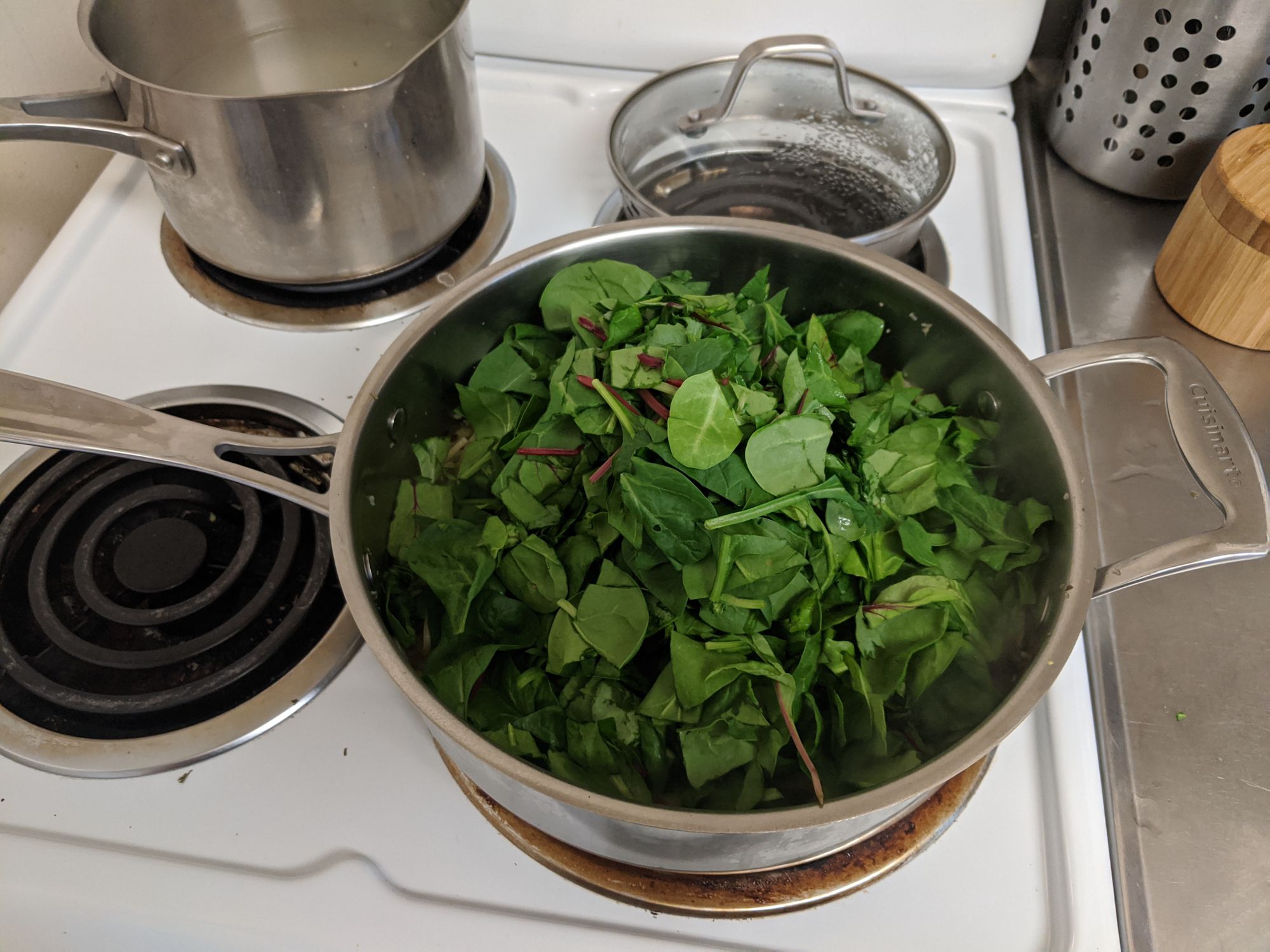 Adjust any seasoning, and you're good to go.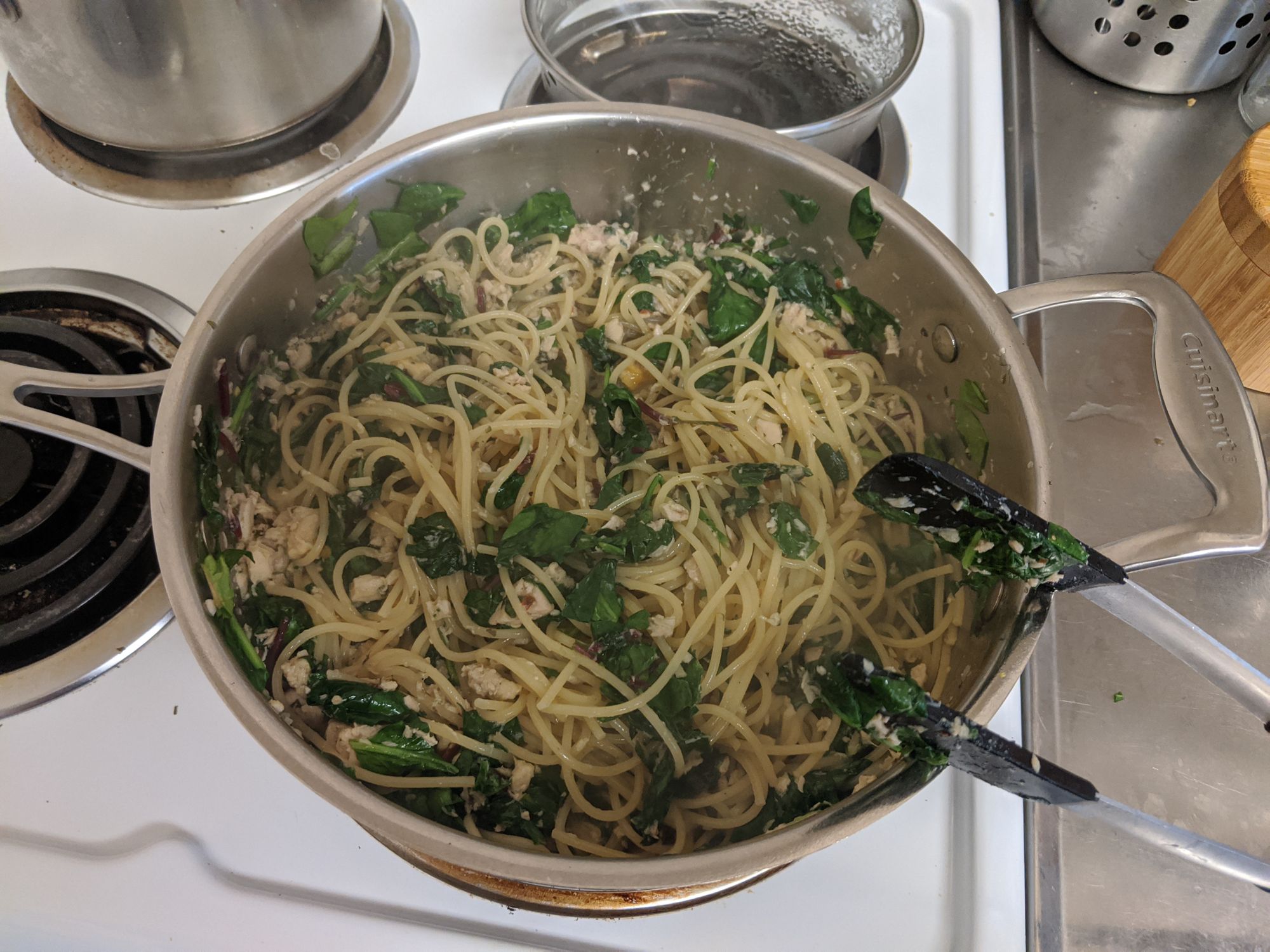 Results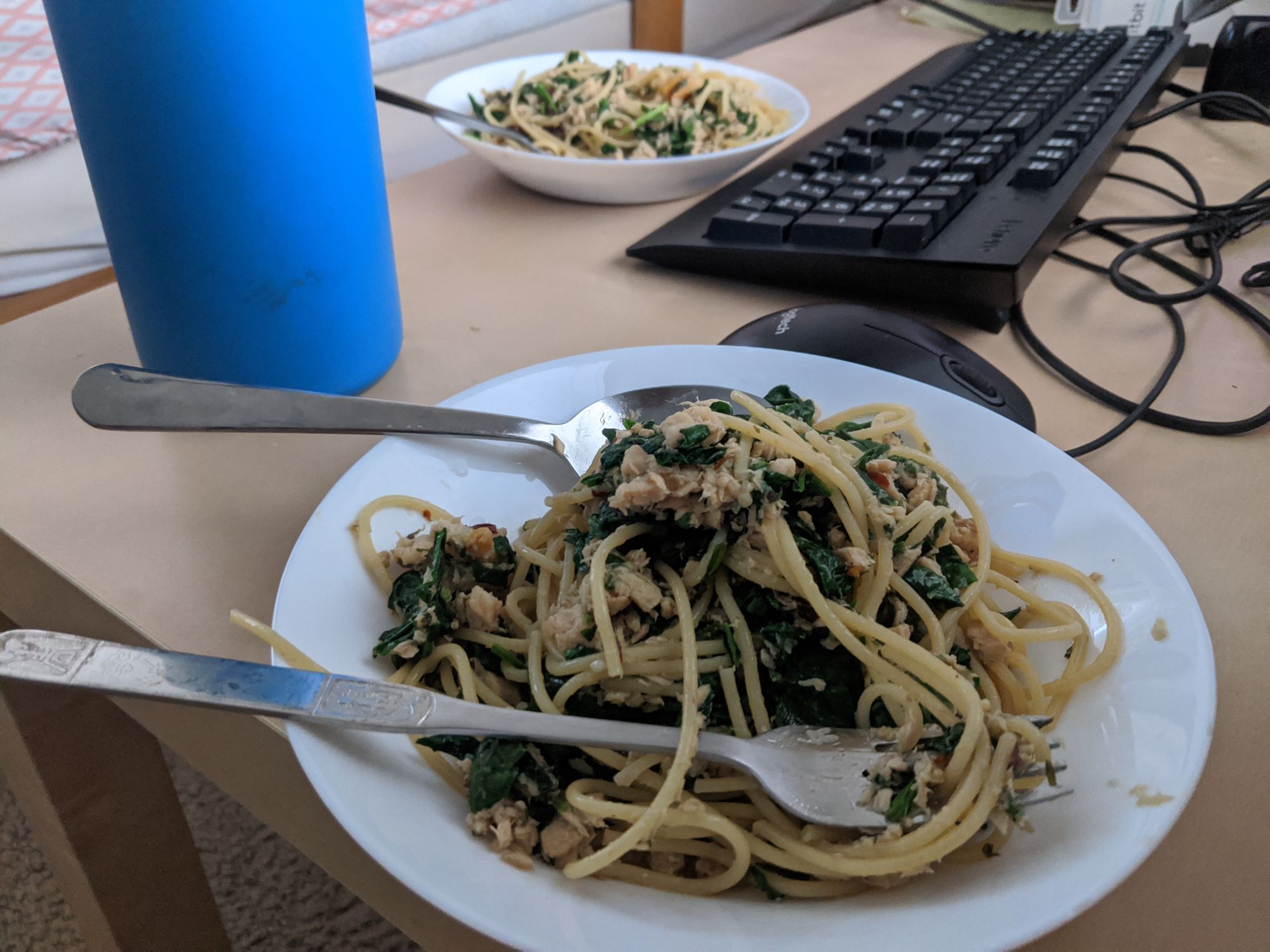 It'd be phenomenal with some lemon juice and zest, like in the original recipe, but I really liked this! It felt like a fancy meal because of the wine notes and clam, but it's neat how everything (sans greens, though you could use frozen) just came from the pantry and is shelf-stable. It has me thinking that canned clam might be a good staple to keep around if we ever need a quick emergency meal like this. In the future, I'd like to try with different canned fishes too, like salmon, sardine, or tuna.