Fancy French Food (for 2)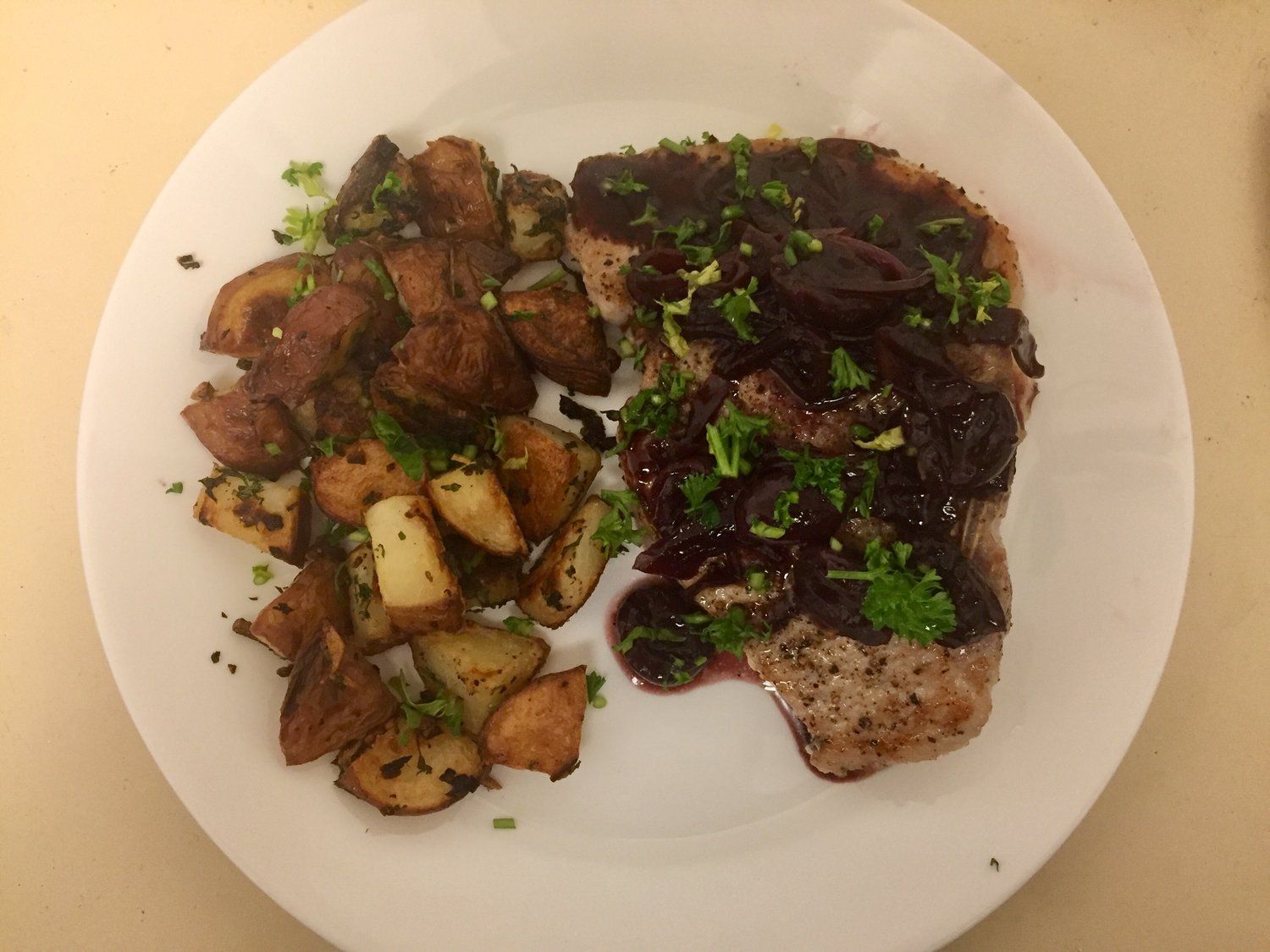 Ah summer, the days when fruit and sunlight grow in abundance to our daily delight. I love walking outside, basking in the warm sun, and seeing the piles of resplendent berries lying on fruit vendors' carts. When beautiful dark, red cherries started appearing in the markets, I could not help but buy a few pounds.
I've always loved eating cherries, and I've frequently had a pound or two as dinner. Recently, though, I've been challenging myself to cook more with fruit, so I decided to attempt a savory, tart cherry wine sauce. It turned out quite well, and I got the Jimmy seal of approval! <3 Jimmy. If you're looking to make a fancy meal or just for something to do with your cherries, try this recipe. Here are the three parts:
Cherry sauce
Duck fat potatoes.
Pork chops (or some red meat)
We'll start with the cherry sauce as this will take the longest. Start by removing the pits from about 1lb of cherries and cutting them in half. Then, chop up one shallot, 4-5 cloves of garlic, and one onion. Saute the shallots, garlics, and onions in butter until golden brown. Put aside. Next, saute 1/2 of the cherries until the skins blister. Add in sauteed vegetable from earlier (along with the butter), and pour in 1/2 a cup of red wine and 1/2 a cup of chicken stock. Add in the remaining cherries, along with some spices like salt and pepper, thyme, rosemary, and bayleaf, and bring to a boil. Be light on the salt as the flavors will concentrate as you boil off the water. Reduce until the mixture has a syrupy consistency. Salt/pepper to taste and put aside.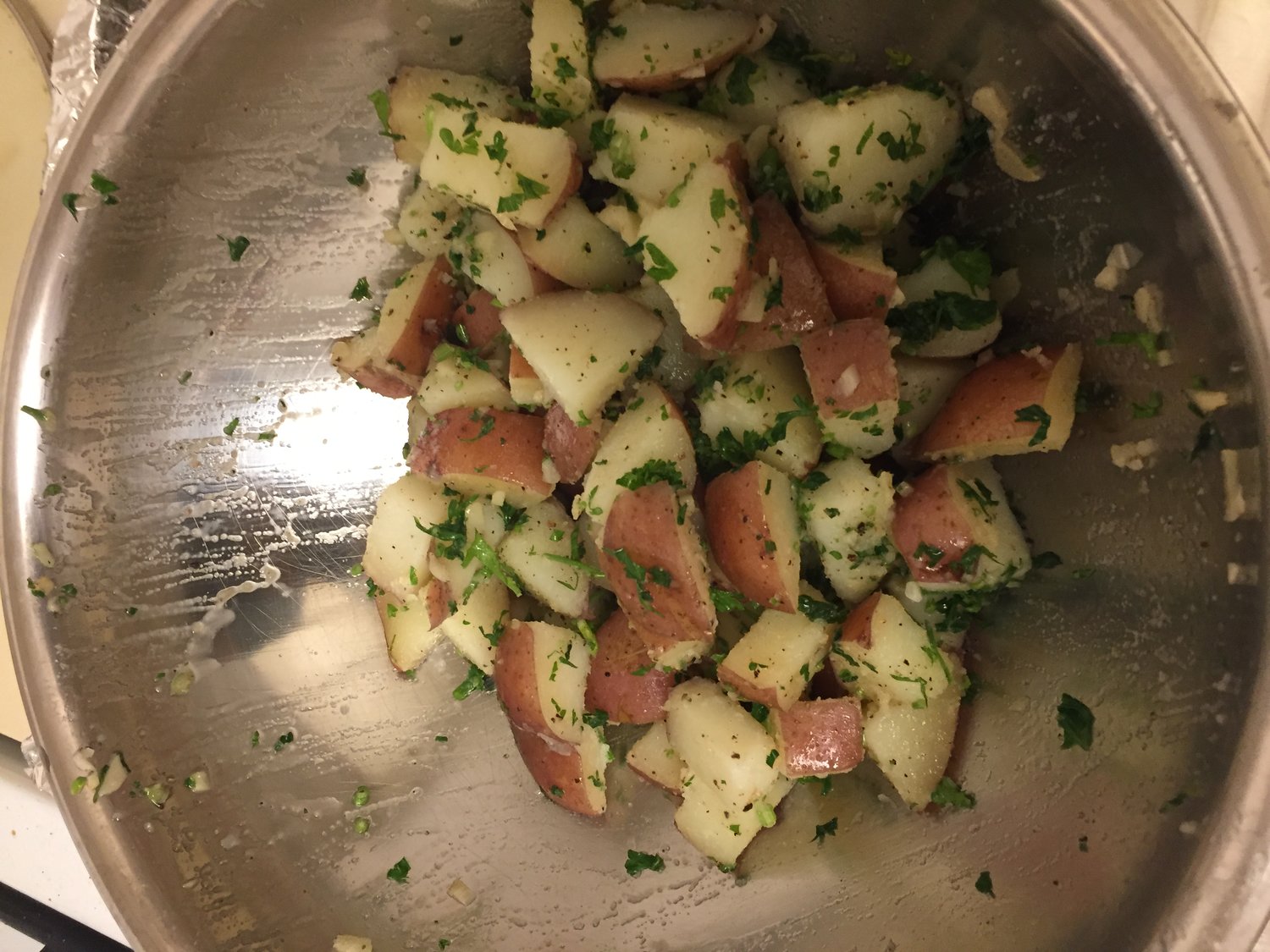 Next, for the duck fat potatoes, I pretty much follow Kenji Alt Lopez's recipe for crispy potatoes here. The hardest part for me was getting the duck fat. I bought some duck thighs from a local Chinese store and rendered the fat out, saving it for this dish. The rest of the recipe is pretty much the same as Kenji's, i.e. boil in water with baking soda and salt, toss around a potatoes with duck fat and spices, and bake in oven for 40 minutes.
Finally, the pork chops. They're fairly simple. Just take them out of the fridge, and let them rest for 8-10 minutes. Pat dry with a paper towel and season with salt/pepper. Heat up a cast iron on high heat. Once the cast iron is smoking, put in some oil and turn the heat to medium. Put the pork chops in, searing for 5-8 minutes on each side. They should have a nice, caramalized brown color on both sides.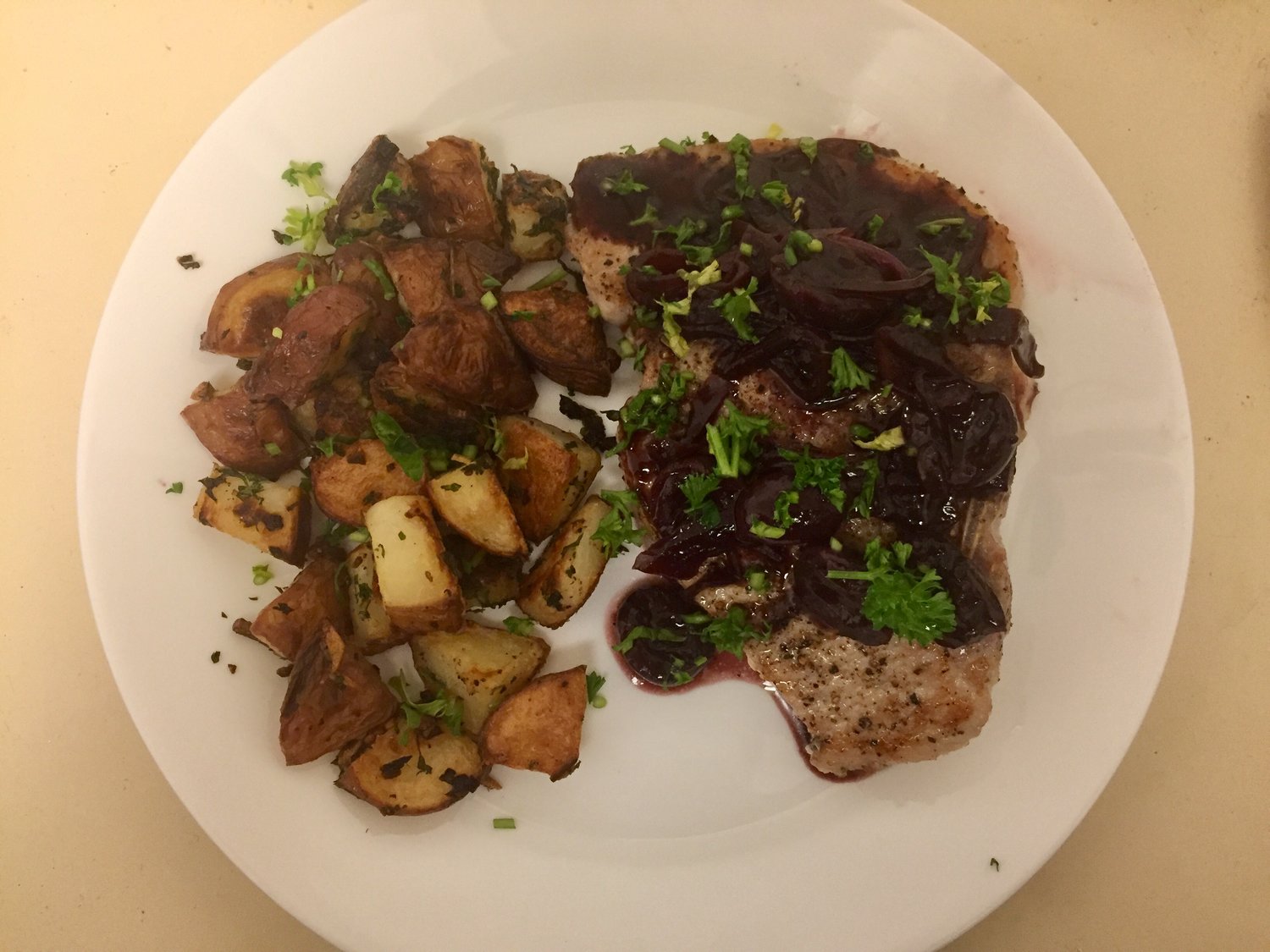 To plate, put the pork chops to one side of a plate, and spoon some cherry sauce on top. Put the duck fat potatoes on the other side, and sprinkle some green herbs (say, chives or parsley) for garnish. Voila! You've made some fancy French food.